Pricing Your Portland Area Home
Pricing a home is a delicate strategy, almost as intricate as staging and listing a home at the right time. All of these factors including marketing, when you list, staging, curb appeal, and price factor in to a home being sold quickly and for fair market value. While sellers don't want to leave any money on the table, they also don't want to sit on the market any longer than they have to.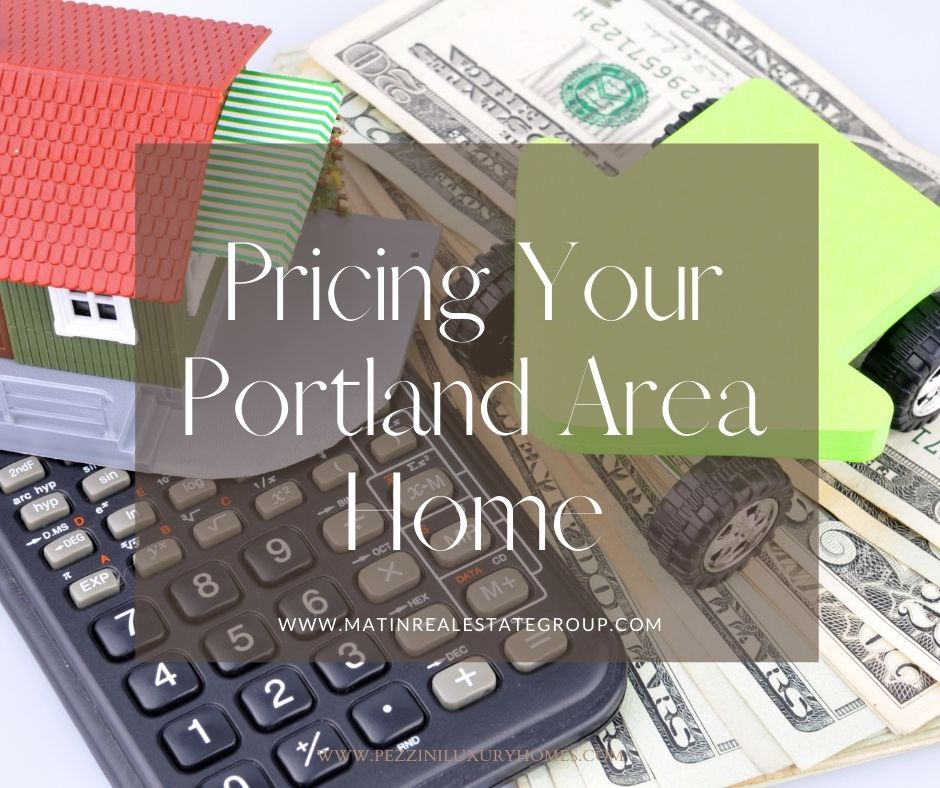 Pricing is not the only key to getting a home sold but it tends to be one of the biggest. Pricing correctly from the beginning is the key to getting the right buyers to the door and the right offers on the table. One of the biggest pitfalls to selling a home is pricing a home too high. Many homeowners think that they can simply price the home high to begin with and if it doesn't sell they can drop the price. If someone comes in and offers the higher price, more profit to the seller. But there is a major drawback to this strategy. Once the home has dropped to the price it should be, it's probably been on the market too long making buyers wary of ever making an offer. This is why it is so crucial to correctly price a home from the beginning.
There are many factors involved in pricing a home:
Current market values
Buyer's market VS. Seller's market
Condition
Location
Supply and demand
Day of the week
Month of the year
All of these factors go into pricing a home and they may change from one month to the next. Regardless of the market value, however, there are certain ways you can price a home that is pretty standard across the board. However, for accurate pricing helps to have an in-person/in-home listing presentation so I really know what I'm looking at when it comes to selling and marketing your particular Portland home.
Current market values.
We want to take a look at what the market can currently bear. Is it a buyers market or a seller's market? Are homes selling quickly? Is your home in the luxury real estate market? Is your home priced fairly average? Typically, the average home price for Portland is between $300,000 and $550,000, so if you have a home that is priced between these, it's important to market to the particular buyer you're looking for, stage it properly, and price it accordingly. If your home is priced outside of the standard or average home price, will need to have comparable sales to backup and support the value.
Appraisals.
Regardless of what you price the home at, it still needs to appraise for the value. Lenders are not going to loan money on a home that's overpriced. This is where comparable sales come into play. If the home is priced far below similar properties or far above, you might not get the value you're looking for. Underpriced homes may have a tendency to spark a bidding war if the home is attractive enough, but this is a risky strategy that should only be implemented in certain situations.
If the home is overpriced, buyers may need to make up the difference between the appraised value and the asking price or the seller will need to lower the price of the home.
Condition.
A good strategy for home sellers is to always offer something more for less than the closest competition. If a home in your neighborhood is very similar to layout and design, you may need to price at lower than the competition. If you have something more to offer, home becomes more valuable. For instance, if there are two similar homes but one has a three-car garage and the other has a two-car garage and the one with the three-car garage is offering the home at $5000 less than the one with a two-car garage, chances are buyers will gravitate to the one that offers more for the value.
Location.
Location is also the key to pricing a home correctly. Two similar properties into completely different neighborhoods may be priced differently. Easements, access to services and amenities, gated communities, or attractive homeowner associations can all vary the price of a home.
All of these keys, strategies, and factors play into pricing a home correctly from the beginning. For a more accurate assessment of what your Portland area home or Southwest Washington home is worth, contact me below at any time.