Adding Value to Your Portland Area Home
There are probably 100 ways to add value to your home but they really only come down to about four or five major areas. If you'd like to sell your home as is, we can absolutely do a cash offer for your home, but if you want to get the most profit from the sale of your home, and many homeowners do, there are ways to increase the profit. Every home is unique but by taking these few tips and customizing them to your home, you can get more buyers to the door, better online marketing tools, and more offers on the table.
#1. Remove half the items out of the house.
This might seem like a big project but you're going to move anyway so start now by removing items out of cupboards, closets, drawers, and pantries. Even remove some furniture, clutter, books and knickknacks from shelves, and personal items and memorabilia. Take down any personal family photos and make sure the area is clean, clear, and as neutral as possible. By removing half of the items from every room, you can more easily see two-stage, design, and set up the home to appeal to a wide range of homebuyers.
#2. Clean.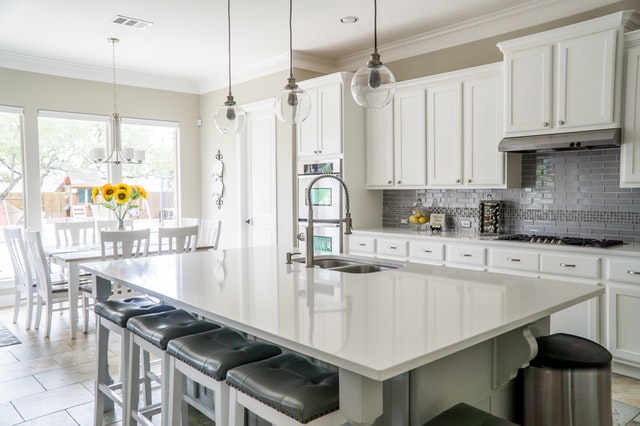 Clean it like you've never cleaned before. I often recommend hiring a professional cleaning service at least once a week while your home is on the market if you can afford it. Professional cleaners will deep clean while you work on surface issues and general clutter and mess. Good rule of thumb is not to make any mess that cannot be cleaned up within 30 minutes or less. There's nothing more stressful then making a mess in the house only to get a phone call from buyers that want to see the home in less than an hour. By removing half of the items in most rooms, it will make cleanup a lot easier and faster.
Don't forget to clean items that you may neglect such as window and door tracks, ceiling fans, remove the dust from picture frames, baseboards, vents and fans, stair railings, door jams, doorknobs, the fronts of cabinets and the top of the refrigerator. Grease can collect quite easily in the kitchen, especially if you have a cook in the family.
#3. Focus on items that will really give you a better rate of return.
Kitchens and bathrooms are one of the number one things to be remodeled before listing and selling. If you have no idea what buyers are looking for, take a day and browse open houses and model showrooms. You'll be able to check out your competition and see what buyers are looking for. Depending on your home, you may or may not need major upgrades such as new cabinetry, countertops, and flooring. Matching appliances are often an important feature for buyers as is updated materials and finishes. If you are still unsure about what you should update, contact our office. We can offer tips and suggestions on how to use your marketing budget dollars wisely by selecting the right areas to upgrade.
#4. Don't neglect staging.
Staging is a big thing and while you don't need to hire a professional for every home staging situation, it doesn't hurt to get tips and suggestions from a professional. Stagers can often offer a lower cost consultation on how to use your existing furniture and stage each room appropriately.
#5. Curb appeal.
Most MLS photos will show the outside of the house first so this shot needs to shine. Having a professional photographer can only do so much so make sure that the outside curb appeal and landscaping is on point. This might be another area where hiring a professional is required, at least for the initial photo. Keep grass trimmed, bushes and trees neatly pruned and away from the house, and make the house pop with some contrasting colors as long as it's not too messy or busy.
Read more: Staging your landscaping
As with every home, specific suggestions and tips are custom to that home. Contact us below for an in-home listing presentation on how we would help market and list your home, so for the top value, and how you can add value and increase the profit on your home.
Find out what your home is currently worth and how to increase it