Zillow and Opendoor Not the Anticipated 'Reinvention of Real Estate'
Posted by Jordan Matin on Wednesday, March 10, 2021 at 10:03 AM
By Jordan Matin / March 10, 2021
Comment
Opendoor and Zillow are not making the beaucoup bucks they expected with iBuyer home buying options and the reinvention of real estate. In fact, they're losing tens of thousands of dollars on each of these types of homes and the disruption in real estate is being led by companies and shareholders willing to bet and lose billions of dollars.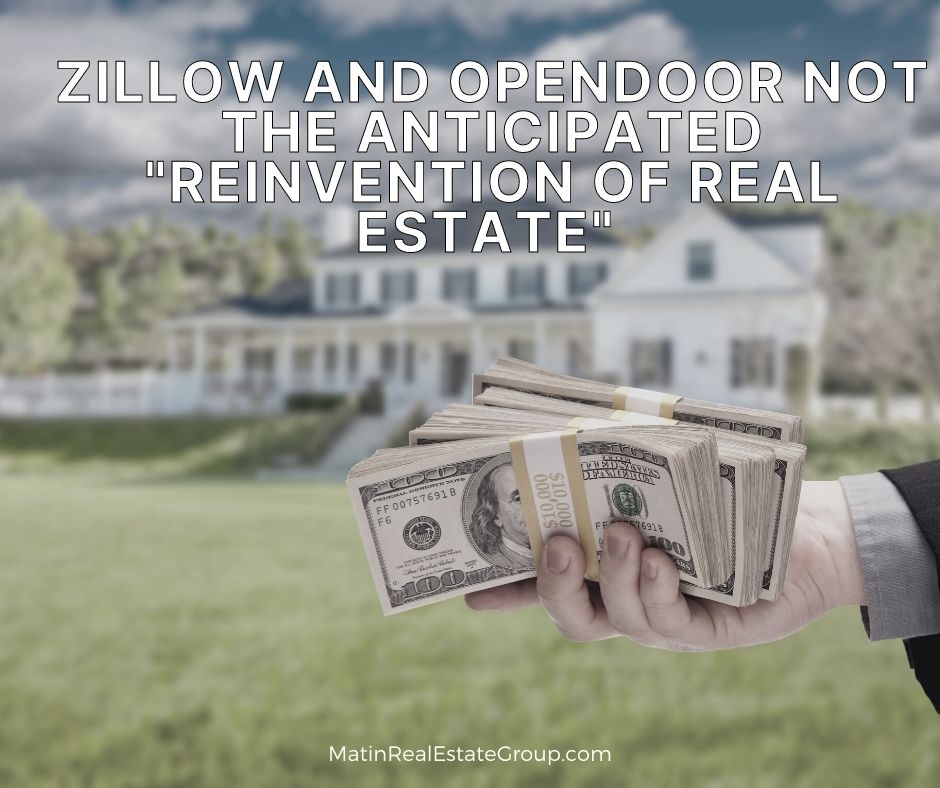 What is iBuyer?
iBuyer is a company that uses technology to make an offer on your home instantly. It represents a dramatic shift in the way people are buying and selling homes offering a simpler, more convenient alternative to a traditional home sale. But, is that the best option for most homeowners? Both Zillow and Opendoor are iBuyer program facilitators.
However, without these properties being sold, both of these companies are holding on to massive amounts of inventory. In the case of Opendoor, that's an additional $366 million or nearly $20,000 per home sold of expenses in the "everything else" category. A prominent factor in the iBuyer business is their gross profit, which may or may not include trivial expenses such as client acquisition and salaries, oftentimes adding up to millions of dollars. The gross profit is driven by service fees, purchase price, sale price, and items such as title insurance and mortgage insurance and any necessary repairs.
In the first half of 2020, iBuyer companies like Opendoor and Zillow generated around $17,000 in gross profit for each home bought and resold, however, this is only a reflection of accurate pricing algorithms, competitive fees, and any services. The direct expenses are selling costs, holding costs, and interest expenses and once all these expenses are included, each iBuyer sale is losing tens of thousands of dollars on each home it buys and resells.
"In 2020, the two largest iBuyers, Opendoor and Zillow, lost a total of $607 million buying and selling houses. That's a loss of about $40,000 on each home bought and resold, about $1.6 million every single day, or about $1,100 per minute in 2020. And that $607 million is on top of the $650 million lost in 2019" [Source]
Of course, Amazon had the same issue where it would lose millions of dollars only to turn around in the end. Is that going to happen with the future of iBuyers? Were not really sure. What we do know is that this company is playing by a different set of rules or profitability doesn't apply. Apparently, it doesn't matter that iBuyers are unprofitable. Shareholders don't seem to mind and they're happy to subsidize massive losses. This disruption in real estate is willing to take the risk.
So, what does all this mean for traditional sellers or any real estate seller or homeowner, for that matter? You might be able to get a good price for your home but is it worth potentially losing money on the table question mark that's what it really comes down to. If you use an individual agent not only are you not adding to the commercialization and revitalization of a century-old industry, but you're receiving one-on-one care from a real estate agent that knows how to market in your area. These big companies simply don't know how to price a home in specific neighborhood markets. This could leave homeowners with tens of thousands of dollars on the table. Sure, they may walk away with a check in their hand, but is it worth the risk?
While we can definitely offer cash for houses just like any other major company, we provide our homeowners and sellers with a variety of options. They can work with an agent to market, strategize, stage, price, and sell their home for top dollar. Personal relationships are not dead and the real estate industry has been built on the epitome of the one-on-one relationship between client and agent. Will this revitalization completely abolish agents and Realtors? Only time will tell…
Need to know how much your home is worth? Start here!