Outdoor Living in Luxury: 4 Backyard Design Tips For Waterfront Homes
Posted by Alicia Smith on Tuesday, March 22, 2022 at 9:25 AM
By Alicia Smith / March 22, 2022
Comment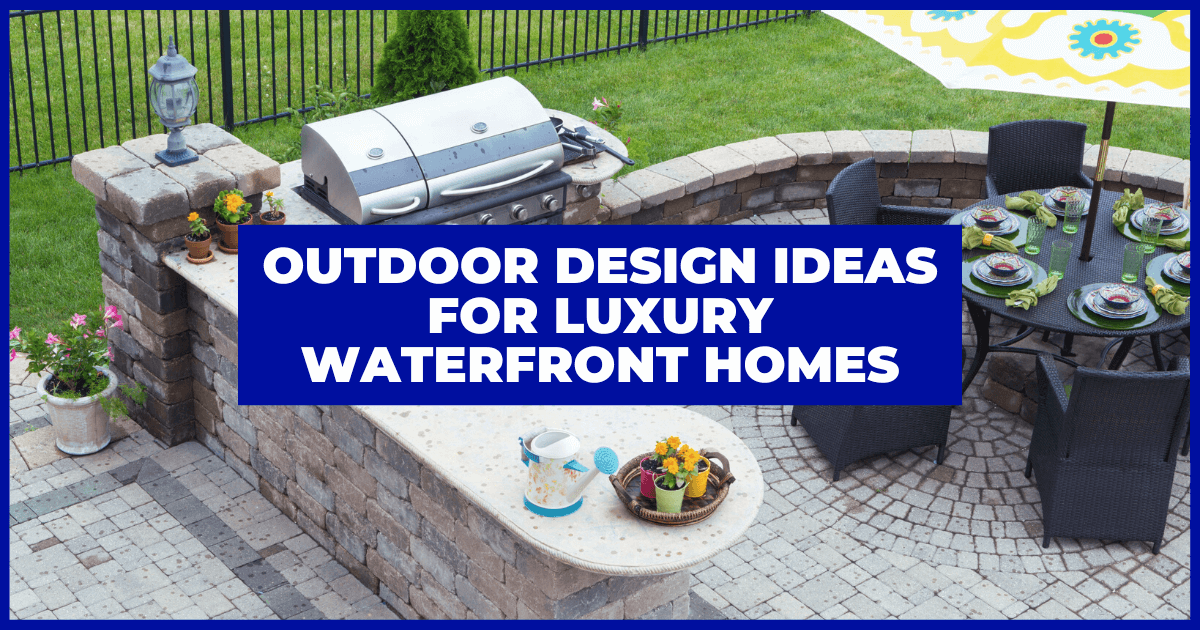 Envisioning having recreational opportunities steps away from the front or back door and the soothing sounds of water and nature? Those who do will appreciate everything that luxury waterfront properties on beaches, rivers, or lakes offer. Beyond the top-of-the-line amenities indoors, owners with property alongside a body of water will want to make the most of their waterfront investment by creating a remarkable outdoor living space. Read on to learn how to establish a comfortable outdoor respite with these waterfront property design tips.
Create Stunning Spaces for Outdoor Entertaining
Waterfront properties serve as perfect places to entertain family and guests. The inclusion of an expansive deck or patio with plenty of area for amenities, lush landscaping, lighting, and furniture for lounging is the hub of outdoor living zones.
Creating a functional and inviting deck space to maximize water views is a superb way to dictate a flow from the indoors of the home to the outside. Start with comfortable outdoor furniture and accents that can withstand the elements of the location. Additions to consider include:
Padded chairs and rockers
Benches and loveseats
Porch swings or hammocks
Coffee and side tables
Colored accent rugs
An outdoor kitchen is a must for entertaining on a luxury waterfront property. Set-ups can be simple or as elaborate as a traditional indoor kitchen. In addition to a built-in grill, these weather-resilient kitchens can include countertops and cabinets, mini-refrigerators for cold drinks, sinks, and warming drawers to keep food at optimal temperatures. The ROI for an outdoor kitchen that originally cost $14,000 can potentially add an estimated 71% upon resale.
Working a fire pit into the design on the porch or by the water's banks itself can define a whole other landscape. Pits can be dug into the ground on the sandy shore, while shoreline and back patio fire pits can be bricked in. Another easy option obtained at local home improvement centers is metal or iron cast bowls that are easy to move throughout the property.
Bring the Water Closer with Home Features
Even with waterfront homes, the addition of water features can increase its value and the overall appeal of the property itself. Options include fountains, ponds, waterfall walls, and backyard installations like a pool and spa that meld into the softscaping of the property and offer aesthetic appeal.
Outdoor fountains can be as simple or ornate as the owners like, and their presence can create a soothing and relaxing atmosphere. The addition of seating benches nearby establishes a place for reading, meditating, or just relaxing to the sounds of the flowing water. Keep the water circulating with eco-friendly solar-powered water fountains as a part of the design.
One or more garden ponds can hold aquatic fish, floating plants, and lily pads. Owners can have an exciting outdoor space when surrounded by perennials that appreciate water. Bordering the area with stone pavers and small outdoor furniture can create a cozy spot for some quiet time.
Adding a hot tub invites a higher level of relaxation to waterfront property, and the presence of a refreshing pool can bring about gatherings and water fun on warmer days. Consider including outdoor shower stalls and a changing room or splurging on a small poolside cottage.
Light Up the Views to Showcase Waterfront Property
Outdoor lighting allows good times to flow long into the night, and the strategic choosing and placing of illuminating installations are essential for optimal results. Consider the basic design concepts of lighting in layers: overall lighting, task lighting, and accent lighting.
Overhead lighting that ignites an entire room or space is excellent for decks, patios, driveways, gazebos, and spotlighting pool and spa zones. Task lighting that serves a specific purpose, such as lighting a walkway or path, can be achieved with solar-powered lanterns, strings of lights on banisters and railings, and garden areas of interest. Accent lighting that lights up outdoor kitchens and seating areas can make guests feel comfortable and welcome even after the sun falls. Stairwell areas and places leading to the main entrance should be well lit, with lights shining towards trellises, pergolas, and railings.
Create a Natural Oasis with Landscaping
Transform a luxury waterfront home's outdoor space into an oasis with clever landscaping tricks and thought-out designs. The key to success is to utilize matching design elements that complement the current indoor theme to establish a sense of continuity.
Owners wanting to make the most of their yard space will want to balance softscaping and hardscaping elements in their basic layout plans. Both are equally important, but caution should be used to choose plant life that is likely to thrive in the natural conditions around the property.
Use curvy lines to define hardscape features that direct the eye and establish footpaths throughout the property. This tactic can define walkways, flowerbed bordering, or retaining walls. Don't be hesitant to add brilliant pops of colors and complementary patterns by incorporating flowering plants like annuals and perennials.
Last but not least, incorporate shade in main areas where occupants and guests might like to relax for a while. Use existing trees or have a landscaper make plans to install secondary options like awnings or pergolas that can create even more places to gather.
Enjoy Easy Access to the Great Outdoors in a Luxury Waterfront Property
Owners of opulent waterfront homes may want to enjoy a vacation-like lifestyle every day, while investors might be seeking a profitable waterfront property for short-term rentals. Either goal can fully be realized for occupants and guests with these clever outdoor design tips that make the entire property a lush oasis on land and in the water.