Tips For Home Buyers With Young Kids
Posted by Jordan Matin on Tuesday, July 21, 2020 at 11:28 AM
By Jordan Matin / July 21, 2020
Comment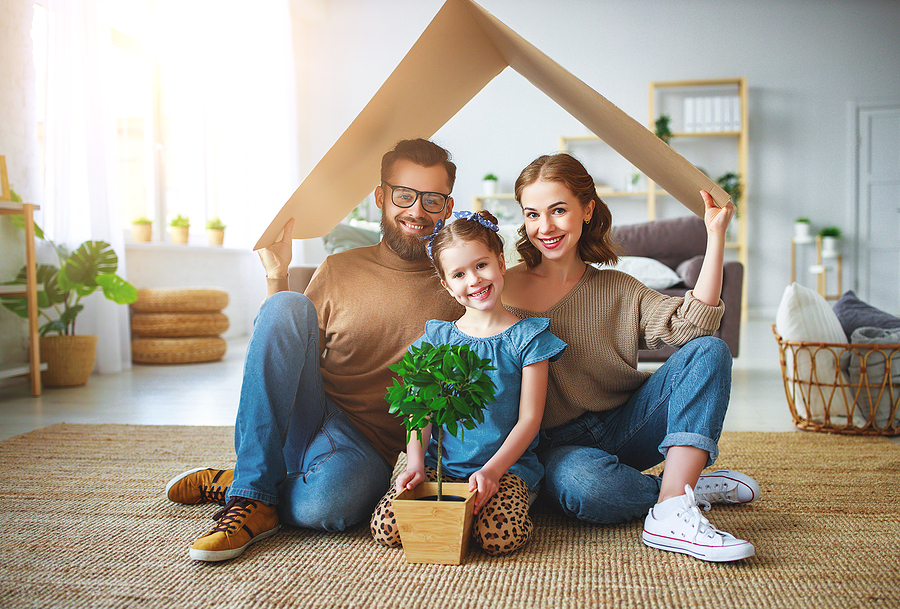 The quest to find a perfect new place to live can be a fun and exciting experience for a lot of us. But for home buyers with young children, the process can quickly become stressful if you don't prioritize what is most important for your unique situation as a parent. So help make sure you don't become overwhelmed with the complexities of buying a home for kids, we put together a complete guide on what to focus on and where to start your search.
Finding The Right Neighborhood
Choosing a location that is both safe and convenient for you and your family
Undoubtedly an old and rather tired cliché, finding the right home still largely revolves around 'location, location, location.' Figuring out which neighborhoods in your community have the best schools, the lowest crime rates, and the strongest walkability will help determine what feels right and what simply won't work. Another demographic you might want to also pay close attention to is the age-range of other home owners in the neighborhood, which can be beneficial from a social standpoint and help ensure you're living near other parents with kids in and around the same age group as your youngsters. Other location factors to consider as a parent include proximity to nearby schools, proximity to your kids' doctor, and accessibility to local parks and other community amenities.
What Are The Top School Districts?
Considering school district boundaries will be critical during a home search
While choosing the right location in general is inarguably one of the most important components to buying a new home, part of that decision could very well be made for you based on the quality of certain school districts in your city. If you're planning on sending your kids to public school, you'll need to research which school districts in the area have the highest ranking and also what each district's boundaries are in relation to your home search. And although you'll likely pay a premium for a home near a top-rated school, market data usually shows those homes retain a higher resale value and tend to sell faster when it comes time to move again. As for figuring out which schools have the highest marks, resources like greatschools.org and niche.com are a great place to start. But also don't be shy about contacting a school directly with any questions or concerns you have regarding facilities, curriculum, safety protocols, teachers, and other factors that might impact your kids' educational experience.
Yard, Play Area, or Community Playground
Adequate outdoor space shouldn't be overlooked
Most kids tend to have a lot of energy so finding a home with a big backyard, play area, or easy access to a nearby park might just be in your best interest, especially if your kids are young. According to Sanford Health, running, jumping, and playing outside regularly helps improve sensory skills, contributes to cognitive and social/emotional development, increases attention spans, and helps keep the immune system strong. In addition, a big backyard will absolutely feel like an extension of your living space whenever Mother Nature cooperates so it is almost always recommended that parents prioritize buying a home where their children can play.
House Size and Layout
How does a home's size and layout fit you and your family's needs, both now AND later?
Although considering the size and layout of a house may seem like an obvious point to make, it's still an important item to emphasize. Larger homes in certain neighborhoods may require a budget that is higher than you're comfortable with but you also don't want to settle for something that might feel too small in the future. Also remember to discuss the possibility of having more kids down the road and whether or not you'll want or need an extra bedroom or bathroom to accommodate any future addition(s) to your family. Some parents also prefer having their own private bathroom as well, so don't forget to weigh the importance of a master suite and whether or not the lack of a private bathroom is a deal breaker.
The Kitchen, Pantry, and Storage Room
Extra storage space throughout a home WILL be necessary
For most modern home buyers, having enough storage space is simply impossible. And that is especially true for home buyers with young children. From toys and sports equipment to an ever-expanding wardrobe, kids usually have a lot of stuff that needs a place to be put away, which is something that needs to be reflected in whatever home you ultimately choose. It's also worth mentioning that most kids tend to have an appetite that feels like a bottomless pit, so make sure you choose a home with a large pantry or kitchen with ample cabinet space.
The Overall Safety of Your Home
Weighing whether a home is safe and what improvments need to be made before moving in.
One of the most overlooked parts of a home search is the actual safety of the home itself. As adults, it can sometimes be all too easy to gloss over potential hazards like an open and steep staircases, sharp edges on a fireplace, or poorly lit rooms and hallways. But these are things parents need to consider when buying a home for kids. Finding a home with a fence surrounding the backyard is also a good idea, both from a privacy and safety standpoint, and also make sure you have a complete home inspection done before moving in as well.
Are you planning to be in the market for a new Portland home?
Start your
personalized home search now
or contact Matin Real Estate, Portland's local housing experts, for help navigating current market conditions. Call or text
(503) 622-9601
!