Timing the Real Estate Market for Buyers is Tricky Business
Posted by Jordan Matin on Tuesday, March 9, 2021 at 9:46 AM
By Jordan Matin / March 9, 2021
Comment
Timing the real estate market and knowing when to buy is a tricky business. Any folks are waiting longer to buy at the bottom of the market but as prices keep going up, do buyers even stand a chance? Real estate agents hear this over and over after every downturn in the market. Of course, who doesn't want to buy at the bottom of the market? However, that bottom tends to elude us. When is the bottom? When will it start to turn around? And by the time you realize it has turned around, it's too late.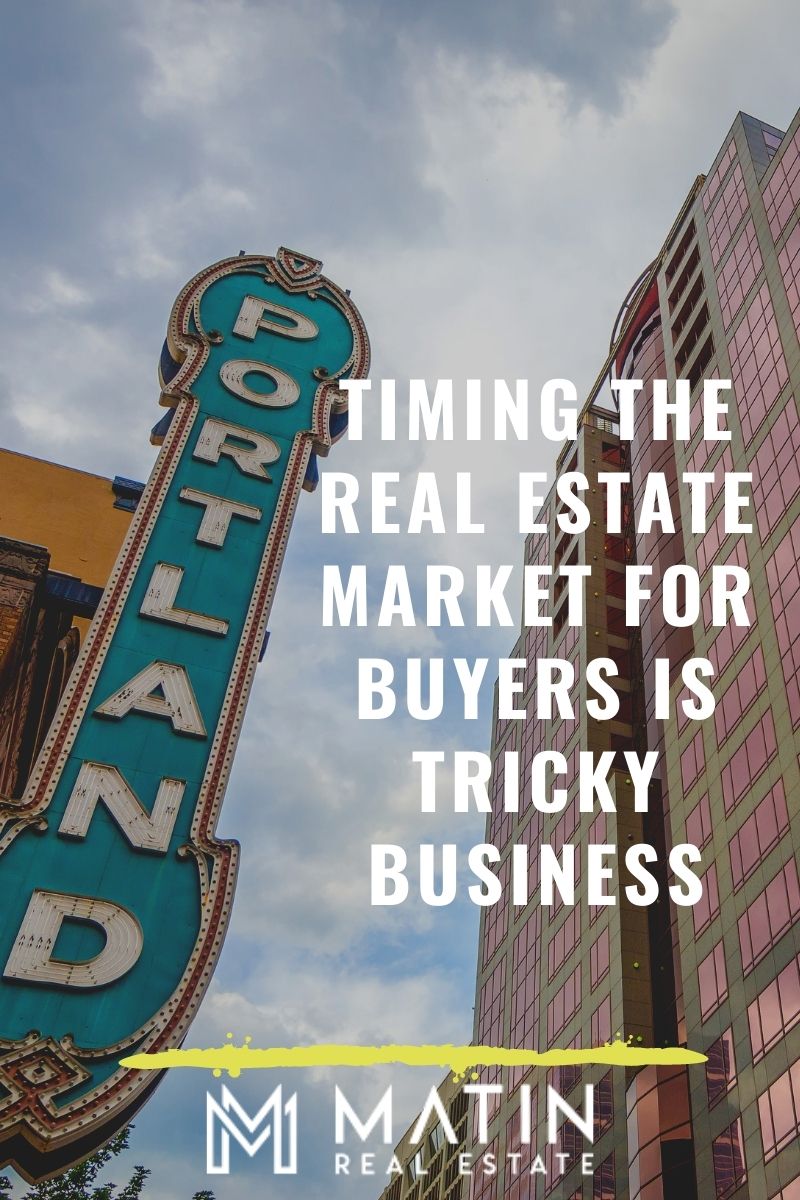 Many folks in the Portland area say that they're going to sell now and then rent for a while only to buy when the market levels out a bit. While this was good news about five or six years ago, were not really seeing a downturn. Many folks want to rent and then jump back in when the time is right but that also means that people need to sell at that time and are you going to turn around and have a buyers market all of a sudden? In just about every case where a buyer uses a strategy, they may find themselves locked out of the market by the time their lease expires. This type of gamble rarely pays off.
Many times, the real estate market simply gets away from the buyers that want to use this tragedy and by the time they feel confident that the market has bottomed out, it's already on the upswing. One key factor is that if the real estate market has really plunged, so have stock portfolios and other assets, which were not seeing. It's very risky to act decisively and invest under those circumstances even in real estate. Regardless of whether they want to and have the discipline to buy, it usually only happens in times where the most determined win out.
In this weird last real estate market and in the climate of the pandemic, the bull market, which animated the rest of the national real estate scene last fall, has finally arrived in New York City. Many people are moving out of larger cities and into the suburbs. Many of these real estate numbers are signaling robust health on the part of the luxury real estate market as well. This is signaling the beginning of a power shift according to a Forbes magazine article dated March 9, 2021. "This market has been and remains a buyers market morphing into one in which buyers and sellers feel equally empowered." We're seeing multiple offers, and many higher-priced properties continue to trade at about 10% below their original asking prices, but again, it depends on the micro-market of a particular neighborhood or community. With many buyers, still mostly local, in the real estate market for new homes, the negotiation gap is closing.
Most real estate markets bottom out over a period of weeks before gradually beginning to ascend instead of months. While no one can predict the future with 100% accuracy, many real estate agents and economists feel that prices will be stabilizing and of course will begin a gradual ascent in the spring, just like every other year. This, combined with shrinking inventory, a stimulus package, low-interest rates, and a plethora of new buyers, the Portland real estate market will become more competitive. Sellers will gradually gain more leverage and buyer and seller expectations will move into a more synchronized dance.
However, the fact remains that today's opportunities may well disappear six months from now so planning on selling and buying, while having always been a gamble, is no more prevalent than it is right now.
Planning on buying or selling in the Portland real estate market? Let's talk about numbers. Let's talk about your expectations, projections, what works for you, and if you're planning on buying or selling in or out of the Portland metro area. There are plenty of neighborhoods that are expanding, those that are downsizing, and new construction suburbs popping up all over the area.