Things to Do With Kids in Portland: 5 Weekend Activities For Kids
Posted by Alicia Smith on Monday, January 24, 2022 at 6:48 AM
By Alicia Smith / January 24, 2022
Comment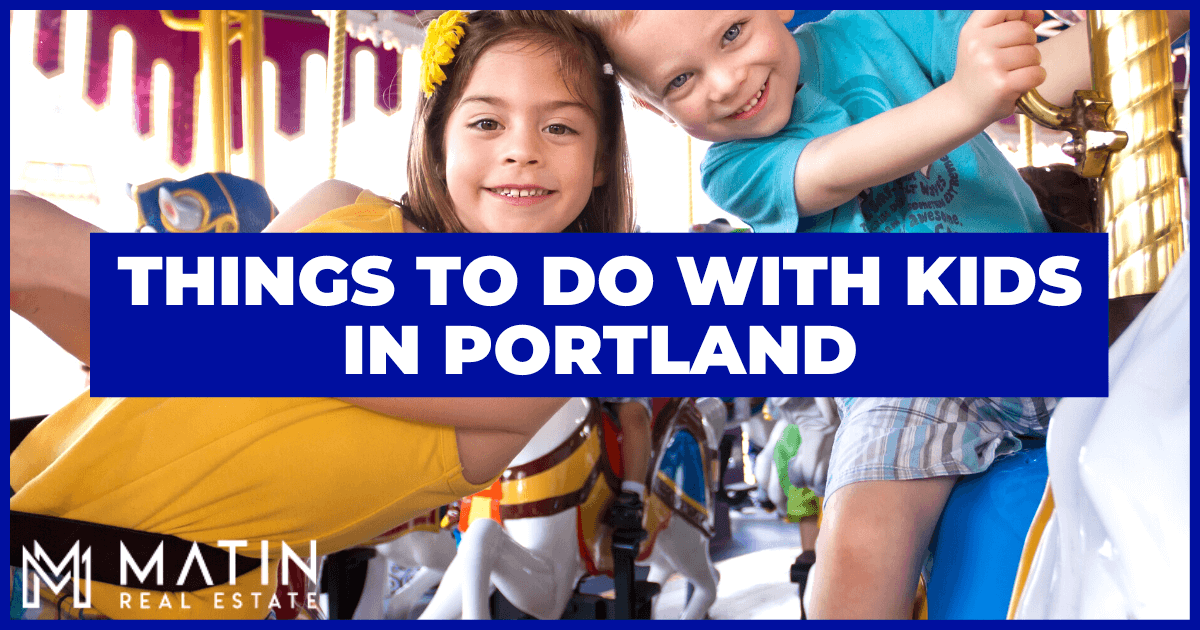 The city of Portland is a beautiful green city with a vibrant culture perched by Oregon's Columbian and Willamette Rivers. It has a laidback vibe with eclectic neighborhoods that boast miles after miles of beautiful natural forests and parks, museums, and a long list of must-try experiences. But are there fun activities for households with younger members? Of course there are! From museums to comic books to amusement rides, keep reading to discover five fun things to do with kids in Portland, Oregon.
Visit the Oregon Zoo
Oregon Zoo Amenities
2,000+ animals
Animal encounter tours
Education Center
Zoolights
Formerly known as the Washington Park Zoo, the award-winning Oregon Zoo in Portland is one of the most famous zoos in the country. It is located about 15 minutes from downtown Portland on 4001 SW Canyon Road and is home to more than 2,000 animals. To promote interactive zoo experiences for kids and adults while ensuring proper conservation and sustainability, the zoo is divided into multiple exhibits designed to mimic the zoo animal's natural habitat. From Amur tigers and red pandas to polar bears and a penguinarium, these exhibits are an opportunity for kids to explore different parts of the world without leaving Portland.
And for an even closer-up animal experience, the zoo offers 20-minute animal encounter tours with opportunities to feed and even take photos with animals such as the elephant. And that's not all—the Oregon Zoo also features an Education Center, where kids can learn first-hand the essence of sustainability or even sign up to volunteer if they're ten or older. Things get even better during winter when the zoo hosts Zoolights, a fantastic light show during which more than a million bulbs light up to create an enchanting wonderland guaranteed to leave every kid and adult wowed. The admission fee starts at $10.50 for adults, $7.50 for kids between three and 11 years, and $9 for seniors.
Explore OMSI
Oregon Museum of Science and Industry Amenities
USS Blueback tours
Science Playground
Laser light shows
The Oregon Museum of Science and Industry is one of Portland's most-visited attractions, and for a good reason. First opened in 1903 as a museum for odd artifacts, the OMSI, as it's popularly known, features multiple exhibits about science, engineering, and space guaranteed to blow every visitor away. For instance, kids will love being aboard the USS Blueback, one of the most famous submarines in U.S. history. The OMSI offers 45-minute interactive tours through the vessel, allowing kids and adults to experience what it's like being aboard a submarine and even learn the technical aspects of operating one.
The Science Playground in the museum is the perfect place for kids age six and below. The early childhood education area has multiple experimental stations and even an interactive animal secrets exhibit, where kids can explore caves, crawl through trees' roots, and even play in a stream. The infant and toddler space is designed to encourage developing senses and a water area where all kids can enjoy a little splash while learning.
The playground even features early-childhood specialists to guide visitors around. Kids six years and above will also enjoy laser light shows played every day at the planetarium. The museum opens from 9:30 a.m. to 5:30 p.m., and ticket costs vary depending on the exhibits or events visitors want to experience.
Play at Oaks Amusement Park
Oaks Amusement Park Amenities
Adrenaline Peak Roller Coaster
Atmos Fear
Toon Cars
Roller skating rink
Carousel
Ferris wheel
Mini-golf course
A day or weekend out with the kids is never complete without visiting the Oaks Amusement Park. Located about 3.5 miles southeast of Portland in the Sellwood neighborhood, the facility is one of the country's longest-running amusement parks, having been established in 1912. It sits on about 44-acres of land and includes a variety of classic but hair-raising rides guaranteed to leave riders screaming, such as the Adrenaline Peak Roller Coaster, which features three inversions, and a 72-foot-long drop, and the Atmos Fear, a huge swinging pendulum ride.
The park also has smaller rides, such as the fun Toon Cars ride for younger kids. But rides aren't the only thing to enjoy here. The amusement park also lays claim to the country's largest and only remaining historic roller skating rink. Skating tickets start at $10 for open skating sessions. The park also features a classic carousel, Ferris wheel rides, and even a mini-golf course. There's no admission fee at Oaks Amusement Park, but tickets must be purchased for each activity.
To enjoy a visit with kids to Oaks Amusement Park and try as many rides as possible, consider the unlimited ride bracelets. Oaks Amusement Park is typically closed on Monday, except on holiday weekends, and receives nearly a million visitors annually, meaning it can get pretty crowded, especially on weekends. Schedule a visit midweek and get there early to beat the crowds.
Attend a Children's Theater Performance
Northwest Children's Theater & School Amenities
Four yearly main-stage performances
Other productions
Host birthday parties
For kids who prefer puppets and acrobatics or fancy the legendary world on stage over science or comic books, the Northwest Children's Theater & School in Portland will be a great place to be. The theater produces four main-stage performances every year and countless other fun productions based on classic books that kids will love. The best part? Theater-goers can even host birthday parties, making it the perfect place to hold a birthday for kids who love the stage.
The theater was established in 1993 and is today one of the largest on the West Coast. Other great places to check out with kids include the Oregon Children's Theater and the Imago Theater, where kids will love acrobatic shows of artists dressed up as animals.
Browse One of the Best Comic Book Stores in the Country
Floating World Comics Amenities
Multiple genres
Collection updated every Wednesday
Recognized as one of the best comic book stores in the country for its exceptionally diverse comic book selection, Floating World Comics is an excellent place to be for comic enthusiasts and book lovers of all ages. The comic store first opened its doors in 2006 and features comic books in genres from superheroes and sci-fi to crime and action.
The already-rich selection is updated every Wednesday, guaranteeing visitors fresh content to browse through with each visit. As one of the most popular comic book stores in Portland, the Floating World Stores pulls crowds of artists and readers of all ages, meaning both kids and adults will have plenty of people who share the same interest to interact with when they visit. Visitors can even sell their own comic books to other readers here.
Discover Portland's Attractions For All Ages Today
As Oregon's largest city, Portland sure lives up to the expectations of a big city. There are all sorts of things to do in Portland, from large parks and activities for energetic outdoorsy types to libraries and bookstores for the bookworms. It has plenty to offer children and adults alike, and the activities listed above will surely tickle the fancy of any kid. Those moving to Portland with their children will find that there's an endless array of activities to enjoy together.