Kids Love Lake Oswego: 5 All-Ages Activities in Lake Oswego
Posted by Alicia Smith on Wednesday, April 13, 2022 at 7:40 AM
By Alicia Smith / April 13, 2022
Comment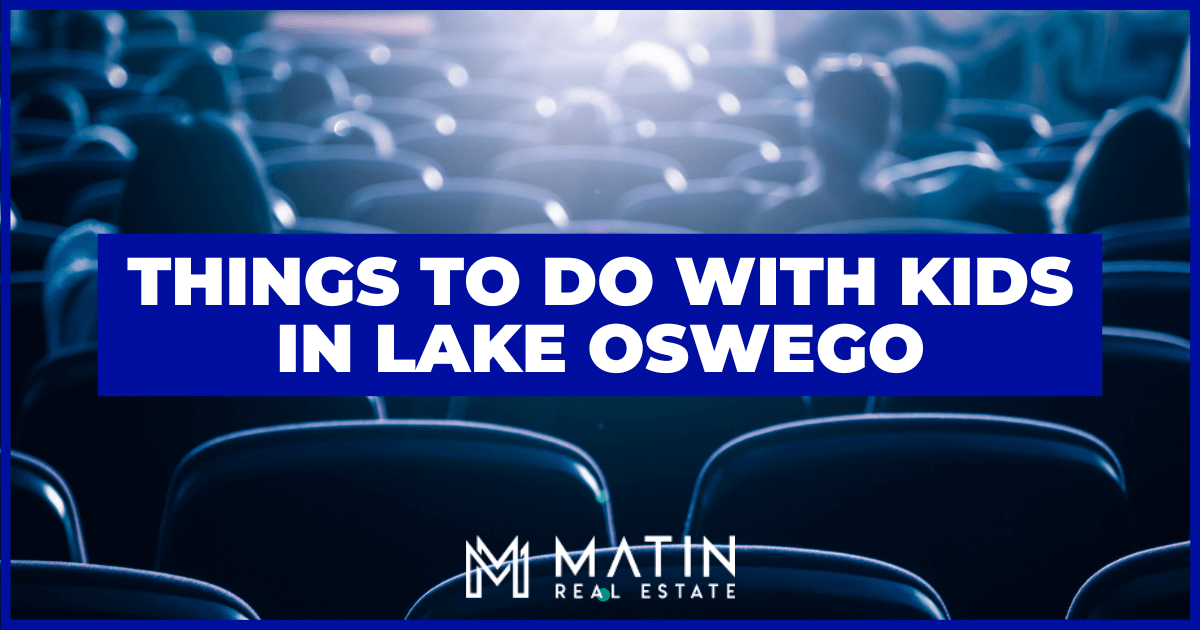 Lake Oswego is a beautiful suburban city just eight miles southwest of the Portland area. Once a hub for Oregon's iron industry, the city of Lake Oswego is now one of the most desirable suburbs in the region for households with children.
Kids love the Lake Oswego area! Besides the scenic Oswego Lake, it sits by the banks of the Willamette River and is simultaneously perched between some of Oregon's premier attractions, such as the Columbia Gorge. As a result, it's endowed with plenty of parks, trails, and natural attractions perfect for outdoor adventures with kids.
From an indoor play arena to beautiful waterfront parks, people moving to Lake Oswego will find non-stop fun for all. Keep reading to learn about the best things to do with kids in Lake Oswego.
Have Fun at Play Boutique
Want a venue with tasty food and tons of kid-friendly activities? Head over to the Play Boutique at 464 First Street, Downtown Lake Oswego. It is an indoor play space with slides, adventure zones, and plenty of other soft play equipment every kid will love.
The Play Boutique offers a stay and play package every parent looking to squeeze in some work without distractions should maximize. Parents get free Wi-Fi and laptop plug-in stations so they can comfortably work as kids play. For those with infants and toddlers, the package includes a diaper changing station and anything they might need, from diapers to baby food.
The Beeztro, an onsite café at the Play Boutique, serves healthy delicacies and delicious snacks and has a rich beverage menu every adult and kid will enjoy. The Play Boutique also hosts public and private parties, making it the perfect venue for a birthday party. But that's not all, as the facility is also home to the Peake Academy, a learning community with onsite and online classes. The school uses a multi-sensory education approach to help improve a child's cognitive, creative, and manipulative abilities while enhancing their motor activities.
Stay and play membership costs $495 annually for a family with three kids and includes unlimited classes and access to special events, five complimentary guest passes for first-time visitors, reduced happy hour prices, 50% off birthday parties hosted, and many other superb features.
Enjoy a Sweet Treat at Lake Oswego Ice Creamery & Restaurant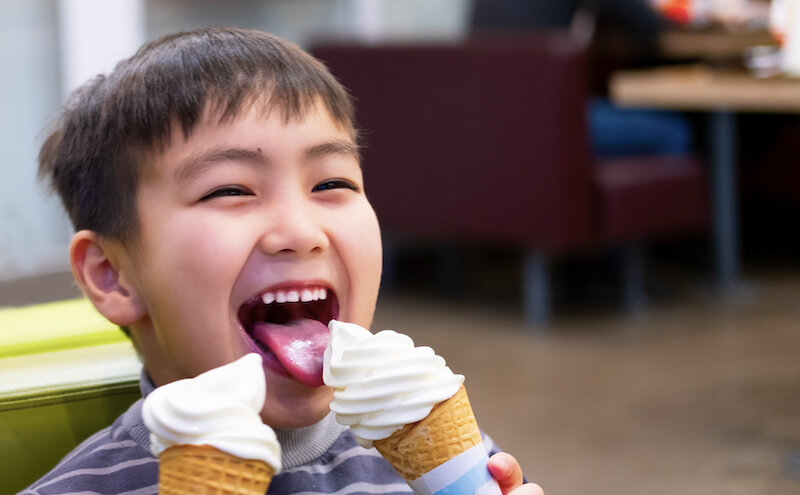 Lake Oswego Ice Creamery & Restaurant is one of the oldest restaurants. It has been operational since the mid-1980s and is housed in a 90-year-old historic building, once the home of KFC.
Lake Oswego Ice Creamery & Restaurant also boasts some of the best homemade ice creams in the region. It offers over 40 refreshing flavors of ice cream with tasty berry additions like blackberries that every kid will love. Patrons can enjoy one or multiple ice cream flavors on a cone, in a cup, or as a milkshake.
Visit on an empty stomach because the restaurant also serves breakfast, lunch, and dinner and a decadent ice cream menu. For breakfast, kids will love the buttermilk pancakes served with whipped cream, fresh fruit, chocolate chips, and marionberry syrup on request. Adults will certainly enjoy the full Belgian Waffle breakfast, which includes two eggs, two sausage links, and bacon strips.
Lunch and dinner options include appetizers like mozzarella cheese sticks, hand-crafted desserts, and other tasty meal combinations. As they wait for their orders, both kids and adults will love munching on fresh yummy burgers or other delicious entrees like grilled cheese or chicken sandwiches.
The best part? Dogs can tag along too, and the friendly staff will even offer them a Milk-Bone biscuit. Lake Oswego Ice Creamery & Restaurant opens daily from 7 a.m. to 9 p.m. and is located at 37 A Avenue.
Sight-See on the Willamette Shore Trolley

The Willamette Shore Trolley is the most relaxing way to explore Lake Oswego with kids. It is a vintage streetcar that offers rides along the west shore of the Willamette River via the Jefferson Street Rail Line, a historic railway line dating to the 18th century.
During its 10.5 mile trip between Portland and Lake Oswego, the vintage streetcar passes over high trestles like the 686-ft Riverwood Trestle treating eager sightseers to the stunning river and east side neighborhood views. It also cuts through posh neighborhoods with modern office buildings and condos such as John Landings, goes into a 1396-ft.long dark tunnel, and skirts multiple parks and woodlands like the Powers Marine Park.
The excursion is 90-minutes long, and it's one of the best ways to explore Lake Oswego. It allows those on board to experience Lake Oswego's diverse landscapes and rich history without breaking a sweat. The trolley departs from Lake Oswego to Portland from August to September. Tickets cost $8 for everyone and are only redeemable on the day of purchase. Get to the station 15 minutes before departure.
View a Movie at Lake Theater & Café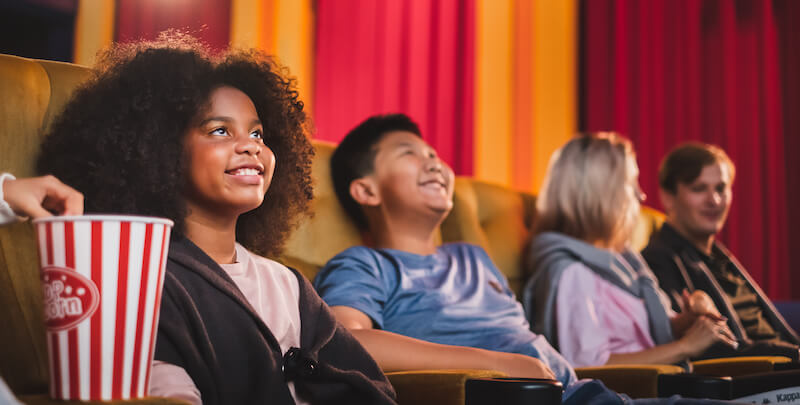 Tired of indoor movie nights? Dress the kids warmly and head over to the Lake Theater & Café for an authentic cinema experience. The Lake Theater & Café is a renowned neighborhood cinema on 106 N State Street in Lake Oswego. It airs kid-friendly movies daily from 3:30 pm to 7:30 pm or on Saturdays and Sundays starting at noon.
This iconic venue began in the 1940s as a single-screen cinema. There is no need to carry snacks because it also has an onsite café with a full menu of meals made using locally-sourced ingredients such as hummus plates and farm greens.
Pizza fanatics will be delighted to find a robust pizza menu with options like the Hawaiian pineapple and pepper bacon pizza. There's pepperoni pizza, a grilled cheese sandwich with a side of fries, or pasta with butter for kids.
Spend the Day at Lake Grove Swim Park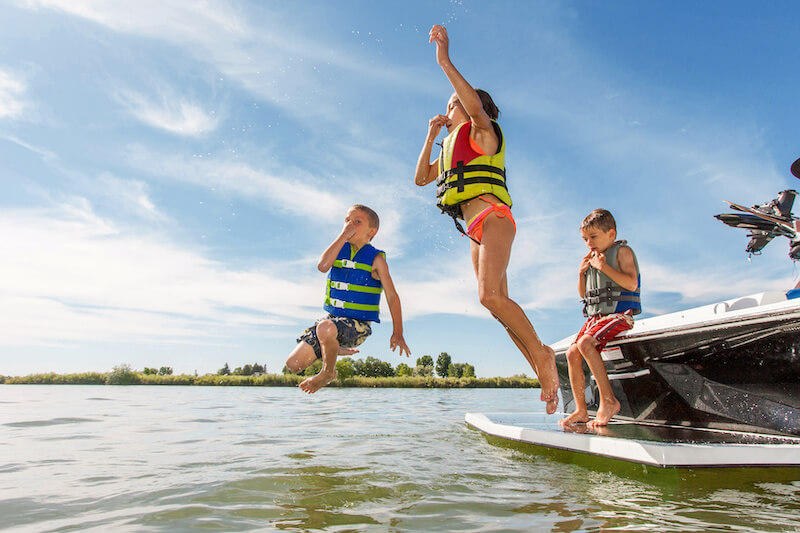 Lake Grove Swim Park is the best spot for a dip in one of the neighborhoods closest to Oswego Lake. There are lifeguards on site and amenities like multiple roped-off swimming pools, a wading pool, and a concession stand with snacks kids and adults will enjoy.
There's also a badminton and tetherball play area, picnic tables, and green-shaded spots perfect for after swimming picnicking. Swim lessons are available for all but on a first-come, first-served basis. The Swim Park is under the management of Lake Oswego's School District and is free to access as long as one has an ID to prove residency in the area. Passes are usually available at the gate.
Lake Oswego Is Fun For Kids of All Ages
With the numerous natural attractions and kid-friendly spaces to restaurants, a day out with kids in Lake Oswego is always guaranteed to be fun. Book a stay and play package at Play Boutique to work while kids play or sight-see on the Willamette River for a relaxed day out. Stopover at the ice creamery and restaurant and end the day with a movie and delicious snacks at the Lake Theatre & Café. There's truly something fun for all ages in Lake Oswego.
If you're interested in living in Lake Oswego, Oregon, contact Matin Real Estate at (503) 622-9601 to get in touch with a local real estate agent and find the ideal Lake Oswego home for you today.