8 Clark County Towns With Low Property Taxes: Learn the True Cost of Owning a Home
Posted by Alicia Smith on Wednesday, April 12, 2023 at 9:25:43 AM
By Alicia Smith / April 12, 2023
Comment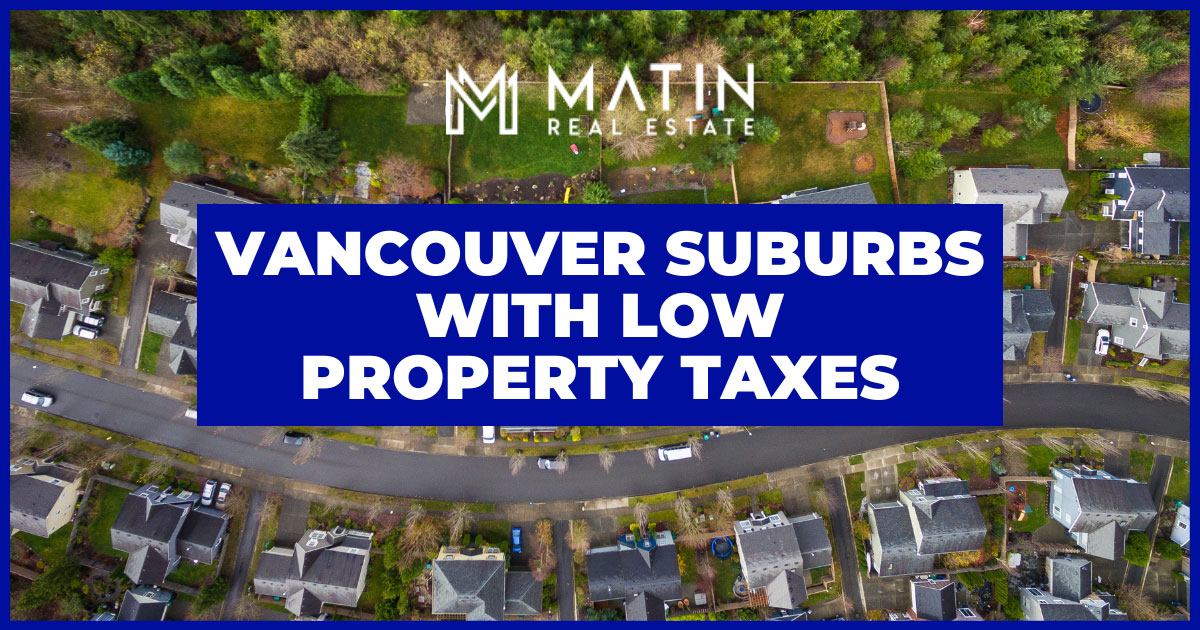 Property taxes may be unavoidable for those looking to own a home, but spending a fortune on them certainly isn't. Would-be homebuyers planning on moving to Vancouver, WA, and the surrounding area have plenty of options that offer a lower tax burden and excellent quality of life while still taking advantage of the region's proximity to the city of Portland and gorgeous natural areas. Read on as we explore eight of the best choices that offer something for every future homeowner.
Clark County Property Tax FAQs
First-time homebuyers or those new to the Clark County area may have some understandable questions about how they end up with their tax bill and where the significant amount they spend every year paying it is going. It all starts with the Clark County assessor, which appraises properties throughout the county to determine a fair market value. This may shift year to year based on market conditions and comparable home or property sales nearby.
Local taxing districts set tax rates based on their financial needs, spelled out in annual budgets submitted to the county each year. Property taxes are then collected by the county treasurer, who disperses the cash to localities to pay for services. This money is one of Washington's most significant funding sources for public schools, fire departments, parks, libraries, and other desirable local services.
Fortunately for taxpayers, there are some limits to property taxes. Each district has a voter-authorized maximum rate which can only be changed by the voters. Other levies can also be assessed, but the state constitution caps these at an additional 1% of the property value. Taxing districts can only raise their entire district-wide property tax levy by 1%, regardless of how that increase is split among property owners. This ensures a slow and measured growth of local service spending.
If you'd like to get further into the details or have questions about how Clark County property taxes affect a property you have your eye on, one of our Vancouver, WA real estate agents will be happy to help.
Ridgefield | 0.6510%
Less than 15 miles north of Vancouver, Ridgefield offers one of the area's best and fastest-developing suburbs, between Interstate 5 and the Lake River. Ridgefield's history dates back to the mid-1800s, which residents can still experience a taste of in the historic downtown near the river, filled with local restaurants, shops, and even entertainment like the Old Liberty Theater. This area hosts popular town events like a farmer's market and other community gatherings.
Lovers of the outdoors will also be able to take advantage of the adjacent Ridgefield National Wildlife Refuge, one of the area's best spots for hiking, hunting, wildlife watching, and other nature fun. It's also a popular jumping-off point for exploring the area's outstanding wineries, like Windy Hills Winery, in town. With a property tax rate of 0.6510%, owners of a $500,000 home are responsible for roughly $3,255 per year in taxes.
Housing in Ridgefield is almost exclusively made up of single-family detached homes, many new construction or just a few years old. It shows how fast Ridgefield is growing, just about tripling in population between 2010 and today. Homes for sale in Ridgefield start in the mid-$400s, with options for up to around $1.25 million. However, Ridgefield's luxury homes can reach nearly double that amount, typically for extremely spacious homes or ones on expansive lots.
Ridgefield Amenities
Ridgefield National Wildlife Refuge
Abrams Park
Ridgefield Outdoor Recreation Complex
Lake River access
Ridgefield Community Library
Convenient to Interstate 5
Woodland | 0.7621%
The small town of Woodland lives up to its name, with heavily wooded areas north and east of town giving way to farms and agricultural space to the west. Located 20 miles north of Vancouver along Interstate 5, the setting between the Columbia and Lewis Rivers is perfect for those who enjoy getting out on the water or relaxing nearby. Woodland also calls itself the southern gateway to the Mount St. Helens recreation area, offering limitless adventure potential in some of Washington's most beautiful wilderness.
Closer to home, Woodland is the site of the unusually shaped Horseshoe Lake Park, once a part of the Lewis River until highway work separated it, creating a top local spot for swimming, fishing, and kayaking/canoeing, along with all types of community events. These include the popular Lilac Days at the Hulda Klager Gardens and the agriculture-oriented Planter's Days celebrations. Woodland's 0.7621% tax rate means a $500,000 home will rack up a property tax bill of approximately $3,810 annually.
Woodland homes are single-family detached properties available in various styles and price points. They start as low as the high $200,000s for older or more modestly sized homes. Most sell from the mid-$300,000s to nearly a million dollars, though Woodland's luxury homes can regularly top $1 million.
Woodland Amenities
Horseshoe Lake Park
Lewis River Golf Course
Woodland Community Library
Hulda Klager Lilac Gardens
Convenient to Interstate 5
La Center | 0.8445%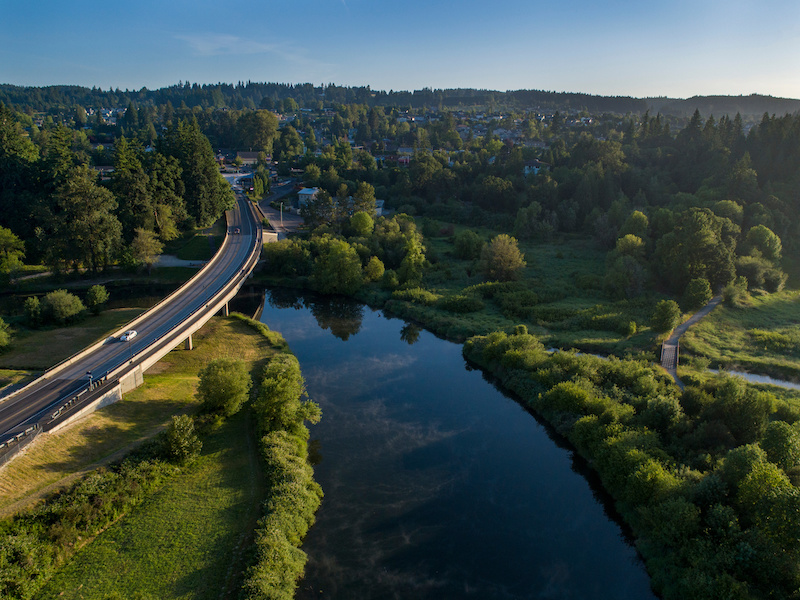 La Center is a small town just east of Interstate 5, approximately 18 miles north of Vancouver. Until the 1990s, less than five hundred people called La Center home, but the past three decades have seen the population expand to around 4,000. Two of La Center's most prominent attractions are in the heart of downtown, The Last Frontier and Palace casinos, providing excellent spots to have fun or grab a drink or a bite to eat.
Numerous community parks also make it easy to get outdoors and enjoy local nature like the East Fork of the Lewis River. One of the best is Sternwheeler Park, set along the river near the center of town, which includes walking trails, picnic areas, and an amphitheater for community events. Homeowners in La Center pay a 0.8445% tax rate, resulting in property taxes of just over $4,222 each year.
Like other smaller towns in the area, would-be homebuyers will find almost exclusively single-family detached properties for sale. They tend to start around half a million dollars for relatively newly built and comfortably sized homes with two to three bedrooms. However, most homes for sale in La Center sell in the high six figures to just over $1 million. Those looking to build their dream home can also choose from vacant land and lots, ranging from around $200,000 to more than $1.5 million, while La Center's new construction homes list from the $500s and up.
La Center Amenities
East Fork Lewis River access
Multiple downtown casinos
Holley Park
Sternwheeler Park
Community walking/hiking trails
Tri-Mountain Golf Course
Convenient to Interstate 5
Battle Ground | 1.0660%
Battle Ground's warlike name belies the quiet, thriving suburb that would-be homebuyers will find just over 17 miles northeast of Vancouver. Various shopping plazas and commercial centers are spread throughout town, meaning residents are just minutes from convenient errands, a great bite to eat, or a delicious local drink at several breweries and wineries around town, like Barrel Mountain Brewing. One of the best developments is Battle Ground Village, also home to the town's library.
Those who need some green space can take advantage of the town's many community parks or escape to spots like Battle Ground Lake State Park just outside the city. With a property tax rate of 1.0660%, homeowners with a $500,000 property will owe roughly approximately $5,330 annually.
Housing in Battle Ground consists of single-family detached homes, including a significant portion of new construction properties. While some homes can be found in the $300s, most homes in Battle Ground list in the $400,000–$1 million range. Vacant land and lots for sale in Battle Ground typically list from less than $200,000 well into the millions.
Battle Ground Amenities
Battle Ground Lake State Park
Salmon-Morgan Creeks Natural Area
Battle Ground Community Center
Battle Ground Skate Park
Battle Ground Community Library
Yacolt | 1.5213%
Those looking for charming small-town life convenient to Vancouver should head 30 miles northeast into the foothills of the Cascade Mountains and check out Yacolt. Home to fewer than 2,000 residents, the town boomed in the early 20th century with the railroad's arrival. While the growth didn't last, residents can still learn about the railroad heritage with the Chelatchie Prairie Railroad. This all-volunteer rail company allows people to get unique hands-on experience with locomotives.
Yacolt is less than 40 miles from the gorgeous natural areas around Mount St. Helens, another significant advantage for nature lovers, who can enjoy nearby Lake Merwin and Yale Lake. While big city conveniences are just a short drive away, Yacolt homeowners can also take advantage of the town's small but popular commercial district, home to the Yacolt Trading Post and Arrowhead Coffee, among other spots. Yacolt's 1.5213% property tax rate means owners of a half-million dollar house will owe about $7,606 annually.
Yacolt's smaller size means properties may be less frequently available than in other, larger communities. Most homes for sale in Yacolt list from the low $300s to nearly $600,000. Homesites and lots can also be found from the mid-$100s and up.
Yacolt Amenities
Yacolt Town Park
Yacolt Recreational Park
Chelatchie Prairie Railroad
Mount St. Helens & numerous state parks
Washougal | 1.9422%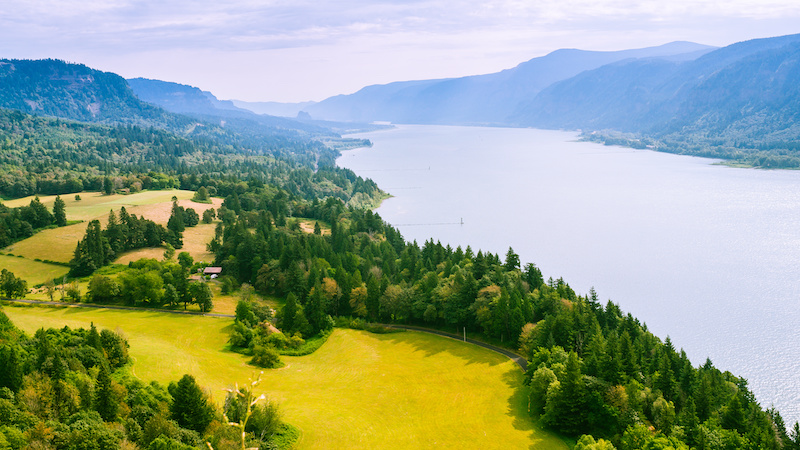 Just under 17 miles east of Vancouver along the Columbia River, Washougal is another popular Vancouver suburb known for lower property taxes. It's centered on a revitalized downtown area near the river, home to numerous local restaurants, shops, cultural sites, and more. The immediate riverfront space is among the city's best assets, and Captain William Clark Park illustrates this point. This historic area was once used as a camp by Lewis and Clark on their famous expedition but now offers a public beach, walking trails, picnic areas, and beautiful river views.
Washougal is also a great jumping-off point for exploring the Columbia River Gorge National Scenic Area, one of the region's best hiking, fishing, and water sports destinations. The city's 1.9422% tax rate means homeowners with a $500,000 property will be responsible for $9,711 in taxes.
Homes in Washougal are mainly single-family detached properties, supplemented by a handful of condos and townhouses. Typical houses sell from around $300,000 to close to $1.5 million. Condos for sale in Washougal can be found from the mid-$200s, while townhouses typically sell from around a half million to $600,000. Homesites and lots in Washougal are available from under $100,000 to more than a million dollars for more expansive, private properties.
Washougal Amenities
Columbia River access
Captain William Clark Park
Steigerwald Lake National Wildlife Refuge
Washougal Waterfront Park
Steamboat Landing Park
Reflection Plaza
Washougal Community Library
Vancouver | 2.3471%
Those interested in low property tax locales near Vancouver may want to consider Vancouver itself! Just across the Columbia River from Portland's best neighborhoods, residents of Vancouver are just minutes away from big city jobs, restaurants, shopping, cultural attractions, and so much more.
But Vancouver also offers a tremendous amount within city limits, from the charming downtown Vancouver neighborhood to large green spaces like Vancouver Lake Regional Park and many smaller community parks. From several hospitals to numerous shopping malls and community centers, residents have access to everything they could want in a medium-sized city and the ability to quickly escape to beautiful natural areas north and east of town. With a property tax rate of 2.3471%, owners of a $500,000 house will be taxed around $11,735 annually.
Unlike many of its suburbs, Vancouver has a variety of condos and townhouses available in addition to the city's many single-family detached homes. The former group provides the city's most budget-friendly options, starting in the mid-$200s for condos and low $300s for Vancouver townhomes. Detached homes in Vancouver start in the mid-$300s, with properties commonly reaching the $1.5 million range. Ultraluxury homes can sell for as much as $2–4 million.
Vancouver Amenities
Walkable downtown shopping and dining district
Convenient to Portland
Access to Interstates 5 and 205
Extensive Columbia River waterfront
Vancouver Lake Regional Park
Vancouver Mall
Clark College
Camas | 2.3702%
Camas is another delightful riverfront suburb sitting along Vancouver's eastern border. Once a paper milling town, it's reinvented itself with tech and white-collar jobs in recent decades. The core of Camas is set at the foot of the hills below Lacamas Lake, where the Washougal River empties into the Columbia. This lake is also the site of one of Camas' best green spaces, Lacamas Regional Park. It's just one of the many parks that dot this half-suburban, half-rural town.
Camas residents can enjoy a compact but lively downtown filled with restaurants like the swanky [email protected] steakhouse, nightlife spots like Caps N' Taps, or a variety of local stores, coffee shops, and more, all within a few walkable blocks. Owners of a $500,000 home will be responsible for roughly $11,851 in property taxes with Camas's rate of 2.3702%
Most homes in Camas are single-family detached properties, though would-be buyers can also find a few townhouses and condos. Camas' most affordable homes start in the $400,000-$500,000 range. However, options are available throughout the high six figures, and luxury homes for sale in Camas can reach as much as $3 million.
Camas Amenities
Lacamas Park and Lacamas Lake
Heritage Park
Walkable downtown
Camas Public Library
Adjacent to Vancouver
Low Property Tax Suburbs Are Waiting Near Vancouver, WA
Whether buyers are searching for small-town charm, convenience to some of Washington and Oregon's best natural landscapes, or access to a diverse and thriving economy, these eight Vancouver, WA, area suburbs have something for everyone. These delightful communities prove residents don't have to sacrifice their quality of life in exchange for property tax savings, and they're all within easy reach of the Vancouver economy. With so many good choices, it may be hard to pick just one!