6 Common Home Safety Hazards (and How to Avoid Them)
Posted by Alicia Smith on Saturday, December 18, 2021 at 9:12 AM
By Alicia Smith / December 18, 2021
Comment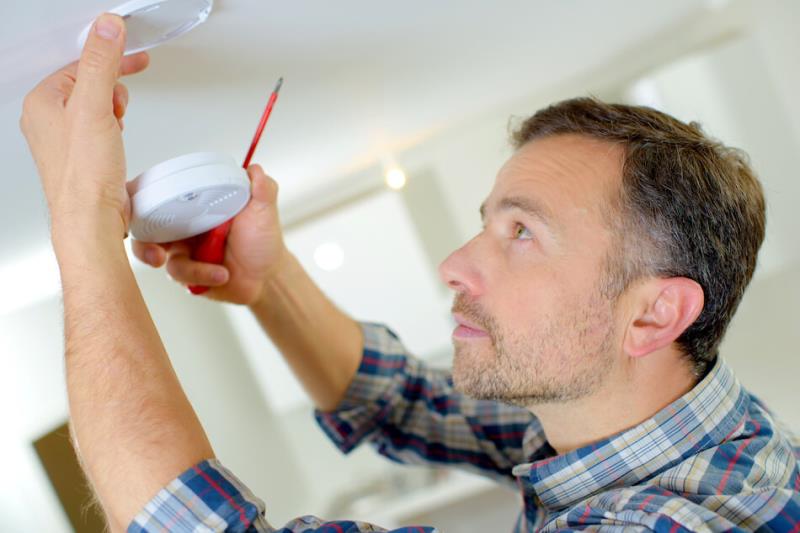 Your home is your safe space, a place of comfort and security. Part of the regular maintenance responsibilities of homeowners is safeguarding their estate from common hazards. More than 130,000 preventable injury-related deaths occurred in a single year in U.S. homes, reports the National Safety Council. But there's no need for fear. Simple, everyday actions and knowing the most common home safety hazards can help reduce the risk of injuries and potentially save lives. Keep reading to learn how to remedy the most common home safety hazards.
Poor Lighting in Stairwells
Even a stumble down a single step can cause a twisted ankle or knee. Poor lighting is one of the major causes of this type of fall. Consider adding battery-operated fixtures if a stairwell doesn't have wiring for overhead or sconce lighting. Make sure the lighting is bright and easy to turn on.
Other trip-and-fall hazards can include but are not limited to:
Loose area rugs: add non-slip backing to help prevent accidents.
Tidy all loose objects: declutter your home to avoid trip-and-fall accidents.
Outdoor clutter: put away toys and other items that may be tripped over during play or run over by the lawnmower, causing injury.
Smoke Detector Issues
Most homes don't have enough smoke detectors. The National Fire Protection Association's (NFPA) guidelines for installing smoke alarms suggest that every home have smoke alarms inside every room used for sleeping and alarms located outside each sleeping area, like in the hallway. There should be smoke detectors on every level of the home, and larger homes will need more detectors.
It's also essential to test the alarms monthly and change the batteries twice a year. A good recommendation is to change the smoke detector batteries when the clock is set back/forward or on October 1 and May 1. Set those dates as a reminder on a smartphone.
Bonus tip: Install a carbon monoxide detector to monitor the home's CO levels. Carbon monoxide can't be seen or smelled, and CO leaks can make you sick and even be fatal. Additionally, smoke and carbon alarms can be integrated with smart home security systems to provide comprehensive protection.
Open Water Hazards
Open water hazards in the home can lead to injury and accidental drowning. Open water includes:
Swimming pool (above ground or built-in) without a secured/locking gate
Hot tub without a secured/locking gate
Bathtub filled with water
Water-filled outdoor tub used for bathing pets
Water-filled bucket or container used when cleaning
Any of the above can be life-threatening open water hazards at home. In the United States, drowning is the second leading cause of unintentional injury/death for children ages one to 14. Never leave children alone or unsupervised with a water-filled bathtub or other container where the child may fall face first and be unable to breathe.
Sharp Objects
It often takes seconds for an accident to happen—a small child reaches up to a counter, and a knife near the edge falls and causes injury. Keep sharp objects like loose knives, kitchen shears, and knife blocks away from the edge of the counter. Add locking mechanisms on drawers where the shop objects live. Never put blades up in the dishwasher. In the bathrooms, keep razors out of reach. These are essential measures not only for homes with children. Multi-generational homes should take care to secure sharp objects as well.
Dryer Lint Buildup
The NFPA says that, on average, a fire department responds to a fire in the United States every 23 seconds. Residential fires are a significant portion of those calls. The good news is, homeowners can take easy steps to help prevent home fires. This includes removing dryer lint buildup. Users should always pull out the dryer vent and clear it before running a load. However, it's also essential to clean out the dryer lint that builds up in the ductwork to reduce fire risk.
Slippery Surfaces in the Bathroom
The bathroom is the one room in the house where it's not uncommon to have some water on the floor (or, after a toddler's bath, a lot of water on the floor.) Even a few droplets on a bathroom floor, especially tile, can create a slippery surface. Slippery surfaces increase the risk for injuries.
Wipe away water as soon as possible, use throw rugs with non-skid backings, and install safety treads in the shower/tub to prevent falls. Safety bars/grips are also recommended for the shower, tub, and toilet for individuals that may need assistance. Organizing the bathroom to cut clutter can reduce fall risks, too.
Take Easy Steps For Complete Home Safety
It's easy to overlook potential safety hazards at home because the home is familiar and comfortable. However, with a few simple fixes and home safety hazard awareness, it's possible to reduce the risk of accidents in the home.