Should I Stage My Landscaping When Selling?
Posted by Jordan Matin on Wednesday, November 18, 2020 at 8:12 AM
By Jordan Matin / November 18, 2020
Comment
We hear a lot about staging the inside of your home when selling but should we neglect the outside? Absolutely not! But landscape staging really isn't a thing, is it? I think most people refer to this as curb appeal but that's exactly what you're doing, staging your landscaping. You want to stage the landscaping so that it's attractive to a wide variety of buyers. If buyers see too much maintenance they might shy away from the rest of the house. Not enough landscaping and the house just looks bare, especially in those initial photos.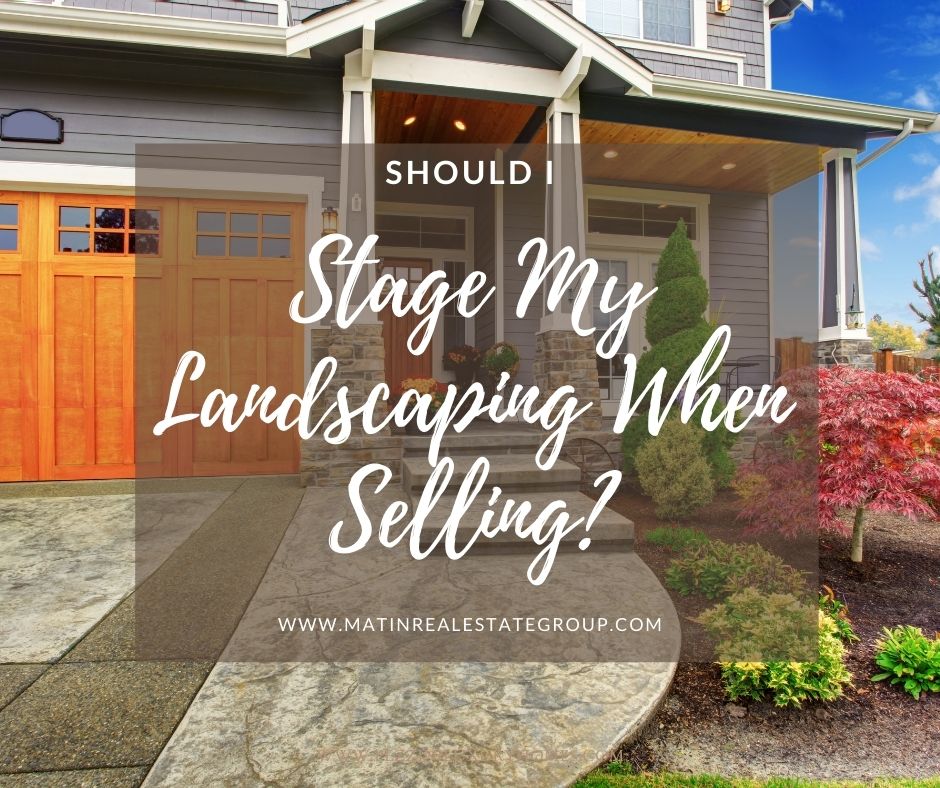 When selling a house most MLS listings require that the agent post the featured or the first image either of the outsides of the house or the view from the house, if it's worth viewing. It's easy to see why curb appeal and landscape staging can be so prominent. Without that first initial impression, buyers might not want to see any more of the house so the curb appeal and landscape need to be on point.
If you're planning on staging your landscape for sale, and you definitely should if you're selling, here are the top five things you should definitely focus on.
#1. Focus on the house first.
Take a good solid look at the house the way a buyer would. Is the paint peeling? Does the front door need to be repainted? Does the trick need to be repainted? What about the hardware? Handles, railings, sidewalks, steps, front porch, windows, and window trim? Take a look at all of these things and see what will need to be replaced, redone, or repainted. They might be little details but buyers will definitely notice and they might think that if the seller cannot handle the details, they may miss larger items as well.
#2. Symmetry.
Symmetry when looking at the front of the house draws your eye towards the front door and creates a sense of peace and calm in your psyche. Having topiary's on each side of the front door, symmetrical design on both sides of the walkway or front steps, or simply making sure things are balanced on both sides of the house can work wonders for the visual effects.
#3. Show viewers where to focus their eyes.
While most Pacific Northwest homes have the garage door front and center, this is not always the most attractive looks so have buyers focus on the front door either by creating a pathway that draws the eye up to the front door, shrubs or trees on both sides, or simply make the focus the front porch rather than the garage door.
#4. Don't go overboard on landscaping.
If your home has simple landscaping, don't go crazy by installing a water feature, thousands of shrubs and trees, and high maintenance landscaping. Buyers will actually shy away from this type of maintenance as it just looks too overwhelming. However, if you already have these items, try to simplify them so that it doesn't look like you have to be weeding every second of the day.
#5. Stick with the environment.
Here in the Portland real estate market, it's unlikely that were going to find a desert style landscape, but some homeowners may feel it's attractive to buyers. Trust me, it isn't. Stick to native bushes, trees, and plants. Because we get a lot of rain in the Pacific Northwest, buyers will expect a green lawn. A low maintenance lawn of rocks or even pavers might seem easy to maintain but does nothing for the attractive curb appeal you're looking for.
Stick with native plants, shrubs, and grasses, keep it simple, clean, and low maintenance, symmetrical, and in good shape, and you are bound to attract buyers that want to look further. Remember, you can only make that first impression once, so it better be amazing.
For more tips on landscape staging, curb appeal, and how to market and show your Portland area home, contact my office at any time.