Portland Oregon Vacation & Staycation Guide: Where to Eat, Sleep & Explore
Posted by Alicia Smith on Thursday, January 27, 2022 at 8:10 AM
By Alicia Smith / January 27, 2022
Comment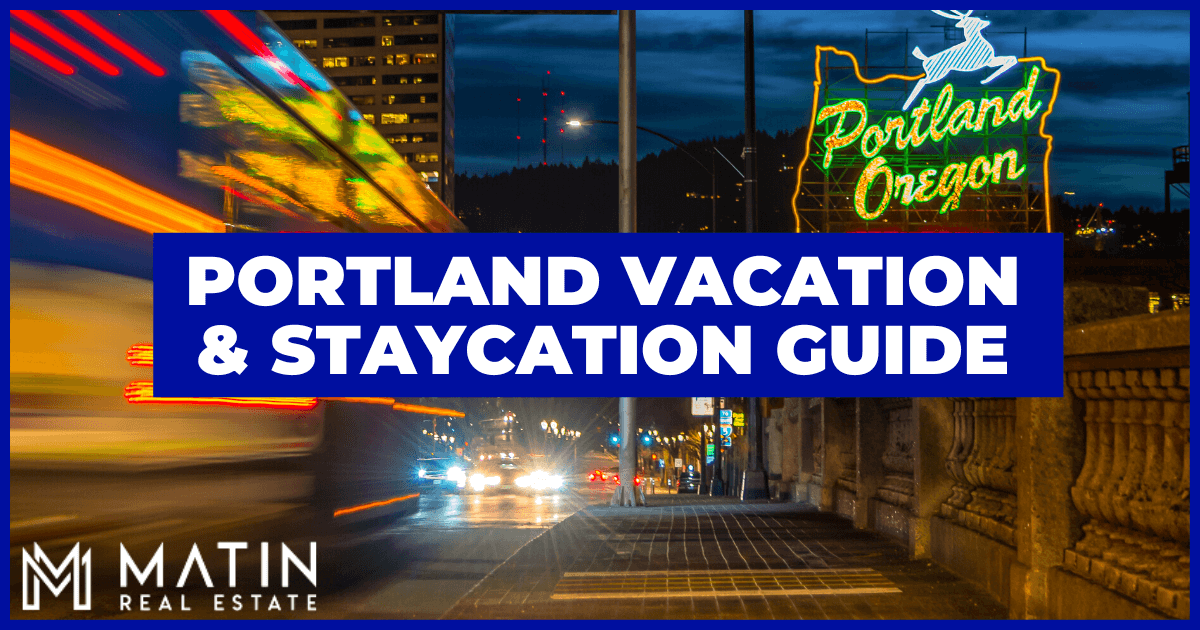 A visit to Portland provides an opportunity to see a modern, diverse city with ample culture, entertainment, and restaurants. If you're thinking about moving to Portland, a weekend vacation can help you decide if the city is right for you. People who already live in Portland homes can still use this guide to plan a staycation to see the city from a fresh perspective. Looking for the best places to sleep, eat, and explore in Portland? Keep reading to find the ultimate Portland vacation and staycation guide.
Hotels, B&Bs, and Inns in Portland
Numerous hotels, bed and breakfasts, inns, and other accommodations are available in Portland. In 2019, Portland had over 8.8 million overnight visitors. It has the accommodations to meet most people's needs because it is a large tourist-centric area. Here are some options.
The Heathman Hotel
The Heathman Hotel Amenities
Access to the library with over 2700 books signed by their authors
Fitness center with Peloton bikes and MIRROR
Complimentary shoeshine and a free beer at check-in
The Heathman Hotel is a truly iconic getaway nestled in the heart of the city. It is one of the most notable landmarks in the city and dates to 1927. It's easy to see why when you step into its beautifully designed lobby with a provincial style. It's easy to imagine famous people and politicians gathering in the elegant library to talk about business. While much of it maintains its authentic historic charm, it's been updated to meet the modern guests' needs. Hotel prices at this location range widely from $150 to $200 per night for a single-occupancy room. Choose from several styles of rooms, all designed to be beautiful and spacious.
Ace Hotel Portland
Ace Hotel Portland Amenities
Planned events and happenings throughout the day and night
Flat-screen TVs and radios in each room
Fully stocked minibars
Complimentary continental breakfast available daily
Onsite Stumptown Coffee
A few things make the Ace Hotel Portland stand out, including its location in the Downtown Portland area. Each well-appointed room is a space to dream, think, and design. There is a definite artistic and eccentric vibe about this hotel, with each room a bit different from the next. Rooms are larger, too, with 500 square feet of living space, king-size beds, and luxurious furnishings. These are pet-friendly rooms (mostly), and they feature excellent amenities such as vintage styles, locally made furniture, and hypoallergenic mattresses. Though discounts are often available, especially for those who join their mailing list, the average per night cost is $130 to $170, with some rooms and days being significantly higher than this.
The Fulton House Bed & Breakfast
The Fulton House Bed & Breakfast Amenities
Tranquil garden onsite
Perch on the roof to watch the sunset
Wine cellar onsite
Relaxing, home-like experience
Both charming and welcoming, The Fulton House Bed & Breakfast is a delightful experience. The house was built on a floating barge in 1880, noted for its location right on the Willamette River. The home was moved to its current location in 1930 and welcomes travelers with many of the same stylish and historically charming rooms it once did. Each of the guest rooms is unique though all have private baths.
Though it once was a location where gentlemen would spend evenings with women who lived in the home, the Fulton House today is a treasure of years gone by. It's easy to imagine being in the heart of the turn of the century in John's Landing, a prominent manufacturing location. Today, the area is home to numerous restaurants and natural areas worth exploring. Costs range here from $190 to $300 per night, depending on room and time of the year.
Portland International Guesthouse
Portland International Guesthouse Amenities
Short walk to Portland Streetcar and MAX Light Rail
Pioneer Courthouse Square is about a 20-minute walk
Several floor plan options
Within walking distance to area restaurants and shops
Another unique experience is at the Portland International Guesthouse. It's a European-style location that's a bit more budget-friendly than other options in the area. The location offers just four guestrooms with two full shared baths available. It's in a vibrant community with numerous family-owned restaurants, artisan shops, and green spaces. This is not a typical bed and breakfast as the location doesn't prepare meals, nor does it have a front desk. It's comfortable with large rooms and a modern feel to it. The guesthouse managers live in the building or are nearby for any needs a person may have. The cost of a room here ranges from $75 to $125 per night, though prices may be significantly different during peak travel times.
Portland Hostel
Portland Hostel Amenities
Daily, free walking tours
Tap tastings available
Live music onsite
Community dinners available
Yet another unique option is to stay at Portland Hostel in the Nob Hill neighborhood. This mid-sized hostel is designed to provide just what's needed for the independent traveler. The hostel opened in 1998 and had just 36 beds. It's grown to span six buildings now, all located on the same block. There are garden areas outdoors and everyday areas for lounging inside each location. There are now 32 private rooms, two full apartments, and 160 dorm beds. The hostel is available 24 hours a day and offers a fully equipped, self-service kitchen and a grilling area. It's also located within a short distance of most area amenities. Costs range on the type of stay, with private rooms priced around $70 to $100 per night. Some dorm-style rooms are priced at around $40 to $50 per night.
Food and Dining in Portland
Finding a place to stay is just the first step to planning your vacation. It's also important to find restaurants and dining options. Portland has a rich food scene with cuisines that will please every palate. From fine dining to fast food, there's something for most people. Here are some initial options.
Portland City Grill
Popular Dishes at Portland City Grill
Rack of Lamb with Honey Fennel Rub
Grilled Steaks (American Wagyu, NY strips, and more)
Pan-Seared Scallops
Oregon Rockfish Jambalaya
A full menu of wine and cocktails
An award-winning restaurant noted for its fresh seafood and steaks, Portland City Grill is the type of place most visitors will want to get a reservation for (those are recommended well in advance). The restaurant offers a welcoming, elegant, and refined atmosphere with some of the best views of the Portland skyline out of the windows. Since it sits on the 30th floor of the U.S. Bancorp Tower in the heart of the city, it's easily one of the best experiences in town. There are private dining options here, including room for large groups and private events. The location offers an intriguing menu, with options available from American to Asian cuisine. Its happy hour is also one of the most notable in the city.
Mother's Bistro & Bar
Popular Dishes at Mother's Bistro & Bar
Mom's Chopped Chicken Liver
Smoked Wild Salmon Rillettes
$15,000 Dungeness Crab Cakes
Chicken Fried Chicken
Mother's Signature Macaroni and Cheese
Devil's Food Cake
A Mother's Bistro & Bar is just what it sounds like – a restaurant created to offer traditional homemade foods using classic cooking methods. It's easy to find the value here in the scratch-made dishes that offer local ingredients, including Cascade Natural beef and Pacific Northwest salmon. The restaurant itself is charming and upscale, offering vibrant green colors and earthy tones. There are two locations. One is a 90-seat restaurant on Stark Street. The larger offers seating for up to 200 at the Embassy Suites by Hilton Hotel. Some things help it stand out aside from the food, like the 14-foot long African rosewood tables that offer seating for up to 20 people. The menu is extensive, and all of it was created by the chef and owner, Lisa Schroeder. Her menu includes breakfast, lunch, and dinner, along with desserts and lots of daily specials.
Fogo de Chão
Popular Dishes at Fogo de Chão
Chilled Lobster and Shrimp
Churrasco Experience – served tableside
Chilean Sea Bass
Feijoada Bar, with numerous side dishes
Pineapple Mint Lemonade
For elegance, consider a visit to Fogo de Chão. It's located in Downtown Portland in the historic Public Services Building. It's within a short walk of Pioneer Square. There's a happy hour that lasts all day with discounts on beers, wines, and cocktails. The mountainous countryside of Rio Grande inspires the menu here do Sul to Rio and San Paulo, Brazil, where the owner's heritage lies. As with other Brazilian locations, guests enjoy meat carved from skewers brought to the table along with a rich number of vegetable and fruit options. Guests can dine on numerous meats throughout their experience. While often thought of as a dinner location, it is open for lunch and brunch on the weekends.
Attractions in Portland
Portland is a fun place to visit with many exciting things to do, including plenty of activities, festivals, and events throughout the year. The city has a long history that helps lend itself to the things there are to do here, as does the wide range of modern museums.
Oregon Museum of Science and Industry
The Oregon Museum of Science and Industry is a fascinating place to visit that offers both long-serving and traveling exhibits. There are several different areas to explore, including the Natural Sciences Hall, USS Blueback Submarine, Kendall Planetarium, and the Empirical Theater. There's also a Science Playground.
The experience here is educational, so it's one of the best things to do with kids in Portland. Some various hands-on activities and exhibits provide insight into various themes in science. Group programs are available, too, for those who wish to bring their classroom or a group of interested individuals. This community focuses heavily on culture, innovation, and science learning.
The museum opened in 1944 and has long been a great pillar in science museums in the U.S. Visitors are welcome Tuesday through Sunday from 9:30 am until 5:30 pm, most weeks. It is possible to become a member for those who want to explore often. Museum admission prices depend on the current happenings and the specific activities a person plans to engage in.
Arlene Schnitzer Concert Hall
Portland's Arlene Schnitzer Concert Hall is a fascinating location. It claims to be one of the last Broadway theater venues, offering a wide range of performances to the public each year. It's also an important cultural and historic location in the city as it dates back to 1928. Though the concert hall has seen numerous upgrades and name changes, it still provides some of the best musical performances. That includes classic, rock, folk, jazz, and gospel music. There are also travel films, theater productions, dance events, and a few conferences that take place here, too.
This concert hall is a fantastic option for those who want to relax and listen to beautiful music or dance the night away. The shows are constantly changing, and purchasing tickets in advance is critical for some events. Yet, for those visiting for the first time, a scheduled tour of the location may be an excellent way to learn about the history of the theater.
Portland Old Time Music Gathering
The Portland Old Time Music Gathering is an annual event that happens in the middle of January. The events take place on the East side of the city at locations such as The Village Ballroom, The Moon and Sixpence Pub, the Spart Room Lounge, the Albert St. Pub, and The Good Neighborhood Pub. This event brings in people throughout the region. There are many performers who put on a fantastic show, and the experience is different each year.
For those who want to be a part of it all, it's possible to visit any of the above locations during the event to listen to live music, eat good food, and enjoy a few drinks. There are often workshops and opportunities for networking at this event as well.
Adventures in Portland
It's not uncommon to want to have some fun out in nature in Portland, especially since there are so many beautiful locations here to do just that. Here are a few of the best adventures worth exploring.
North Park Blocks
An excellent place to start exploring Portland is North Park Blocks. The park is large and offers a basketball court, bocce ball court, paths, and a playground (including an accessible play area). This area is vital for many reasons, especially since it is a popular gathering place. It's also the site of some of the city's original park properties dating back to 1869. There are several blocks that run along NW Park Avenue and NW 8th Avenue. The entire space was renovated in 2019 to include more green space and more inclusive park features.
Today, there is a total of three acres of land to explore. This park is located in the downtown area of the city. There are some public art displays here, a historic site to commemorate the area, and paths designed for those who want to get in a workout.
Portland Japanese Garden
A location worthy of visiting numerous times is Portland Japanese Garden. It's the type of outdoor experience that transports you from a busy, urban city into a dense, natural space that is calming and beautiful. The garden is in the hills of Portland in Washington Park. It was initially designed in 1963 and spans 12 acres. Within those acres are eight distinct styles of gardens, including the authentic Japanese Tea House. It offers paths for visitors to walk along, admiring the color and beauty of the location.
It is a cultural experience, but the Portland Japanese Garden is much more, including a location meant to encourage peace and tranquility. Visitors are welcome throughout the year. It's also possible to take one of the courses and educational programs to learn more about the location. Events happen throughout the year, and the space can be rented out.
Oregon Zoo
For a bit of lighthearted fun and education, a visit to the Oregon Zoo is a must-visit location. The zoo was first established in 1888 and was founded to educate people to create a better future for wildlife. From the start, it has offered conservation efforts and educational programs directed at helping to foster a love of animals. About 1.5 million people visit the area each year to trek around the 64 acres it offers to see numerous animal exhibits.
The Oregon Zoo is home to over 2,500 animals across 215 species. There are 15 endangered and seven threatened species currently living in the zoo. In addition to the animals, the habitats are created with great care to protect the local ecological system. There are also 1,000 species of exotic plants present here, many of which are located in the zoo's botanical gardens.
When to Visit Portland
There's no wrong time to visit Portland, as things are always happening here. It's a fantastic location to visit for those who love the outdoors, with things like the Mount Hood volcano and Forest Park to offer. Weather can be a factor for some outdoor events and park exploration.
Perhaps the best time of the year to visit is in the summer months when there are lower rain levels and more sunny days to enjoy. However, this is also the worst time of the year to visit for those that do not like crowds. If possible, travel in the last spring or early fall to experience the best this area has to offer. The winter months bring more rain, which can hamper many experiences outdoors. However, visiting in the late fall and winter months provides a way to see many indoor activities here without the big crowds. Most attractions are still open, too. It's also possible to see lower prices on travel during the winter months.
Spring offers a vibrancy in the city that's much different than any other time of the year. This is when the city starts to come alive with outdoor events, farmer's markets, and various concerts in the parks, which typically carry through until the fall.
Plan Your Perfect Portland Vacation
This is a brief overview of all the things to do in Portland. There's no shortage of experiences to be had, including festivals, local community events, and much more. In fact, it may take multiple trips to see and do everything Portland offers. For those that fall in love with the city, it's possible to find Portland condos, beautiful luxury properties, and other homes in the area to purchase in the city as well as in the area surrounding it.
If you're inspired by the opportunities in Portland, Oregon, contact Matin Real Estate at (503) 622-9601 to get in touch with a local real estate agent and find the ideal Portland home for you today.