Portland HOA Fees: 5 Neighborhoods With the Lowest HOA Fees
Posted by Alicia Smith on Thursday, December 16, 2021 at 1:41 PM
By Alicia Smith / December 16, 2021
Comment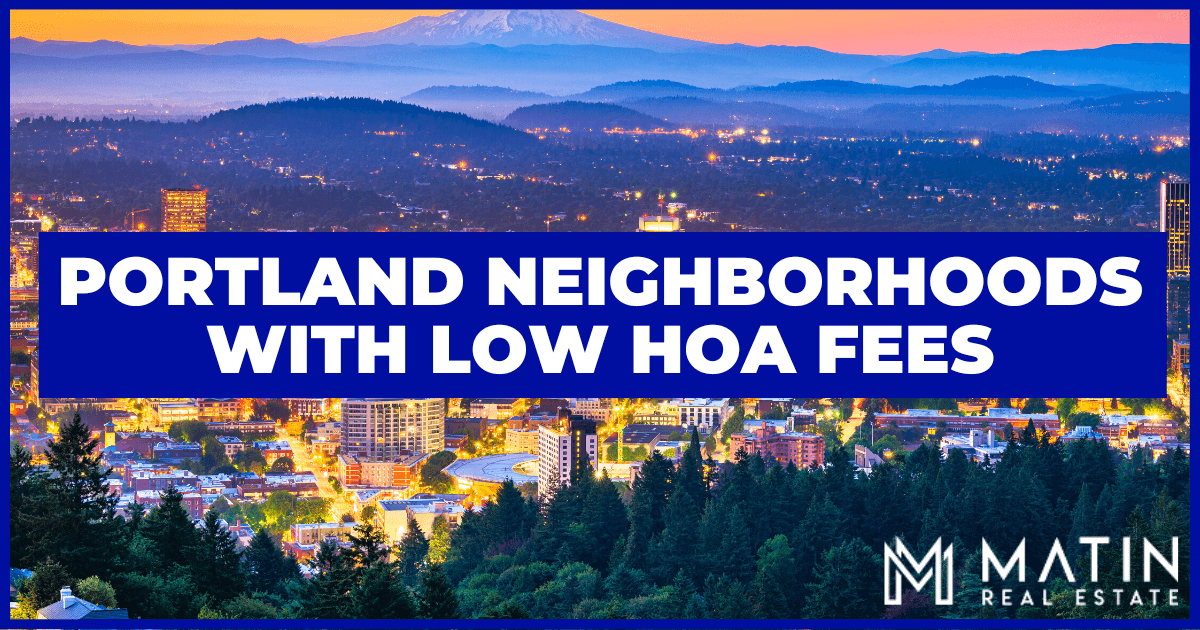 Ideally located along the banks of the Columbia and Willamette Rivers, the city of Portland, Oregon, is known for its breweries, unique atmosphere, and lush green landscape. With a population of just under 700,000 residents, the city is the largest in Oregon.
Portland is broken up into a variety of smaller neighborhoods and communities. Some of these smaller sections of the city are governed by homeowners' associations, or HOAs. HOAs typically charge monthly or annual fees that cover expenses like insurance, municipal services, and maintenance.
Shopping around for the best deal? Keep reading to learn more about Portland communities with the lowest average HOA fees.
Hosford Farms
Hosford Farms Amenities
Bethany Park
Stoller Creek Greenway
Bethany Library
Smok'n Grill
Hosford Farms is a neighborhood in the unincorporated community of Bethany. Bethany real estate is conveniently located for easy access to downtown Portland, making commuting to the city a breeze.
The neighborhood consists of over 100 luxury properties by local builder Toll Brothers. Plans for Hosford Farms homes include between five and seven bedrooms, at least three bathrooms, and "daylight basements"—basements that are not completely underground. Most homes boast at least 3,000 square feet of living space.
These homes come in a variety of architectural styles, including craftsman, farmhouse, and contemporary. Homes come fully equipped with sought-after features like covered patios, gas fireplaces, hardwood floors, and stacking glass doors.
The monthly HOA fee is around $63 and covers expenses like maintenance of common areas, trash collection, and snow removal. This fee covers a great number of services and is well below the average HOA fees in Portland.
Beaverton School District serves Hosford Farms. Schools in the area include West Tualatin View Elementary, Cedar Park Middle School, and Beaverton High School.
The neighborhood is close to plenty of amenities. Shopping is a popular activity in the area, and popular shopping destinations include Tesori Gifts and Mapel Boutique. For beach lovers, Hosford Farms is less than an hour's drive to the Oregon coast.
Creekside at West Haven
Creekside at West Haven Amenities
Tualatin Hills Nature Park
Golden Valley Restaurant and Brewery
Trader Joe's
New Seasons Market
Creekside at West Haven is a community in Portland with an assortment of gorgeous West Haven homes for sale. These properties boast intricate stone exteriors, cathedral ceilings, gleaming hardwoods, and high-end countertops.
With all the features these homes offer, it may come as a surprise that they fit a wide range of budgets. Likewise, HOA fees for these homes are lower than the average HOA fee in Portland. At just $77 per month, this amount covers basic expenses like landscaping, maintenance, and management. The fee also covers a wide range of more luxurious expenses. The cost for amenity maintenance like pools, fitness centers, spas, security, and common area electricity is also included in the $77 monthly fee.
Creekside at West Haven offers its residents easy access to major roadways, including U.S. Route 26 and Oregon Routes 10 and 26. Despite the area's quiet and peaceful atmosphere, it is less than 30 minutes to commute to downtown Portland. Major area employers include Nike Inc., Tektronix, and Beaverton School District.
Plenty of restaurants are nearby to the small community. Local favorites include Noodles Restaurant, offering pasta dishes in homemade sauce, and Canyon Grill, serving up classics like hamburgers, milkshakes, and craft beer.
Cedar Hills
Cedar Hills Amenities
Washington County Library
Willamette Valley Wineries Association
Forest Park
Wildwood Trail
Cedar Hills is a census-designated place in the Washington County area of Portland, just north of central Beaverton. This small section of Portland's metropolitan area boasts a population of just under 10,000 residents.
Homes for sale in Cedar Hills are known for a close-knit atmosphere and peace and quiet. While the community is small and cozy, there is no shortage of amenities nearby. Beaverton Farmer's Market and Cedar Mill Farmer's Market are both a short drive from Cedar Hills. Home values in Cedar Hills typically range from the mid-$300s to luxury homes worth more than $1 million.
The area is in convenient proximity to U.S. Route 26 and Oregon Route 217. Cedar Hills is also ideal for commuters, with several bus lines winding their way through the community streets. Two light rail stations, Beaverton Central and Beaverton TX Mac Station, are a 15-minute walk from Cedar Hills.
Rules and regulations for homeowners in Cedar Hills are overseen by the Homes Association of Cedar Hills. Despite how many homes there are in Cedar Hills, the HOA fee manages to remain low. At just $131 per year—$152 per year if the house has a streetlight—residents typically don't pay more than $13 per month. Fees are allocated towards the cost of electricity (if applicable), maintenance, and a reserve for future expenses.
Mill Park
Mill Park Amenities
East Portland Community Center
Bridge City Taproom
Clutch Putt Mini Golf
Floyd Light Park
Whelan's Irish Pub
Mill Park is a neighborhood in eastern Portland, bordered by the communities of Powellhurst-Gilbert and Hazelwood. The area is up-and-coming, with a growing population of around 30,000 residents.
The area is a melting pot of old and new construction homes. Real estate in Mill Park caters to a range of budgets as one of Portland's more affordable neighborhoods, with home prices typically starting at $200,000 and dropping off around $400,000. The HOA fee for this community is about $233 monthly. The fee covers a wide range of services designed to make life easier for Mill Park residents. Common areas, including the pool, are impeccably maintained, and the fee also covers trash, water, and sewer expenses.
Mill Park provides an easy commute into town at just under 25 minutes. SE Market Street and SE 112nd Avenue are the main roads in the community, running west to east and north to south, respectively.
One of the best parts of living in Mill Park is the easy access to plenty of diverse cuisines. Nabrasa is a popular Brazilian-style steakhouse just a short drive from the neighborhood. Fujiyama Sushi on SE Washington Street serves authentic Japanese dishes to hungry Portland residents.
Hillsdale
Hillsdale Amenities
Hillsdale Library
Portland Japanese Garden
Verde Cocina Hillsdale
Salvador Molly's
JoLa Cafe.
Hillsdale is an established community located in southwest Portland with just under 10,000 residents. A great alternative to downtown condo living, this area offers peaceful living while remaining close to the city.
Hillsdale's commercial area is at the center of the community. Retail shops and businesses located along SW Capitol Highway provide residents with plenty of retail therapy. Recreational areas are also prevalent in Hillsdale. The area is home to three parks: Hillsdale Park, Dewitt Park, and George Himes Park. There are also plenty of trails for walkers and joggers in nearby Nicolai Woods and the Keller Woodlands.
Home prices in the area typically start at $450,000 and can sell for as much as $900,000 or more. Homes for sale in Hillsdale usually boast at least 2,000 square feet, two to four bedrooms, and two or more bathrooms. Architectural styles in the area include Mid-Century Modern and Northwest Contemporary.
The Hillsdale Neighborhood Association acts as the homeowners' association in the area. Unlike most HOAs, this association does not charge a monthly fee or annual dues. Membership is optional and open to anyone over the age of 16 who lives in, owns property in, or goes to school in Hillsdale.
Check Out These Portland Neighborhoods
The neighborhoods and communities that make up Portland are brimming with energetic atmospheres, amenities, and conveniences. Residents of Portland communities with homeowners associations have the additional, priceless benefit of being worry-free. When unexpected repairs and costs related to homeownership pop up, they can rest easy knowing their HOA has them covered.
HOA fees don't have to be expensive, either. There are plenty of neighborhoods in Portland that offer the peace of mind of a homeowners association without the unreasonable cost of exorbitant HOA fees.