Portland Housing Starts Highest Since 2006
Posted by Jordan Matin on Tuesday, January 19, 2021 at 1:21 PM
By Jordan Matin / January 19, 2021
Comment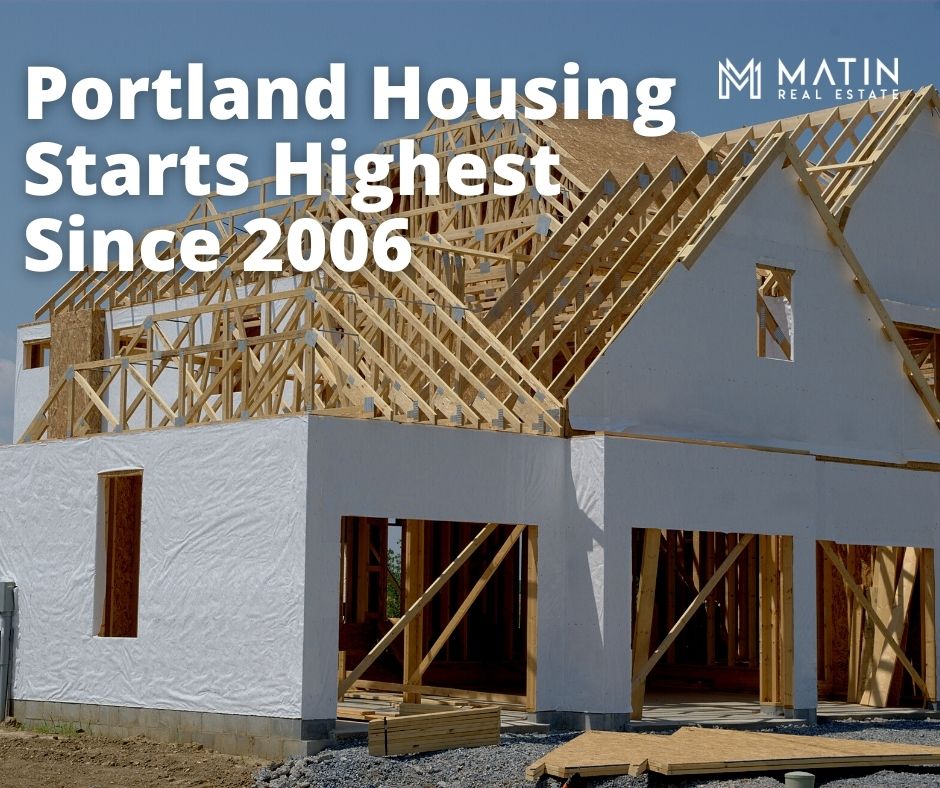 According to the Census Bureau, 2020 ended on a high note when it comes to single-family housing starts. Housing starts rose 12% in December to a 1.2338 million-unit pace, the highest since 2006. This figure is up nearly 28% from one year ago in 2019, a remarkable pace considering the pandemic. Surprisingly, 2020 will probably go down as one of the best years for home builders in recent memory. Demand for new construction homes remains high despite the fact that we're not seeing an end to the pandemic anytime soon. People are still taking advantage of historically low mortgage rates and home buying affordability power.
New construction is definitely on the radar for a lot of homebuyers, specifically first-time homebuyers. Housing rates in December hit 1,338,000 up from November's equally impressive number of 1,195,000. The December rate for units in buildings with five or more was $312,000. This means that an estimated 1.38 million housing units were started in 2020, 7% above December 2019. Many real estate experts feel that the construction rates will climb even higher in 2021. Many are expecting single-family construction to move up to about 9% this year, a much-needed relief valve for homebuyers.
More: How homebuyers have changed amid COVID
Competition is strict and with fewer homes on the market, higher prices, and more homebuyers, competition is fierce. This will relieve a lot of home buyers looking for properties, specifically newer homes. Optimism is also higher than it was just a year ago. However, the only drawback is that rising material costs and low land inventory are weighing on builder confidence. Supply headwinds will remain in 2020 according to First American deputy chief economist. "Given the under building that took place in the decade following the Great Recession, it will take years for builders to close the deficit." Basically, we are still recovering from the 2008 and 2009 recession. So many builders stopped building that now they are scrambling to make up the difference.
Homebuyers are also looking for houses with large work from home areas. Home offices, larger footprints, open floor plans, and larger lots are what a lot of homebuyers are looking for which puts pressure and strain on builders. Many of these builders are taking one house on 2 acres, and splitting it up into 8 to 10 different homes, which doesn't leave a lot of room for lot size.
The pandemic has definitely changed the face of real estate. More homebuyers are moving towards virtual tours and digitalizing many parts of the mortgage process. This makes the home buying process much safer in light of the ongoing public health situation.
Privately-owned housing starts also jumped from November to December at a nearly 6% rise. Brokerages and agents should be ready to support clients looking to secure their dream home. Whether they are looking to build or customize a home, new home starts are the lead factor in today's housing market.
Multifamily home starts are also on the rise. Units and buildings with five units or more were authorized at a rate of 437,000 in December whereas privately-owned housing units were at a seasonally adjusted rate of 1,709,000, 4.5% above the revised November rate of 1,635,000.
All in all, more construction also means more local job creation. Housing shortage could come to an end as long as more builders are in the market, the land is obtainable, and jobs are readily available as well. [Source]
Are you looking to build a custom home in the Portland metro area? Perhaps you're looking out in the suburbs or even the exurbs of Portland. There are a lot of homebuilders throughout Portland and surrounding communities and towns looking for new homebuyers ready to enter the market. If 2021 is your year to own a brand-new home in Portland, contact our office at any time. Browse new construction listings below or simply call us for a customized list to your homebuying process.