Fun Facts About Portland Oregon: 6 Things You Didn't Know
Posted by Alicia Smith on Friday, January 28, 2022 at 9:05 AM
By Alicia Smith / January 28, 2022
Comment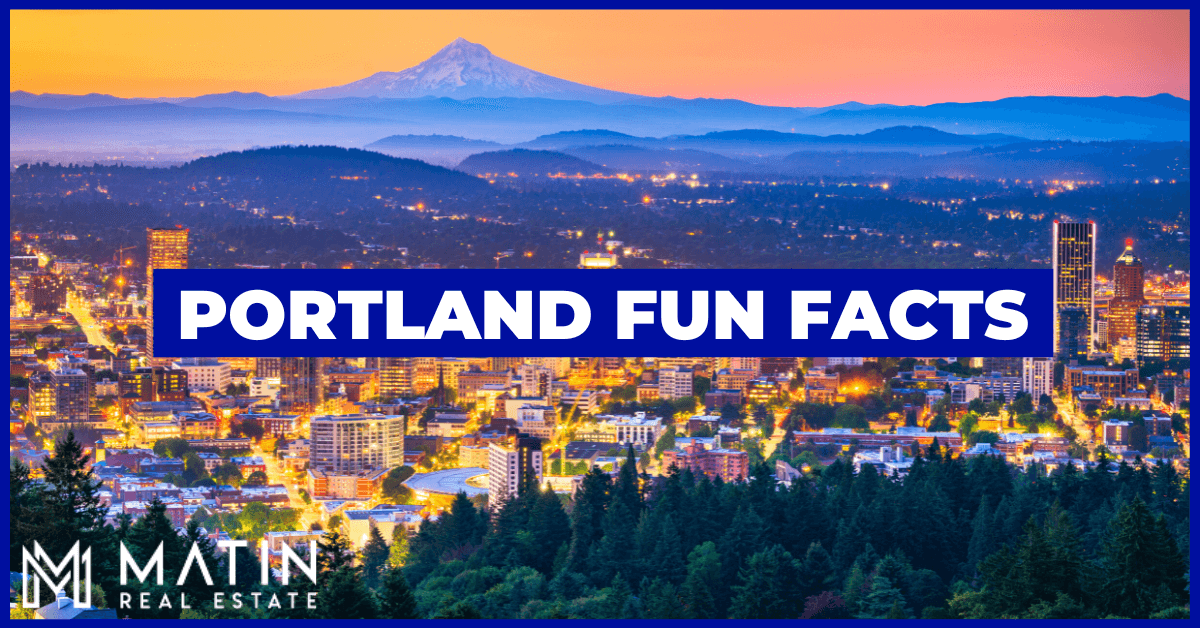 The city of Portland sits on the Columbia and Willamette Rivers, about 10 miles south of the city of Vancouver, Washington. Portland is Oregon's largest city, boasting a population of more than 650,000 residents. It's also known for having several attractions that are off the beaten path. If you're exploring the many unique places and things to do in Portland, keep reading to discover some of the fun facts that make Portland such a fun place to be.
Downtown Portland Has the World's Smallest Park . . .
Portland has nearly 200 city parks, from sprawling spaces with sports fields to gardens and natural areas teeming with butterflies. But the Downtown Portland community has something no other city has—the world's smallest park.
Mill Ends Park holds the Guinness record as the Smallest Park in the World, receiving this distinction in 1971. The park, located downtown in the median of SW Naito Parkway, measures just two feet in diameter and has a total area of 452 square inches.
Journalist Dick Fagan created this unique park in 1946. His office at the Oregon Journal overlooked the busy street and a single, unused hole in the median. A light pole was supposed to go in that hole, but it never was placed. Weeds overtook the forgotten space, but Fagan saw something more. He planted flowers, and a tiny park was born.
Fagan wrote about the little circular "park" in his column called Mill Ends. He called it the "World's Smallest Park," chronicling the fantastical events that took place there. This included stories of leprechauns and more—making it all the more appropriate that the city dedicated it as a park in 1948 on St. Patrick's Day.
. . . And the Largest Urban Forest in the Country Isn't Far Away
Aptly named Forest Park, this city park is considered the largest urban forest in the United States. Parkgoers can find it in the West Hills neighborhood. The luxury homes in this southwest Portland area are minutes from not only Forest Park but also the Oregon Zoo and the International Rose Test Garden.
Visitors to Forest Park will find a lush ecosystem that stretches to the Oregon Coast Range. By the numbers, Forest Park has:
5,200 acres
80+ miles of hiking, biking, and equestrian trails
30 miles of streams that flow to the Willamette River
40 access points, including trailheads
30-mile Wildwood Trail, a natural surface trail, runs the length of the park
When visiting, make sure to check out the Witch's Castle, a two-story stone structure that was originally built in the 1930s. It stands on land rich in legend, in particular a story about a man who claimed his wife bewitched him to shoot another man. The area is said to be haunted by both men. You can find the Witch's Castle after a short hike from the Upper Macleay parking lot.
Calling All Bibliophiles
Portland is a book-lover's paradise! The city is home to the world's largest used and new bookstore. Powell's City of Books sprawls across an entire city block and is filled with nearly one million books. Visitors can explore nine color-coded rooms that feature more than 3,500 different categories. With that many books, there is bound to be something for everyone. Looking for an out-of-print book? Powell's is the place to start the search.
The independent bookstore also hosts live readings (about 500 author events yearly), has a vast collection of signed first-edition books, and is home to the Guilder Cafe, a cozy spot to grab a coffee and tuck in with a good read.
Before you go, check out the bookstore's official website for hours of operation, including specific times for entrance into the Rare Book Room. Powell's is located at 1005 West Burnside Street in the Pearl District.
Are You A Birdwatcher? Don't Miss the Vaux Swifts
A Vaux Swift is a small bird, about four to five inches long. The birds have crescent-shaped wings, amazing flying skills, and a preference to roost in chimneys, which is why they're also known as Chimney Swifts.
In late April, the swifts can be seen arriving in Oregon. May and June are for courting and mating, and eggs have been laid and hatched by the end of July. But it's September that draws birdwatchers to Portland every year. While the swifts prepare to migrate south to Central America and Venezuela, the swifts can be seen en masse at the Chapman Elementary School (1445 NW 26th Ave, Portland, OR 97210).
It's a spectacular sight—nearly 15,000 swifts swirl around the school's chimney, usually about an hour before sunset. It's the largest well-known Vaux Swift roost in the world. Visitors flock to see the swifts before the annual migration, so plan ahead.
Portland Commuters Like to Go Green
Not only is biking a healthy way to commute to work or for leisure activities, but it's also a great way to go green. Portland residents have embraced the activity enthusiastically. More than 17,000 Portland people commute daily via bicycle. The city has made it easier than other regions by creating a bike-friendly Portland infrastructure that includes:
More than 3,000 designated bikeways
5,000 public bike racks
Nearly 60 miles of neighborhood bike-friendly greenways
Bike Boxes at 26 busy intersections
Bike Boxes are easy to spot, and that's the main idea. The "box" is bright green with a white bicycle icon painted on the street. The boxes are designed to help drivers have a better awareness of cyclists in order to avoid collisions.
Don't have a bike, or only need one for a quick trip across downtown? Look to BIKETOWN, Portland's bike-share program with 1,500 bikes for rent. Portland's public transportation options also include e-scooters for rent, and some walkable neighborhoods in Portland don't require wheels at all.
Don't Forget to Grab a Drink
After spending time exploring Portland's parks, enjoying a bike ride, or wandering the aisles of Powell's bookstore, it's time for a drink. From microbreweries to unique cafes and coffee houses, Portland has it all.
About 70 microbreweries call Portland home. The first two brewpubs opened in 1984, but the history of craft beer goes back to the mid-1800s and brewer Henry Weinhard. Today the city, sometimes called "Beervana," has become a hotspot for aficionados seeking unique, locally brewed beers. A few of the most popular brewing companies include Baerlic, Gigantic, McMenamins, Occidental, and Wayfinder.
Something more than beer is brewing in Portland. Throughout Portland, there's an established coffee culture with locals frequenting favorite cafes on a daily basis. From Stumptown Coffee Roasters, who have five Portland locations, to Water Avenue Coffee, a father-son-run business, the city teems with lattes, espressos, and in-house roasted beans. Looking for a good coffee? Try Good Coffee, located on SE 12th Avenue and featuring 22-hour cold-brewed delights.
Grabbing a drink in Portland can also be as simple as stopping at an old-fashioned drinking fountain. The Benson Bubblers are historic drinking fountains located throughout downtown. Maintained by the Portland Water Bureau, there are 52 of these uniquely designed four-bowl bubbling drinking fountains.
Come Visit the Quirky Side of Portland
Portland has a reputation for being quirky and even an unofficial motto: Keep Portland Weird. From the World's Smallest Park (that may or may not be home to leprechauns) to a sprawling urban forest, massive bird migrations, miles of bike trails, gallons of brewed drinks, and more books than a person could ever read, Portland offers an enormous selection of things to experience.