Best Christmas Events & Light Displays in Portland
Posted by Jordan Matin on Wednesday, November 1, 2023 at 12:58:48 PM
By Jordan Matin / November 1, 2023
Comment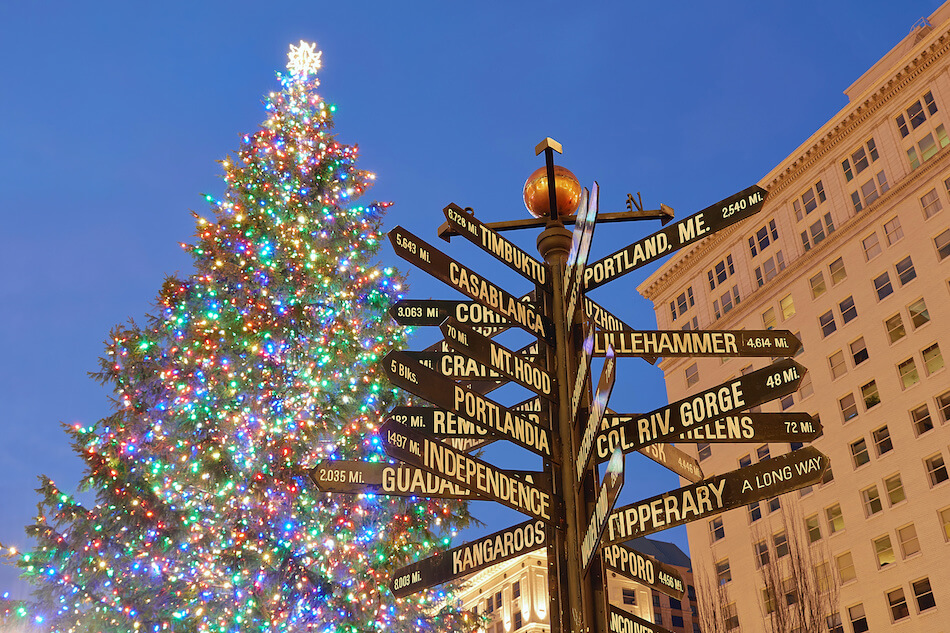 Are you looking for the best Christmas events and light displays in Portland, OR? Look no further! From some great things to do with kids in Portland to adult-oriented activities and dazzling lights around the city, this article will guide you to the perfect holiday experience. So come along and get in the festive spirit!
Portland's Annual Tree Lighting Ceremony
Experience Portland's 39th Annual Tree Lighting Ceremony at Pioneer Courthouse Square, featuring a sing-along with Thomas Lauderdale from Pink Martini. This event is a highlight of the holiday season in Downtown Portland and brings joy and festive spirit to the entire city. On November 24, a 75-foot Douglas-fir tree will be illuminated with 9,500 colorful LED lights, and Santa Claus will flip the switch to bring the tree to life. There will also be local musicians and chorale singers performing, and The Portland Bazaar will be present at The Square. The event is open to the public, so enjoy the fun with your family and friends!
Providence Festival of Trees
Visit the Providence Festival of Trees for an unforgettable holiday experience in Portland's Lloyd District. Held at the Oregon Convention Center, this Portland tradition has been running for over 40 years and features elegant events and community celebrations. Look forward to spectacular raffles, live and silent auctions, and donations that raise money for children with special health care needs. Plus, discover stunning Christmas trees and displays decorated by local businesses, designers, florists, and volunteers.
Adult-Oriented Portland Christmas Events
If you're looking for a unique and festive way to celebrate the holidays, Portland has plenty of adult-oriented events to choose from. Get your holiday cheer at Stumptown SantaCon or enjoy a beer tasting at the Portland Holiday Brew Fest. Whatever your pleasure, Portland has something for everyone this season.
Stumptown SantaCon
On Saturday, December 16, an admission fee and wristband will give you access to the venues participating in this year's SantaCon! The event begins in Ankeny Alley, and revelers can enjoy a live DJ and create their own experience by visiting participating venues. Check each venue's participating hours and plan your experience. Admission varies based on access level and advance/day of purchase.
Portland Holiday Brew Fest
Experience the festive atmosphere of the Portland Holiday Brew Fest, where you can sample some of the finest winter brews and ciders from some of the best breweries in Portland and the Pacific Northwest. Held from December 2–3, the brew fest offers 25+ tasty and frosty brews in covered and heated tents. You can even get a pocket-sized brochure guide and map to make sure you don't miss out on any of the fun.
Christmas Lights in Portland
If you're looking for Christmas lights in Portland, you won't be disappointed! From the Zoo Lights at the Oregon Zoo to the Christmas Festival of Lights at The Grotto to the Winter Wonderland at Portland International Raceway, there are plenty of ways to enjoy the Christmas season in Portland.
Zoo Lights at the Oregon Zoo
Come and enjoy the enchanting atmosphere of Zoo Lights at the Oregon Zoo this holiday season. Presented by U.S. Bank, Zoo Lights is a beloved holiday tradition in Portland. Millions of sparkling lights will captivate you as you explore tunnels of light, pose with colorful animals, ride the zoo train, and marvel at the impressive Sealebration light display. Parking and travel options from Portland's public transportation system make it easy to get to the Zoo Lights. It's the perfect destination for a romantic date night, with delicious treats like elephant ears and hot chocolate. Make sure to try the beer and wine options available.
Christmas Festival of Lights at The Grotto
Feel the holiday spirit at The Grotto's Christmas Festival of Lights, with choirs, puppet shows, caroling, and more. The Northeast Portland festival runs from November 24 to December 30, with entry gates closing at 9:30 p.m. Admission prices vary depending on dates and whether tickets are purchased in advance or at the gate. Enjoy continuous entertainment, puppet shows, and caroling for all ages in The Grotto's plaza area. Parking is free in the main and overflow lots, with a shuttle bus available. Dress for the weather, and don't miss this festive event!
Spreading the Holiday Cheer in Portland
No matter how you celebrate the holiday season, Portland has plenty of Christmas events and light displays to satisfy. From the annual tree lighting ceremony to the adult-oriented events, there's something for everyone in Portland's best neighborhoods. So don't miss out on the joy and magic of the season: come to Portland and experience it for yourself! Make sure to take in the stunning display of Christmas lights that will surely create lasting memories that will last a lifetime.