Enjoy Oswego Lake: 6 Best Neighborhoods by the Oswego Lake Waterfront
Posted by Alicia Smith on Monday, February 7, 2022 at 7:30 AM
By Alicia Smith / February 7, 2022
Comment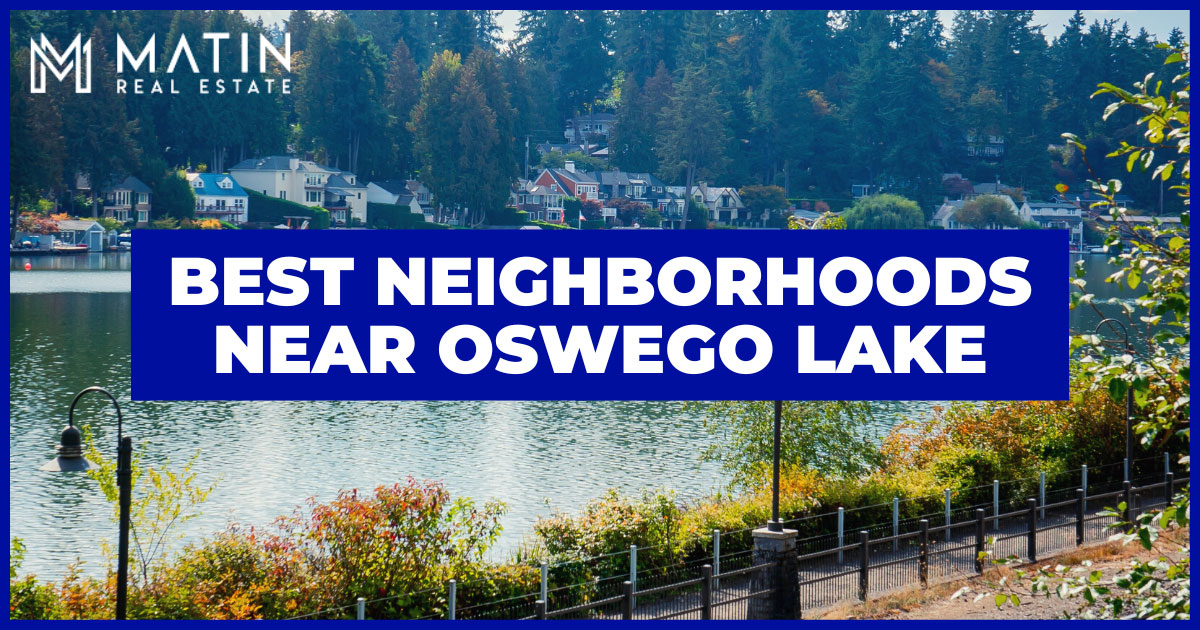 Oswego Lake is a naturally occurring lake in the center of the city of Lake Oswego, Oregon. Covering close to 450 acres, the lake is a focal point of the town.
Homes close to the lake are some of the most sought-after properties in the area—and for good reason. Properties near the shoreline allow for a front-row seat to gorgeous lake views and an endless amount of activities, including swimming, fishing, and boating.
Some neighborhoods in Lake Oswego are closer to the shore than others. The following are a few neighborhoods close to the Oswego Lake shoreline.
Evergreen
Evergreen Amenities
Safeway Food & Drug
Blue Moon Coffee
Small Pharoah's
Dang's Thai Kitchen
Holy Taco
Five Spice Seafood + Wine Bar
Southwest of Oswego Lake, the Evergreen community is just a short distance from the shore. The community is a 10-minute drive from Lake Oswego Swim Park, a residents-only park offering picnic tables, life jackets, lounge chairs, and more.
Those looking to buy a home in this beautiful and luxurious community can expect prices typically ranging from $925,000 to over $2,500,000. Most single-family properties contain between three and four bedrooms and boast 2,000 square feet of living space or more. Unlike other neighborhoods in the area, Evergreen is not subject to a neighborhood association or monthly maintenance fee.
There are three public schools in Evergreen: Forest Hills Elementary School, Lake Oswego Junior High School, and Lake Oswego Senior High School. One private school, Our Lady of the Lake School, also serves the neighborhood. Many students in the area can walk to school.
There are plenty of eateries available for residents looking to eat locally in Evergreen. Duke's Public House is an excellent sit-down spot for delicious American-inspired dishes, while Pizzeria Sul Lago offers a warm atmosphere and traditional Italian favorites.
Lake Grove
Lake Grove Amenities
Waluga Post Office
Lake Grove Village
Lake Oswego Hunt Club
Malee's Thai Kitchen
Babica Hen Cafe
Zupan's Markets
The Lake Grove community is an established neighborhood bordering Oswego Lake to the west. Most residents are within a five-minute walk of the shoreline. The neighborhood also boasts Lake Grove Swim Park, one of only two parks on the lake that allows swimming.
Homes in the area typically sell for between $700,000 and $2,000,000. Peaceful, tree-lined streets wind throughout the neighborhood, and homes are known for their large lots, spacious floor plans, and stately exteriors.
Residents are subject to the rules and regulations of the Lake Grove Neighborhood Association. Neighbors can attend the association's monthly meetings, held on the third Thursday of each month at 7 p.m. The focal point of these meetings is to bring neighbors together with a common goal of advocating for the success and progress of their community.
Lake Grove has a great location just east of Interstate 5, making commuting a breeze. Boones Ferry Road is the community's main thoroughfare and leads directly to Lake Grove's town center, with several shops, restaurants, and other conveniences.
In addition to shopping, services, and entertainment, there is plenty of nature to enjoy in Lake Grove. Some of the local parks and green spaces frequented by residents include Iron Mountain Park, Campbell Native Garden, and Pennington Park.
Hallinan
Hallinan Amenities
Mari's Muffins
Oswego Creek Trail
Nicoletta's Table and Marketplace
Lake Theater and Café
The Hallinan community is an excellent option for residents moving close to Oswego Lake. The neighborhood's vast range of home prices and property types means it can fit just about any budget. Meanwhile, the community's welcoming and neighborly atmosphere is second to none.
Hallinan is just south of Oswego Lake and is a short five-minute drive from the shoreline. Home prices typically start in the $300,000s and can be as much as $2,000,000. Waterfront properties are most desirable. These homes usually sell at the high end of the price spectrum.
On the other hand, condominiums and townhomes are plentiful in Hallinan. Most unit prices typically range from $300,000 to $500,000 and include amenities like on-site fitness centers and swimming pools.
One of the best things about Hallinan is its highly active and involved community members. Hallinan Heights Neighborhood Association holds regular meetings, and its members strive to make continuous improvements in the neighborhood and beyond.
In addition to the neighborhood's charming residents, Hallinan's natural landscape is a gorgeous sight to behold. Some spots favored by the locals to relax and enjoy time in the sunshine include Freepons Park, Cornell Natural Area, and Hallinan Woods.
Glenmorrie Heights
Glenmorrie Heights Amenities
Betsy's Pet Sitting Service
Albertson's
Glenmorrie Park
AAA
The Glenmorrie Heights community was once a 600-acre country estate for the Portland General Electric Company president. Today, Glenmorrie Heights is a unique and picturesque community with plenty to offer prospective residents. This scenic neighborhood is a short, four-minute drive to Oswego Lake. It contains just 200 homes and is best known for the hundreds of trees planted by its original owner, P. F. Morey.
Home prices in the area usually range between $300,000 and $1,000,000, with most interior floor plans starting at roughly 3,000 square feet. Most homes boast three or four bedrooms and at least two bathrooms.
In addition to its monthly meetings, the Glenmorrie Neighborhood Association runs a neighborhood social media app, Nextdoor Glenmorrie. This app helps keep residents up to date on news, events, and the day-to-day happenings of Glenmorrie Heights.
Eateries and cafes are sparse in this modestly sized neighborhood. However, what Glenmorrie Heights lacks in quantity, the community makes up for in quality. Brooks BBQ & Beer serves delicious brisket sandwiches and has plenty of local beers on tap. Nearby, Ovation Coffee & Tea provides the much-needed morning jolt for Glenmorrie Heights residents on their way to the office.
The Reserve at Westlake
The Reserve at Westlake Amenities
Westlake Park
Tavern on Kruse
MOD Pizza
CVS
The Reserve at Westlake is a neighborhood with character and breathtaking architecture. Homes are painstakingly built by Westland Custom Homes, and interiors are designed by E. Grace Interiors. These teams are experts in their craft and committed to ensuring buyers receive exceptional value and unbeatable quality.
In addition to its aesthetically pleasing blend of homes, The Reserve at Westlake is ideally located with easy access to plenty of shopping and entertainment options. Nearby, Trader Joe's and New Seasons Market are frequent stops for The Reserve at Westlake visitors. Oswego Lake is just a 15-minute drive or 30-minute bike ride, and downtown Portland is less than 30 minutes away by car.
Properties in The Reserve at Westlake typically sell in the $900,000s and $ 1,000,000s. Home interiors range from 3,000 to 5,000 square feet of living space. Most lots are backed by wooded areas or surrounded by trees, so each home offers its residents a private, oasis-like atmosphere.
Palisades Heights
Palisades Heights Amenities
Greentree Art Studio
Wildfox Hair Salon
Adisaya Thai
Lake Oswego Public Golf Course
Bordered to the north by Oswego Lake, many homes in the gorgeous Palisades Heights community are on the waterfront. The stunning views and proximity to the lake— less than a five-minute walk for most residents— make this community an incredibly sought-after location.
Palisades Heights is the largest neighborhood in Lake Oswego, both in size and population. The many elevation levels in the area provide breathtaking views of the area's mountain ranges, lakes, and vistas.
Homes in the area are luxurious single-families, typically selling for between $1,000,000 and $3,000,000. Most properties boast at least four bedrooms and just as many bedrooms, with high-end features like quartz countertops, custom kitchens, ensuite bathrooms, and professional landscaping.
The Palisades Neighborhood Association plays a huge part in the success of Palisades Heights. Their monthly meetings discuss current events in the neighborhood, and residents work together towards the general improvement and enhancement of the area.
Various conveniences, eateries, and amenities dot the streets of the Palisades Heights neighborhood. For residents looking for a quick and easy bite to eat, Ballagios Pizza and Dominos Pizza are both local favorites.
Ready to Live Near Lake Oswego?
Oswego Lake is a gorgeous centerpiece of the city of Lake Oswego, Oregon. With many prospective residents wanting to be as close to the shoreline as possible, knowing which neighborhoods are closest to the lake is imperative when shopping for homes in the area.
If you're interested in living in Lake Oswego, Oregon, contact Matin Real Estate at (503) 622-9601 to get in touch with a local real estate agent and find the ideal Lake Oswego home for you today.