Stroll to Oswego Lake: 4 Walkable Neighborhoods in Lake Oswego
Posted by Alicia Smith on Friday, March 4, 2022 at 4:10 PM
By Alicia Smith / March 4, 2022
Comment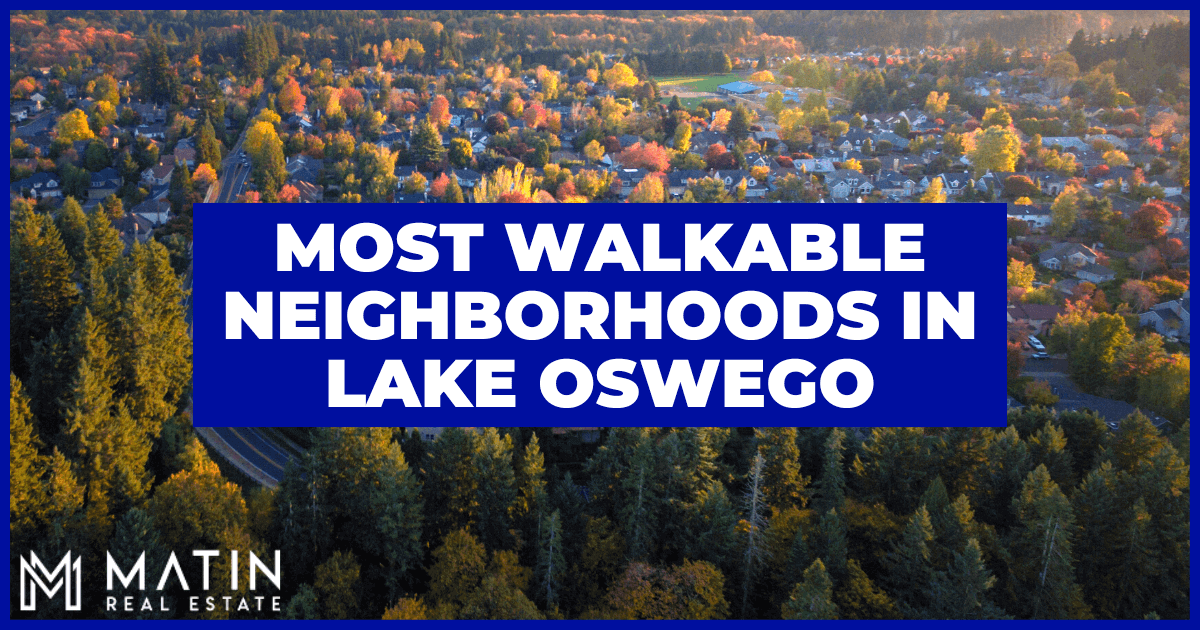 Lake Oswego, Oregon, is known for its recreational and cultural amenities and natural beauty. A suburb of nearby Portland to the north, the city of Lake Oswego occupies the area around the 405-acre Oswego Lake, sitting at the heart of the town.
With its dense suburban feel, Lake Oswego offers its residents a lot to do within easy walking distance of area communities. Keep reading to learn more about the four most walkable neighborhoods in Lake Oswego, filled with condos, custom-built properties, and luxury residences.
Foothills
Foothills Amenities
Stein Distillery
Roehr Park
Pig'ments: A Unique Boutique
Nicoletta's Table Restaurant & Marketplace
Some consider the Foothills community one of the most walkable neighborhoods in Lake Oswego. In addition to being somewhat bikeable, the neighborhood has public transportation options, including a bus service, which operates under the TriMet public transportation system.
Sitting on the western shore of the Williamette River, the Foothills community has a variety of houses, generally ranging in price from $275,000 to $5.5 million. In addition to homes on the neighborhood's quiet streets, the area also has a selection of higher-priced waterfront homes.
Residents of the Foothills community also have access to area parks within easy walking distance of their homes. The most prominent of these outdoor spaces is Foothills Park, which sits along the Willamette River in the northern part of the neighborhood.
Other Foothills community hotspots include the many nearby restaurants, retailers, and entertainment venues. One popular eatery in the area is Five Spice Seafood & Wine Bar. The eatery, which has a cozy atmosphere with views of nearby Lakewood Bay, serves Asian-inspired seafood and cocktails.
When it comes to shopping, Foothills residents can visit Lake View Village, a significant shopping destination located in downtown Oswego. One of the area's many bars includes The Dulluhan Irish Restaurant & Pub, a family-owned establishment with Irish-inspired fare and live music. Beso Bar & Bottle is another area hotspot offering food from its all-day, European-inspired kitchen and wine by the glass or bottle on the heated patio.
Evergreen
Evergreen Amenities
Lakeview Village
Baird's on B Bar & Grill
Stickmen's Lakeside Smokehouse & Brewery
Duke's Public House
Located on the northern shore of Lakewood Bay, Evergreen is a small neighborhood made up of mainly smaller homes. The area is also within walking distance of many local shops, eateries, and other hotspots, including the Lake Oswego Public Library.
Depending on location, Evergreen real estate generally costs anywhere between $240,000 and $2.4 million. Waterfront homes tend to cost more than those further away from the shore of Lakewood Bay, but there are some higher-priced homes to be found farther inland.
The community is also known for being the home of Millennium Plaza Park, which is at the heart of the city and offers beautiful views of the adjacent Lakewood Bay. The park also features a reflecting pool, pergola, and paved plaza. The location also hosts a farmers' market, movies, and summer concert series.
Lake Oswego Ice Creamery and Restaurant is found along A Avenue and has over 40 flavors of ice cream to choose from, plus burgers and other diner favorites. Chuckie Pies is another favorite dining location offering a homey atmosphere, pizza, and cocktails, among other menu items.
When it comes to shopping, the Evergreen community does not disappoint. The Dream Cloud Bohemian Market is a modern boutique located in downtown Lake Oswego and has artisan-made dry goods and apparel for sale. Simply Posh is a local consignment shop selling clothing, accessories, and other items, while Grapevine is a fashion boutique with a stylish clothing selection.
Lakewood
Lakewood Amenities
Laughing Planet
Manzana Rotisserie Gril
Next Level Clucker
George Rogers Park
Considered the third most walkable neighborhood in the Lake Oswego area, Lakewood is set along the southern shore of Lakewood Bay. The community sits on a peninsula jutting out into Oswego Lake and contains homes dating from the turn of the century into the present day.
Home prices in Lakewood usually start at around $250,000 and can cost up to $4.4 million, with some of the pricier homes found on the shore of Oswego Lake. Regardless of location, many properties in the area cost around $1 million or more.
Residents have a selection of restaurants to choose from in Lakewood. One such establishment is the local Next Level Burger, which sources organic and non-GMO food for its menu of plant-based burgers. Residents can also grab a meal at Lake Theater & Café, which shows movies and serves several menu options.
Area shopping includes various retail locations, including Wyatt Moon Mercantile, which sells scented candles, essential oils, and pop culture items. Another shopping location in Lakewood is Pig'ments: A Unique Boutique, which sells women's clothing.
There are also some entertainment options in Lakewood, such as the Lakewood Center for the Arts, a two-stage theater hosting musicals. The location also has an upscale thrift shop, art gallery, and snack bar. Residents can also visit Roehr Park for some relaxation in the outdoors.
Waluga
Waluga Amenities
Tavern on Kruse
Hop N Cork
Jefe
Springbrook Park
Located only about 10 minutes to the northwest of Oswego Lake, Waluga is known for its closeness to nearby East and West Waluga parks. East Waluga Park is a 53-acre green space with two lighted baseball fields, a playground, and a picnic area. Next door, West Waluga Park has a paved walking path, nature trails, and a fenced dog park.
Home prices in the Walluga community generally range from $200,000 for a smaller home up to $1.3 million for a larger home along the neighborhood's tree-lined streets. Many homes are priced below $1 million, making Waluga one of Lake Oswego's most affordable neighborhoods. Pricier Waluga homes are on the border of Waluga Park.
Waluga contains many restaurants serving various cuisines. Pho Lavang is a charming Vietnamese café that serves traditional Vietnamese food, beer, and wine. Another local favorite is Tasty, offering patrons a variety of Pacific Northwest grub. Corona Mexican Restaurant offers Mexican food and margaritas. The Local Taproom is a great place to get a few beers and bar snacks in a laid-back environment.
However, the Walluga neighborhood is more than just food and drinks. Residents can also visit Kruse Village's three central plazas for many shopping needs.
Lake Oswego Offers Many Pleasant Walkable Neighborhoods
Known for its beautiful landscape and walkable neighborhoods, Lake Oswego offers a lot to its residents. Local amenities include area parks, such as Oswego Lake, Lakewood Bay, and other waterways. Lake Oswego neighborhoods have many restaurants, shopping, and entertainment venues, most within easy walking distance from home.
In addition to walking, many communities in Lake Oswego are accessible via local transportation, including the nearby Portland's TriMet public transportation system. There are also walking and bike trails in the city, many of them paved. Overall, a wide selection of home styles and price ranges exist for those moving to Lake Oswego.
If you're interested in living in Lake Oswego, Oregon, contact Matin Real Estate at (503) 622-9601 to get in touch with a local real estate agent and find the ideal Lake Oswego home for you today.