8 Best Suburbs of Portland For Walkability
Posted by Alicia Smith on Monday, December 6, 2021 at 11:42 AM
By Alicia Smith / December 6, 2021
Comment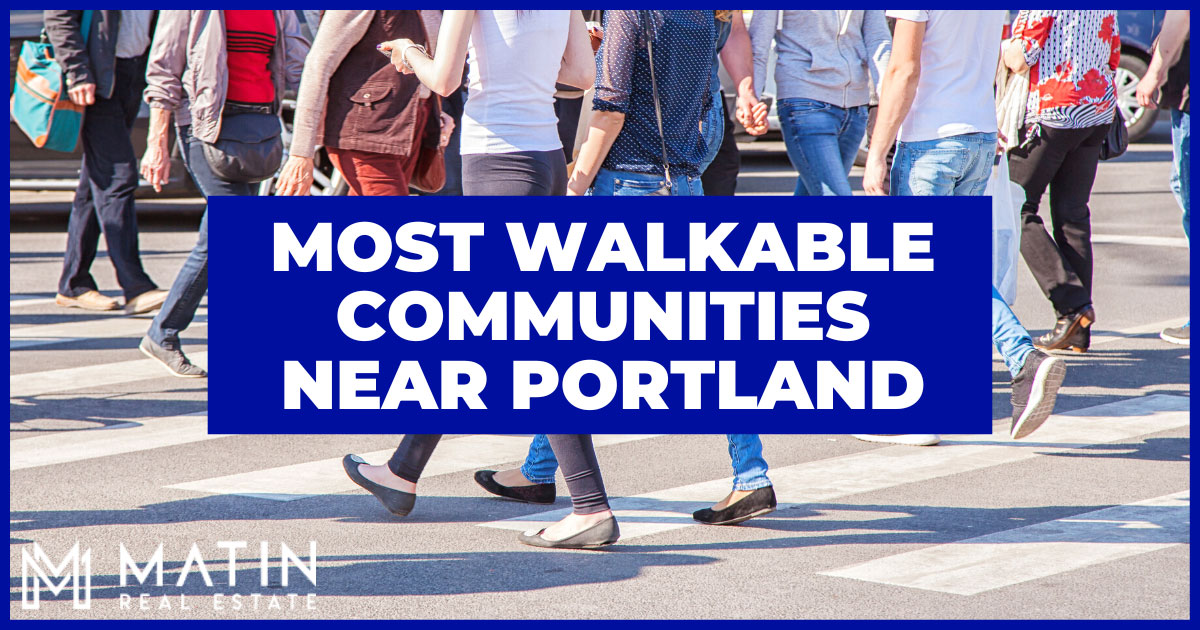 Portland is the most populated city in Oregon and the sixth-most populous city on the West Coast. Portland real estate is known for many things, including its walkable neighborhoods, which are mere steps from art venues, local restaurants, and more.
In fact, Portland's most walkable neighborhoods have made the city the 13th most walkable large city in the U.S. This walkable infrastructure extends to Portland's best suburbs, filled with many places to eat, shop, and enjoy live music. With so many fun locations within an easily walkable distance of suburban Portland neighborhoods, residents usually can find something to do regardless of the time of day. Keep reading to learn about the most walkable neighborhoods in Suburban Portland.
Gresham: Central City
Central City Amenities
Tamale Factory
Mad Cow Brewing Co.
Hogan Butte Nature Park
Spud Monkey's Bar and Grill
Central City is a location found in the Gresham community and features the city's downtown area. The Central City neighborhood is known for its quiet neighborhoods, townhomes, local businesses, and the historical downtown Gresham area. The community is also one of the most walkable in Gresham.
Homes for sale in Central City start at around $225,000 for a 3-bed, 1-bath single-story home and can go up to $517,000 for a 3-bed, 2-bath home, though homes with as many as four bedrooms also exist. Home sizes range from as small as 570 square feet to 3,000 square feet.
Restaurants and cafes in the Central City area include Stomping Grounds Coffee House, a coffee shop offering a drive-thru and sit-down service; Black Bear Diner, delivering delicious food in a friendly environment; and Biscuits Café, specializing in omelets, burgers, and biscuits and gravy.
Area Shopping includes the Gresham Square Shopping Center, with a wide selection of retailers to choose from. Two are Gresham Station, an open-air shopping experience, and Gresham Town Fair, a large shopping center within walking distance of Portland's mass transit light rail system, called MAX.
Salem: Downtown
Downtown Salem Amenities
Pasta Crafted Eatery
Salem's Historic Grand
Wild Pear
Oregon State Capitol State Park
The downtown area of the Salem community is considered by some as a walker's paradise, with most errands not requiring the use of a car. Downton Salem is on the National Register of Historic Places and is considered among the most picturesque areas in Oregon.
Downtown Salem real estate prices start at around $500,000 and can sell for up to $2.6 million. Typical sizes for area homes run between 500 and 7,200 square feet. Home types vary between townhomes, condos, and custom-built homes.
Downtown Salem offers its residents a variety of things to do, including a multitude of eateries, both independent and national retailers, and historical places to visit. Some of the shops in Downtown Salem include Made in Oregon, a shop dealing exclusively in items made within the state, and Reed Opera House, featuring a variety of locations located within a historical theater that opened in 1870.
Downtown Salem also has a selection of bars and breweries to choose from, such as Kraftworks Taphouse, specializing in great food, craft beer, and other beverages; La Familia Cider Company, a family-owned pub offering hard ciders; and Archive Coffee & Bar, serving coffee by day and cocktails by night.
Vancouver: Arnada Park
Arnada Park Amenities
Shanahan's Pub & Grill
Hungry Sasquatch
Relevant Coffee
Uptown Barrel Room
Arnada Park is located within the city of Vancouver, Washington, to the north of Portland, which is a part of the Portland–Vancouver–Hillsboro, OR–WA Metropolitan Statistical Area. Arnada Park is one of the oldest neighborhoods in Vancouver and is filled with mature trees and vintage homes.
Homes for sale in Arnada Park range from around $475,000 to about $943,000. Many of the homes in the neighborhood are older and range in size from 1-bed and 1-bath to 5-beds and 3-baths, with square footages from 800 to 3,500 square feet.
Amenities in the Arnada neighborhood include the Doomsday Brewing Co., which serves handcrafted beer in a variety of unique styles; Old Glory Antiques & Vintage, selling vintage, mid-century, and antique items; and La Bottega, a Café, Deli, and Wine Shop, which offers authentic Italian food.
Residents who like the outdoors can visit one of the area parks, including Memory/Mill Plain Park, which has walking trails, a picnic area, and a multi-use sports field; Leverich Park, a 33-acre green space with a large picnic area, hiking trails, and a 12-hole disc golf course; and Arnada Park, a 3-acre community park in the middle of the neighborhood.
Lake Oswego: Evergreen
Evergreen Amenities
Dream Cloud Bohemian Market
The Dullahan Irish Restaurant & Pub
Glassybaby
Millennium Plaza Park
Evergreen is a neighborhood within the city of Lake Oswego, OR. A vibrant community, Evergreen sits along the banks of Lakewood Bay and is considered the most walkable neighborhood in the Lake Oswego area. Evergreen is best known for its many beautiful homes along the equally beautiful shore.
Homes for sale in Evergreen can go for as low as $800,000 all the way up to $4 million. Home sizes range from as little as 1-bed and 1-bath up to 5-beds and 4-baths. Home types range from houseboats on the water to custom-built homes.
Restaurants and cafes in the Evergreen community include Baird's on B Bar & Grill, a local eatery featuring contemporary, northwest American fare, and a selection of drinks; Manzana Rotisserie Grille, serving northwest specialties with some southwestern influences; and Lola's Café Bar, offering smoothies, sandwiches, and salads, among other menu items.
For live music, Evergreen residents can check out Domaine Serene Wine Lounge, a neighborhood gathering place that serves wine accompanied by live music, and Gemini Bar and Grill, which offers a selection of pub food and a variety of live events and music.
Beaverton: Central Beaverton
Central Beaverton Amenities
Beaverton Creek Wetlands Natural Area
Bargarten Bavarian Social Haus
Raindrop Taphouse
Evelyn M. Schiffler Memorial Park
The community of Central Beaverton in the city of Beaverton is an exciting neighborhood that blends a suburban and urban culture. Central Beaverton is close to many employment opportunities within the Beaverton area, including Nike, Columbia Sportswear, and Tektronix.
Homes for sale in Central Beaverton usually range in price from $390,000 to almost $1.1 million. Known for its well-planned setup, the Central Beaverton neighborhood is a mixture of luxury condominiums and custom-built homes, with about half of those being single-family homes. Square footage of homes ranges from about 700 to around 4,300 square feet.
Restaurants within the Central Beaverton area include the Kracked Crab, which serves a variety of seafood boils; Koba Grill, an authentic Korean restaurant; and Mingo, an Italian restaurant that puts a refined northwest on its dishes.
Some area bars and breweries include The Westgate Bourbon Bar & Taphouse, an American gastropub, bourbon bar, taphouse, and bottle house; Brickyard Tavern, a local favorite for food and drinks in a fun atmosphere; and Nebulous Taproom, offering world-class craft beer to the Beaverton area.
Area parks include Eichler Park, which has a playground, open area, and bike park, and Library Park, featuring a lighted fountain and splash pad, located near the Beaverton City Library.
Milwaukie: Historic Milwaukie
Historic Milwaukie Amenities
Painted Lady Coffee House
Duffy's Pub
Gramma's Corner Kitchen
Chan's Steakery
The Historic Milwaukie community is a part of the bigger city of Milwaukee, OR. The city of Milwaukie was named after Milwaukie, Wisconsin, by its founder. Meanwhile, the Historic Milwaukie community encompasses the area along the banks of the Willamette River and includes the Waverly Country Club.
These Milwaukie homes for sale start at around $300,000 for a smaller townhouse and go up to $3.6 million for a larger luxury home. Home sizes start at about 800 square feet and top out at over 10,000 square feet. Home types run the gamut from single-story, ranch-style homes to much larger luxury homes.
Historic Milwaukie has a wide variety of retailers, eateries, and other places for residents to visit, including Made in Milwaukie, a shop offering local art and apparel; Spring Creek Coffee House, a family-owned coffee house that sells homemade pastries, breakfast items, and an assortment of drinks; and Smokin Barrel Smoke and Grill House, a barbecue restaurant serving a variety of unique dishes.
Also located in the neighborhood is Milwaukie Bay Park, an 8.5-acre site nestled along the banks of the Willamette River with a boat ramp, fishing, and walking trail.
Hillsboro: Central Hillsboro
Central Hillsboro Amenities
Nan's on Third
Bagley Park
Rustic Rendition
Crystal Hearts Boutique
Hillsboro, which is the fifth-largest city in Oregon, is made up of 20 different neighborhoods. One of those neighborhoods is Central Hillsboro, located directly to the north of the Jackson Bottom Wetlands Preserve, a 635-acre wildlife preserve within the city limits of Hillsboro.
Potential homebuyers will find Hillsboro homes for sale that range in price from $135,000 to $2.5 million. House sizes start at 1-bed and 1-bath and go up to 6-beds and 5-baths. Homes are as small as 400 square feet and as large as 3,400 square feet.
Area bars and breweries include Noble Hop, which sells a rotating list of craft beer, cider, and wine; Spaghetti Western, a fun restaurant bar in the heart of Hillsboro; and D'Anu Tasting Room & Wine Bar, offering wines made from grapes sourced from across the Pacific Northwest.
Central Hillsboro also has many restaurants available, including Syun Izakaya, a contemporary Japanese gastropub that serves sushi, noodles, and other Asian favorites; Blue Jay's Family Restaurant, a family restaurant and lounge that also has outside dining; and Chaat Café, a small, family-owned restaurant offering a variety of halal Indian dishes.
Oregon City: McLoughlin Historic District
McLoughlin Historic District Amenities
Howell's Restaurant
Midway Historic Public House
Dutch Bros. Coffee
Singer Creek Park
Located along the Willamette River in Oregon City, the McLoughlin Historic District looks out over the city below. Sitting on a relatively flat section of the bluff overlooking the lower city, the neighborhood that is the McLoughlin Historic District is mainly made up of residences, with most businesses located towards the nearby river.
McLoughlin Historic District real estate is made up of homes of a variety of different architectural styles, including Queen Anne, bungalows, and post-1925 houses. Prices for homes in the McLoughlin Historic District generally start at around $500,000 and generally top out at roughly $1.7 million.
Restaurants in the area, many within easy walking distance, include Oregon City Grill, which serves a variety of pub grub, soups and salads, and entrees; Mi Famiglia Wood Oven Pizzeria, a family-owned and operated pizza place; and Weinhard Grill, with American food, pasta, and wine and beer.
Other locations within the McLoughlin Historic District include McMenamins, offering house-brewed beers and Northwestern-style pub fare; the Pioneer Pub, a sports bar located along Main Street; and The Verdict Bar & Grill, a court-themed upscale eatery, which also has wine, beer, and cocktails.
Explore Walkable Portland Suburbs
With its plentiful sidewalks, the Portland metropolitan area offers a lot for residents to do, with many locations within easy walking distance. The suburbs that surround the city have many places that the locals can visit, including restaurants, shopping, and outdoor activities.
In fact, Portland and its suburbs are considered some of the most walkable in the country. Couple that with a world-class mass transit system, and the Portland area becomes even more appealing. Add to that the Portland region's natural beauty, and it's easy to see why the area is so popular among potential homebuyers.
If you're inspired by the opportunities in Portland, Oregon, contact Matin Real Estate at (503) 622-9601 to get in touch with a local real estate agent and find the ideal Portland home for you today.