8 Most Expensive Neighborhoods in West Linn: Willamette Valley Luxury
Posted by Alicia Smith on Monday, July 25, 2022 at 8:57 AM
By Alicia Smith / July 25, 2022
Comment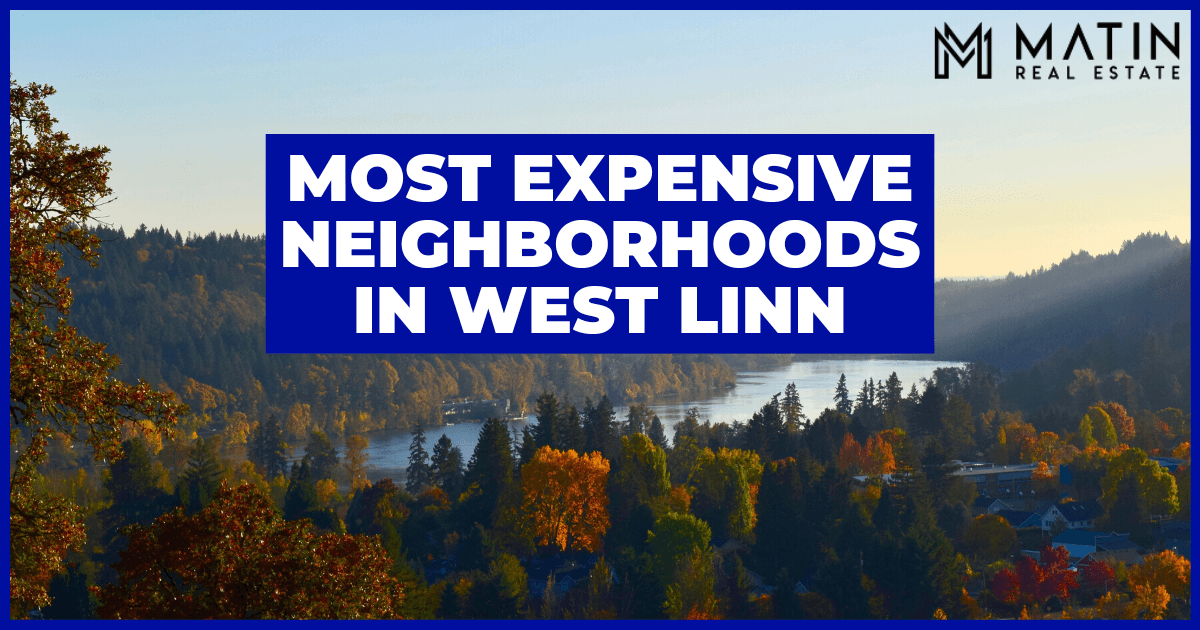 The Portland, Oregon, metro area is among the most beautiful in the country—not only with the gorgeous natural scenery, but also the fantastic luxury homes available. This is particularly the case in the town of West Linn, about ten miles southeast of downtown Portland. Situated along a bend in the Willamette River, it's home to many of the area's most desired communities. So, what expensive West Linn neighborhoods should would-be buyers explore if they're looking for luxury?
Barrington Heights
Located on an elevated ridge overlooking the Willamette River, Barrington Heights is bounded roughly by Interstate 205, Fairhaven Drive, Riverknoll Way, and Barrington Drive. This closeness to Interstate 205 makes commuting into Portland and other spots around the metro area simple. Barrington Heights offers the quiet of an entirely residential neighborhood, but with the proximity to all of West Linn's shopping, dining, and attractions. Residents can also take advantage of nearby Sunset Park, with green space, sports fields, picnic areas, and more.
Barrington Heights real estate entirely consists of large, single-family detached homes. About 300 in total are available within the community, putting it among the more modest-sized subdivisions of West Linn. Many homes enjoy amazing views of the Willamette River and Valley and some of Mount Hood. Typically, they include three to five bedrooms and 2.5 to 3.5 bathrooms, spread over 2,500–5,000+ square feet of living space. Homes generally start around $800,000, with most selling in the $1-$1.5 million range. However, the area's highest-end homes can sell for closer to $2 million.
Barrington Heights Amenities
Views of Willamette River, Willamette Valley, Mt. Hood
Several gated communities
Close to Interstate 205 for easy commutes
Stafford Hill Ranch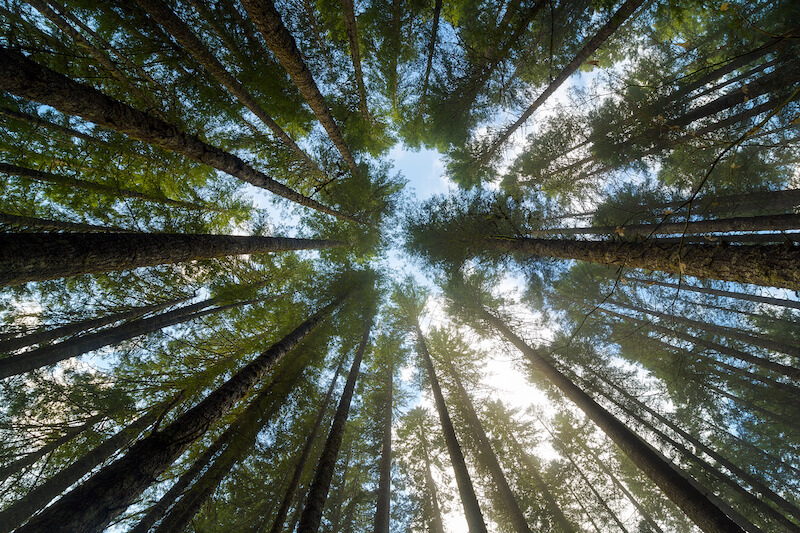 Those looking for a rural escape with easy access to the conveniences of the city may find the home they're looking for in Stafford Hill Ranch. Located along the western edge of West Linn, these luxury homes are on large lots as large as five acres. That means plenty of room for horses, tennis courts, and extensive gardens. Residents can grab a glass of local wine just down the road at spots like Tumwater Vineyard and Barnello Winery or enjoy a round of golf at The Oregon Golf Club.
Inside, these homes include all the high-end finishes buyers are looking for, from hardwood floors to a chef's kitchen with high-end appliances and a walk-in pantry. Open-concept floor plans make the most of these spacious homes, which start at around 4,500 square feet. Stafford Hill Ranch homes for sale can also include other luxury features like a built-in wet bar, walk-in wine cellar, dedicated office, and full guest suite with bathroom. Spacious master suites include marble master bathrooms and walk-in closets, and many homes have in-ground pools or spas as well. Homes typically sell in the $1–2 million range.
Stafford Hill Ranch Amenities
Rural neighborhood outside of the city
Large, multi-acre lots
Luxury interior finishes
Close to local wineries, golf
Willamette
Willamette is considered one of the best West Linn neighborhoods and is along the river that shares its name. Bounded by the Tualatin River and straddling Interstate 205, the historic area was once its own community before being annexed by West Linn more than a century ago. Some preserved homes and other properties date back to the 1880s, making them the oldest available in the city.
Willamette Falls Drive forms the community's main thoroughfare and is home to most of its services, shopping, and dining. Residents can grab dinner at La Fiesta Mexican Kitchen & Tequila Bar, get their caffeine fix at the Willamette Coffee House, and shop at several local businesses. Nearby Willamette Park has 15 gorgeous acres of green space where the Tualatin and Willamette Rivers meet, offering sports fields, picnic areas, a boat ramp, and more.
Homes for sale in Willamette are a mix of semi-attached townhome properties and single-family detached homes. On the lower end of the spectrum, homes can be found from the low $500,000s to the high $800,000s. However, some homes can be significantly pricier, especially those closer to the river. These generally sell from the $800,000s to $1.5 million or more.
Willamette Amenities
Historic homes in a variety of styles
Vibrant shopping/dining corridor along Willamette Falls Drive
Close to Willamette River
Willamette Park
Willamette Primary School
Savanna Oaks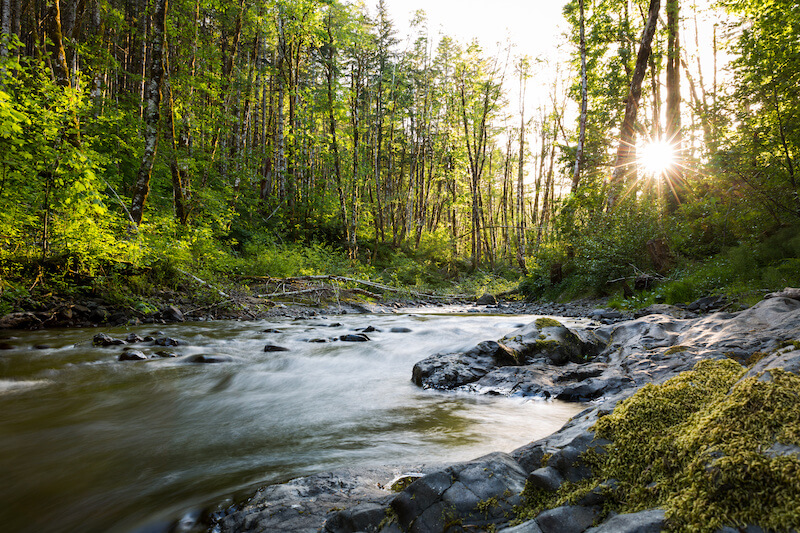 Savanna Oaks (also known as Tanner Basin) is another of West Linn's top pricey communities, covering over 350 acres on a ridge overlooking the Tualatin and Willamette Rivers. Primarily centered around Salamo Road south of Parker Road, the neighborhood is designed to preserve open space and the area's characteristic White Oak trees. Though mostly made up of residential homes, Savanna Oaks also includes everyday errand spots like a grocery store, post office, bank, and more in the Cascade Summit shopping complex at the community's northern edge. This area is home to the local favorite San Blas Mexican Restaurant and West Linn City Hall. Tanner Creek Park is also nearby, providing green space, sports fields and courts, a splash park, a skate park, and a playground.
Savanna Oaks real estate has single-family detached homes and townhome or condominium-style properties. The latter usually start around half a million dollars and typically contain three bedrooms and a similar number of bathrooms. Those looking for luxury homes will also find plenty of choices in Savanna Oaks' homes, which tend to sell from the high six figures to more than $2 million, with most usually clustered around the $1-1.25 million range.
Savanna Oaks Amenities
Mature tree-lined streets
Cascade Summit shopping complex
Close to Tanner Creek Park
West Linn City Hall
Robinwood
Robinwood sits along the banks of the Willamette River on the northern end of West Linn. Here, residents can enjoy a variety of parks, shops, restaurants, and more, all a short trip from their front door. The community is bisected by Willamette Drive, the primary business corridor of the area and the site of the Robinwood Shopping Center. Many of Robinwood's restaurants are in this area, like Bugatti's Ristorante and Philadelphia's Steaks & Hoagies.
In addition to smaller neighborhood spaces like Robinwood Park, the community is adjacent to 128-acre Mary S. Young Park. This woody oasis offers miles of walking trails, sports fields, and a dog park. It's also a favorite local spot for birdwatchers and is considered one of the best parks in West Linn. Robinwood also provides West Linn's shortest commutes into the Portland community, thanks to its location on the city's border with Lake Oswego.
Robinwood homes for sale are primarily single-family detached houses, supplemented with a mix of multi-family condos and apartments. Robinwood homes are usually sold in the $700,000 to $900,000 range. However, larger, recently updated, or new construction homes often list for $1+ million.
Robinwood Amenities
Robinwood Shopping Center
Mary S. Young Park
Cedar Island
Robinwood Park
Cedaroak boat ramp
Cedaroak Primary School
Pete's Mountain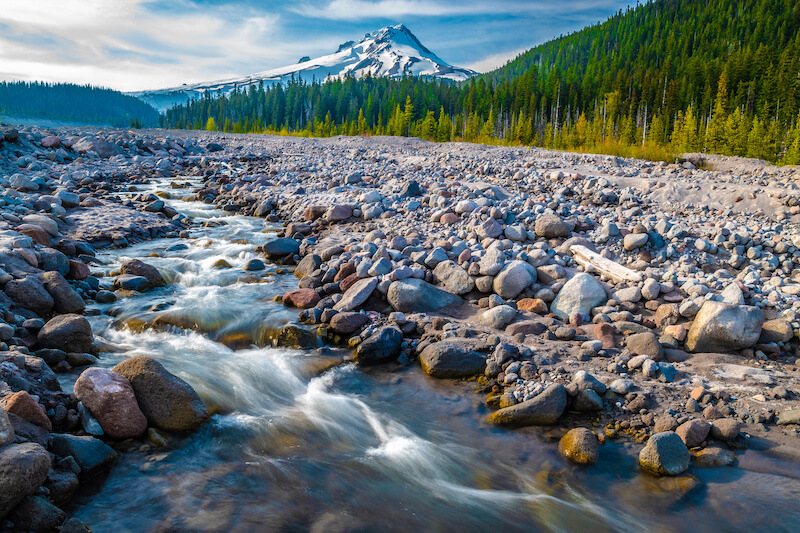 For spacious homes, large, secluded lots, and incredible natural views, future buyers can head to Pete's Mountain, south of West Linn. This large neighborhood begins south of the Tualatin River and follows the Willamette River around a bend. The area has a secluded feel, with much of the community remaining tree-covered, while still just a short drive from Portland and nearby towns and cities. The community also gives its name to Pete's Mountain Vineyard, one of several wineries in the area.
When it comes to homes for sale in Pete's Mountain, the sky's the limit. With lots as large as seven acres or more, many owners have chosen to build large, custom homes. Though these generally include four to six bedrooms and up to 9,000 square feet, some homes are even bigger, selling in the tens of millions of dollars. More typically, homes sell from north of one million into the low single-digit millions.
Pete's Mountain Amenities
Large homes on multi-acre lots
Privacy and seclusion
Close to wineries
Hebb County Park
Rosemont Summit
Centrally located in West Linn, Rosemont Summit is a neighborhood of 600 single-family detached homes. As the name suggests, it's located on a high ridge west of the Willamette River, with Rosemont Road as its southern boundary. Rosemont Summit is home to numerous parks, including Sahallie Illahee Park, which offers walking trails and a playground, and Oppenlander Field, the site of several sports fields and facilities. Otherwise, the community is primarily residential, with winding streets that often end in low-traffic cul-de-sacs. Despite this idyllic setting, homeowners are still just a short drive from all the services of West Linn and nearby areas.
Older or smaller Rosemont Summit homes for sale typically start in the high $700,000s to low $800,000s. These usually have three to four bedrooms but often have a great deal of interior space, some over 3,000 square feet. Newer, larger homes tend to sell from $1 million to $1.5 million and have more than 4,000 square feet. The luxury properties often include high-end appliances, multicar garages, and professionally landscaped outdoor spaces.
Rosemont Summit Amenities
Winding residential streets and cul-de-sacs
Sahallie Illahee Park
Oppenlander Field
Close to West Linn Adult Community Center
Hidden Springs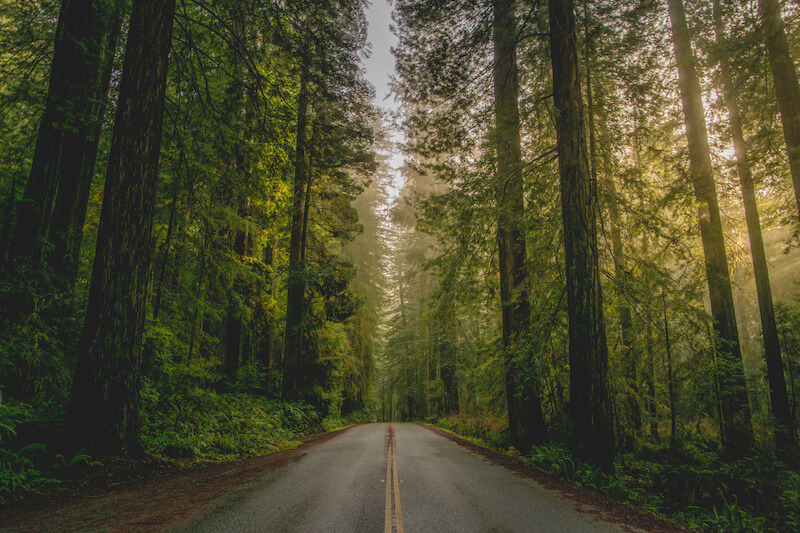 Another neighborhood in the hills of central West Linn, Hidden Springs offers potential buyers a wide variety of high-end single-family homes. It's situated on the town's western border with the less-developed community of Stafford. Hidden Springs offers many parks for the enjoyment of homeowners, the largest of which is Sunburst Park. Many community residents are able to become members of the Hidden Springs Ranch Recreation Association, which offers a pool and tennis courts. Meanwhile, services, shopping, and dining can be found on both sides of the neighborhood in the nearby Savanna Oaks and Robinwood areas.
Hidden Springs real estate includes federals, colonials, ranches, and many other home styles. Generally, they have three to four bedrooms and a similar number of bathrooms, though layouts will vary widely. Houses can sell for as much as $1.5 million, often including 4,000-5,000 square feet of living space. More typically, homes sell from the $900,000s to around $1 million.
Hidden Springs Amenities
Hilly, winding streets
Numerous parks
Hidden Springs Ranch Recreation Association
Trillium Creek Primary School
Luxury Living Is Easy in West Linn, Oregon
For those looking to set down roots in the Portland area in a high-end home, West Linn has much to offer. These distinctive neighborhoods each provide unique benefits to would-be buyers, from spacious lots and seclusion to easy commutes or convenience to local services. No matter what they're looking for, future luxury homeowners are sure to find what they're looking for by moving to West Linn, Oregon.