8 Most Expensive Neighborhoods in Portland: Discover Rose City Luxury
Posted by Alicia Smith on Wednesday, March 2, 2022 at 10:00 AM
By Alicia Smith / March 2, 2022
Comment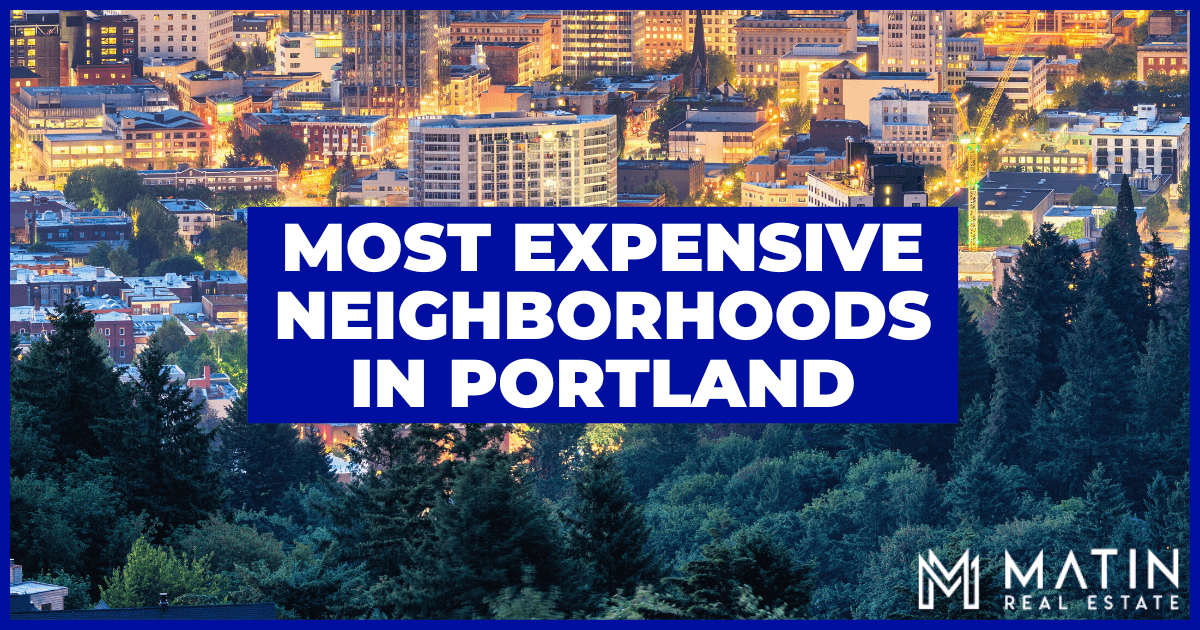 Nestled 70 miles east of the west coast, the city of Portland, Oregon, is considered one of the most desirable towns to live in the country. With just over 652,000 residents, Portland is the second-largest city in the Pacific Northwest. As a major port city in the Willamette Valley, Portland is an incredibly vibrant, diverse city with over 90 distinct communities. Keep reading to learn more about the eight most expensive neighborhoods in Portland.
Portland Heights
Portland Heights Amenities
Easy access to Highway 26 and I-405W
Walter S. Zimmerman House
Vista Spring Cafe
Historic 1918 Frank J. Cobbs House
Located southwest of downtown Portland, the Portland Heights community is an established neighborhood with historical roots dating back to the 19th century. Established in the late 1800s, Portland Heights was one of the first neighborhoods in Portland to receive cable cars, connecting the southwestern hills to downtown. Today, Portland Heights still acts as a connecting point between downtown and the techie Westside region.
Nestled in the southwestern hills, Portland Heights is a picturesque neighborhood with tree-lined streets, winding roads, and a blend of stately, historic homes and quaint Portland cottages. Portland Heights is home to some of the area's most stunning properties. Many homes are situated on the hill, overlooking Portland and Mt. Hood. Prospective homeowners will find many single-family homes in various architectural styles, including Queen Anne, Craftsman, English cottage, Colonial, and Traditional. The lower end of the district also boasts charming condos and townhouses. Portland Heights residents can also buy vacant land and build their dream home overlooking the city below. Home sellers working with the top real estate agents in Portland can receive anywhere from $800,000 to over $5 million for homes in Portland Heights.
One of the biggest draws of Portland Heights is its abundance of parks and natural green spaces. Portland Heights Park and Marquam Nature Park are two Portland parks in the area.
Dunthorpe
Dunthorpe Amenities
Oswego Lake Country Club
Lewis & Clark College
Dang's Thai Kitchen
Lola's Cafe Bar
Fir Acres Theatre
Elk Rock Garden
Best known for its central location and beautiful properties, the Dunthorpe community is just 10 minutes south of downtown Portland. Situated just north of the Lake Oswego community and west of the Willamette River, Dunthorpe has a history dating back to the early 20th century. Founded in 1916, the Ladd Estate Company purchased 215 acres of land from the Oregon Iron & Steel Company for $1. This land was then turned into a residential neighborhood that would later become Dunthorpe.
Today, Dunthorpe is one of Portland's most established neighborhoods, conveniently located near Lewis & Clark College and natural green spaces, including Tyron Creek State Natural Area, one of the city's most popular hiking destinations. Dunthorpe is also home to many restaurants and coffee shops. Some of the most popular cuisine in the neighborhood includes pizza, Thai, baked goods, American, and Mexican.
Dunthorpe primarily consists of traditional, single-family homes on ample lots. When the neighborhood was first formed, one of the stipulations was that all lots had to be a minimum of 20,000 square feet, yet many yards are substantially larger, comprising one or more acres of land. Home prices in Dunthorpe typically range from $1.4 million to over $4 million.
Green Hills
Green Hills Amenities
Oregon Zoo
Easy Access to Highway 26 and I-5
West Slope Park
Hamilton City Park
Aubrey Watzek House
Hoyt Arboretum
Nestled in the southwest region of Portland, the Green Hills community, as its name suggests, is a quiet, serene neighborhood with an abundance of parks and walking trails. Situated only 15 minutes away from downtown Portland, Green Hill strikes an ideal balance between green spaces and big-city amenities just a short distance away. Commuters have easy access to some of Portland's major roads, including Highway 26, I-5, and I-405, which has increased the neighborhood's desirability, especially for Portland residents who prefer a tight-knit community within the heart of the city.
Green Hills is best known for its green spaces, and some of the area's most popular parks include Albert Kelly Park and Hamilton Park, which contain many of the neighborhood's hiking trails. While Green Hills does not have many shops and restaurants due to its heavily residential nature, they are just a short drive away. Green Hills is also a short distance from the Oregon Zoo and Washington Park, two popular destinations in Portland.
Green Hills residents have plenty of options for quality housing, including Portland condos and single-family homes. A variety of home styles exist in the area, including one-story, two-story, and split-level properties. Real estate prices in the Green Hills neighborhood generally range from $250,000 to over $5 million.
Terwilliger
Terwilliger Amenities
Willamette Park
Easy Access to I-5
Buffalo Gap Saloon & Eatery: Restaurant & Bar
Elephants on Corbett
Bamboo Grove Hawaiian Grille
Once known as Corbett Terwilliger Lair Hill, the Terwilliger community is one of many southern Portland neighborhoods. While the neighborhoods of South Portland often blend, the area comprises a narrow strip of land between Portland's West Hills community and the Willamette River. The Corbett community is east of the Lair Hill community, while Terwilliger is south of Corbett and Lair Hill.
A historic neighborhood, Portland has many designated historical landmarks within Terwilliger's borders, making the community an incredibly charming, storied area. One of the draws of Terwilliger is its accessibility to downtown Portland. Oregon Health and Sciences University has an aerial tram that services the neighborhood. While the tram's installation was controversial, many residents take advantage of this Portland public transit service. Terwilliger is also conveniently located near I-5, giving commuters easy access to the city.
Prospective buyers in this historic neighborhood have various housing options, from charming condos to traditional single-family homes. Buyers can also purchase lots and build a new construction home in this lively area. While home prices vary based on home size and style, real estate prices in Terwilliger usually range from $350,000 to over $6 million.
Ladd's Addition
Ladd's Addition Amenities
Colonel Summers Park
Double Dragon
East Rose Garden
Palio Dessert & Espresso
East Side Deli - Commissary Kitchen & Delivery Hub
Located in Southeast Portland, the Ladd's Addition community is not only one of Portland's oldest neighborhoods but one of the oldest planned neighborhoods west of the Mississippi River, with a history dating back to the 19th century. Founded in 1891, Ladd's Addition is a truly unique neighborhood in many respects. While most Portland streets are in a grid pattern, Ladd's Addition's city planning is one of the few Pacific Northwest neighborhoods where the streets are diagonal, which, interestingly enough, cuts down on city traffic significantly. This diagonal street configuration also meant that six of the neighborhood's main streets fed into a roundabout, orbiting Ladd Circle Park & Rose Gardens, one of the neighborhood's most iconic landmarks.
Like other historic Portland neighborhoods, Ladd's Addition accommodated streetcars, which gave residents of the era greater freedom to live further away from downtown while still commuting into the city. Today, Ladd's Addition is still an ideal neighborhood for commuters because of its convenient location 10 minutes from downtown.
Ladd's Addition offers an eclectic mix of single-family homes in many architectural styles, including traditional, Craftsman, and Victorian. Home prices in Ladd's Addition typically range from $850,000 to over $2 million.
Northwest Heights
Northwest Heights Amenities
Valley View Park
Boulder Creek Natural Area
Heroes Cafe
Cedar Mill Tennis Courts
Jim & Patty's Coffee
Mill Pond Park
As its name suggests, the Northwest Heights community is an idyllic neighborhood located northwest of downtown bordering Forest Park and the Linnton community. Northwest Heights is an easy commute to downtown Portland and a short distance from the city of Beaverton and the city of Hillsboro, home to several tech firms, including Intel. As a well-established neighborhood in Portland, Northwest Heights is a picturesque community with tree-lined streets and rolling hills, giving residents stunning views of the city. Northwest Heights also happens to be home to some of Portland's best green spaces, from well-equipped playgrounds to stunning nature parks.
Northwest Heights provides ample opportunities for prospective homebuyers, whether they want to purchase a townhouse, a single-family home, or buy land to build their dream home. The community's architectural committee reviews all home plans before new home construction begins to ensure the home meets the community's aesthetic standards. Home prices in Northwest Heights typically range from $300,000 to over $2 million.
Hillside
Hillside Amenities
Witch's Castle
Hillside Community Center
Cumberland Trailhead
Spielman Bagels & Coffee Roasters
Northwest Heights and the Arlington Heights community border the Hillside community in Northwest Portland, just a 15-minute drive from downtown. Historic and halcyon, this eclectic neighborhood is one of Portland's best-kept secrets because it's tucked between more well-known areas. Unlike many communities in Portland, most of Hillside rarely run parallel with one another, going against the street-grid system the city is famous for. Hillside is just a short distance from Washington Park and the Oregon Zoo.
Prospective buyers will likely find a home to suit their tastes, whether it's a charming condo or a single-family home. Real estate prices in Hillside range from $125,000 to over $2.5 million.
Forest Park
Forest Park Amenities
Plumper Pumpkin Patch & Tree Farm
McMenamins Rock Creek Tavern
Wildwood Newberry Trailhead
Claremont Golf Club
Linnton Park
Bethany Creek Park
Most well-known for its namesake, the Forest Park community is home to one of Portland's most popular nature parks, also called Forest Park. This serene, residential neighborhood is bordered by Northwest Heights, the Nob Hill community, and Linnton. Forest Park is a short, 10-minute commute to downtown, giving residents an ideal balance between natural serenity and big-city amenities.
Beyond the park, Forest Park is also home to the Audubon Society of Portland and Quail Creek Ranch. Buyers interested in this area will typically find condos or single-family homes. Forest Park real estate has a median listing price of approximately $1.1 million.
Discover Your Dream Home in One of Portland's Most Expensive Neighborhoods
As the Portland metropolitan area grows, more and more residents search for homes in beautiful yet tight-knit communities. Not only is Portland, Oregon, one of the country's most unique cities, but it's also an incredibly vibrant metropolitan area with many distinctive neighborhoods with ample green spaces, hiking trails, coffee shops, breweries, and more. One of the most important things prospective buyers can do is spend time in each neighborhood, learning more about quirks and features. Because each community offers something special, buyers are sure to find the right one for them.