Luxury by the Lake: 8 Most Expensive Neighborhoods in Lake Oswego
Posted by Alicia Smith on Tuesday, March 29, 2022 at 8:45 AM
By Alicia Smith / March 29, 2022
Comment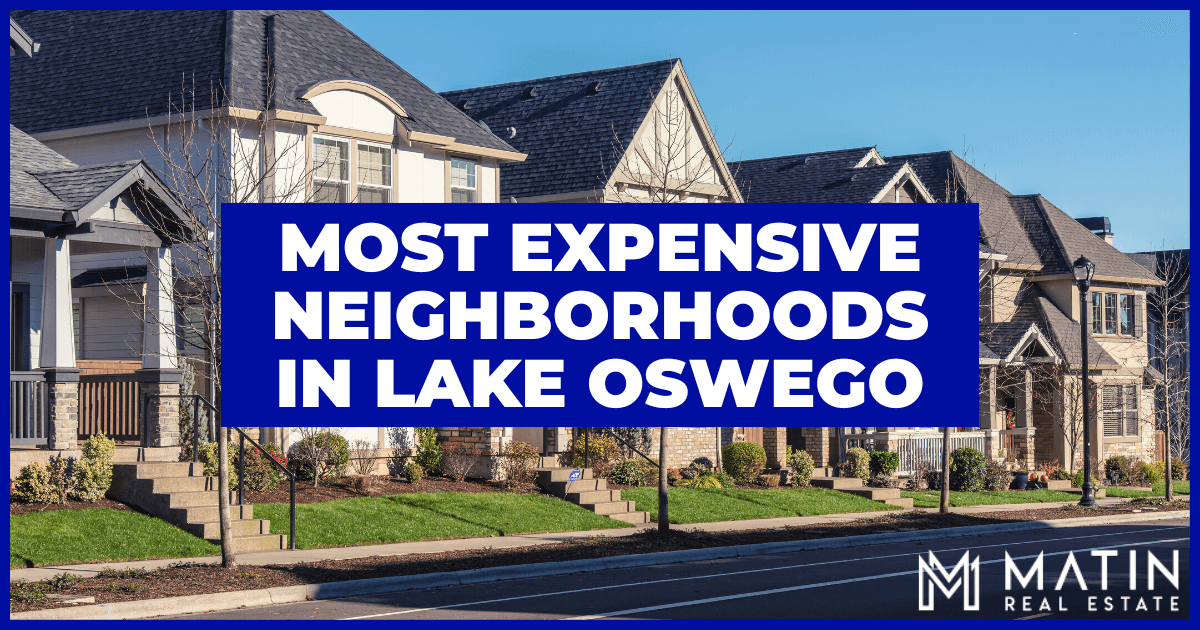 Lake Oswego, Oregon, is a lively city in the northwest corner of Oregon. With roughly 40,000 residents, the city attracts prospective residents with its lush landscape, plentiful amenities, and gorgeous homes.
For prospective homebuyers shopping in the area, the Lake Oswego community won't disappoint. Several of its twenty-four neighbourhoods are home to luxurious properties with plenty of square footage and high-end features. Read on to learn about some of the most expensive neighborhoods in Lake Oswego.
Lush Uplands
Uplands Amenities
Nachtrab Glass Studio
Oswego Lake Country Club
Red Pig Garden Tools
Tasty
Iron Mountain City Park
Located in northern Lake Oswego, Uplands is a quaint neighborhood convenient to the city of Portland. The neighborhood is bordered by two major thoroughfares, Boones Ferry Road and Country Club Road, and provides residents with easy access to Interstate 5 and Oregon Highway 217.
Uplands is an energetic community, and residents don't need to go far to get their steps in. The neighborhood's many elevations make it easy to stay active—a stroll through the neighborhood provides plenty of hills to climb. Uplands is also home to Springbrook City Park, a wooded area with plenty of hiking trails, and the Lake Oswego Indoor Tennis Center.
Prices for Uplands real estate usually start at $1 million and can reach up past $2 million. The scenic streets are lined with newly constructed Craftsmen and Contemporaries. Properties are custom-built by renowned builders, including Tri-Lee Homes and Monogram Homes. Interior features include wide-plank hardwoods, top-of-the-line appliances, and seamless indoor-outdoor living spaces.
Uplands residents have access to Oswego Lake and Lake Grove Swim Park, one of only two swim parks in the area. The Uplands neighborhood is also close to downtown Lake Oswego, Mercato Grove, and Oswego Lake Country Club. Uplands is part of the Lake Oswego School District, and Uplands Elementary School and Lake Oswego Junior High School are both easily walkable for students living in Uplands.
Walkable Forest Hills
Forest Hills Amenities
Peet's Coffee and Tea
Baird on B
Little Big Burger
Lady Di's
Oswego Play School
Forest Hills has the best of both worlds when it comes to combining walkability and luxury homes. Grocery stores like Whole Foods, Wizers Oswego Goods, and Safeway are within a mile of most properties. Bars and restaurants line A Avenue and B Avenue, including Kyra's Bake Shop, Tucci, and Duke's Public House.
For residents that commute, the city is less than a 10-minute drive to downtown Lake Oswego and its many amenities. It also has easy access to downtown Portland via nearby Oregon Route 43.
The plentiful amenities aren't the only things to love about Forest Hills. The properties here are truly breathtaking. Homes for sale in Forest Hills typically start at $850,000 and can be as much as $2+ million. These homes offer sprawling frontage and park-like backyards, seamless indoor-outdoor living, spacious master suites, and luxurious bathrooms.
Luxurious Lake Grove
Lake Grove Amenities
Lake Oswego Hunt Club
Campbell Native Garden
Pennington Park
Babica Hen Cafe
Malee's Thai Kitchen
Starbucks
Located in northwest Lake Oswego, the neighborhood of Lake Grove seamlessly blends peaceful country living with the amenities of a bustling metropolitan area nearby.
Downtown Lake Oswego is less than a 10-minute drive from Lake Grove, and there is plenty to do in the neighborhood itself. Lake Grove Swim Park is a popular summer cool-down spot, while Lake Grove Village provides eateries like Zupan's Market, La Provence Bakery, and Jefe Restaurant.
Lake Grove has a unique and charming atmosphere, with its homes exuding a warm and inviting charm. Architectural styles vary throughout the neighborhood and include Victorian farmhouses, Spanish Colonials, and Craftsmen. Meandering streets with wide sidewalks provide a pleasant opportunity for residents to stroll and appreciate the neighborhood.
Prices for homes for sale in Lake Grove generally start at $500,000 and go up just past $1.5 million. Most homes contain three to five bedrooms and up to 5,000 square feet of living space.
Waterfront Blue Heron
Blue Heron Amenities
Petals Flower Co.
Greentree Art Studio
Goodwill Boutique
Wilco Farm Store
Prospective homebuyers searching for a waterfront property need to look no further than Blue Heron. Not only does the neighborhood offer properties with views of Oswego Lake, but there are also homes here lining the shores of Blue Heron Bay and the Blue Heron Canal.
Prices for properties in Blue Heron typically start at $500,000 and can reach past $2.5 million. Interior living space ranges from 1,000 to 6,000 square feet. Homes typically have between two and six bedrooms and up to four bathrooms.
Blue Heron is a luxury neighborhood boasting new construction properties with vaulted ceilings, custom kitchens, and wall-to-wall windows that make the most of the scenic water views.
Exterior features are equally desirable. Homes offer outdoor gourmet kitchens, swimming pools, boathouses, and private docks. Lots are sprawling, with many homes sitting on up to half an acre of land or more.
Blue Heron also has some of the best natural spaces in Lake Oswego. Bryant Woods Nature Park and Canal Acres Nature Park both provide residents with a much-needed opportunity to relax and enjoy the neighbourhood's serenity.
Beautiful Evergreen
Evergreen Amenities
St. Honore Boulangerie
Five Spice Seafood & Wine
Holy Taco
City Home
Chico
Lake Oswego Farmer's Market
Prospective Evergreen residents will be thrilled to discover all of the amenities the neighborhood offers—no wonder why it's considered one of the best neighborhoods near Oswego Lake. Many small businesses and eateries like Sur La Table and Lola's Cafe Bar are within easy walking distance for most Evergreen residents.
A portion of the Evergreen neighborhood is within the boundaries of the Lakewood Bay Community Club easement. Homeowners that benefit from this easement have access to Oswego Lake and all the amenities the club has to offer. This includes boating slips, a swimming area, and a barbecue.
Homes for sale in Evergreen generally start at $900,000 and can go past the $2 million mark. There is an even mix of attached and detached homes in Evergreen. Features of detached homes include breathtaking gourmet kitchens with high-end appliances and granite countertops. Homeowner's associations are well-managed, and fees start around $500 per month.
Properties are custom built, and local builders include Premier Builder and Elite Homes. Home features include all the benefits of a luxury home, with wine cellars, fitness centers, indoor-outdoor living, and garages that can fit up to three cars or more.
Historic Glenmorrie
Historic Glenmorrie Amenities
Brooks BBQ & Beer
Ovation Coffee & Tea
Parrish Books
Freepons Park
Unique and charming Glenmorrie is a neighborhood just south of downtown Lake Oswego. Glenmorrie is home to plenty of history, friendly neighbors, and, most of all, trees. The neighborhood is filled with natural green spaces, including Glenmorrie Park and Glenmorrie Greenway, and is surrounded by scenic views of the surrounding mountains and the Willamette River.
Glenmorrie's lush landscape makes it feel far-removed from the hustle and bustle of Lake Oswego's lively downtown. However, it is less than a five-minute drive to enjoy the excitement of downtown before retreating at the end of the day to Glenmorrie's private oasis.
The neighborhood is home to over 200 properties, with an aesthetically pleasing mix of new construction and older homes. Prices for real estate here typically range from $700,000 up past $2 million. Homes offer up to 3,000 square feet of living and, on average, three bedrooms and three bathrooms.
Popular architectural styles in the neighborhood include Dutch Colonial Revival, Craftsman, and Italianate. Exteriors display the character and charm that Glenmorrie is known for, while interiors offer sought-after luxury features. This includes breathtaking views from decks and balconies, spacious masters with opulent en suites, and meticulously maintained, private backyards.
Scenic Skylands
Skylands Amenities
Lake Oswego Public Golf Course
Oswego Hills Vineyard
Bugatti's Ristorante
Starbucks
Walmart
Skylands is a gorgeous neighborhood south of downtown Lake Oswego. Skylands is home to properties with breathtaking views of the surrounding mountains, parks, natural green spaces, and the Willamette River.
Nearby major roads include Oregon Routes 99E and 43, just west of Willamette Drive. This proximity provides easy access to a bustling commercial center boasting popular dining spots, including Backyard Burger Company and Joy Teriyaki. The area is served by the TriMet public transportation system's bus route 36.
With such scenic surroundings, property values are high. Skylands real estate generally starts at $1 million and reaches past $2 million. Popular architectural styles in the neighborhood include Mediterranean, Craftsman, and English Revival.
For these prices, homes are spacious, with up to 5,000 square feet of living space. Interior features include vaulted ceilings, custom fireplaces, and floor-to-ceiling windows that look out across the neighborhood's breathtaking views.
Home exteriors prioritize the enjoyment and appreciation of beautiful Skylands' lush surroundings. Backyards feature seamless indoor-outdoor living areas, lush landscaping, swimming pools, outdoor kitchens, and barbecues.
Lively Lake Forest
Lake Forest Amenities
West Waluga Park
Albertson's
Starbucks
Trader Joe's
Jacksons Food Stores
Snap Fitness
MOD Pizza
Lake Forest is a conveniently located neighborhood just west of downtown Lake Oswego. The neighborhood offers easy access to nearby U.S. Route 26, Interstate 5, and Oregon Highway 217. The TriMet public transportation system serves the area, with two bus stops in the neighborhood.
While downtown Lake Oswego is just a 10-minute drive, there are several places within the neighborhood to grab a quick bite to eat. Hush Hush Cafe, Stanford's Restaurant and Bar, and Tavern on Kruse are just a few local favorites offering classic American-inspired cuisine.
Homes for sale in Lake Forest are an even mix of old and new, with prices typically ranging between $400,000 and $1+ million. Architectural styles include quaint ranches and classic Craftsmen, and both modest and luxurious homes are available in Lake Forest. Properties have up to five bedrooms and up to 3,000 square feet of living space.
For homes on the high end of this spectrum, interior features include spacious masters, second-level washer dryers, and expansive French doors opening out onto covered outdoor living spaces.
Some homes in the neighborhood are subject to the rules of the Lake Forest Neighborhood Association and pay a small monthly fee for the maintenance of common areas, utilities, and the like.
Live Luxuriously in Lake Oswego
There are plenty of beautiful neighborhoods to choose from when moving to Lake Oswego. For those who want to live a luxurious lifestyle, these neighborhoods are some of the most scenic and sought-after in the city and offer plenty of square footage and extra perks.
If you're interested in living in Lake Oswego, Oregon, contact Matin Real Estate at (503) 622-9601 to get in touch with a local real estate agent and find the ideal Lake Oswego home for you today.