Best Value on the Lake: 8 Affordable Lake Oswego Neighborhoods
Posted by Alicia Smith on Wednesday, March 30, 2022 at 9:05 AM
By Alicia Smith / March 30, 2022
Comment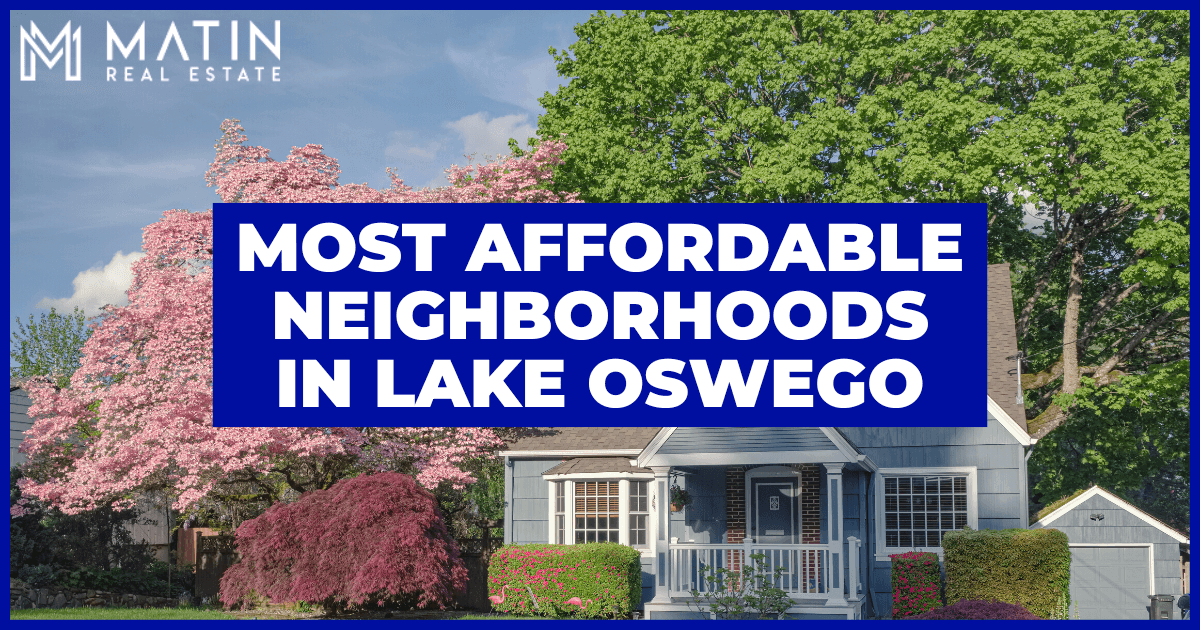 Lake Oswego, Oregon, is a beautiful city known for its lush landscape, outdoor recreation, and many communities' warm and inviting atmosphere. The town comprises 24 neighborhoods with just over 40,000 residents. With every community offering a unique environment, prospective home shopping residents have many exceptional options. Keep reading to discover eight of the most affordable neighborhoods in Lake Oswego.
Hilltop Mountain Park
Mountain Park Amenities
Elizabeth M. Gress Park
Flying Pie Pizzeria
Mountain Park
Oregon Wine Makers Tour
Located in northwest Lake Oswego, Mountain Park is situated at a high elevation among the city's hills. The Mountain Park Homeowners Association works diligently to maintain the high quality of life residents are accustomed to in one of the best neighborhoods in Lake Oswego.
Mountain Park is also home to the Mountain Park Clubhouse, which offers group fitness classes, a community pool, and a fitness center. Hanko's Sports Bar & Grill and Little Big Burger are delicious local restaurants within easy walking distance of the community.
Given the high elevation of the neighborhood, many Mountain Park properties have gorgeous views of the valleys, parks, green spaces, and abundant flowers and plant species that call the neighborhood home. Some local variants include honeysuckle, trillium, and flowering dogwood trees.
Homes in Mountain Park are ideal for nature lovers in a quiet atmosphere. Properties are in high demand due to the beauty and amenities offered in the area. Mountain Park home prices typically start at $300,000 and don't often go above $1 million. Both attached and detached homes are available here.
Wooded Lake Forest
Lake Forest Amenities
West Waluga Park
Babica Hen Café
Flying Elephants
Joe's
Lake Forest is most well-known for its towering Douglas fir trees. The tall greenery lines the wide, meandering streets of the community and is a massive contributor to the lush and lively atmosphere.
Lake Forest has an ideal location for commuters. Residents can easily access Interstate 5 and Oregon Highway 217. TriMet has two bus stops in the area, with daily bus service to the city of Portland and the surrounding metro areas.
In addition to a convenient locale, Lake Forest is a remarkably walkable neighborhood. Many residents walk to the various grocery stores located in the community. Local eateries include the ever-popular Hilltop Cafe and La Provence Bakery and Bistro.
Homes in Lake Forest range in price from about $400,000 and can reach $900,000 or more. Living space ranges from 1,000 to 3,000 square feet, and lots are up to half an acre or more.
Lively Hallinan
Hallinan Amenities
Black Rock Coffee
Foothills City Park
Casa Pequena Taqueria
Chuckies Pie
Lush and lively Hallinan boasts just under 1,000 residents and is brimming with vegetation and greenery. The environmentally conscious neighborhood is home to the Friends of Hallinan Heights Stewardship Volunteer Party, an organization dedicated to preserving and maintaining Hallinan's natural beauty.
The Friends of Hallinan Heights aren't the only residents working hard for the good of Hallinan; the neighborhood is known for its active and tight-knit community. Residents take great pride in their dedication and work hard to ensure the progress and preservation of Hallinan's idyllic way of life.
While breathtaking, there is much more to Hallinan than its gorgeous landscape. Residents are within walking distance of several shopping and dining destinations, including Lake Theater and Cafe and Señor Taco.
Hallinan real estate ranges in price from approximately $400,000 to $1.6 million or more. Attached homes are typically under $600,000 and offer building amenities like swimming pools, fitness centers, and well-maintained common areas. Hallinan's single-family homes range from modest to luxurious, boasting up to 6,000 square feet of living space and usually containing at least four bedrooms and multiple bathrooms.
Walkable Westlake
Westlake Amenities
Chipotle Mexican Grill
Starbucks
Westlake Public House and Grille
Chic Living
AAA Lake Oswego Service Center
Commuters will love Lake Oswego's Westlake neighborhood. With just under 3,000 residents, Westlake is convenient to both Interstate 5 and Oregon Highway 217. This proximity makes commuting into the Portland metro area a breeze. There are also three TriMet bus stops in the community.
Westlake also holds its own against downtown Lake Oswego and neighboring areas. The community has a commercial area boasting restaurants, shops, salons, and more. Some of the most popular stops in the neighborhood include Oswego Grill, Crumbl Cookies, and Stanford's Restaurant & Bar.
The neighborhood is walkable and has plenty to offer its active residents. The relaxing and scenic Westlake Loop is an almost three-mile trail. Nearby is Westlake Park, complete with several sporting fields, tennis courts, a playground, and picnic tables. Westlake Park also hosts the popular Summer Concert Series.
Westlake homes for sale usually start at $300,000 and can drop off around $1 million. The beautiful architecture and landscaping of properties in the area are due to the rules of the Westlake Homeowners Association.
Welcoming Westridge
Westridge Amenities
North Clackamas Community Park
Ava RoaPho'ia
Pho' Lavang
El Sol De Mexico
Burgerville
Westridge is home to just under 400 residents who speak highly of the warm and welcoming community. There are many reasons residents stay in this neighborhood; the friendly atmosphere, peaceful ambiance, and convenient location are just a few.
As with most Lake Oswego communities, trees are a significant part of Westridge's natural landscape. Westridge has several different elevations, providing many properties with excellent views of the neighboring areas, mountains, and valleys.
Westridge is also home to several commercial and retail businesses. Residents with a sweet tooth can walk the short distance to NOLA Doughnuts or Baskin-Robbins. The Lake Oswego School District serves Westridge, and Westridge Elementary, Lakeridge Junior High, and Lakeridge High School are all located in the community.
Prices for Westridge real estate generally begin at $600,000 and can top $900,000. Most Westridge homes offer three or more bedrooms, with spacious interiors of up to 3,500 square feet. Interior features include gleaming hardwood floors, double French doors, fireplaces, barbecues, and private backyards perfect for entertaining.
Historic Holly Orchard
Holly Orchard Amenities
Costco
WinCo
Tasty
Biscuits Cafe
Holly Orchard has a population of just under 1,000 residents, more than half of which commute alone into the nearby cities. Thanks to Holly Orchard's ideal location, commuting to work is a breeze. The neighborhood provides easy access to highways OR-217 and I-5 and is close to major thoroughfares, Boones Ferry Road, and Country Club Road.
Holly Orchard has plenty of area history and is home to Lake Oswego's oldest property. Dubbed the Carman House, it was built in 1855 and is still occupied today and owned by the original owner's descendants.
New construction single-family properties and condos blend seamlessly with the older, more modest homes, making for a unique neighborhood with plenty of character and charm.
Prices for homes in Holly Orchard typically begin at around $200,000 and can reach up to $800,000. Most properties have up to three bedrooms and multiple bathrooms, boasting features like balconies, spacious master suites, and luxurious bathrooms. Backyards are meticulously landscaped and perfect for entertaining or peaceful enjoyment.
Holly Orchard is just north of Kruse Way, home to plenty of area shops and restaurants. Munch, Mod Pizza, and Corona Mexican are just a few commercial spots calling Holly Orchard home.
Scenic Waluga
Waluga Amenities
New Seasons Market
The Olive and the Grape
Blue Moon Coffee
Well and Good Coffee House
Lake Grove Liquor
The beautiful Waluga neighborhood is tough to beat. Home to roughly 1,500 residents, Waluga boasts easy access to nearby freeways and four TriMet bus stops. Residents can easily reach the Portland metro area within 30 minutes, whether traveling by car or public transportation.
Despite its proximity to major nearby cities, Waluga still manages to be a peaceful and scenic retreat for residents. Downtown Lake Oswego is less than 20 minutes away by car. With stops like Grassa and Ovation Coffee & Tea, Mercato Grove is just a five-minute walk for most Waluga residents.
Homes here cater to a wide range of budgets without sacrificing quality. Prices for Waluga homes start at about $300,000 and can reach $2 million or more. Two-bedroom, two-bathroom condominiums are on the lower end of the price spectrum and boast well-designed floor plans and private balconies.
Plenty of single-family homes for less than $800,000 exist in Waluga. Most have two or three bedrooms and at least 1,500 square feet of living space. Features include gourmet kitchens, meticulously landscaped backyards, and walls of windows letting the natural light pour in.
Peaceful Palisades
Palisades Amenities
Riccardo's Ristorante
Luscher Farms
Hero Sushi & Sake Bar
Oven and Shaker
Momo Sushi & Grill
Palisades is the largest neighborhood in Lake Oswego, both in population and physical geography. Despite its size—close to 4,000 residents—the community maintains a well-organized and high-quality way of life. Much of this is due to the Palisades Neighborhood Association, dedicated to improving and enhancing this beautiful neighborhood.
Palisades is less than a 30-minute drive south of Portland and is an excellent option for commuters. The neighborhood provides easy access to Interstate 5 and Oregon Route 43, making morning drives a relatively pleasant experience.
Palisades is nestled in the hillside, allowing the neighborhood plenty of elevations. Hilltop homes provide residents with views of the neighboring valleys, vistas, and mountains. Parks and green spaces are plentiful in the area, some of the most popular being Waluga Park and Pennington City Park.
Homes in the area range from cozy condominium units to spacious, detached single-family properties. Prices generally start at $300,000 and typically don't rise above $900,000. Property features include wall-to-wall windows, soaring ceilings, and outdoor spaces made for entertaining. Homes are incredibly diverse throughout the neighborhood, meaning there is a size, style, and price that works for every prospective resident moving to Lake Oswego.
Discover Your Dream Home in One of Lake Oswego's Most Affordable Communities
For prospective residents looking at homes in Lake Oswego, the number of neighborhoods can be overwhelming. Thankfully, there are plenty of affordable communities to consider in Lake Oswego.
If you're interested in living in Lake Oswego, Oregon, contact Matin Real Estate at (503) 622-9601 to get in touch with a local real estate agent and find the ideal Lake Oswego home for you today.