5 Affordable Beaverton Neighborhoods: Best Bang For Your Buck
Posted by Alicia Smith on Tuesday, January 24, 2023 at 12:48 PM
By Alicia Smith / January 24, 2023
Comment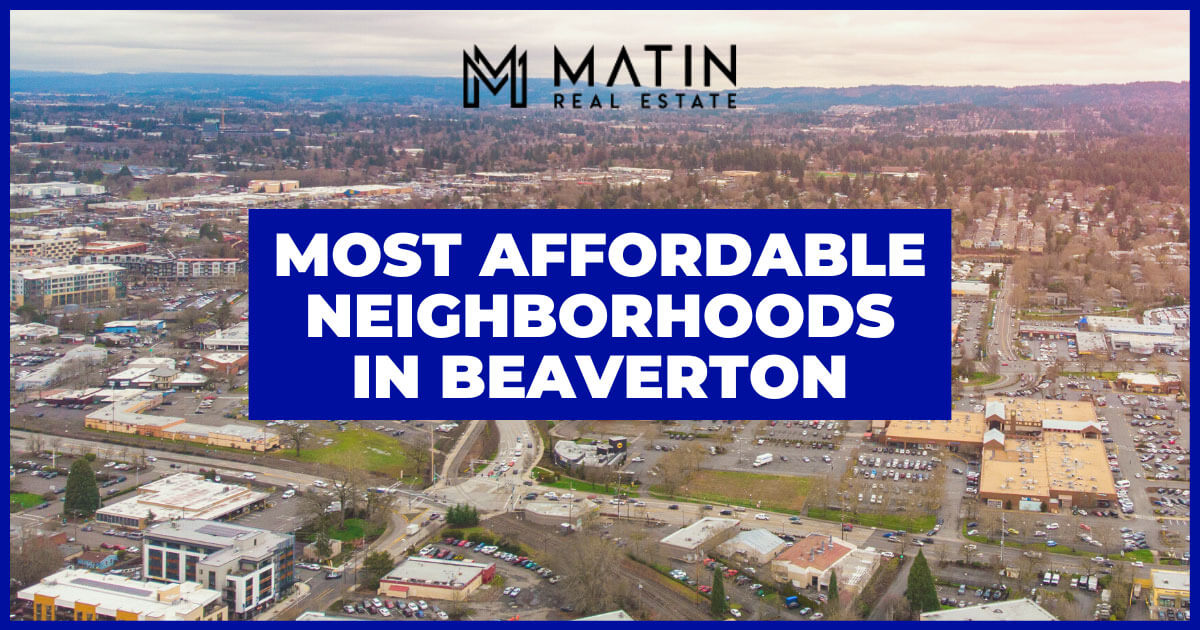 Good news: A slice of Pacific Northwest paradise is within reach!
Beaverton, Oregon, is a popular Portland suburb with natural trails, grocery stores and services, a busy food cart scene, iconic pubs, a seasonal farmer's market, and walkable plazas. Close proximity to the Columbia River Gorge, Mt. Hood, and the famous Oregon Coast means world-class hiking, skiing, and camping are a short drive away.
Thanks to the TriMet, all of the amenities of the city of Portland are easy to get to; working in one area and living in the other is the norm. The beauty of Beaverton is that you have the best of the cozy suburbs and the benefits of a big city all in one place.
If all of this sounds too good to be affordable, think again. If you're looking for the most affordable neighborhoods in Beaverton, consider starting your home search in one of these great subdivisions:
West Beaverton
Bordered by Highway 8 to SW Hart Road, fantastic parks, restaurants, and coffee shops cushion West Beaverton. Prices usually start at an affordable $300,000 for townhouses and around $500,000 for single-family homes. The highest-priced properties in West Beaverton can reach $800,000 and beyond.
The overall feel is a mix of urban and suburban, with lots of food and shopping within walking distance. Townhomes and single-family properties are abundant here. Big on the West Beaverton food scene is Fantastea House, known for its bubble tea and smoothies, and Shari's Cafe, which serves American comfort food in a fun atmosphere.
Lowami Hart Woods Natural Area and Johnson Creek run north and south through West Beaverton. With 28 acres of forest and wetland walking trails, wildlife viewing areas, and even bathrooms, Lowami Hart Woods is a great place to connect with nature. When it comes to wildlife, Lowami is especially known for its incredible bird viewing, but you might also see deer, rabbits, or beavers. The popular Fir Loop Trail has a large viewing deck overlooking the forest. From there, you can follow the Snowberry Trail into the coniferous woods up to Johnston Creek. A short drive from Lowami Hart is Sexton Mountain, another fantastic natural area with many trails.
West Beaverton Amenities
Safeway
Shari's Cafe and Pies
Fantastea House
Lowami Hart Woods Natural Area
Johnson Creek
Brookhaven Park
Denney Whitford/Raleigh West
Beaverton's Denney Whitford neighborhood (also called Raleigh West—the exact division depends on the source and they share a neighborhood association) is alongside Highway 217, south of SW Allen Boulevard and close to essentials like Safeway. Homes in this area are typically priced between $280,000 and $540,000.
While single-family houses are the easiest to find here, there are some condominiums and townhouses. Homes built in the 1950s and 60s with large yards and mature trees are typical, but there are also some newer homes built in the last 20-30 years. Buyers also love that Denney Whitford/Raleigh West has no homeowner association fees.
Close to the best of Beaverton, residents of this neighborhood have shopping, dining, entertainment, and the TriMet at their doorstep. Denney Whitford is also home to two of Beaverton's most iconic food joints: the legendary pyramid-shaped Raleigh Hills Pub (owned by McMenamins) and Stockpot Restaurant, known for its locally sourced food and wine and Pacific Northwest-inspired cuisine.
Wetlands and white oaks surround a boardwalk, play area, and tennis courts at Camille Park, a resident favorite. Camille is a preservation habitat for the Oregon white oak, and each spring, a field of camas lilies fills the park with beautiful blooms and fragrance.
Denney Whitford/Raleigh West Amenities
Red Tail Golf Center
Portland Golf Club
New Seasons Market Raleigh Hills
Asian Family Market
Uwajimaya Beaverton
Raleigh Hills Pub
Stockpot Restaurant
Camille Park
Vose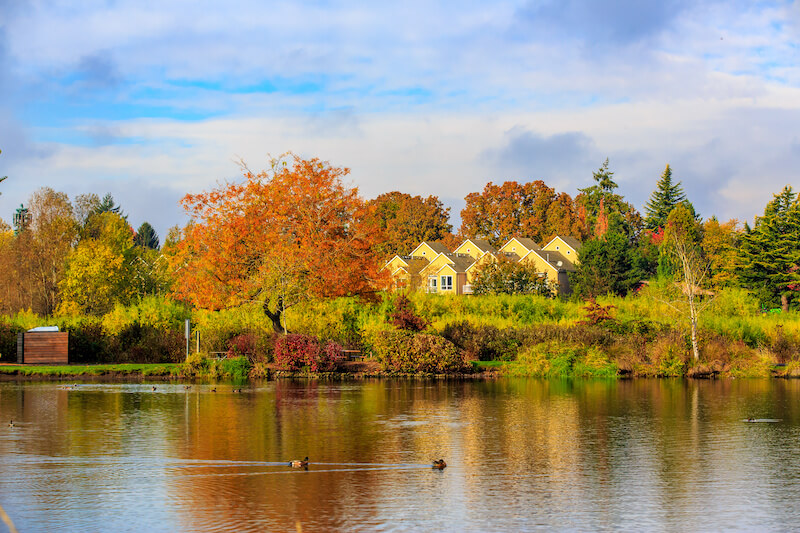 Just south of Downtown Beaverton sits the quiet neighborhood of Vose. The median home value in Vose is typically around $315,000, and listing prices generally range between the $300s to the $800s, putting this suburb squarely on the list as one of Beaverton's most affordable neighborhoods.
With so many home styles, prices, and designs, there is something for every lifestyle here. Townhouses, a few condominiums, and many single-family homes, all close to urban amenities and reasonably priced, have come to define the Vose housing market.
Other than affordability, Vose is popular due to its services and amenities. Between SW Allen Boulevard and SW Lombard Avenue, takeout restaurants like Taco Time and El Jefe Mexican Restaurant are easy to access. Residents fuel up at Coffee Rush and work out at Stoneworks Climbing Gym, all from this intersection! Along the highway north of SW Denny Road are several commercial buildings and office parks, with homes near Vose Elementary School positioned in the center.
You don't have to leave the neighborhood to appreciate the beauty of the Pacific Northwest—the Timbers Training Center plus the beautiful trails and parks at Fanno Creek Greenway are all at your fingertips. The Fanno Creek Trail is home to the Greenway, a park that runs through the entire neighborhood of Vose and other areas of Beaverton. Walking, hiking, and biking trails line Fanno Creek Greenway, with benches for birdwatching and picnicking.
Vose Amenities
Vose Elementary School
Parseh Bakery
La Nortena Market
Stoneworks Climbing Gym
Timbers Training Center
Fanno Creek Greenway
Greenway
North of Highway 210 and south of SW Hall Boulevard lies Beaverton's Greenway neighborhood. Greenway homes are typically priced from $300,000–$600,000, and most are single-family; however, duplexes and townhouses pop up from time to time.
One popular feature of Greenway is that most homes do not have HOA fees, but always double-check any specific property you're interested in, as that can change based on the subdivision.
Another great feature is accessibility. Homes in Greenway are typically just 2–3 minutes from outlets, shopping centers, and parks and trails. The Cascade Plaza has a Nordstrom Rack, Ross, PetSmart, many food options, Macy's, Old Navy, Sephora, and other big-name stores.
When you're ready to get outside, Greenway Parks and Koll Wetlands Park are both located in the center of the Greenway community. Featuring athletic fields and picnic tables, the park sits along the paved Fanno Creek Trail and provides birdwatching and hiking, and jogging opportunities. Koll Center Wetlands Natural Area protects 15,000 native shrubs and trees on the park's east side.
Greenway Amenities
Cascade Plaza
Guitar Center
Crunch Fitness Beaverton
Greenway Park
Koll Wetlands Park
Fanno Creek Trail
Highland
Highland, sometimes known as Highland Hills/Hyland Hills, sits just south of downtown Beaverton and west of Highway 217 between the neighborhoods of West Beaverton, South Beaverton, Vose, and Central Beaverton.
Homes in the Highland Hills neighborhood were built between the 1970s and 1990s and feature ramblers, two-stories with basements, walkout basements, and split-foyer houses. Finding condos, townhouses, and duplexes here isn't uncommon, but the Highland housing market is mostly single-family homes. Homes for sale in Highland Hills typically list up to around the $700s, but there are plenty of affordable options for homes below $500,000, particularly condos and townhomes.
The shopping center at SW Allen Boulevard and SW Murray Boulevard contains a RightAid, Starbucks, Safeway, Ace Hardware, a few restaurants, and McMenamin's at Murray & Allen, a neighborhood staple.
This community has quick access to several parks inside its borders and close by, including Highland Forest Park, spanning 3–4 blocks. The Hyland Woods Natural Area is a 30-acre forested park with soft-surface trails and a play area.
Highland Amenities
Highland Park Middle School
99 Ranch Market
McMenamin's at Murray & Allen
Fir Grove Park
Channing Heights Park
Highland Forest Park
Finding Your Perfect Home in Beaverton on a Budget
Beaverton's an excellent choice when you want a neighborhood that holds its own in terms of shopping, recreation, and entertainment at an affordable price.
With everything you need at home and Portland's amenities easily accessible via TriMet, Beaverton's communities are a world of their own but close to essentials and adventures. Moving to Beaverton means having the best of everything without the high home prices of many other west coast cities.