Lowest HOA Fees in Lake Oswego: 8 Neighborhoods With Affordable Community Fees
Posted by Alicia Smith on Thursday, March 10, 2022 at 4:25 PM
By Alicia Smith / March 10, 2022
Comment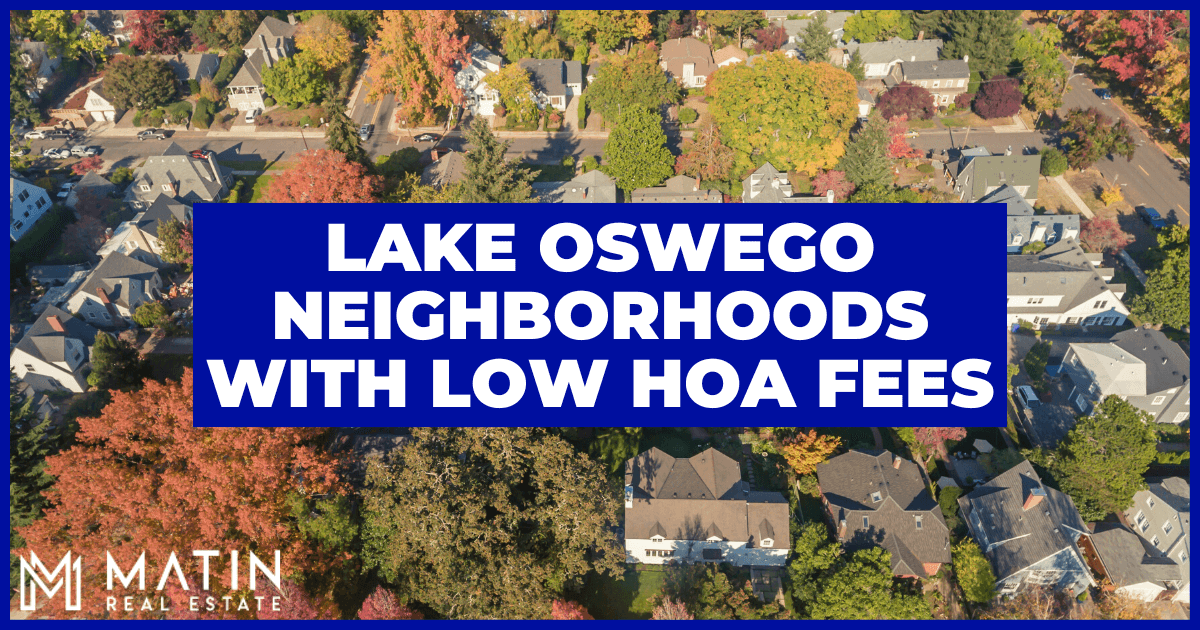 Many Lake Oswego neighborhoods are governed by the by-laws of a community homeowners association. Homeowners associations, or HOAs, typically come with HOA fees. These fees cover a multitude of expenses, including insurance, municipal bills, neighborhood landscaping, and the ongoing maintenance of community amenities.
Fees for these local HOAs can get expensive, considering all the work that is involved with preserving Lake Oswego's natural beauty and the high quality of life residents here are accustomed to, so it's an important factor to keep in mind when shopping for Lake Oswego real estate.
However, not all neighborhoods come with HOA fees that break the bank. Keep reading to discover some of the neighborhoods with the lowest HOA fees in Lake Oswego.
Johns Woods
Johns Woods Amenities
Springbrook City Park
Lake Oswego Indoor Tennis Center
Red Pig Garden Tools
New Seasons Market
Johns Woods is a beautiful neighborhood within easy driving distance of Interstates 5, 205, and 217. TriMet, the local public transportation system, provides service to several nearby cities, including Portland, Mountain Park, and Tualatin. There are several bus stops along Kerr Parkway.
The neighborhood is seven minutes from downtown Lake Oswego, and major cities Portland, Beaverton, and Tigard are all within a twenty-minute drive. Many shopping, dining, and recreation opportunities are also just mere minutes from Johns Woods. Hanko's Sports Bar & Grill and Lac St Jack are both area eateries about five minutes from the neighborhood.
Despite its proximity to the city's center, Johns Woods is a peaceful retreat for residents and offers plenty of privacy. Home prices typically range from $550,000 to $950,000, making the neighborhood accessible to various budgets. Most homes offer up to three bedrooms and over 1,500 square feet of living space.
There are roughly eighty homes in Johns Woods, most of which are built in Contemporary or Traditional architectural styles. These homes are governed by the Johns Woods Homeowner's Association, and annual dues for being a part of this association amount to just $90.
Westlake
Westlake Amenities
Westlake Park
Killer Burger
AAA Service Center
Lotus Dental Wellness
The Original Stanford's Restaurant & Bar
Westlake is a tight-knit community ten minutes west of downtown Lake Oswego. The neighborhood offers a warm and friendly lifestyle to its nearly 3,000 residents. Spread across less than half a square mile, Westlake is convenient to nearby Kruse Way, Interstate 5, and Oregon Route 217.
The neighborhood layout is made for leisurely strolling. There are plenty of cafes, eateries, and restaurants local to the community. The Harvest Wine Bar is right at the center of Westlake, and other options include Oswego Grill and Chipotle.
Westlake's home architecture and landscaping have been carefully planned, and popular home styles in the area include Traditional and French Country. Home prices often start at $700,000, and luxury homes in the neighborhood can sell for $1,200,000 or more.
Westlake is governed by the covenants and by-laws of the Westlake Homeowners Association. Since there are several home types in the neighborhood, a range of HOA fees are provided. For single-family homes, HOA fees start at $100 and can be as much as $150 annually. For condominium units, HOA fees are between $20 and $30 per year.
Skyland Heights
Skyland Heights Amenities
Lake Oswego Public Golf Course
Oswego Hills Vineyard
Joy Teriyaki
Starbucks
Walmart
Skyland Heights is a small community located within the Stafford/Tualatin Valley neighborhood of Lake Oswego. This neighborhood covers just a few blocks and is home to less than 3000 residents. Nearby major roads include Oregon Routes 99E and 43, and the area is served by Tri Met's bus route 36.
The neighborhood is a short drive from local casual eateries, including Brooks BBQ & Beer, Ovation Coffee & Tea, and Burgerville. For those craving a more upscale affair, Buggatti's Ristorante is just a few minutes down Route 43.
Skyland Heights community is home to the Skyland Heights Homeowners Association. The membership fee is $150 annually. This fee allows residents to enjoy a variety of well-maintained community features, including a clubhouse, playground, and tennis courts.
Skyland Heights' scenic surroundings and peaceful atmosphere make it a sought-after neighborhood. Homes in Skyland Heights don't come on the market often, so it's important for prospective homebuyers to act quickly. Real estate prices reflect this and typically range between $5,000,000 and $6,000,000.
Holly Orchard
Holly Orchard Amenities
Tasty
Biscuits Cafe
Corona Mexican
Momo Sushi & Grill
Starbucks
7-Eleven
Holly Orchard is a quiet, peaceful, and historic neighborhood just west of downtown Lake Oswego. The neighborhood is fairly secluded and affords its residents much-needed privacy. Despite this, it's just a short drive from nearby grocery stores and conveniences like Costco and WinCo Foods.
Major roads I-5, Highway 217, Boones Ferry Road, and Country Club Road are all easily reached via Holly Orchard. Downtown Lake Oswego is a short ten-minute drive, and major cities like Portland and Tigard are less than twenty-five minutes away.
Holly Orchard's claim to fame is its rich history. The neighborhood is home to the oldest home in Lake Oswego, known as the Waters Carman House. Built in 1855, the property still stands in Holly Orchard and continues to be owned by descendants of Waters Carmen.
While there is quite a bit of history in the neighborhood, this hasn't stopped new businesses from setting up shop in Holly Orchard. Tavern on Kruse, Munch, and MOD Pizza are all within easy walking distance of Holly Orchard residents and provide much-needed spaces for residents to share meals and drinks with friends and family.
Home prices in Holly Orchards often range from $200,000 to $800,000. The Holly Orchards Neighborhood Association does an excellent job voicing the concerns of the neighborhood and communicating residents' needs to various government bodies in Lake Oswego. There is no fee for membership.
Royal Oaks
Royal Oaks Amenities
Malee's Thai Kitchen
Yoga for Kids Portland
Babica Hen Cafe
Waluga Dog Park
Bank of the West
Royal Oaks is a community of gorgeous, spacious, and luxurious homes located fifteen minutes west of downtown Lake Oswego. Its convenient location allows it to be a short drive to Oregon Routes 141 and 99W, making the neighborhood a dream for those commuting to Portland, Beaverton, and Tualatin.
Royal Oaks is conveniently located just a short drive from Boones Ferry Road, a bustling commercial area with plenty of shops, service centers, and dining options. Residents with a sweet tooth will especially love Royal Oaks— the neighborhood is close to both Suzie Q Cupcakes and La Provence Boulangerie & Patisserie.
Home prices often start at $435,000 for a 2,000 square foot, two-bedroom, two-bathroom single-family home. More spacious and luxurious homes can cost up to $1,200,000. These homes offer features like gleaming hardwoods, custom fireplaces, and soaring vaulted ceilings.
For neighborhood residents, the Royal Oaks Homeowners Association is responsible for maintaining the neighborhood's common areas. It also acts as a single, unified voice for the residents regarding neighborhood decisions, community events, and more. The HOA fee is $150 annually.
Summer Woods
Summer Woods Amenities
Safeway
Wilco Farm Store
Walgreens
At the Garages Satellite Pub
24 Hour Fitness
Pastini
Summer Woods is a small community containing less than fifty homes. With so few properties, it's rare to see more than one or two homes for sale in Summer Woods at a time. This makes Summer Woods a sought-after neighborhood for prospective residents.
There are many reasons the neighborhood is such a hotspot for homebuyers. Just five minutes away on Lower Boones Ferry Road is a bustling commercial center filled with grocery stores, shops, and dining destinations. McCormick & Schmick's Grill, Hop N Cork, and Too Sweet Cakes are all located here.
Despite this activity, Summer Woods maintains the quiet and peaceful atmosphere the neighborhood is known for. The Summer Woods Homeowners Association does an excellent job maintaining a high-quality lifestyle in the neighborhood, and the home values of Summer Woods reflect this. The cost of the Summer Woods Homeowners Association's diligent efforts is $150 per year.
Home prices in the neighborhood typically range between $500,000 and $1,200,000, making the neighborhood accessible to a wide range of budgets. Homes are typically two-story single families, with between two and three bedrooms and multiple bathrooms.
Forest Hills
Forest Hills Amenities
Dang's Thai Kitchen
The Dullahan Irish Pub
Lake Oswego Public Library
Oswego Lake Country Club
Whole Foods Market
Nicoletta's Table and Marketplace
Kyra's Bake Shop
Forest Hills is a beautiful neighborhood conveniently located just eleven minutes west of downtown Lake Oswego. Forest Hills offers easy access to major nearby roads, including Interstate 5 and Oregon Route 217. The neighborhood is served by the Forest Highlands Community Planning Organization.
The Forest Highlands CPO acts as a neighborhood association and takes care of various issues within the community, including community development and land use. There are no HOA fees for Forest Hills residents. However, voluntary contributions are welcome.
Forest Hills has excellent access to outdoor recreational opportunities. The neighborhood has trailhead access to Tryon Creek State Park, which offers visitors miles of trails across acres of land and is perfect for hiking, biking, jogging, and bird watching. Other parks in the area include Foothills Park and Rossman Park.
There is a lot of new development in the Forest Hills neighborhood, which has driven real estate prices up. However, lots in Forest Hills are significantly larger than nearby neighborhoods, justifying the higher costs.
Home prices in Forest Hills often range from $400,000 and $3,000,000. This wide range of prices makes the neighborhood accessible to a huge spectrum of budgets. Homes range from 1,000-square-foot studio condominiums to sprawling, 4,000-square-foot estates.
Marylhurst
Marylhurst Amenities
Walmart Neighborhood Market
Orangetheory Fitness
The UPS Store
Señor Taco
Marylhurst is a sought-after community in Lake Oswego, and for good reason. There are less than 1,000 residents spread across the small neighborhood, making it a quiet and peaceful retreat.
The community is older, boasting gorgeous vintage homes and mature wooded areas. The streets are wide and winding, perfect for enjoying a quiet stroll on a beautiful day. Marylhurst Heights Park and Midhill Park are both beautiful, grassy locations in the neighborhood, offering picnic benches and paved trails.
While idyllic and peaceful, there is plenty of action in Marylhurst. Nearby on Willamette Drive is a collection of restaurants and commercial spaces, including Bugatti's Ristorante, Backyard Burger Company, and Starbucks.
Homes here are in high demand, and it's rare to see more than a handful for sale at any given time. For the most part, prices typically range from $550,000 to $900,000, and most architectural styles fall under Mid-Century and Ranch. Split-level homes are the norm in Marylhurst.
The Marylhurst Homeowners Association works to maintain the neighborhood's quiet dignity and provide a strong voice for the small community. Annual fees are $375, which covers the maintenance of common areas like the community swimming pool and local parks.
Affordable Associations in Lake Oswego
Neighborhoods in Lake Oswego have it all. Plenty of restaurants, amenities, and recreation options make it easy to call these friendly and welcoming neighborhoods home.
Exorbitant HOA fees may be enough to scare off even the most determined prospective homebuyer. Thankfully for prospective homebuyers looking in the area, there are plenty of affordable neighborhoods in Lake Oswego with low HOA fees and plenty to offer potential residents.
If you're interested in living in Lake Oswego, Oregon, contact Matin Real Estate at (503) 622-9601 to get in touch with a local real estate agent and find the ideal Lake Oswego home for you today.