Is Portland Dog Friendly? Best Dog Parks, Pup-Friendly Restaurants & More
Posted by Alicia Smith on Wednesday, January 26, 2022 at 7:49 AM
By Alicia Smith / January 26, 2022
Comment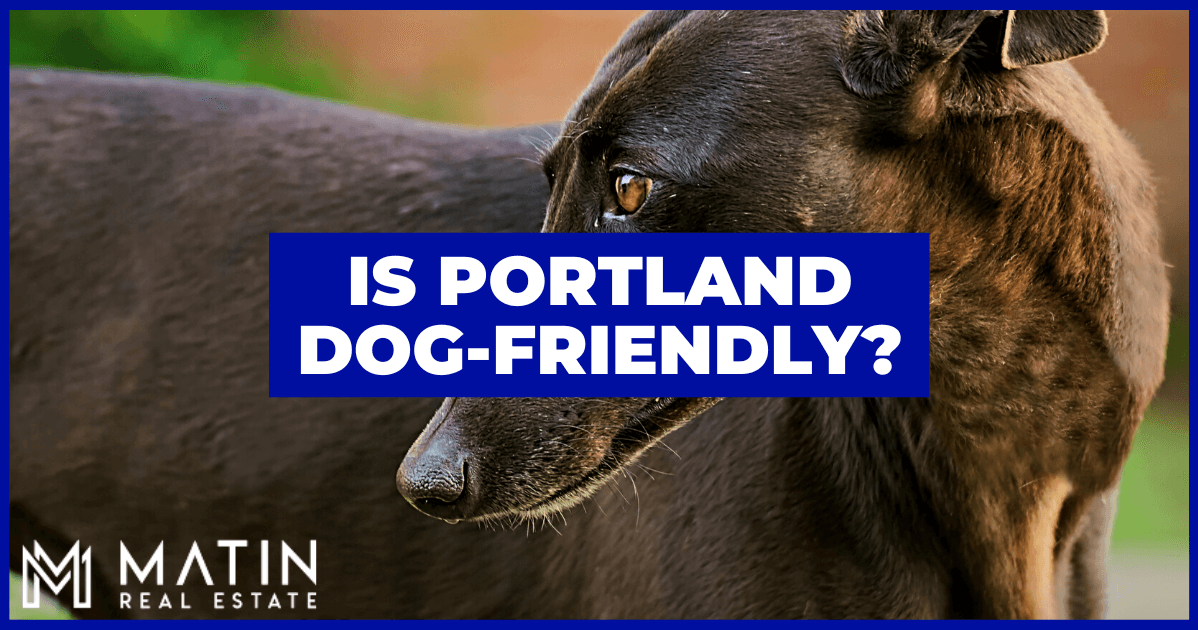 From the snow-capped mountains to the vibrant, modern urban areas, the city of Portland, Oregon, has multiple offerings. It's home to numerous neighborhoods and iconic parks, including Washington Park. It's home to a strong art and cultural district as well. For those thinking about purchasing one of the luxury homes here or a Portland townhome, it helps to know what life will be like in the community, especially with pets. The good news is Portland is very much a pet-friendly city, with plenty to offer most people who want to spend time with their pet throughout the day. Read on to learn where to find Portland's best dog parks and dog-friendly activities throughout the city.
Best Neighborhood Dog Parks in Portland
Portland is home to numerous neighborhoods and subdivisions. Many are tree-lined, walkable neighborhoods with sidewalks, creating an ideal environment to walk a dog. Some also offer parks within them or within walking distance. Here's a look at a few of them for those looking to spend time outdoors in Portland with their pet.
Chimney Park
Chimney Park on N. Columbia Blvd. is a large park with 16.76 acres. Much of it is for public use. There is a large fenced-in area that's an off-leash park for dogs. Some residents may find walking along this path (which is not paved) is an excellent way to spend the day, but for many dogs, it is the fun running and playing with other dogs that makes it a fantastic location. Other dogs are typically here, especially on a warm, sunny day.
Chimney Park is mostly grass with tall trees that shade pets and their owners. The only real limitation here is that there's no separate area for smaller dogs. Some benches and picnic tables are available for owners to sit down and relax while their pets play. There's also a water fountain to keep dogs hydrated. Overall, this is a go-to option for many. It's easy to get to from the Saint Johns neighborhood.
The Fields
The Fields is another excellent choice for pet owners. This park, located on Northwest Overton Street, is near the Willamette River in the Pearl District. For those who live in the urban portion of the city, this park offers a nice break from the concrete for pets. As a large, open field, the dogs can run and play without limitation in many cases. Additionally, this is a fenced-in park, which creates safety. Keep in mind that The Fields is a large park, but only the very tip is fenced in for pets.
One of the nice things about The Fields is that about half of it is sectioned off for smaller dogs, providing more peace of mind to owners. There isn't a lot of shade here, though there are a few benches for people to sit on as they wait for all of the sniffing and playing to end.
Gabriel Park
Check out Gabriel Park at Southwest 45th Avenue and Vermont Street for a more natural setting. A large park of over 91 acres, it offers a sports field, playground, tennis courts, and a skate park. The 1.5-acre dog park that's completely fenced in makes this park unique, along with the walking trails that welcome pets as well.
For dogs, Gabriel Park offers it all, including doggie bags and a freshwater fountain. For owners, there are picnic tables nearby the fenced-in area, perfect for relaxing while watching their pets. The best feature about this park is the densely forested areas just a few minutes away. These make a nice, shaded place to walk with a pet during the hot summer days. Gabriel Park is located in the Maplewood neighborhood and Hayhurst community of Portland, just to the east of Vermont Hills, providing excellent access to the park from many subdivisions.
Brentwood Park
Brentwood Park on SE Duke St. and SE 60th Ave is an excellent, smaller dog park. It may be just a half of an acre, but it is an off-leash park that's welcoming and kept well cared for most of the time. There's no water provided at the location, which means pet owners need to bring their own. Still, there are some obstacles here and lots of room to run and play. There are a few benches here for owners to relax and watch their pets play.
This dog park is located right by Joseph Lane School. It is a fantastic option for those who want to bring their pet along to pick up the kids after school. This dog park is easily accessible to most neighborhoods along SE Duke Street up to the Mt. Scott-Arleta subdivision and the Brentwood-Darlington community.
Wallace Park
Wallace Park Off-Leash Dog Area is another option in Portland, right on NW 25th Ave. and Raleigh Street. The park isn't just a dog park – there's a picnic area, play area, playground, and some public art on display here. Additionally, the paved paths are perfect for walking with a dog. There are also soccer and softball fields nearby.
The dog park part of Wallace Park is smaller, but it is fenced in. Wallace Park is about five acres with restrooms and a picnic table, but the dog park is further off from this area. It's an open space with some shade for pets, though. It is one of the few dog parks in the Northwest District, making it a go-to option for anyone near the Kings Heights and Nob Hill neighborhood.
Dog-Friendly Activities in Portland
Having fun with a dog in Portland does not mean just going to a local park. Various activities throughout the community can be fun for people to do with their pets. Portlanders often love to bring their pets to seasonal activities.
One option is to check out the Doggy Dash. It's sponsored by the Oregon Humane Society each year and is a day built around playing and running with a dog. Activities include a 1.2- or 2.4-mile course, dog birthday cakes, animal massages, pet portraits, and much more. Another fun run with the pets includes Family Dogs Fun Walk and 5K Run. This event is a 5km loop route that happens at Mt. Tabor Park at the end of July each year. It's a fun way to spend some time for those who enjoy running.
Many of the outdoor events in Portland do welcome dogs on leashes, including the Cider Summit in the Fields neighborhood and the Portland International Beer Fest in the North Park Blocks area.
Another fun activity is Movies at the Park. Several of the parks in Portland host these events throughout the summer. It's essential to check for a new schedule each year, but dogs are typically welcome. Get involved with community charity projects, such as the Big Float from the Human Access Project. It's a yearly event on the Willamette River and encourages everyone to come, including pets.
Dog-Friendly Restaurants in Portland
Though not all of the restaurants in Portland allow for dogs, many do. There are over 400 pet-friendly restaurants in and around the city. There are some outstanding options to be had, including these locations.
Laurelwood Brewing Company is an excellent choice that serves beers and pub food. There's a large roof deck along with a children's playground available. Dogs can stay in the outdoor seating area. Island Café is another fun location and is fantastic for those who want fresh, vibrant flavors from the tropics. It's right on the water with outdoor seating for those who wish to bring along their dog, cool down, and relax.
Over on NW 23rd Avenue is Papa Haydn, right in the heart of Nob Hill. It's known for its lunch and dinner choices, but it also has a lavish dessert menu that's hard to pass up. It's possible to find fresh seafood here, too. The outdoor dining it offers allows for pets to come along as well.
Oaks Bottom Public House on SE Bybee Blvd is an excellent choice for those who want some of the best pub-style food in the city. That's everything from green chili cheeseburgers to Cobb salad made with the freshest of ingredients. It has a large outdoor area for guests who wish to bring their dog, but this is only available during summer.
Dog-Friendly Shopping in Portland
Shopping with pets can be a lot of fun, especially when some retailers throughout the city welcome them.
Mud Bay Glisan is a dog store on NW Glisan Street offering many natural foods and treats for pets. It also offers natural pet supplies for most types of common pets. If desired, it's easy to bring a dog in (and even a cat) to shop for goodies here.
Fang! Pet & Garden Supply is another option. The location is mainly a pet store with some garden supply items available. A nice benefit of this location is that it offers supplies for most pets, including ferrets, pigs, and rabbits, among others. This location is also very health-focused regarding the supplies, foods, and treats it stocks. It's also full of pet-friendly staff who may be able to provide advice and guidance, especially to those getting a new pet.
A few retailers may be willing to welcome a pet in for those looking for something other than pet stores to take a dog to, including the Portland Saturday Market. Each week during the late spring through early fall, the market welcomes people to outdoor booths filled with locally grown produce and numerous artisan crafts. This venue is an outdoor area, which makes it ideal for pets. The Hollywood Farmers Market is similar and welcomes dogs, as long as they are on a leash and controlled by their owner.
Pet-Friendly Lodging in Portland
Finding the right hotel or other amenities when traveling with a pet in Portland doesn't have to be challenging. Many of the hotels in the city, including many of the chains, offer pet-friendly rates.
Ace Hotel Portland is an excellent choice. It welcomes pets and doesn't charge an extra fee for having a dog. The hotel, located on SW Stark Street, also doesn't limit the size of the pets. Both cats and dogs are welcome and can be left unattended. There is a grassy area for dogs to use.
Kimpton RiverPlace Hotel on S. Harbor Way is another option. It welcomes up to two pets in each room without charging extra, with both dogs and cats welcome. A nice benefit of this location is that it is right by the Tom McCall Waterfront Park, which welcomes leashed dogs.
Consider Dossier Hotel on SW Alder Street for something a bit more upscale. This hotel welcomes up to two dogs of any size (though it does charge a small fee). However, some larger and more luxurious rooms do not allow pets. There's a grassy area available for pets, and the hotel also provides bowls and beds for dogs. There are also a few parks located within walking distance.
The Mark Spencer Hotel on SW 11th Avenue is yet another option. It welcomes dogs and cats of any size (though it charges extra for them). The pet-friendly rooms are on the first and second floors only. Ask at the desk for treats and dog bowls.
Pet-Friendly Is an Understatement in Portland
Portlanders love their pets, and it shows in the wide range of amenities available to meet their needs. There are plenty of activities and parks to keep dogs busy, and even a few that welcome cats. It is important to verify any charges before bringing a pet in, but the chances are good that many shops, restaurants, and parks welcome pets.
If you're inspired by the opportunities in Portland, Oregon, contact Matin Real Estate at (503) 622-9601 to get in touch with a local real estate agent and find the ideal Portland home for you today.