5 Best Dog Parks in Beaverton & Fun Things to Do With Your Dog: Is Beaverton Dog Friendly?
Posted by Alicia Smith on Monday, February 27, 2023 at 11:19:41 AM
By Alicia Smith / February 27, 2023
Comment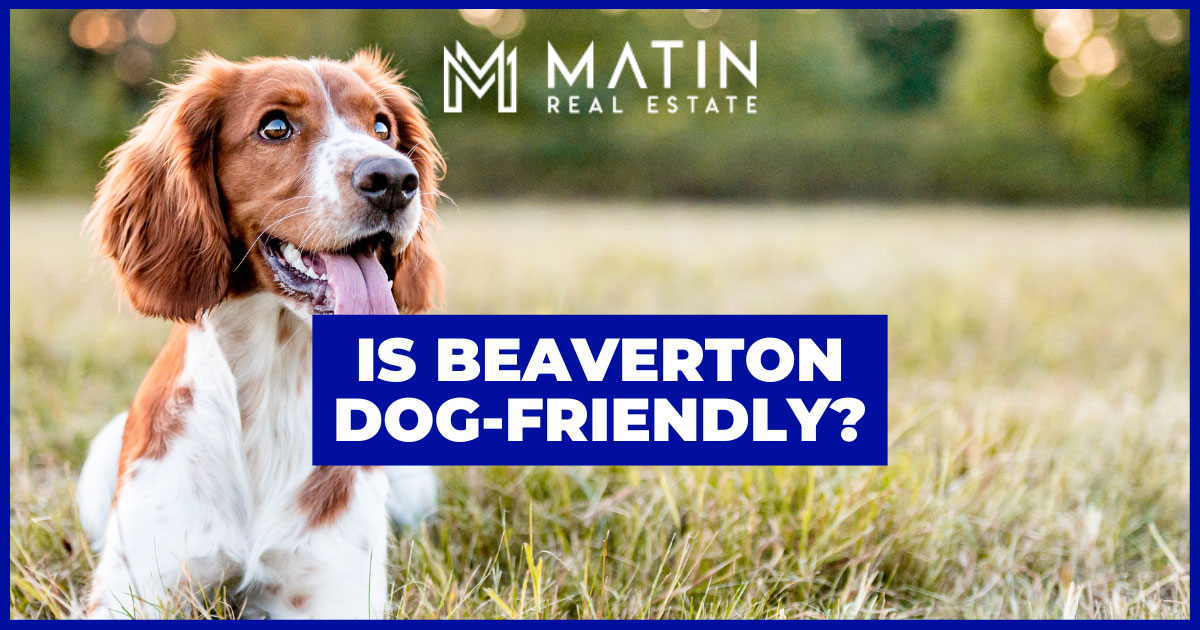 The city of Beaverton is a very dog-friendly place to live. The sidewalks and tree-lined streets in Beaverton's best neighborhoods make it easy to get out and enjoy some fresh air with your dogs. Additionally, there are plenty of activities for dog owners and their favorite pets, ranging from numerous dog parks to dog-friendly restaurants and shopping. Grab the leash, and let's explore!
Best Dog Parks in Beaverton
Exercise and socialization are essential for all dogs. Numerous dog parks in Beaverton and nearby towns provide safe spaces for dogs to play off-leash. Here are the five best options around the city.
Hazeldale Park
Hazeldale Park is in the southern part of the Aloha community, directly west of Downtown Beaverton, off SW Farmington Road. The park's total size is 11 acres, and two acres are fenced in as off-leash dog areas for small, medium, and large dogs. The parking lot is accessible on the east side of Hazeldale Park, near some children's playground equipment. Most of the park has grassy areas with sports fields for baseball, softball, and soccer.
Walk south on the paved walking trail from the parking lot to reach the fenced-in dog areas. The dog park sections are surfaced with grass and wood chips; each section is large enough to play fetch and allow the dogs to run around. There are also water fountains for refilling bowls, and one section has a little splash pool. There are also benches for owners to sit on, and waste bags are available.
Hazeldale Park Additional Information
Address: 19330 SW Farmington RD, Aloha, OR
Hours: 5 a.m. to 9 p.m.
Winkelman Dog Park
Winkelman Dog Park is considered one of the best in the Beaverton area. It's located near The Heights at Cooper Mountain neighborhood, which has many private driveways and luxury homes on quiet side streets. The off-leash dog areas are in a larger 19-acre park that opened in 2013. The park primarily consists of grassy play areas and walking paths.
There are three fenced-in sections for dogs to play in. Winkelman Park has a small dog area and a mixed-size dog area, both of which are open year-round. There's also a large grassy park area fenced in for all sizes of dogs, which is open from around April through October. The park has an agility area for dogs to run around, including jump walls and weaver polls. It provides a paw washing station and pet drinking fountains as well.
Winkelman Dog Park Additional Information
Address: 10139 SW 175th Ave Beaverton, OR
Hours: 7 a.m. to 7 p.m.
Rock Creek Dog Park
The Rock Creek Dog Park is located on the grounds of the Portland Community College Rec Center in Rock Creek/West Portland, a short distance from the north of Beaverton. The rec center is on the college campus but is publicly accessible. A much larger facility has 1.7 acres set aside for off-leash dog activities. The rec center has several sports fields and outdoor activities for people to enjoy.
There are three fenced-in areas for dogs, making it one of the best dog parks in Portland. There are small and large dog sections, which are open from April through November each year. It also has an all-weather fenced-in section open year-round for dogs of all sizes. There are drinking fountains for dogs and their owners, benches to sit on, and picnic pavilions near the off-leash areas to enjoy.
Rock Creek Dog Park Additional Information
Address: 17705 NW Springville Rd., Portland, OR
Hours: 7 a.m. to 7 p.m.
Evelyn M. Schiffler Park Dog Run
The Evelyn M. Schiffler Park in Beaverton has a pop-up dog run in it. A dog run differs from a regular dog park in that it provides an ample, fenced-in space for dogs to run around. At around 10,000 square feet in size, it has a four-foot high chain-link fence surrounding it. The dog run is wood-surfaced so it can stay open year-round, even in rainy weather. The larger portion of Schiffler Park has paved walking trails surrounding protected wetlands and a skateboard park.
Evelyn M. Schiffler Park Dog Run Additional Information
Address: 5495 SW Erickson Ave., Beaverton, OR
Hours: 6:30 a.m. to 9 p.m.
Jackie Husen Dog Run
Jackie Husen Park is located in the Cedar Mill neighborhood in Northwest Portland, directly north of Beaverton. This is a pretty area with some new construction homes near the park. A pop-up dog run was opened in the park in 2019, and it was so popular that it has now become a permanent amenity serving the neighborhood.
To reach the dog run, park in the main parking lot off Reeves Street and follow the paved walking path into the far northeast section of the park. The 7,500-square-foot off-leash dog run is located there and has a four-foot high chain-link fence. It does not have separate sections for large and small dogs. The surface inside the fenced-in area is made of wood chips, and it is open year-round.
Jackie Husen Dog Run Additional Information
Address: 10955 NW Reeves St., Portland, OR
Hours: 6 a.m. to 10 p.m.
Dog-Friendly Activities in Beaverton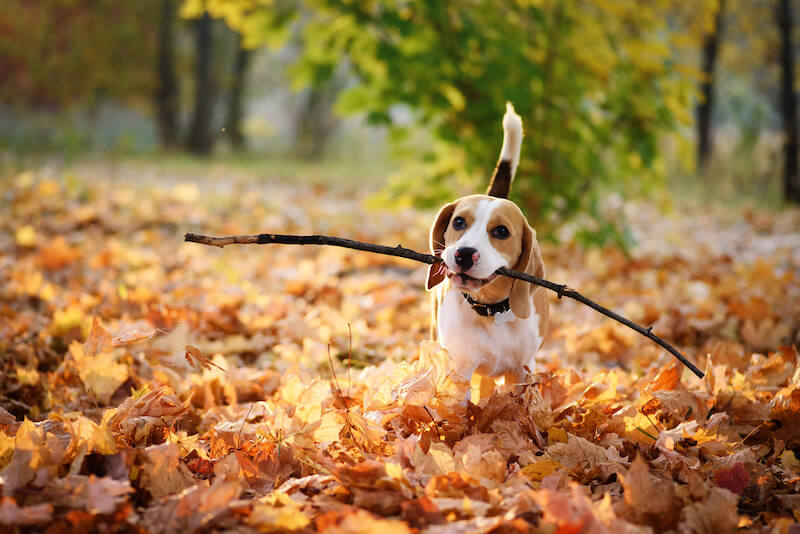 The Tualatin Valley has abundant green spaces and preserved natural areas for the public to enjoy. Leashed dogs are welcome to accompany their owners in many of these areas, providing a great way to exercise and enjoy the beauty of the Beaverton area without having to drive far from home. Here are several dog-friendly hiking spots nearby.
The Hyland Woods Natural Area is one of the best parks in Beaverton. It features 30 acres of Douglas fir trees and has excellent birdwatching opportunities. A dirt trail loops around the park and allows a hiker and their dog to take an easy two-mile walk, hike, or run. The trails are flat and surfaced with soft dirt.
The L.L. Stub Stewart State Park is just 30 miles northwest of Beaverton. To get there, drive northwest on US Highway 26 and then take the Nehalem Highway north at Buxton. There is a $5 day-use fee to explore this state park, which has a loop trail that is almost five miles long. May to October is the best time of year to visit.
Jenkins Estate in southwest Beaverton is a 68-acre historic site and park that people are welcome to explore with their leashed dogs. The grounds have a restored log cabin that was first built in 1912, along with some stables and other refurbished historic buildings. It has beautiful flower gardens to visit in the summer months and about two miles of forested trails for hiking.
The Westside Trail is a 6-mile trail that runs between the Tualatin Nature Center in Beaverton and Tigard city limits. It's paved the entire way and travels through wooded park areas and some quiet residential areas. Leashed dogs are welcome on the trail.
Dog-Friendly Restaurants in Beaverton
The FDA prohibits non-service animals from entering restaurants. However, restaurant laws in Oregon permit dogs to accompany owners in designated outdoor seating areas.
Pizzicato Pizza is a regional chain restaurant with a branch on the SW Beaverton Hillsdale Highway in Beaverton. They have a limited number of covered outdoor patio seats where leashed dogs are welcome to accompany their owners for a meal. In addition to many kinds of pizza, it serves interesting dishes like a lamb meatball sandwich and baked feta.
The Brew Stop Taphouse in South Beaverton also has dog-friendly outdoor patio seating. They have 24 beer, wine, and cider taps that rotate seasonally and serve a variety of smoked meat tacos.
The Craft Pour House is on SW Regatta Street. Leashed and well-behaved pets are allowed at their outdoor picnic table seating. They serve strictly beer and cider and have no kitchen, but customers are welcome to order food from one of the neighboring restaurants to enjoy with their drinks.
Chipotle Mexican Grill is a well-known national chain restaurant. Their Beaverton location in Cedar Hills has a limited number of outdoor covered patio tables, and leashed dogs are welcome to come along with their owners at this location. Just south of Chipotle in the same part of town, Thai Bloom! is another option with many dog-friendly outdoor patio tables.
Dog-Friendly Shopping in Beaverton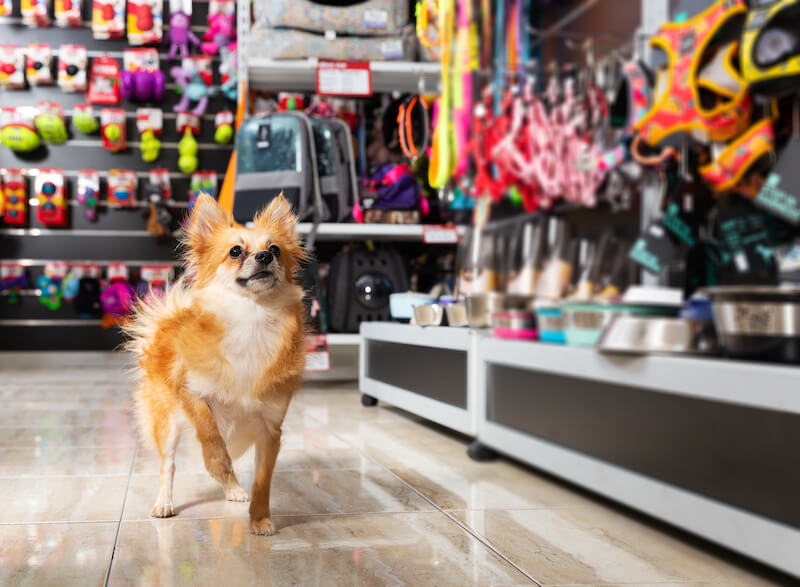 Many dog owners like to bring their pets along for daily errands and shopping. Fortunately, the Beaverton/Portland Metro area has some fun options where leashed pets are welcome to come along for an excursion. Here are some must-visit locations.
The Portland Saturday Market is open in Downtown Portland every Saturday and Sunday between March and December. It isn't easy to describe the eclectic and colorful artistic community in the Portland Metro area. It's best to experience it in person by browsing the market with a leashed pet. Vendors at the market include many local artists, artisans, wineries, sculptors, and more.
The Hollywood Farmers Market is open year-round on Saturdays in the Hollywood neighborhood of Portland. Leashed pets are welcome at the market between 10 a.m. and 1 p.m. Outside of those hours, the market is a pet-free location. The visitor's booth at the entrance to the market provides doggie treats and water.
Filson is a rugged outdoor apparel store located in the iconic Pearl District of Portland, northeast of Beaverton. In addition to outdoor apparel, it sells luggage, bags, and accessories. Leashed pets are welcome inside the store.
The Pet Barn is a locally owned pet store in Cedar Mills, north of Beaverton. This pet store sells dog and cat supplies, health products, pet accessories, toys, and more. Another locally owned option in the south part of Beaverton is King Duke's. They offer free samples of many pet treats and products available for sale in bulk. Leashed pets are welcome in both of these stores.
Beaverton Pet-Friendly Hotels & Lodging
Anyone coming to Beaverton for a visit or a staycation will be happy to know about the pet-friendly lodging available in Beaverton.
The Homewood Suites by Hilton Hillsboro/Beaverton allows up to two pets per room, so long as they weigh less than 50 pounds each. Dogs and cats are allowed. Visitors should request a pet-friendly room when making a reservation here.
The DoubleTree by Hilton Hotel Portland - Beaverton is another pet-friendly lodging option. They allow up to two pets of any size (dogs or cats) and charge a $15 fee per pet. It has a designated grassy pet relief area behind the hotel, with doggie waste bags available. Pets can be left unattended in the guest rooms, but no housekeeping services will be provided.
Extended Stay America Portland - Beaverton allows visitors to book a room with up to two pets (dogs or cats welcome). They charge a $25 fee per pet each night, up to a maximum of $150 for a longer stay.
TownePlace Suites by Marriott Portland - Beaverton allows up to two pets of any size with reservations. They charge a flat pet fee of $50, regardless of how long a visitor stays.
The PepperTree Inn in Beaverton is a pet-friendly venue for those looking for a comfy stay. They allow up to two dogs per room, with pet fees determined by the dog's size. It's $10 per night for dogs that weigh less than 10 pounds, $15 for pets 11 to 15 pounds, $20 for dogs weighing 16 to 20 pounds, and $25 for dogs that weigh more than 20 pounds.
Find a Dog-Friendly Lifestyle in Beaverton, OR
Beaverton is a beautiful suburban community in the Portland Metro area. It's also an extremely dog-friendly place to live, as evidenced by all the activities, restaurants, and parks that cater specifically to dog owners. The hilly streets in Beaverton's most walkable neighborhoods are also laid out to keep the area quiet and traffic moving slowly in case anyone's pet gets loose. Explore the area and ask other dog owners for their favorite pet-friendly activities to find even more hidden gems!