How to Assess Winter Storm Home Damage
Posted by Jordan Matin on Tuesday, February 16, 2021 at 7:52 AM
By Jordan Matin / February 16, 2021
Comment
Whew! We've been in for quite a ride the last few days with winter storms around the Portland area. It is definitely dumped snow on us, to the likes we haven't seen in 2021 until now. So what happens if your home has taken damage? Whether it's by wind, power outages, heavy snowfall that now is mixing with rain causing the snow to even be heavier and downing trees, what can you do to assess the damage, protect your home and family, and how to move forward?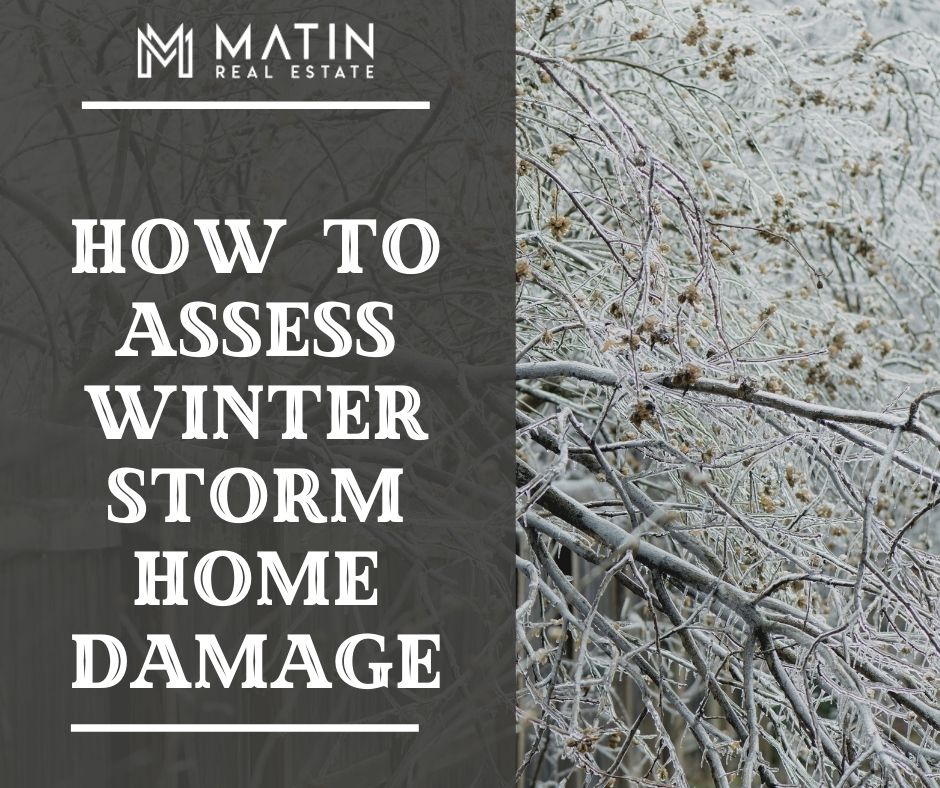 .While at this point we may not be able to do anything to prevent it, we can do some things to assess the damage and maybe take preventative steps for the future. Cold weather, snow, and then add on wind and rain can be a definite hazard and challenge to property owners. All of these winter weather factors can wreak havoc on a home, the driveway, walkways, your roof, and even your trees and landscaping.
Common types of winter storm damage you might experience:
Flooding – cold snaps and freezes can damage pipes and cause them to burst. This can lead to massive water damage but also, with an abundance of snow and then a quick melt, it can cause a lot of flooding as well.
Fires – Unattended fireplaces or damage to fireplaces are usually the number one cause of fires in the winter. Improperly cleaned chimneys, space heaters plugged and overloaded outlets or near flammable objects can cause fires causing even more damage to your home.
Leaky Roof – all of that frozen snow that melts can block drainage pipes and gutters causing heavy snow and ice to break through shingles or couple that with high winds, and you could leave your property exposed to moisture and damage.
Assess the Damage
If you've currently been through a storm the first thing to do is to assess the damage.
Stay calm.
It's so easy to get freaked out when any type of crisis or emergency arises but if you take a couple of deep breaths and assess the situation calmly, you can tackle it much easier.
Make sure people are safe.
Regardless of your property, people come first. Make sure any family, guests, employees, clients and animals are safe. If the property is unsafe you may need to arrange for temporary quarters to keep everyone safe while the damage is assessed and repaired.
Turn off the power and/or water
Winter storms can lead to leaks and flood damage so if there is a risk of any damage it's best to turn off gas, power, and water if any of those three issues are compromised. Take photos of everything before anything has been done to fix a problem or repair so that you have documented proof of the damage.
Contact insurance.
You may need to contact your insurance if there is major damage to the house or your property. Once the immediate danger is passed and everyone is accounted for and safe, call your insurance to get the process of filing a claim started. Ask what kind of documents and photos are needed to back up the claim. Leave everything in place, as hard as that is. You don't want to move anything, not only for safety issues but because you don't want to be denied anything that the insurance can provide you.
Keep receipts and documentation.
Once the storm restoration process begins you may have a lot of paperwork but hold onto everything including videos, estimates, invoices, receipts, claim forms and photos. Keep it in one file with you while the process is underway.
While there may not be a lot we can do to prevent it now, there are different ways to assess the damage and make sure the process is handled efficiently and quickly. The last thing you want is to stay out of your home any longer than you have to. Keep pets, animals, kids, and your family safe this winter by assessing the damage if necessary and taking preventative steps or having a plan in place if damage occurs.
At Matin Real Estate Group, we want you and your family to safe healthy, safe and warm this year. If you're tired of your existing home and ready to move on, give us a call. We'd love to help you find that perfect home in Portland.