Home Buyer Habits Change Amid COVID
Posted by Jordan Matin on Wednesday, December 30, 2020 at 11:37 AM
By Jordan Matin / December 30, 2020
Comment
The Portland residential real estate market continues to be strong, however, homebuyer habits have changed over the last nine months. COVID-19 has certainly sent a shockwave through the housing market across the country and in some areas, this is been a good thing, while in others it's been a negative force. Surprisingly, the real estate market in Portland is still as robust as ever and even though most housing markets experience an increase in sales in the spring months, this year's pandemic has led a steady stream of inventory and supply and demand over the fillings of the year.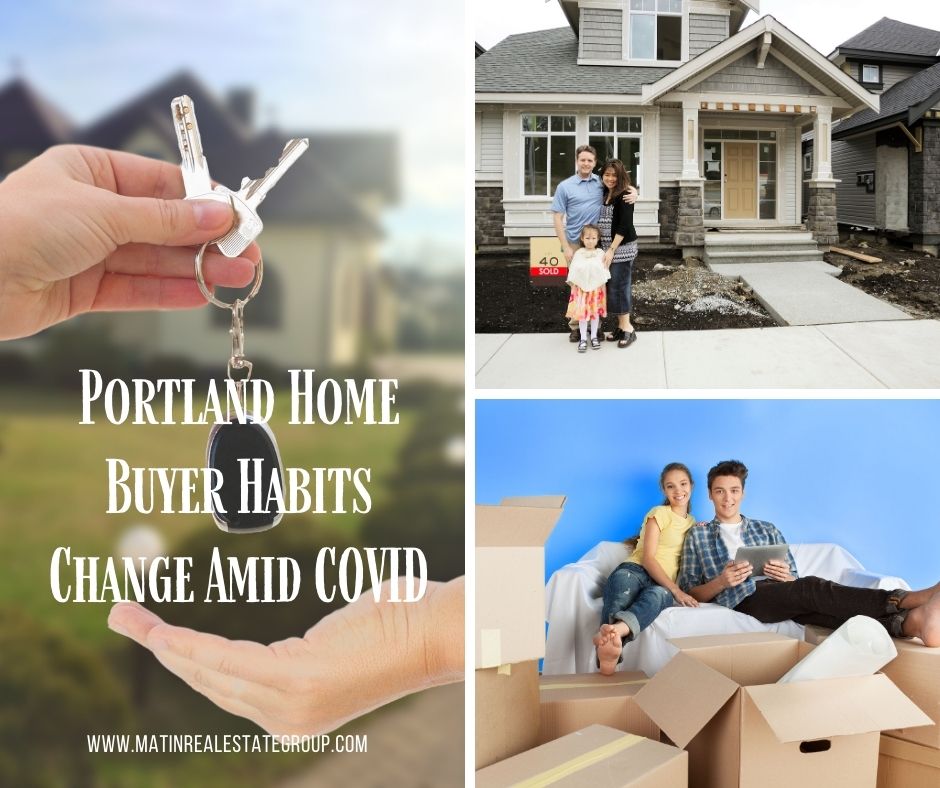 You would think that the economic fallout from the pandemic could lead to a C cell recovery with a lot of ups and downs, and we have seen that to some degree. The market all but evaporated back in March and April but came back with a boom in June and July. The Portland market is been fairly steady but even folks that choose to move out of downtown are keeping the outlying cities well-stocked with homebuyers. It's the inventory that is taking a bit of a hit.
The median sales price for downtown Portland is about $490,000, and 11.4% year over year increase with a 32% increase in the number of homes sold and a nearly 68% decrease in the median days on the market. Homes hit the market and are typically under contract within 10 days. This is extinguishing inventory rapidly making homebuyers struggle to get their offer accepted. From a real estate agency's standpoint, we're seeing a lot of buyers settling for homes simply because there are no other options. This can be challenging and can lead to buyer remorse if you settle for a home that you simply don't love. We help all of our buyers find exactly what they want and negotiate on their behalf to get the right home so there is no buyer's remorse.
Currently, many homes are receiving multiple offers and the average homes are selling for about 1% above list price and go pending within 10 days. Hot homes and those priced under market value are receiving multiple offers and can sell about 5% above list price and are going pending in about four days.
The sale to list price is that 101.5%, a 2.4% increase over last year and an 85% increase in homes sold above the list price. All of this is great news for sellers but buyers can find themselves in tight competitive situations. Experienced buyers agents and those that understand the market and how to appeal to sellers are really the keys to buyers getting what they really want. As a lot of agents are saying right now, you need really confident salespeople to do the deal.
Real estate giant Zillow announced they are not buying homes anymore and redfin furloughed is 60% of their agents. The shelter in place policies are making both buyers and sellers evaluate their living situations and homebuyers are contemplating where they want to be within the next five years. Many are finding homes with larger footprints, more square footage, and larger lots as they tend to work from home and spend more time at home than ever before.
All of these factors are adding to a vibrant and competitive real estate market. Those that are moving out of the Portland metro area are getting top dollar for their home and those looking for larger homes are struggling to have their offer accepted or at least those without the help of a dedicated and aggressive buyers agent.
So what is the Portland real estate market doing right now? It's on fire! Buyers and sellers are both keeping the market extremely active and as we head into 2021, the key is getting the right agent dealt negotiate for buyers and pricing a home correctly for sellers from the get-go. Contact us at any time for more information on the Portland real estate market, buying, selling, or investing in homes in our area.