Home Renovation Projects that Produce the Best ROI from Coast to Coast
Posted by Alicia Smith on Wednesday, September 13, 2023 at 8:00 AM
By Alicia Smith / September 13, 2023
Comment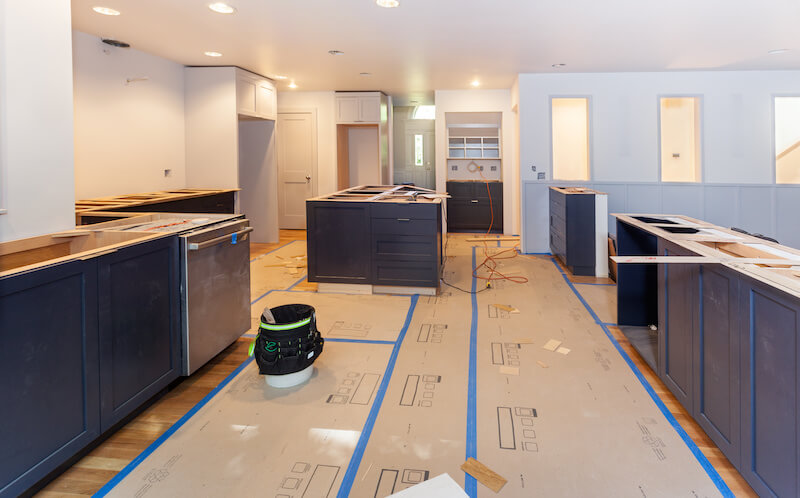 With home renovation jobs, it is important to consider the ROI (return on investment) each job can offer. ROI is a monetary measurement of the total amount invested in a project compared to the amount returned from the original investment.
For home renovation projects, calculating your ROI is vital since it helps property owners identify which projects will supply the most substantial financial benefit in the long run. Whether you're fixing up your home for yourself or because you're preparing to sell, here are some of the best renovations to consider.
For informational purposes only. Always consult with an attorney, tax, or financial advisor before proceeding with any real estate transaction.
Interior Renovations with High ROI
Of all interior options, kitchen renovations have the highest ROI. According to a research study, you can recoup 85.7% of a small kitchen area remodel.
Frank Gaborik, the top plumber in Everett, Washington, and owner of Danika Plumbing confirms this by saying, "As much as I hate to admit it, a minor kitchen or bathroom remodel will recoup more money than a major renovation because it doesn't involve changing the layout of the plumbing system." Frank has worked with many of the top general contractors in Everett.
What do Minor Kitchen Remodels Consist of?
This consists of replacing out-of-date home appliances, re-facing cabinets, painting walls, painting cabinets, and upgrading countertops.
Minor cosmetic upgrades are the main focus rather than making structural changes. A minor kitchen remodel can run anywhere from a few hundred dollars to $20,000, depending on the scope of work.
Minor Bathroom Renovations
Similarly, minor bathroom restorations have also delivered a high ROI, with a small remodel yielding an average ROI of 63% in the Pacific region. This includes upgrading components, changing old tile, and re-painting walls.
Basement Renovations
Another interior renovation project that can provide a high ROI is basement remodeling. While not as high as kitchen or bathroom remodels, a finished basement can still yield as high as 63.7% ROI.
This includes adding a bedroom or recreation room, brand-new flooring, and updated lighting. It's important to remember that the ROI of basement renovations can differ depending on the location and the degree of the renovation.
In summary, interior restorations often offer the highest value for housing projects and produce the best ROI. Kitchen, bathroom, and basement remodeling all have the potential to offer the highest ROI.
Owners should consider their spending plan when choosing which interior restoration project to undertake. By selecting the best remodeling job, homeowners can enjoy an upgraded living space and increase the value of their home.
Cost vs. Value Report
Remodeling by JCL publishes an annual Cost vs. Value Report. The report highlights home renovations that deliver the best ROI across the country. The chart below provides a regional perspective for the highest ROI.
Exterior Renovations with High ROI
Curb appeal is an essential component in identifying the value of a house. Exterior restorations can considerably enhance the curb appeal of a home, which can lead to high ROI when it comes time to sell.
According to the above Cost vs. Value Report, exterior remodeling tends to offer a greater ROI than interior discretionary remodels. Something as simple as installing an awning can increase the property of your home.
Exterior vs. Interior Renovations
In fact, of the 22 remodeling projects in the report, 11 are exterior replacement jobs, and all of these rank within the top projects with the highest ROI.
For that reason, homeowners aiming to increase the worth of their property should consider investing in outside restorations.
Top Exterior Renovation Investments
The best exterior restorations for ROI consist of garage door replacement, home siding with stone veneer replacement, and entry door replacement with a steel door.
According to the Cost vs. Value Report, a garage door replacement has a 97% ROI in the Pacific region, while replacing a house with vinyl siding has a 98% ROI.
Additional High ROI Exterior Remodeling Projects
Other high-ROI exterior renovations consist of the setup of new roofing, attic insulation, and the addition of a living room. It is important to note that the cost of these restorations varies depending on the place and size of the home.
Homeowners should consider their budget plan and the potential ROI when picking which exterior remodeling to invest in. By picking the best exterior remodeling, homeowners can significantly increase the value of their residential or commercial property and take pleasure in a higher ROI.
Factors That Affect ROI
The property's location, the existing housing market, and the type of renovation project can all impact the ROI of a home remodel. The quality of the work performed is also a key factor in ensuring a high ROI on your home renovation project. For that reason, it is necessary to thoroughly consider all of your options before beginning any project.
Which Project is Right for Your Home?
Several home remodeling projects are known to provide the best ROI for homes across the country. For instance, an article by CD Roofing & Construction recognized numerous home renovation projects that produce the best ROI in the East Coast market. Their list consisted of upgrading floors, entry door replacement, and home siding and roof replacement.
Similarly, Jason Tierney, owner of BRO Pros, says, "In my opinion, the cost of minor bathroom renovations, kitchen remodels, basement conversions, and room additions are the best options to get the most bang for your buck."
ROI is an essential factor to consider when planning a home remodeling project. Homeowners ought to carefully assess the potential ROI of each project before beginning any restorations to ensure they are investing their cash carefully.
By focusing on home restoration projects with a high ROI, homeowners can increase the value of their residential or commercial property and possibly recoup their financial investment when selling.
Other Considerations for High ROI Home Renovations
ROI can vary depending on location, market patterns, and other elements. An example of the location working to raise prices is what's happening in the Garland, Texas, housing market. Home prices are constantly rising thanks to the proximity of Garland to companies and employees who need convenient access to the Dallas-Fort Worth area.
Energy-efficiency is Trending
In addition, energy-efficient upgrades can likewise have a substantial influence on ROI.
Upgrades such as including insulation, changing windows, and updating HVAC systems (like an electric furnace vs. a gas furnace) can increase the worth of your property and minimize energy costs and carbon footprint.
Adding Function Space
Adding functional space and square footage through renovations, such as completing basements or adding a bedroom, can favorably influence ROI. Nevertheless, it is essential to remember that redesigning projects that add square footage shows reduced returns, especially in Western states.
Final ROI Considerations
When considering house restoration tasks for high ROI, it is important to choose the ideal specialist. A knowledgeable contractor can assist you in picking the right projects, materials, and designs to optimize ROI.
In addition, working with a contractor with excellent communication skills and a transparent process can ensure the project stays on track. Ultimately, home remodeling projects with the greatest ROI are those that not only increase the worth of your butter but also enhance your quality of life.
Renovation jobs can be a great way to increase the worth of your property; however, it's crucial to consider the return on investment before embarking on any job. It's also important to pick the best specialist for high-ROI projects. Considering these factors, property owners on the West Coast can make clever home renovation decisions that will pay off in the long run.
For informational purposes only. Always consult with an attorney, tax, or financial advisor before proceeding with any real estate transaction.