Commuting in Vancouver: What to Know About Transit, Driving & Traffic in Vancouver
Posted by Alicia Smith on Tuesday, April 4, 2023 at 9:15:58 AM
By Alicia Smith / April 4, 2023
Comment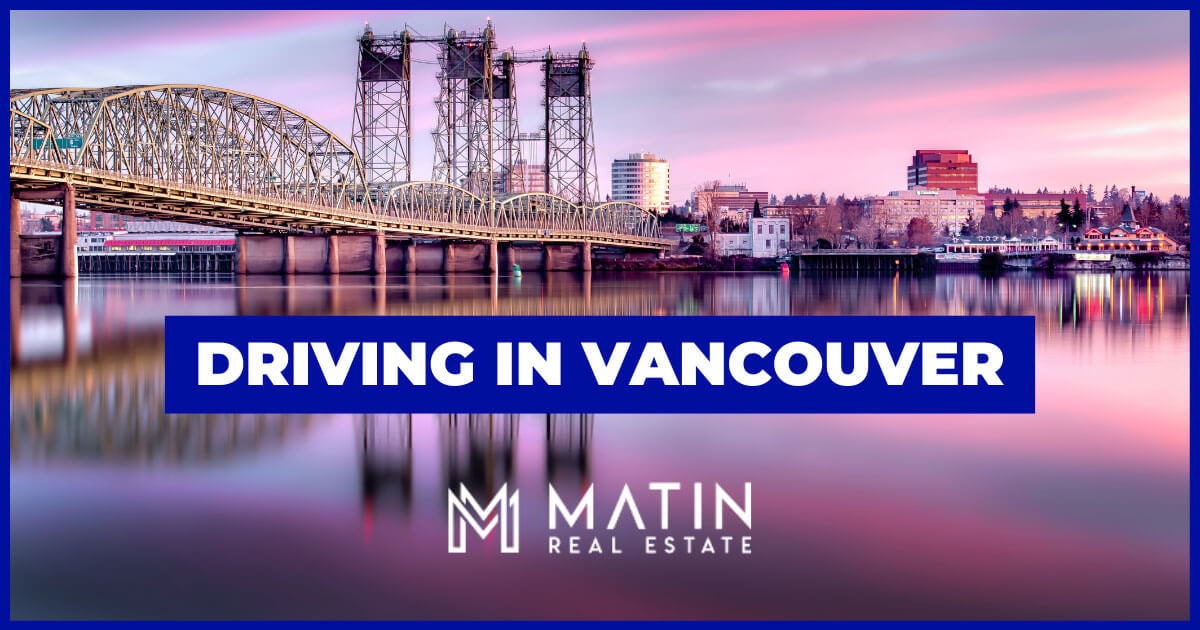 While driving in the Portland-Vancouver Metro area might be challenging for newcomers, understanding major roads, rush hours, expected travel times, and more can be a useful starting point. The city of Vancouver is one of the few cities in the country considered a suburb of a larger city in a nearby state. Some people who live in Portland, Beaverton, or Oregon City commute to Vancouver daily, or vice versa, and only two bridges connect these Columbia River cities. Here's a closer look at what to expect when driving in Vancouver, Washington.
Get to Know Vancouver's Major Roads
Interstate 5 (I-5) is the main north-south freeway on the West Coast, bisecting Vancouver on the west-center side of the city. This road runs between Blaine, WA, at the Canadian border, and San Diego, CA, at the US-Mexico border. The I-5 Bridge connects Vancouver with North Portland, East Portland, downtown, and South Portland as it runs through the town.
Interstate 205 (I-205) is a north-south bypass freeway running through East Vancouver and the eastern suburbs of Portland. I-205 splits off from I-5 north of Vancouver in the Salmon Creek community. The highway ends when it reconnects with I-5 in the city of Tualatin, south of Portland. Commuters can cross the Columbia River on I-205 via the Glenn L. Jackson Memorial Bridge. (Note: The I-5 Bridge and the Glenn L. Jackson Memorial Bridge are the only way drivers cross between Portland and Vancouver in their vehicles.)
The east-west Lewis and Clark Highway (Highway 14) begins at I-5 and follows the Columbia River through Vancouver, all the way to Plymouth, Washington, to the east. Highway 500 is another crucial east-west road connecting with I-5 at East 39th Avenue in Vancouver and terminates at NE Fourth Plain Boulevard in northeast Vancouver.
What to Expect Driving at Different Times of the Day in Vancouver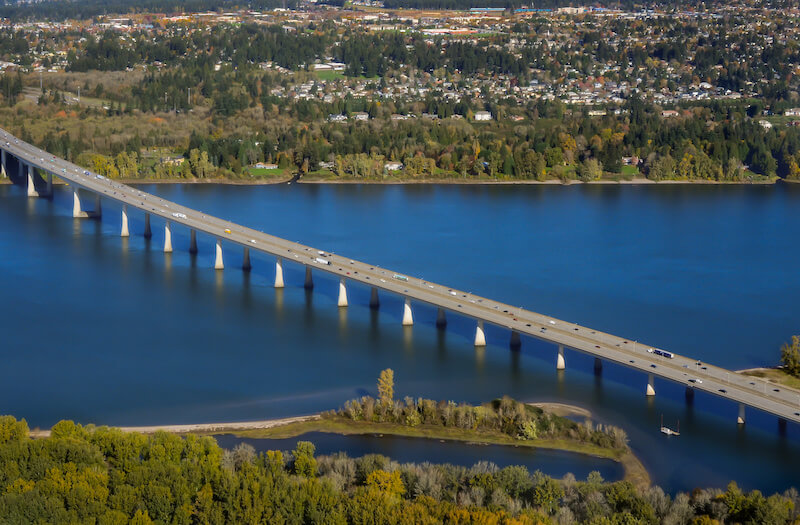 Like all metropolitan cities, Vancouver experiences a morning "rush hour" of traffic as drivers go to work and an afternoon rush as they head home. On weekday mornings, the rush begins around 6 a.m. and lasts until about 8:30 a.m. In the afternoons, peak traffic times in Vancouver are from about 4:30 p.m. until about 6:30 or 7 p.m. However, this does not suggest that most Vancouverites have a long commute to work. About 35,000 Vancouver workers, the majority of commuters, spend between 10 and 24 minutes driving to work in the morning. Only about 20 percent of Vancouverites take more than 30 minutes to commute to work.
The two bridges connecting Vancouver and the city of Portland are the main congestion points. The I-5 Bridge is only three lanes in each direction. With the guard rails and arches, this bridge feels crowded most of the day, especially during rush hour. If an accident closes just one lane, expect more time to be added to the morning commute.
The I-205 bypass freeway has four lanes going north and south across the Glenn Jackson Memorial Bridge, keeping traffic moving faster during rush hour. However, it's further east from I-5, so it ends up evening out if someone must backtrack to the west to reach a workplace in downtown Portland or further south.
Parking in Vancouver
There is free and paid parking in Uptown and downtown Vancouver, along with the Courthouse District, Esther Short, and the Waterfront. The city operates several paid parking lots and parking garages in these areas. A monthly permit ranges from $90 to $125 to park in these city-owned facilities or lots. Seniors age 62 and up can receive a discount.
Rather than using metered parking, Vancouver uses a General Access monthly parking permit, which workers and commuters can purchase for $80 per month for street parking in the above parts of the city.
Public Transportation in Vancouver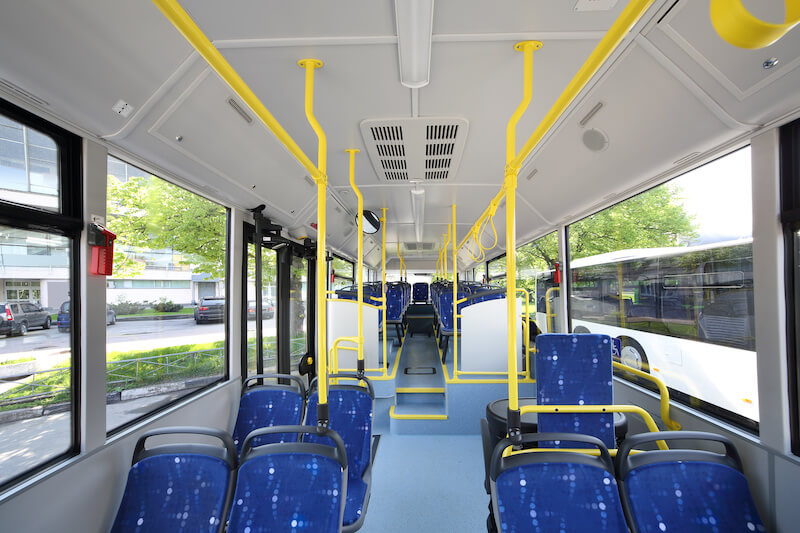 Several initiatives have been voted on in recent years to extend Portland's light rail across the Columbia River into Vancouver. However, residents must rely on city bus services. Here's a closer look at the main public transportation option in Vancouver.
C-Tran: Clark County Public Transit Benefit Area Authority
The Clark County Public Transit Benefit Area Authority (C-Tran) is Vancouver's public bus system and includes routes into Portland. Three routes cross the I-5 Bridge into Portland, and three more cross the I-205 bridge daily. The full C-Tran System Map gives a good idea of the available routes.
Fares are divided into regular adult (ages 19 and up), youth (18 and under), heroes (veterans and active-duty military), and honored passes (seniors and disabled riders).
Adult, per ride: $1
Adult, cap per month: $62
All youth fares: FREE
Honored and heroes, per ride: $0.50
Honored and heroes, cap per month: $31
Reduced: $31 per month
Commute Times from Nearby Communities to Downtown Vancouver
The lower cost of living in Vancouver, along with no income taxes and less urban density than in Portland, make it a desirable place to live. However, those living in Vancouver and commuting into nearby areas should know a morning or afternoon drive can take some time.
Portland
The traffic north from downtown Portland to downtown Vancouver is rarely snarled. A commute north on I-5 from Portland typically takes no more than 20 minutes, so long as there isn't an accident. Commuting south from Vancouver to Portland takes longer, typically up to 30 minutes or more during rush hour. Downtown Portland to downtown Vancouver is a 10-mile journey.
Beaverton
The wooded suburb of Beaverton is west of Portland, about 15 miles southwest of downtown Vancouver. The quickest route is to take the Beaverton-Tigard Highway north and then the SW Sunset Highway east into downtown Portland. From there, take I-405 north to where it intersects with I-5, and stay on the freeway until arriving in downtown Vancouver.
The most congested points on this morning commute happen along the Sunset Highway before reaching downtown Portland. This route can take between 25 and 40 minutes during rush-hour traffic.
Oregon City
Oregon City is a Portland suburb about 25 miles south of Vancouver. Those living in Oregon City must take the I-205 bypass freeway north to reach Vancouver. After crossing the Columbia River, drivers should take the Lewis and Clark Highway west to reach downtown Vancouver. In a best-case scenario, this drive can take around 35 minutes. With heavy traffic, the commute stretches out to about one hour. Most congestion occurs on I-205 north of the Clackamas Town Center mall and the Lents neighborhood and Southeast Portland.
Salem
The capital city of Oregon is located about 55 miles south of downtown Vancouver. The only feasible route from the city of Salem to Vancouver is to take I-5 northbound. The drive takes around one hour during non-peak traffic, but rush hour can stretch the drive to 90 minutes. Most congestion on this route happens in the city of Wilsonville, Tualatin, and the Multnomah neighborhood before reaching downtown Portland. The rest of the drive northbound into Vancouver is usually straightforward.
Longview
Longview/Kelso is a suburban community about 40 miles north of Vancouver along the Columbia River. The best route from downtown Longview is to take Tennant Way eastbound until the road intersects with I-5. Then, take I-5 the rest of the way south to downtown Vancouver. Even during rush hour traffic, this part of I-5 is rarely congested, except for specific times during the summer tourism season. The route typically takes between 40 and 55 minutes during the morning rush.
Tacoma
Tacoma is a Seattle suburb located about 135 miles north of downtown Vancouver. Taking Interstate 5 southbound is the only option for this commute, taking up to 2 hours and 35 minutes to complete. An Amtrak passenger train can make the trip in 2 hours and 15 minutes, with fares starting at around $30 one-way.
Other Helpful Things to Know About Driving in Vancouver
Congestion and road conditions during inclement weather in the Portland-Vancouver Metro area, like dense fog, can reduce visibility. Vancouver also gets periods of heavy rain, glaring sunshine, and snow, which can be challenging on the road. Therefore, drivers should slow down or wait to begin their trip during these conditions to prevent accidents.
State Highway 503, running between the city of Battle Ground and Vancouver, tends to have a lot of congestion, with so many people commuting south into Vancouver for work. Also, note that there may not be proper lighting in some of the more rural communities surrounding Vancouver to the north. Use extra caution when driving in these areas at night.
Getting Around Vancouver
Traffic in the Portland-Vancouver Metro area is much better than in other metros and cities nationwide. Finding alternate routes is always best when getting around, but with only two bridges crossing the Columbia River, options are limited in Vancouver. Fortunately, with time, drivers get used to it and find their way around easily after just a few weeks of exploring. Using a smartphone map system is a tremendous help navigating Vancouver, Portland, and the surrounding areas.