Driving in Portland: Fastest Commutes on Interstate 5 Oregon
Posted by Alicia Smith on Monday, November 22, 2021 at 9:18 AM
By Alicia Smith / November 22, 2021
Comment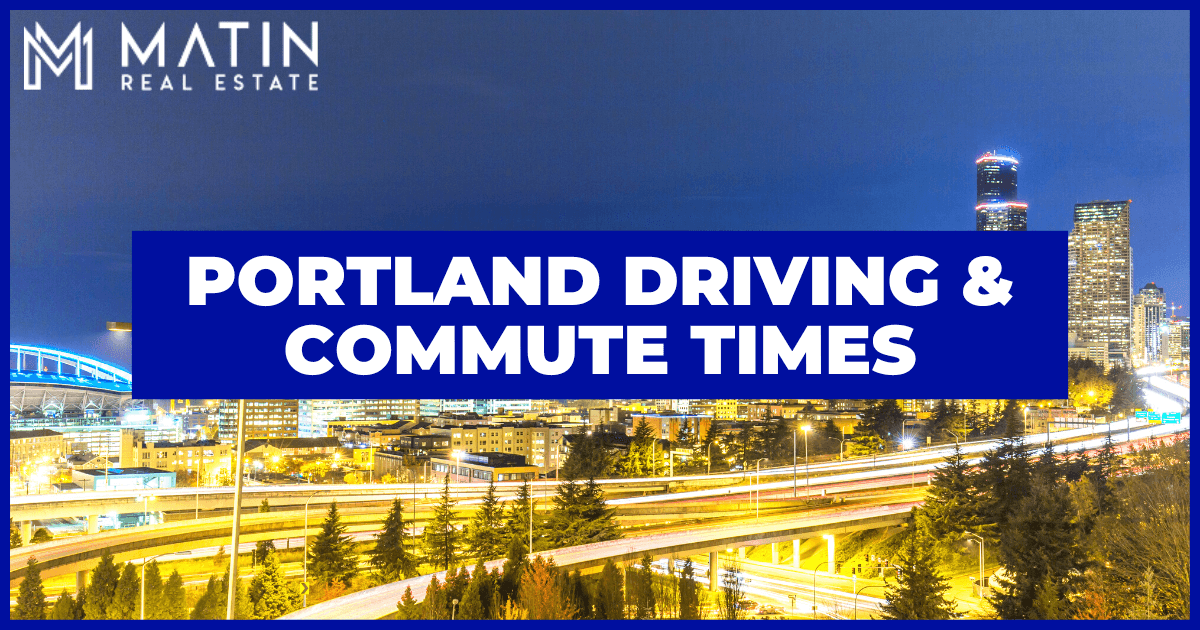 Portland is a city of over 653,000 people, making it one of the most populated in the state. Whether you're a lifelong local or you're just thinking about moving to Portland, it's helpful to learn more about the local roads and commutes. Portland's roadways are extensive, offering a range of ways to get around the city. Before buying homes in Portland, prospective residents research what highways and roads they'll use every day. Ready to shorten your daily commute? Keep reading to learn all about drive times, alternate routes, and commuting in Portland.
Get to Know Your Major Roads in Portland
A combination of good local roadways and a standard street grid, and several freeways running throughout the Portland Metro area make navigation easier here than in other larger cities. The city is divided into five sections for street prefixes: Southwest, Northwest, North, Northeast, and Southeast. To make directions easier, all avenues in Portland run from north to south while streets run from east to west.
It wasn't until 1966 that a significant freeway opened up in the city. With the opening of the Marquam Bridge came the connection between the Baldock Expressway and the East Bank Freeway, providing access directly to I-5. The freeway runs through Tualatin, Tigard, and Lake Oswego and reaches Portland exit 294.
I-84 is another major thoroughfare running from the Columbia River Gorge to the eastern edge of Portland's Troutdale area. I-84 connects to I-205 and I-5.
I-205 is another major freeway serving the metro area. It links the eastern area of Portland to Vancouver, Washington. Locally, it is known as the Veterans Memorial Highway, with its north to south route through the metro area. It connects to Oregon 43, 99E, and 213, among other stops. It also intersects I-84 and the Portland International Airport at Exit 24.
Other highways in the area include I-405, U.S. 26, and U.S. 30. The state routes of 8, 10, 43, and 99E are also major thoroughfares through the city.
What to Expect Driving at Different Times of Day in Portland
Driving through Portland during the middle of the day is generally not too bad. However, during rush hour, commute times may increase drive times. Typically, the morning commute begins around 7 a.m. and continues into 8:30 a.m. and sometimes longer. During this time, most notable routes have ample congestion with the freeways in the area backed up. The evening rush hour generally starts around 4:30 p.m. and continues as late as 6 p.m. in some cases. There's also a significant amount of traffic during Friday afternoons and Saturday mornings as people come into the area from out of town.
The worst offender when it comes to traffic congestion is I-5. It's the main route into the downtown area and serves many of the cities nearby the heart of the metro area. The stretch from Denney Road to I-5 is difficult as it can back up for several hours, mainly if an accident occurs or the weather is poor. There always seems to be some construction happening along with this or another highway route, making it difficult to navigate.
In local areas of the city and metro area, it's also common to see some congestion around 2 p.m. until 4 p.m. This is typically due to schools letting out, reducing speed limits, and increasing congestion in some neighborhoods. Weekends in town see increased traffic, especially around midday as people head out to shop.
Parking in Portland
Parking throughout Portland can be hit-or-miss depending on what's happening in town. The Portland Bureau of Transportation manages all parking garages and lots for the city, though private lots exist in some areas. The city operates SmartPark garages in various regions of Downtown Portland. This makes it easy for drivers to purchase parking passes for the time they need at any point during the day.
Costs vary for parking in Portland. Parking in Downtown Portland is typically $2 per hour from 8 a.m. to 7 p.m. Monday to Saturday and from 1 p.m. to 7 p.m. on Sundays. The Events Meter District is near Providence Park. This district's parking permit requirements happen when the Portland Timbers play. It costs $4 per hour, starting three hours before the game.
The Lloyd District is along N.E. 16th, N/NE Broadway, and the Willamette River, including near the Oregon Convention Center, Rose Garden Arena, and Memorial Coliseum. In this area, a fee of $1 per hour is charged at most times.
The Marquam Hill District, near Shriners Hospital for Children, Oregon Health & Science University, and Portland VA Medical Center, has a $1.60 per hour from 8 a.m. to 6 p.m. Monday to Friday.
There are over 20,000 on-street parking stalls and five SmartPark garages located throughout the city. All on-street parking in the town is regulated, which means if there is no meter present, it is likely not legal to park in that area.
Commute Times from Other Cities to Downtown Portland
Those traveling to Portland from other cities in the area may experience drive times that fluctuate by traffic, weather conditions, and construction. Here is a look at some of the more common commutes.
Vancouver, WA
Traveling to Portland from Vancouver, Washington is about a 9-mile trip. The most common method is across I-5. The town of Vancouver is just to the north of Portland, making this a quick, 15-minute, off-peak rush hour traffic. If there is traffic, this trip can take 30 to 45 minutes to complete.
Other routes may exist, including along 99E, for much of the way. That trip is a bit longer, taking about 13 miles to complete and 20 to 25 minutes, depending on traffic conditions.
Beaverton
Beaverton is a community located to the west of Portland. It's a large commercial and residential community. Many people live in Beaverton homes and commute to Portland to work. The fastest route is along U.S. 26, which is about 8 miles. When traffic is good, this takes about 15 minutes to complete. For those wishing to remain off the highway, it's possible to take W. Burnside Street nearly directly to Beaverton. It's about 8 miles but takes 21 to 25 minutes. A third option is to use OR 10, a 9-mile trip that's slowed down by lights and congestion most days.
Sherwood
Sherwood is a community located southwest of Portland's downtown area. It's a larger city with a combination of residential and commercial areas and the Tualatin River National Wildlife Refuge. The most direct route for access to Portland from the town of Sherwood is along I-5. That's a 16-mile trip that takes about 30 minutes in good traffic. Traveling in the morning or afternoon may double this time, though. This route takes drivers through Durham and Tualatin.
Another option is to take I-5 and the Pacific Highway, a good alternative for heavy rush hour traffic. It's about 16 miles and takes about 35 minutes in good traffic. This route takes drivers through King City and Tigard as well.
A third option is to use OR 217 and Pacific Highway. It's longer at over 19 miles but still takes around 35 minutes in good traffic. In wet weather or rush hour, though, this can back up significantly due to lights and overall congestion. Other times, it can prove to be the better option when I-5 is slow-moving or there's significant construction in the area.
Wilsonville
Wilsonville is a large city located to the south of Portland. It's an ordinary trip for those visiting area schools or parks and has a significant residential community. Some people commute into Portland from the Wilsonville community. The most common route is along I-5, which takes drivers through Durham and Tualatin and near Stafford. This is about 18 miles and takes about 22 minutes in good traffic. During rush hour, this option becomes less desirable as the time can easily double.
A secondary option is along Pacific Highway and I-5. While less direct, it's still about 17 miles out. With lights, it can be slower at 26 minutes, though. The final natural option is along with OR 214 and I-5. This route stretches around to Metzger and Tigard. It's about 21 miles and takes nearly 30 minutes to complete.
Hillsboro
For those planning a trip to Hillsboro to the west of Portland, the drive can be relatively quick along U.S. 26. It's the most direct route and takes passengers through Cedar Hills, West Slope, and West Union. This entire trip is about 20 miles and lasts about 30 minutes in good traffic. While a bit further away than other cities, some people live in homes in Hillsboro and commute into the city daily.
Gresham
The Gresham community is another commuter city for residents working or going to school in Portland. It's about 16 miles to the east of Portland, along I-84. This route isn't always straightforward due to traffic and typically takes at least 25 minutes to complete. During high-traffic times, that can double. An alternative way is along I-4 and SE Foster Rd. This may be a necessary detour when I-84 is backed up or there's a significant amount of construction. It's about 18 miles and about 35 minutes in good traffic.
Oregon City
Oregon City is a residential community located to the south of Portland. It, too, is a commuter city. The fastest route is typically along SE McLoughlin Blvd, skipping the freeways that can get bogged down. This route is about 12 miles and takes 25 minutes. There are numerous lights along the way that slow things down. Another option is to use SE McLoughlin Blvd and OR 224, a 15-mile trip that takes about 26 minutes in good traffic. A final option is to take I-205. Though longer at about 20 miles, this option is best during heavy congestion. This route also takes drivers through the town of Clackamas and the Gladstone community.
Damascus
Damascus homes are a short drive to the southwest of Portland. It's easiest to get to along OR 224, passing through Milwaukie and Clackamas. This route is about 16 miles and takes about 28 minutes without traffic. Another route option is along I-2015. It's less direct, taking about 21 miles, but may be beneficial in traffic backups, primarily due to construction or accidents sometimes common on OR 224. It takes about 30 minutes in good traffic.
Other Helpful Things to Know About Driving in Portland
Traveling through Portland can be difficult during the winter months, and preparation goes a long way. Vehicle preparation may be critical to avoid accidents. Because it freezes and often thaws here, potholes are expected during the late winter and spring months. Black ice is also a concern.
Keep in mind that much of the city uses traffic cameras, which monitor red lights. Many people have moved away from using single-passenger cars in favor of the bus or bike routes. There's also a strong rideshare community present in Portland. Also, keep in mind that bicyclists have the right to the road, and there can be many of them from spring through fall, even on more significant routes in the community.
Ready to Get on the Road in Portland?
Knowing how to get around is critical for those planning a trip to Portland or considering purchasing real estate in the area. Planning a journey into the city for a concert or determining the best route to minimize traffic isn't always easy since conditions change rapidly in the city. Nevertheless, there are multiple routes to most areas in Portland, creating opportunities for easier driving.