Beaverton Commuting Guide: Tips For Driving & Using Public Transit in Greater Portland
Posted by Alicia Smith on Saturday, February 25, 2023 at 2:21 PM
By Alicia Smith / February 25, 2023
Comment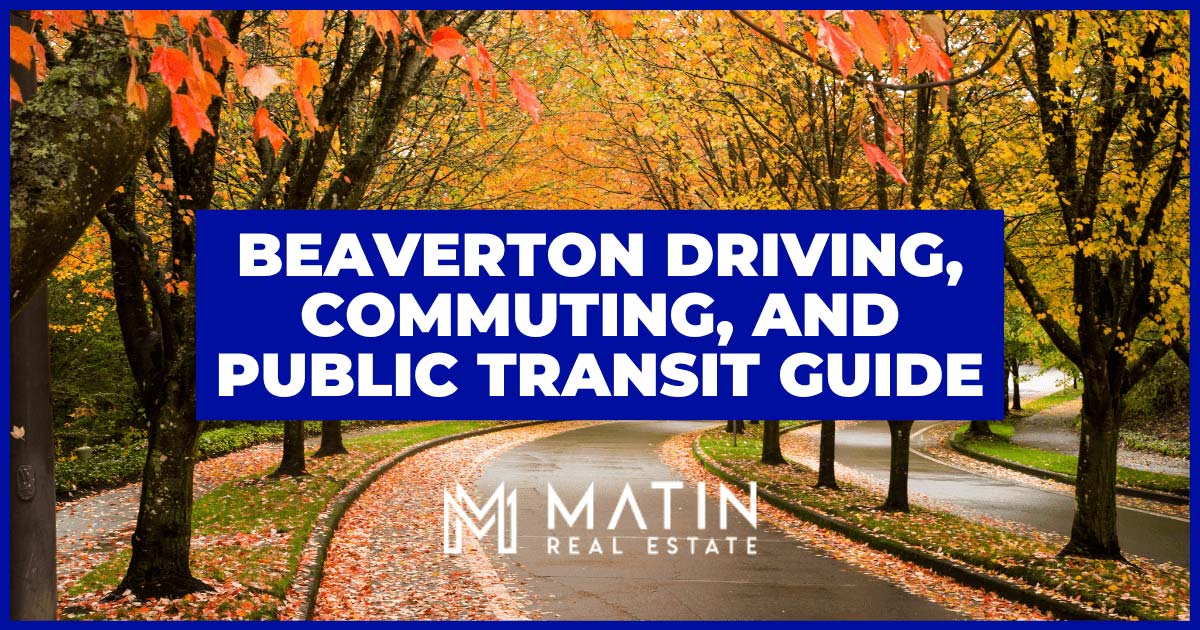 The city of Beaverton is a beautiful suburb of Portland, Oregon, with a population of around 98,000. Beaverton has seen significant growth in the past 30 years, averaging a 23% population increase per decade over the last three. Much of Beaverton's infrastructure— built to handle a population explosion of more than 200% in the '70s—must handle a significant amount of traffic. Thankfully, public transit options connect Beaverton to Portland and the greater PDX urban area, home to 2.5 million Oregonians and Washingtonians. Here's a closer look at what to expect when commuting in Beaverton.
Get to Know Beaverton's Major Roads
The two main traffic arteries connecting Beaverton to Portland are Oregon State Highway 26 along Beaverton's northern border and Interstate 5, which passes Beaverton through Metzger but is connected to Beaverton by Oregon Route 217—which incidentally runs through Central Beaverton, connecting both the highway and the interstate.
Another major artery and surface street is Oregon Route 8, known to locals as Canyon Road and Tualatin Valley Highway, or TV Highway shorthand. Canyon Road was the first road connecting Beaverton to Portland, and at one point, it was known as the Great Plank Road because it was made out of wooden planks. Planking over the muddy dirt road came from the need to transport Tualatin Valley produce and grain into Portland, where it would ship to spectators in the California Gold Rush. Today, TV Highway passes through the core of Beaverton, right between retail and dining nexuses like the outdoor mall of Beaverton Town Square and Canyon Place Shopping Center.
Another major surface street traveling through Beaverton is Oregon Route 10, bisected by the aforementioned north-south flow of Route 217. On 217's west side, it is called Farmington Road, and as it crosses Route 217, it becomes the Beaverton Hillsdale Highway.
What to Expect Driving at Different Times of Day in Beaverton
Any discussion of driving in Beaverton ties into commuting patterns in and around Portland because much of the traffic—especially on major arteries—is going to and from the City of Roses. Portland is ranked 219 for most and least congested cities, according to traffic pattern indexer TomTom. To put this number in perspective, it's significantly better than New York (43rd), Los Angeles (59th), Miami (102nd), and Chicago (149th).
Morning rush hour times in Beaverton are determined by the number of commuters on the road, which doubles from 1,500 between 5:30 and 6 a.m. to 3,400 commuters between 6 and 6:30 a.m. This number continues to increase to 6,500 commuters between 7 and 7:30 a.m. Travel times in Portland can increase 20% during periods of congestion—increasing a 20-minute trip by four minutes, for example.
Afternoon rush hour times around Portland are most congested Monday through Friday, starting at 3 p.m. and continuing until 6 p.m. The topography surrounding Portland—mountains and rivers—creates unique commuting bottlenecks like tunnels and bridges that can become congested during inclement weather. Beaverton locals may sometimes use real-time Google maps to find alternate surface streets into and out of Portland proper.
Parking in Beaverton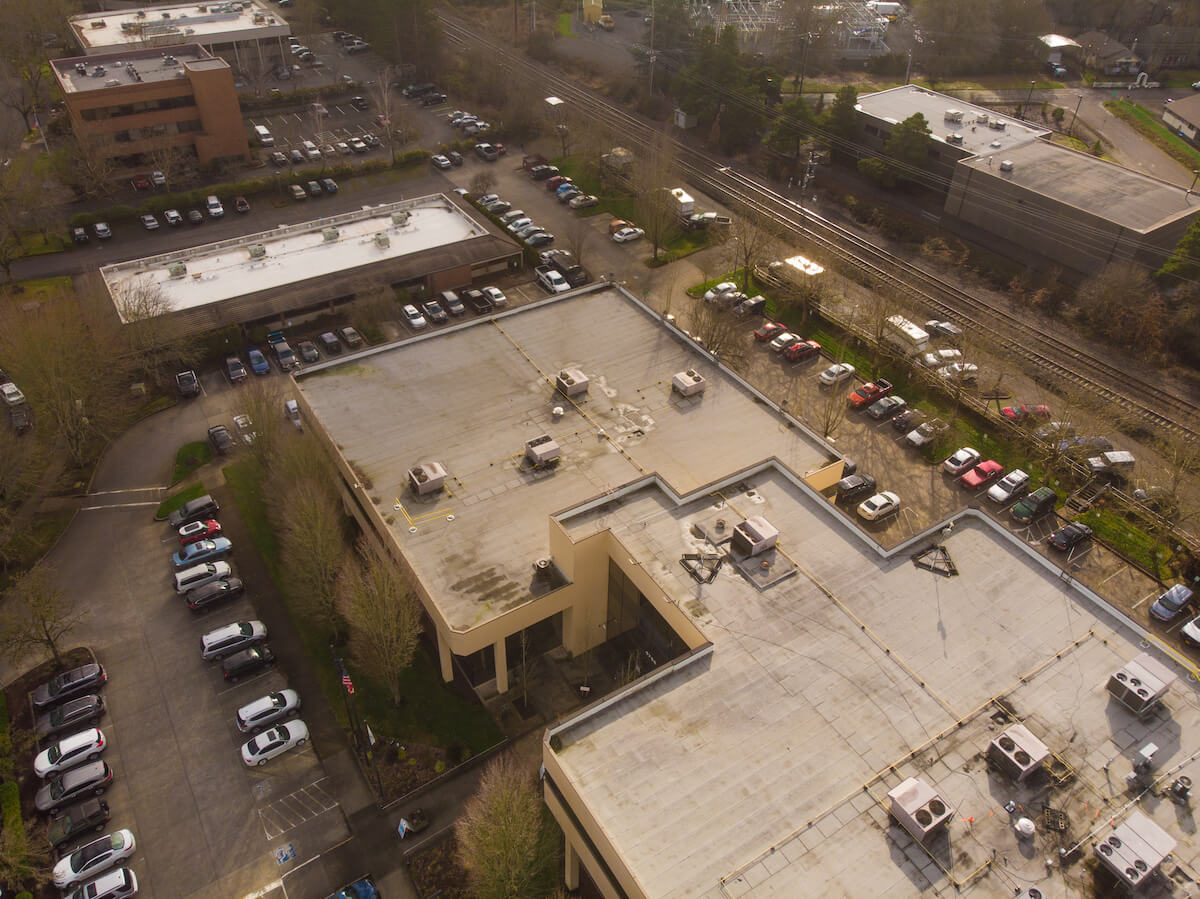 Visitors to downtown Beaverton can park at the Beaverton Central Garage, a seven-story complex with 270 spaces charging $1 per hour with a maximum daily charge of $15. A Downtown Design Project is underway to rework the shops and restaurants in downtown Beaverton into a more pedestrian-friendly space without compromising parking. Many restaurants and bars have expanded their seating outdoors, limiting parking in the downtown area. However, visitors will likely find ample parking throughout the rest of Beaverton because many shopping and dining venues are in shopping malls with ample lot space.
Public Transportation in Beaverton
Residents and visitors of Beaverton can utilize the city's following public transportation options:
MAX Rail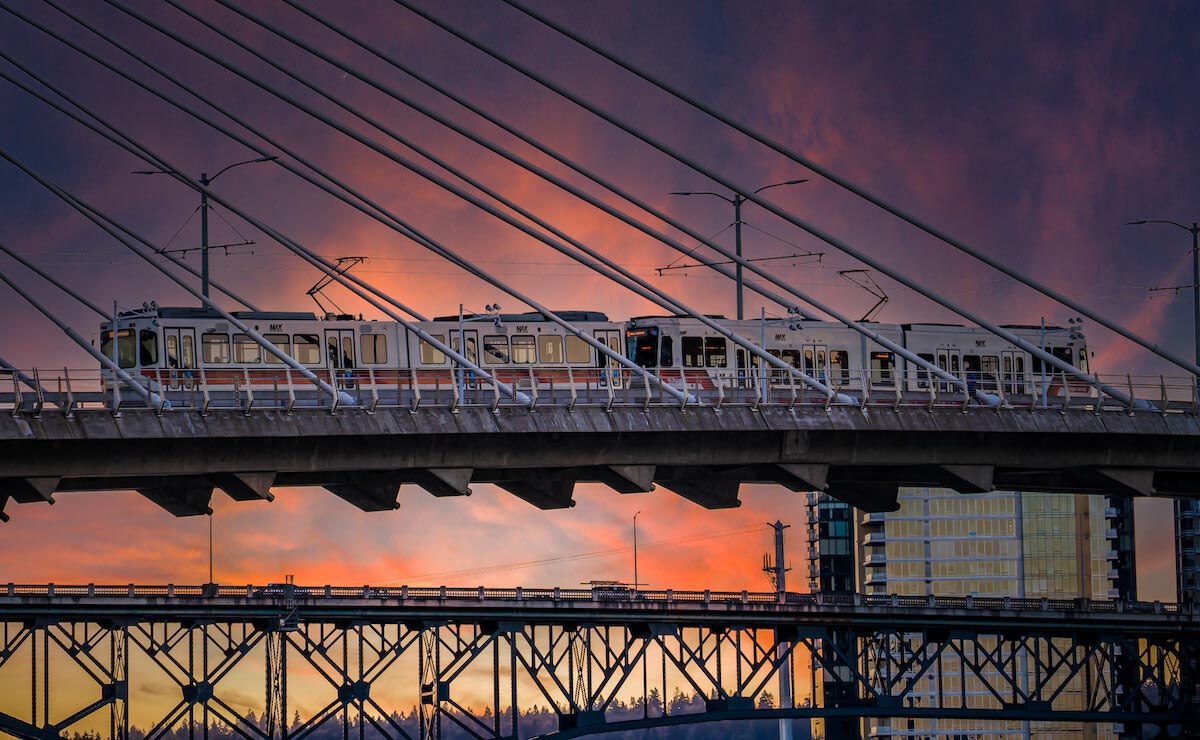 The MAX Rail, or Metropolitan Area Express, has served commuters in the PDX area since 1986. Beaverton is connected to the MAX rail system by two stations: the Beaverton Transit Center and the Sunset Transit Center. The Beaverton Transit Center is also a bus terminal, with a second platform for light rail commuters at The Round, a complex with condos, offices, and retail outlets surrounding a central courtyard. The Sunset Transit Center at the northern end of Beaverton is another bus-rail combo terminal. Both transit centers have ample parking, making them attractive options for those who want to take a short drive, park their cars, and let MAX handle the rest of their commute.
Each transit center, or TC, is connected to the Max Red and Blue Lines, which also stop in Pioneer Square, the Rose Quarter, and Gateway. The Red line terminates at PDX International Airport. Monday through Friday, commuters can hop aboard a MAX train starting at 4 a.m. but should check the schedules for lines and exact times. Trains arrive around every 30 minutes until 1:30 a.m. the following morning. Weekend schedules are not much different, but riders should consult the TriMet site to confirm their times. Adult fare is $2.50 for 2.5 hours, $5 for the day, and $100 for a monthly pass.
WES Rail
Beaverton is also connected to a second rail system running north-south through the western suburbs of Portland: the Westside Express Service. The WES rail system runs on weekdays during morning and afternoon rush hours, with commuters able to catch a train every 45 minutes. The northernmost stop is the Beaverton Transit Center, also a stop on the MAX light rail system. The WES Rail only makes one additional stop in Beaverton at the Hall/Nimbus Station along the very southernmost boundary of the city. This stop is adjacent to Washington Square Mall, Cascade Plaza, and the Embassy Suites Marriott Courtyard.
The WES rail continues southward out of Beaverton into other western Portland suburbs, stopping at the Tigard Transit Center, Tualatin WES Station, and finally ending at Wilsonville Cherriots SMART Station (South Metro Area Regional Transit). Commuters living close to a WES station can take WES to a MAX terminal into the city. Alternatively, it can be easy for some residents to get to Washington Square Mall without parking. A WES ticket costs the same as MAX; the Tri-County Metropolitan Transportation District of Oregon manages both systems.
TriMet Bus
In addition to the east-west red and blue routes of the MAX rail and north-south passage of the WEST rail, there is an excellent bus system connecting Beaverton to the greater Portland area. The TriMet Bus has over 80 lines, so not all are relevant to Beaverton residents.
Lines that Beaverton commuters might use would include:
Line 52 (Farmington/185th)
Line 53 (Arctic/Allen)
Line 54 (Beaverton-Hillsdale Highway)
Line 55 (Hamilton)
Line 56 (Scholls Ferry Road)
Line 57 (TV Highway/Forest Grove)
Line 58 (Canyon Road)
Line 59 (Walker/Park Way)
Line 61 (Marquam Hill/Beaverton)
Line 62 (Murray Boulevard)
Of these routes, buses traveling along Beaverton-Hillsdale Highway (Line 55), Scholls Ferry Road (Line 56), and TV Highway (Line 57) are available every 15 minutes.
Several of these lines connect to the transit centers mentioned above, where commuters can catch a MAX or WES train. These transit centers also have ample parking and are often near shopping and dining outlets. Bus fare is the same as WES and MAX, starting at $2.50 for 2.5 hours, $5 for the day, or $100 for a monthly pass. Like MAX and WES fares, bus fares are available at significantly reduced rates for youth and honored citizens.
Driving to Portland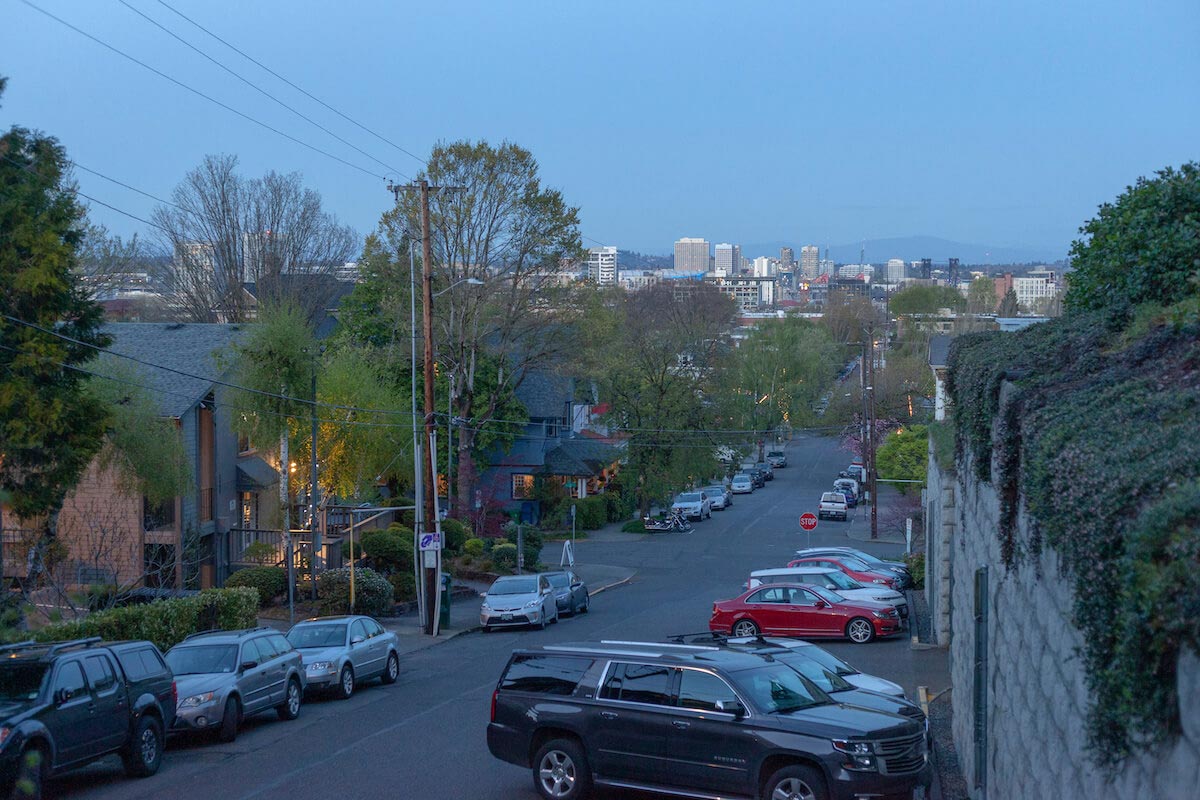 There are several reasons why Beaverton residents drive to Portland. On the weekends, Portland calls Beaverton's residents who enjoy shopping, dining, sports, and cultural activities. Fortunately, there are only eight miles between Beaverton and the heart of Portland, making everything it offers accessible. An afternoon trip to Powell's Books or the Lan Su Chinese Garden might not take more than 30 minutes round trip. However, as discussed above, weekday commutes may be 20% longer than a standard drive.
In most of Beaverton, the quickest route into Portland is to take surface streets to the 217 north, then merge onto the 26 east, which will wind around Washington Park before entering the Vista Ridge tunnel to emerge onto SW Market Street. If traffic is present on the 26, an alternate route involves taking the 217 northwards to SW Barnes Road, which becomes W Burnside Road as it skirts the north end of Washington Park before emerging between Old Town and downtown, heading toward the iconic Burnside Bridge.
Taking SW Scholls Ferry Road (210) in South Beaverton may be quicker until it merges with the SW Beaverton Hillsdale Highway (10) through Hillsdale. Turning left onto SW Barbur Boulevard and merging onto SW Naito Parkway will also bring drivers into Portland without getting on any freeways.
Beaverton to Hillsboro
The city of Hillsboro is the seat of Washington County and is slightly more populous than Beaverton, with a population of 107,000. Getting to Hillsboro from Beaverton is easy enough: just take surface streets to Oregon Route 8 westward, also known as the SW Tualatin Valley Highway. This road moves straight through Aloha and the massive corporate campus belonging to Intel before entering the outskirts of Hillsboro. At Shute Park, which features an outdoor concert stage, Route 8 turns northward to become SE 10th Avenue, which will bring drivers right into the heart of Hillsboro. This 10-mile trip takes about 20 minutes one way in optimal traffic conditions.
Beaverton to Wilsonville
Wilsonville is a small city at the very edge of the PDX metro area, along the banks of the Willamette, where it was once a ferry stop.
Siemens, Xerox, Coca-Cola, and Samtec have offices or plants in the area. Beaverton residents commuting to Wilsonville will find it an easy drive, with significantly less traffic than they'd find heading into Portland. Commuters can make the 15-mile trip in about 50 minutes roundtrip during optimal traffic conditions. The easiest way to get to Wilsonville is to take surface streets to the 217 south, then merge onto the 5 southwards towards Salem, which passes through Tigard and Wilsonville.
Other Helpful Things to Know About Driving in Beaverton
If you already live in Oregon, you're likely aware of Oregonian road culture. But if you don't and you're planning on moving to Beaverton soon, there are a few things you'll quickly learn.
You're not allowed to pump your own gas in Oregon. (Anyone relocating from New Jersey won't find that so much of a difference.)
There are many cyclists in Oregon, so it's important to remain alert while driving.
When driving in Portland, you must stay far from any light rail or trolley car lanes.
The frequent Pac Northwest rainfall can bring a lot of oil to the street's surface, occasionally creating dangerous slips.
Getting Around Beaverton Can Be Easy
Beaverton is well-connected to Portland and the other suburbs in the area via the MAX and WES light rail systems. An extensive bus network exists in the area, with many routes in Beaverton providing buses every 15 minutes. Those who primarily travel in their own vehicles will find ample parking throughout Beaverton and relatively simple pathways into neighboring suburbs.
Driving into Portland is easy, and the commute time is relatively similar to or lower than other major urban areas. However, because of the city's unique topography, pushing routes into bottlenecks of bridges or tunnels, traffic can occasionally become less than optimal. This might make surface streets a more attractive option. Your best bet for easy driving in Beaverton is to use a real-time map or learn the area's surface streets well.