5 Best Coworking Spaces in Portland, OR
Posted by Jordan Matin on Tuesday, October 31, 2023 at 1:11:22 PM
By Jordan Matin / October 31, 2023
Comment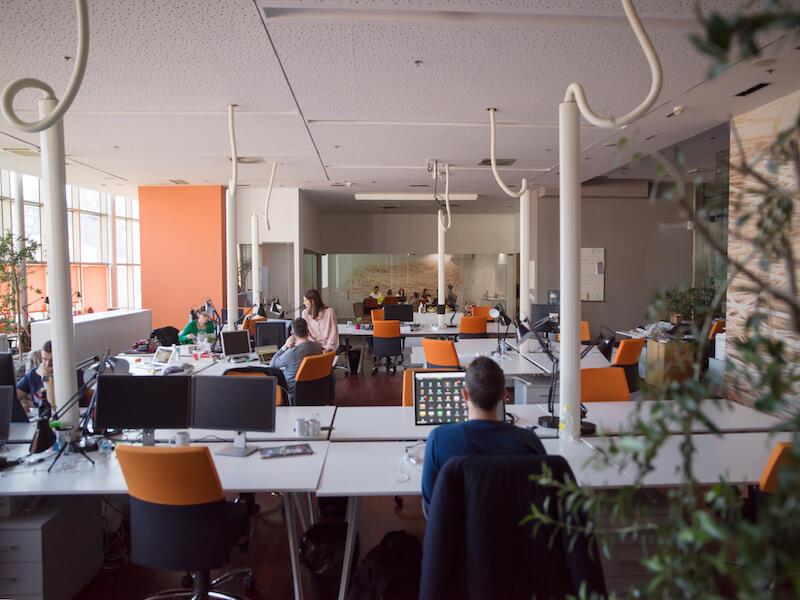 In the evolving landscape of professional workspaces, the diversity of options available to meet the needs of today's professionals is truly remarkable. Whether you're a freelance creative, a startup entrepreneur, or a remote worker, Portland's workspace scene has something special to offer. Join us as we explore these diverse options and discover the perfect spot for your productivity and growth in Portland, OR.
The Encorepreneur Cafe
If you're looking for a work environment that feels casual and welcoming, then The Encorepreneur Cafe may be the perfect choice for you. This space was originally created for seniors wanting to remain engaged with their community after retirement, and people of all ages are welcome to become a part of the Encorepreneur community. Whether you're trying to get some freelance work done or you're interested in taking one of the classes the cafe offers, you're sure to find a relaxed and positive environment with easy access to delicious coffee, tea, and other treats.
The conference room is perfect for one-on-one meetings, small teams working together, or anyone looking for a quiet workspace. Video equipment and the like is available for rent. This space is available for rent at $35 per hour. There is also a private web streaming studio available for recording webinars or attending video meetings, available for $75 an hour. A monthly pass to the cafe's workspaces is also available for purchase.
Urban Office
Located on the bank of the Willamette River, Urban Office seeks to provide an office away from home for Portland's more down-to-earth professionals. This building offers beautiful views outdoors while you work in a space filled with natural light. They offer three different types of space, depending on what you need to make your best work. Coworking tables seat between six and ten people, so you can get to know and collaborate easily with other members of Urban Office. Over 50 Dedicated Desk spaces are available, some with a divider and others that face each other, and all include locking storage and shelves. The most luxurious spaces available are the Private Offices, which can host two-to-six people and include office furniture and up to five hours of conference room use.
Each of these tiers includes access to amenities such as free parking for cars and bikes, a full kitchen with local coffee and tea, access to the South Waterfront Greenway Trail, and more, with additional perks added with higher-tier memberships. Membership fees are as follows:
Coworking: $306 per month
Dedicated Desks: $410 per month for one user or $510 per month for two users
Private Offices: starting at $1,034 per month
WeWork
Professionals from all sorts of national and global industries benefit from the progressive work environment WeWork locations provide. What was once a trading center is now a coworking space where both established enterprises and brand-new startups can find a space to work in a multitude of cities. In Portland, their two locations are on either side of the Willamette River. Both locations offer private workspaces, meeting rooms, and additional perks like venues for hosting events and mail and package handling. In addition, you don't need to commit to WeWork long-term—as well as the standard monthly membership, and you can also book working space by the day or a meeting room by the hour.
A private desk costs around $300 for a monthly subscription, and a full private office for a larger team can cost around $630. Each space varies in price based on the size of your team and what is needed, and WeWork will work with its clients to arrive at an agreeable price for the space.
Pep Coworking Shop
This small coworking space makes the most of what it calls "tiny coworking." Pep Coworking Shop has ten individual desks, a conference table, and a kitchenette, making this an ideal, comfortable space for a small team to work together and collaborate or for individuals to work on their own projects and help each other with theirs. The interior has an open design, and large windows let in plenty of natural light from the outside. Plus, its location in the heart of Kenton puts this space close to many food options, a library, several beautiful parks, and more.
All desks available at this shop are sit/stand desks, meaning you can work in whatever way is most comfortable for you. Starting at $330 per month, you can rent a minimalist desk for getting work done, the expansive L-shaped workstation, or even a mid-sized desk in between. The conference table is in the middle of the communal space and doesn't need to be rented for use—whether you need to talk with your team or want to eat lunch away from your desk, just pull up a chair!
ActivSpace
For more than 15 years, ActivSpace has offered people of all kinds in Portland a space to work and collaborate. With three locations now available around the city, many of Portland's independent local creators and entrepreneurs have come to love this space. All locations are secure and feature bright and welcoming interiors to help their clients do their best work. Portland's three locations are also close to local cuisine and other perks, such as public transit, so you'll be well-connected.
All three of Portland's ActivSpace locations—Lovejoy, SE Main, and Raleigh—offer different perks. Schedule a tour with the nearest facility and talk with the staff there to see pricing. Rest assured that ActivSpace prides itself on affordable leases with simple, straightforward terms.
Find Your Perfect Coworking Space in Portland
In a world where work is becoming increasingly flexible and collaborative, the available workspace options can make or break a professional's experience. As the professional landscape continues to evolve, one thing remains clear: the variety and quality of workspaces in Portland are a testament to the city's commitment to fostering innovation and collaboration. So, whether you're sipping coffee in a relaxed café or brainstorming in a bustling coworking hub, Portland has a space where your productivity and creativity can thrive.