Space Saving Storage and Design Ideas to Make Condos Feel Bigger
Posted by Alicia Smith on Friday, March 25, 2022 at 3:57 PM
By Alicia Smith / March 25, 2022
Comment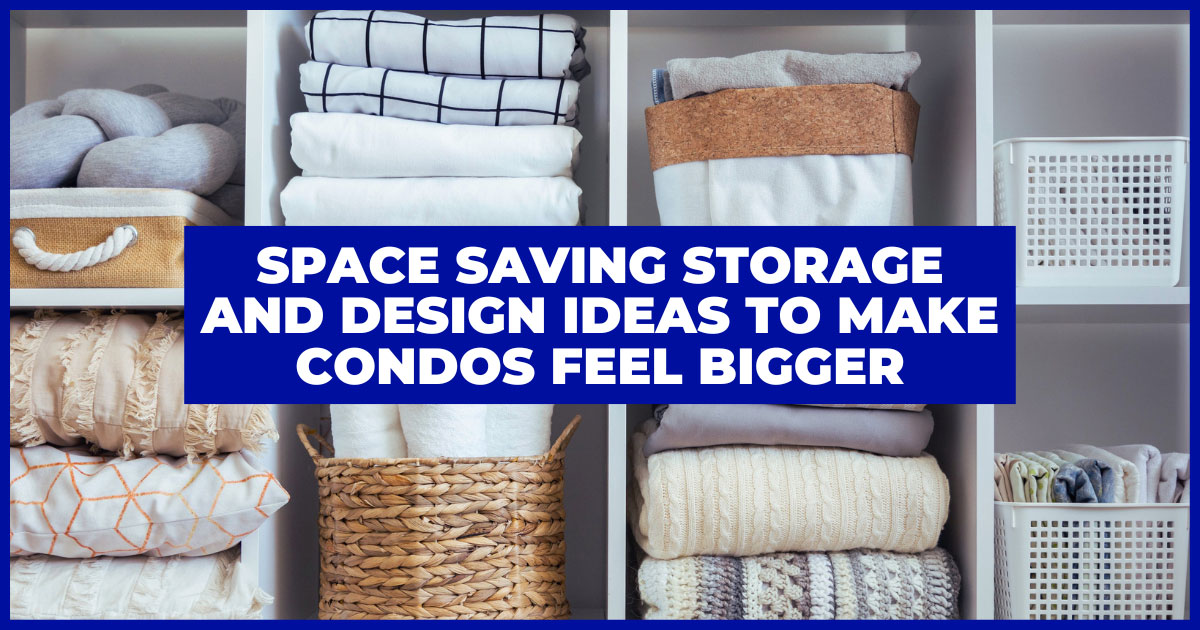 Impressive amenities, fewer maintenance responsibilities, and the chance to build equity make condos an ideal choice for many people. First-time buyers, those ready to downsize, or people who want to have a rental investment property for passive income tend to lean towards buying a condo instead of renting.
While it is helpful to declutter your home before moving to a condo, there's no reason to purge every item you own. If you want a spacious condo with ample storage, keep reading to learn about four clever interior design ideas that maximize space.
Quality Over Quantity When Furnishing Your Apartment
It can be tempting to shop for the smallest items you can find when furnishing and decorating a condo. Yet, professional home designers claim that condo owners should embrace the opposite way of thinking by opting for high-quality oversized furniture and adornments. These present a cleaner and much less cluttered look than several small pieces.
In condos with smaller living rooms, sofas, loveseats, and chairs can be minimized by investing in a high-quality sectional sofa that nestles into a corner of the room. While having at least one single chair or recliner is optimal, some may skip one entire instead of choosing a sectional with a chaise lounge.
Even with a traditional sofa, choosing one with a sleeper sofa can serve as a spare sleeping space for overnight guests. Nesting tables in dens and throughout the home are great ways to minimize the use of space while offering multiple flat surfaces.
Other ways to bring smaller rooms together without a cramped feeling are to use large rugs, oversized artwork, and big mirrors. This gives off an appealing and inviting feel while making rooms feel larger and more cohesive. Generally speaking, one big item saves more space in a condo than numerous small items.
Use Storage Hacks to Reduce Clutter
It's easy to maximize space in a condo by making the most of hidden storage to hide clutter by using fold-away furniture, wall shelves, and even heading for the ceilings. Check out some of the most innovative space-saving storage systems that contribute style without clutter.
Add more storage by transforming accent walls within hallways, stairwells, living rooms, and kitchens with shelving. Aim for shelves with a wide and shallow design. Use these installations to showcase:
Decorative items
Photos
Books
Extra cookware
Plants
Another clever place to get a few items out of sight and out of mind is by using hollow benches, coffee tables, and ottomans that open up into hidden compartments. As a bonus, they can serve double duty as seating areas and footrests!
Take advantage of open areas under stairwells by including a storage cabinet or shelves. Clever owners might want to take on a DIY stair-to-drawer transformation project that creates additional hidden hideaways. Occupants can also recoup 25 percent or more of the floor space in their bedroom in the daytime by installing a fold-away Murphy bed.
Think Vertically: Use Shelves & Cabinets For Storage on the Walls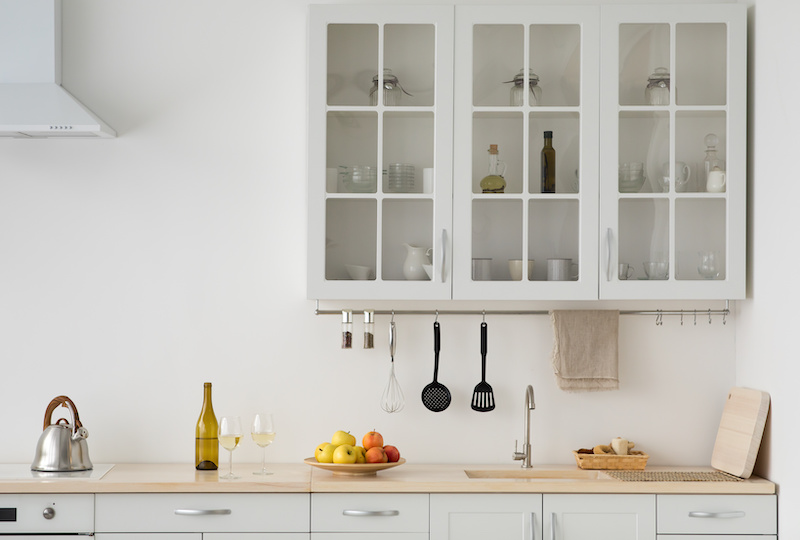 Think tall and narrow in storage, cabinets, and shelving for walls. Such installations ultimately take up less floor space than bulky and short alternatives. Going floor to ceiling makes the space look larger and adds more storage without using precious real estate.
Fold-up tables in the dining room can increase preparation and serving space or even be employed as another place to eat without needing a full-sized dinette. Need a home office or study platform? Fold-down tables will also meet these demands and can become nearly invisible when not in use.
Most condos have a garage, and these tend to become catch-all areas for things that don't fit in the home, along with tools and garden accessories. Don't end efforts to maximize space on the walls, there are also several stylish and efficient ways to utilize ceiling storage.
Finish Things Off With a Few Optical Illusions
The choice of paint colors used in a condo can make each room feel larger or smaller, with lighter and pale hues being the prime choices to create the illusion of grander space. Light greens, whites, and pastels allow walls to recede visually, while hues with blue, beige, or gray undertones can instantly add an intense cooling effect.
While it might seem "boring" or monotonous, some condo buyers opt to paint the walls and ceilings identical, particularly in tighter rooms like pocket bathrooms, closets, and bedrooms. When making design selections, get pro tips for painting that offer color suggestions for smaller homes and condos.
Strategic placement of mirrors can make rooms appear almost double in size, but this effect is best achieved with large mirrors with simple frames. By placing these mirrors opposite a window that offers natural lighting, this effect can be enhanced further. Place these at eye level to be functional but still add dimension to the interior.
Design Your Condo For Maximum Space
Beyond these essential space-saving and storage tips, there are many other innovative ways to use small spaces to hide clutter and help owners get the most of their real estate. Life in a condo is great, especially when you make the most of your space.