Pacific Northwest Architecture: 4 Common Characteristics of Northwest Contemporary Style
Posted by Alicia Smith on Wednesday, December 15, 2021 at 12:10 PM
By Alicia Smith / December 15, 2021
Comment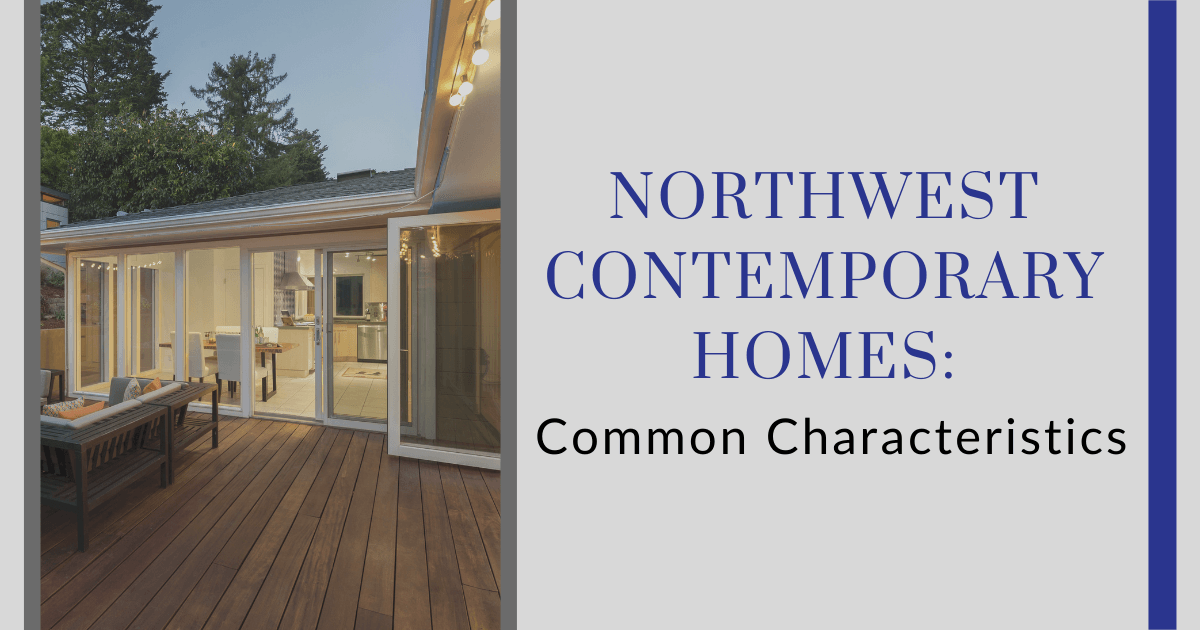 Offering a unique blend of Mid Century Modern design, International style, and Japanese architecture, Northwest Contemporary style invites the Pacific Northwest's natural beauty into the home by using unpainted wood and wooden beams, expansive windows paired with high ceilings, and architecture designed to account for the region's climate. Keep reading to learn where the style comes from and common characteristics Northwest Contemporary homes share.
History & Influences of the Northwest Contemporary Style
First emerging around 1935 and developed by architects Paul Thiry in Seattle and John Yeon in Oregon, Northwest Contemporary was all the rage in the Pacific Northwest from the late 1930s to the 1960s.
Mid Century Modern is a term used to describe the popular design style of the post-World War II period. Northwest Contemporary borrows the style's sleek lines and emphasis on simplistic design.
International style traces its roots further back to the 1920s and 1930s. Developed in Holland, France, and Germany following World War I, the style dominated the world's architecture until the 1970s. Many consider Northwest Contemporary a regional variant of International architecture, incorporating the style's use of floor-to-ceiling windows, vast flat surfaces, and repetitive modular forms.
With over 27 sister-city relationships with Japan in the Pacific Northwest and similar climates in both areas, it's no surprise the island nation has influenced the region's architecture. Like many Japanese buildings, Northwest Contemporary homes often incorporate exposed wood and emphasize their natural surroundings.
By incorporating Mid Century Modern design, International style, and Japanese architecture, Northwest Contemporary offers a unique blend of design elements for a stylish yet functional home.
Bringing the Outdoors In
Reflecting its Japanese influences, the Northwest Contemporary style blends the home with the natural environment. Strategic site location and large windows invite the beauty of the Pacific Northwest into the house while pleasantly complementing the natural landscape. Like Japan, the Pacific Northwest features steep, rugged terrain that encourages post and beam architecture. Northwest Contemporary also incorporates low-pitched roofs with deep overhanging eaves to account for the region's wet but moderate climate. Wooden shingles help protect many homes while allowing them to blend into the region's extensive forests.
Many Northwest Contemporary homes are tucked away in cozy woods, nestled along majestic rivers, or perched among the mountains. With numerous floor-to-ceiling windows, sometimes encompassing nearly entire walls, these homes often offer breathtaking views of the Pacific Northwest's gorgeous environment. South-facing windows provide epic views and help bring in light and warmth even during the coldest months.
Northwest Contemporary decor often brings nature indoors using live-edge wooden furniture, stone and wooden accents, and other cozy touches.
Interior Characteristics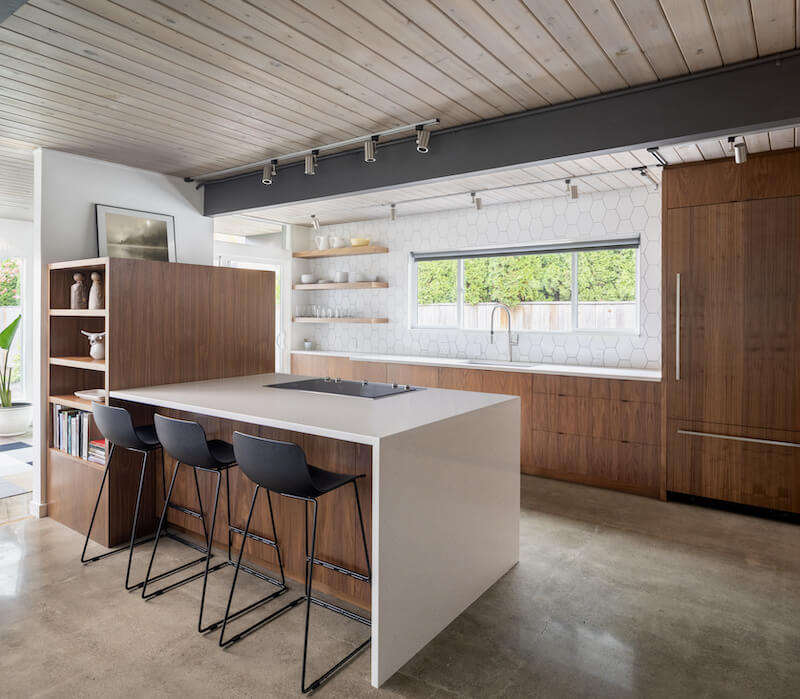 Northwest Contemporary interiors often feature asymmetrical floor plans, voluminous high ceilings, and minimalist and open designs. Exposed wooden beams help complete the funky, modern look. Although traditional methods tend to be symmetrical, asymmetry can be an eye-catching and unique way to create balance, and asymmetrical floor plans can lend themselves well to asymmetric interior design.
The high ceilings of Northwest Contemporary homes can help make any room feel larger than it is, especially when paired with expansive windows. These high ceilings make even single-story homes look airy and spacious inside and out.
Due to the influence of Mid Century Modern design, many Northwest Contemporary interiors borrow heavily from minimalist design techniques. Thus, many homes in this style feature sleek modern lines, open floor plans, and large windows to help draw in the light.
While the exposed wooden beams of Northwest Contemporary homes may seem out of line with traditional minimalist design, they pay homage to the style's emphasis on quality materials. These features help break up large expanses of concrete and invite nature into the home.
Exterior Characteristics
Many Northwest Contemporary homes feature low-pitched or flat roofs with deep overhanging eaves and an eclectic mix of materials, especially flat concrete slabs interspersed with wood siding. While most homes in this style have a single floor, some boast two or more and incorporate tiered terraces into their design.
Adapting the International style for the Pacific Northwest's wet climate, Northwest Contemporary architects use very low-pitched roofs to help prevent rain from accumulating on top of homes. Deep overhanging eaves also help redirect water away from the home's foundation. These low-pitched roofs help account for nature while preserving the home's International-influenced modular shapes.
Northwest Contemporary homes often incorporate various materials, but unpainted, exposed wood is the style's star for both exteriors and interiors. During the mid-20th century, timber was one of the Pacific Northwest's leading industries. Many Northwest Contemporary architects prioritized local natural materials for their designs, and their homes often feature an eclectic blend of wood, stone, brick, glass, and steel.
While most Northwest Contemporary homes offer a single floor, many sit on sloping topography. These homes use terraces, stylish foundations, and occasionally even stilts to create visual repetition and intriguing modular forms without needing multiple stories.
The Pacific Northwest's environment played a huge role in shaping the Northwest Contemporary style, from its low-pitched roofs and deep overhanging eaves to its locally sourced materials and clever use of terrain.
One of the Pacific Northwest's Signature Styles
Wildly popular from the mid-20th century to today, Northwest Contemporary style architecture is practical and eye-catchingly beautiful. By blending the Pacific Northwest's natural environment with simplistic modern design, Northwest Contemporary homes provide a unique way to experience the region's beauty as part of daily life.