Bungalow Style House: 5 Common Characteristics of Bungalow Homes
Posted by Alicia Smith on Wednesday, August 10, 2022 at 8:21 AM
By Alicia Smith / August 10, 2022
Comment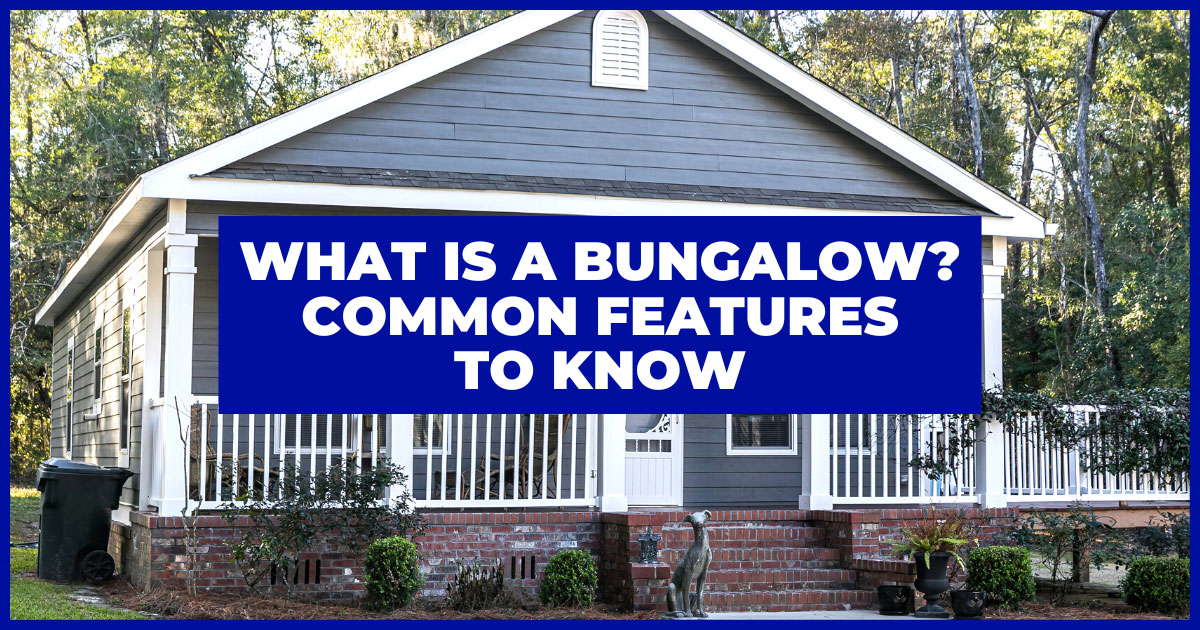 What do you think of when someone mentions the word "bungalow?" For many people, the first thing that comes to mind is a cozy, one-story home with a pitched roof and plenty of windows. While this description typically fits bungalow architecture, many interpretations of this famous style exist.
Bungalow architecture is a popular choice for those looking for a relaxed and comfortable lifestyle. If you're thinking of buying a bungalow, it's important to know the typical characteristics of this style.
Distinctive, Low-Pitched Roofs
The low-pitched roof is one of the first things people notice about a bungalow-style house. A low-pitched roof is one with a 2:12 ratio; it has two feet of vertical increase for every 12 feet of horizontal space.
Bungalows are either one-story or one-and-a-half stories tall. If the home has an extra half-story, that floor is typically built into the attic space below the roof.
Bungalow roofs have eaves that hang over the sides of the home, and it's not uncommon for these homes to have exposed roof beams. They frequently have a stone facade and some natural siding, so the exposed roof beams are part of the architectural scheme.
Single-Story Floor Plans
A bungalow is suitable for those who want a single-story floor plan. Because owners won't have to navigate a set of stairs in most bungalows, many people can age in place more easily, as the living room, kitchen, bathroom, and bedrooms are on one floor.
Bungalows are ideal for those who want to downsize their living arrangement. The smaller size of the home means there's less surface area to clean, and cleaning is usually confined to one floor. It can also translate into lower utility bills because there's less house to heat up or cool down.
Front Porches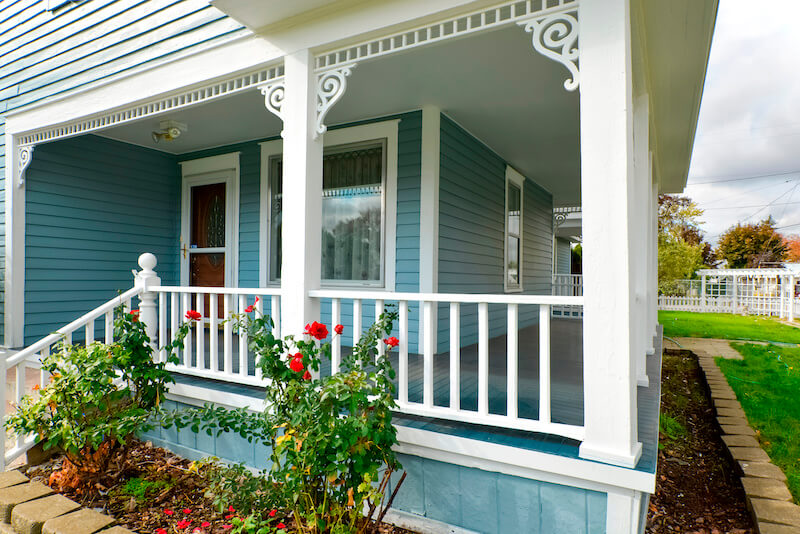 Having a big front porch is a great draw for many homeowners. This space can host a romantic porch swing, benches, a table and chairs, or a couple of rocking chairs to enjoy the sunset. A front porch is also one of the most common features of a bungalow-style home.
A front-facing gabled roof or pergola will top the front porch in a bungalow. Thick pillars or columns support the roof, but these are usually narrow enough (or tapered) so they don't block the view. The porch can be enclosed with short walls or completely open to the garden or landscaping. Either way, it still feels like part of the house, enveloping the owner in comfort.
Front porches require some maintenance due to foot traffic and their exposure to the elements. Authentic wood porch floors can require staining or painting once a year. Some builders have been switching to PVC flooring in recent years because it lasts much longer and requires less maintenance.
Craftsman Architecture
The Craftsman-style design grew from the Arts and Crafts Movement in the late 19th century. While there are a lot of different styles of bungalows, from Tudor Revival to Colonial, Craftsman is the most common by far.
Craftsman homes have highly detailed wood trim and a big front porch supported by columns. The porch or veranda adds to the square footage of these smaller homes, making them feel more extensive and inviting. They also have the low-profile, low-sloped roofs mentioned above.
The interior of a Craftsman-style home will usually have hardwood floors and open living and dining areas. Interiors are functional and limited to one story. Wood molding and archways between open rooms are additional bungalow interior design features.
Square Footprints & Open Floor Plans
Lot sizes for bungalow-style homes tend to be smaller, meaning less yard and less overall home maintenance to take care of over the life of the property. Sometimes, a bungalow will have an attached garage, which increases its size. However, these homes are much less common because a garage can detract from a bungalow's "cottage" feel.
It's common for bungalows to have a combined living room and dining room area. The low-sloped roof creates an opportunity for vaulted ceilings, which makes the interior look much bigger. A vaulted ceiling, in turn, creates space for more glass and larger front windows for increased natural light.
Bungalows: A Home for Every Stage of Life
A bungalow is a great option for any homebuyer. Some cities have many neighborhoods with bungalows, depending on how popular they were in the area during the 1960s. Exploring the places buyers want to call home is the best way for them to track these properties down.