Portland River Fun: 5 Fun Things To Do on the Willamette River in Portland
Posted by Alicia Smith on Friday, December 10, 2021 at 1:29 PM
By Alicia Smith / December 10, 2021
Comment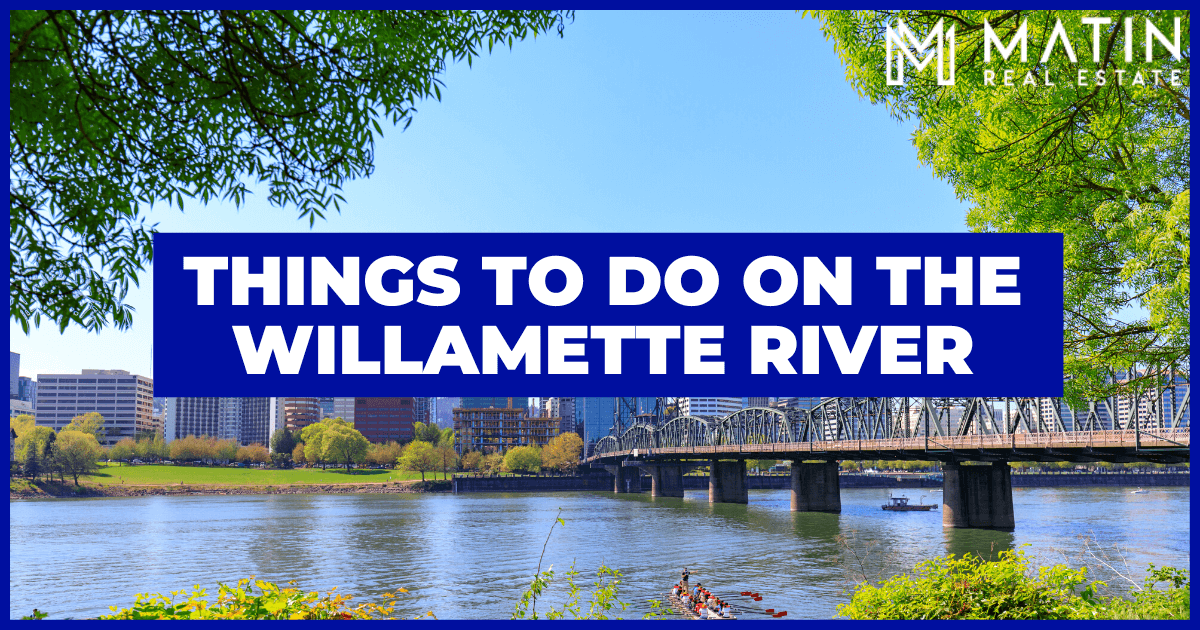 The Willamette River in Portland spans about 187 miles, starting in the city of Eugene. The waterway divides the city of Portland in two, making it one of the city's top defining features. As one of the largest rivers by volume and home to the second-largest waterfall in the country, The Willamette River offers nearly endless things to do outdoors in Portland. The best part? You don't have to travel far to enjoy the river; almost all of the best neighborhoods in Portland are often a short drive away. Keep reading to learn about a few of the most fun things to do on the Willamette River in Portland.
Relax at a Beach on the Willamette River
Looking for things to do in Portland during the summer? Head to a beach on the Willamette and relax for a day. Portland might not have any coastline, but the Willamette Riverfront beaches sure give residents a taste of one. The Willamette River features some of the most beautiful beaches in Oregon, such as Poet's Beach in the South Waterfront neighborhood. The beach was opened in 2017 and is on the west side of the river, just beneath the Marquam Bridge.
It stretches about two miles along the river and features a sandy shore with engineered rocks when water levels are low in summer. Since it has direct river access and a separate swim-line, Poet's Beach is one of the best spots to sunbathe, relax and swim without constant disruptions from recreational boats and other watercraft using this part of the river. There are no lifeguards, but there's a picnic area and permanent restrooms a short walk away from the park. Access to Poet's Beach is free.
Located northeast of Poet's, close to the Hawthorne Bridge, is another Willamette River named Audrey McCall. The beach is pretty popular among locals, which is no surprise considering it has nearly 150' of shoreline, direct river access, a swim-line, and is close to downtown Portland. Locals visit Audrey McCall Beach to soak in the sun and indulge in activities like swimming, standup paddle-boarding, kayaking, and canoeing, among others. Other excellent beaches to check out on the Willamette River include Willamette Mission River, San Salvador, and Kelley Point Park.
Take a Boat Tour on the Willamette River
Willamette River Beaches are beautiful, but nothing beats the sensation of cruising down the Willamette River and enjoying its lush, magnificent landscapes on a slow Saturday afternoon. And there are a handful of guided boat tours to make it a reality, such as the Portland Spirit Cruises company. The company boasts a fleet of yachts, jet boats, and river cruises to suit all tastes, such as a 2.5-hour dinner cruise from 7 p.m. to 9:30 p.m. every day.
The Portland Spirit dinner cruise offers unobstructed views of the dazzling lights and towering buildings in Downtown Portland. As passengers enjoy the views, they dine on a freshly-prepared three-course dinner on a private candlelit table. There's live piano music and a historical narration on the outer deck for those interested in learning about the Willamette River. Pick-up is usually at Caruthers Landing, SE Portland, and Salmon Springs, and rates start at $86 for adults and $43 for kids. Besides the dinner cruise, Portland Spirits also offers brunch, lunch, and sightseeing cruises.
Cascadia Expeditions is an excellent boat tour company to turn to for more than just a cruise. They offer adventure trips, ranging from kayaking, paddleboarding, and canyoneering throughout the Willamette River. They offer excursions with stop-overs at popular breweries like Mazama and Sky High Brewing. Other great boat tour companies on the Willamette River include Sternwheeler Excursions and Willamette River Jet Boats.
Cast a Fishing Line on the Willamette River
If fishing floats your boat, you'll be glad to know the Willamette River is home to a wide variety of fish species. These include the Coho Salmon, an array of trout including the sturgeon, different kinds of bass, the flying chinook salmon, crappie, bluegill, and even rare ones like the Starry Flounder.
In a nutshell, the Willamette River is also a haven for avid anglers. It has multiple fishing points to show for it, such as the Multnomah Channel on the lower Willamette River. The natural channel splits from the main Willamette in Portland and rejoins the Columbia River at St. Helens. It is a popular spot to fish sturgeon, shad, walleye, and panfish, and the best time to cast bait is between Late March and May. The channel also has plenty of basses, yellow perch, and crappie and is surrounded by bait shops.
Even charters provide guided fishing tours, such as Ben Parker Fishing and Willamette Valley Outfitters. Besides Multnomah Channel, other great spots to fish on the Willamette River area include Salmon Creek and St. Louis Ponds. All anglers 18 and above must have a fishing license to fish in any of these spots and rules that regulate what visitors should or shouldn't do.
Paddle a Kayak on the Willamette River
For those looking to break a sweat and reconnect with nature while enjoying first-hand views of the tranquil Willamette River, kayaking is the way to go. As a nationally-recognized water trail, the Willamette River generally offers trouble-free paddling, making kayaking a pretty popular activity.
However, newbies should consider a guide as the river's speed and depth tend to change seasonally. Also, some parts may require landing and portage. Luckily, many companies offer guided kayaking and canoe tours, such as Portland Kayak. The company provides a range of canoe and kayak tours, including a 2.5-3 hour Ross Island tour at $49. The Northwest Canoe Tour also offers guided kayaking and even 24-hour kayak, canoe, and SUP rentals.
Tour the USS Blueback Submarine on the Willamette River
Whether you've always dreamt of driving a submarine or being aboard one is just another one of your bucket-list items, touring the USS Blueback Submarine will undoubtedly be a thrill. The USS Blueback is a barbell-class vessel used by the US Navy between 1959 and 1990.
The vessel completed missions globally and even holds the longest-ever submerged voyage after traveling more than 5,000 miles from Yokosuka through Japan to San Diego. It's now an exhibit under the Oregon Museum of Science. It is on 1945 SE Water Avenue on the Willamette River, where residents and tourists alike can enjoy 45-minute guided tours. The tour takes those aboard back in time to experience what it was like for its 85-member crew to live and work in the small spaces and narrow passages for months. Tickets start at $8.50 for the general public and $7.50 for registered museum members. There are two types of tours: a standard 45-minute tour during which visitors can touch a torpedo and peer through an actual periscope, and a special two-hour submarine tech tour guided by a veteran who takes visitors through the technical aspects of the sub.
Explore Portland on the Willamette River
Portland might be a bustling city, but the lush and magnificent landscapes down the Willamette River certainly balance out its fast pace. The 187-mile long river offers miles of pristine urban beaches and is widely recognized for its endless recreational opportunities, including swimming, fishing, and paddle-boating.
Countless companies provide cruise tours and all sorts of guided expeditions, including fishing and canoeing. What's even better is that there's a large selection of Portland homes within a 20-minute drive or less of the Willamette River, making it always easy for people moving to Portland to explore the river in Portland.
If you're inspired by the opportunities in Portland, Oregon, contact Matin Real Estate at (503) 622-9601 to get in touch with a local real estate agent and find the ideal Portland home for you today.