Best Lakes Near Vancouver WA: 8 Places to Swim, Fish & Camp
Posted by Alicia Smith on Thursday, April 13, 2023 at 3:20:56 PM
By Alicia Smith / April 13, 2023
Comment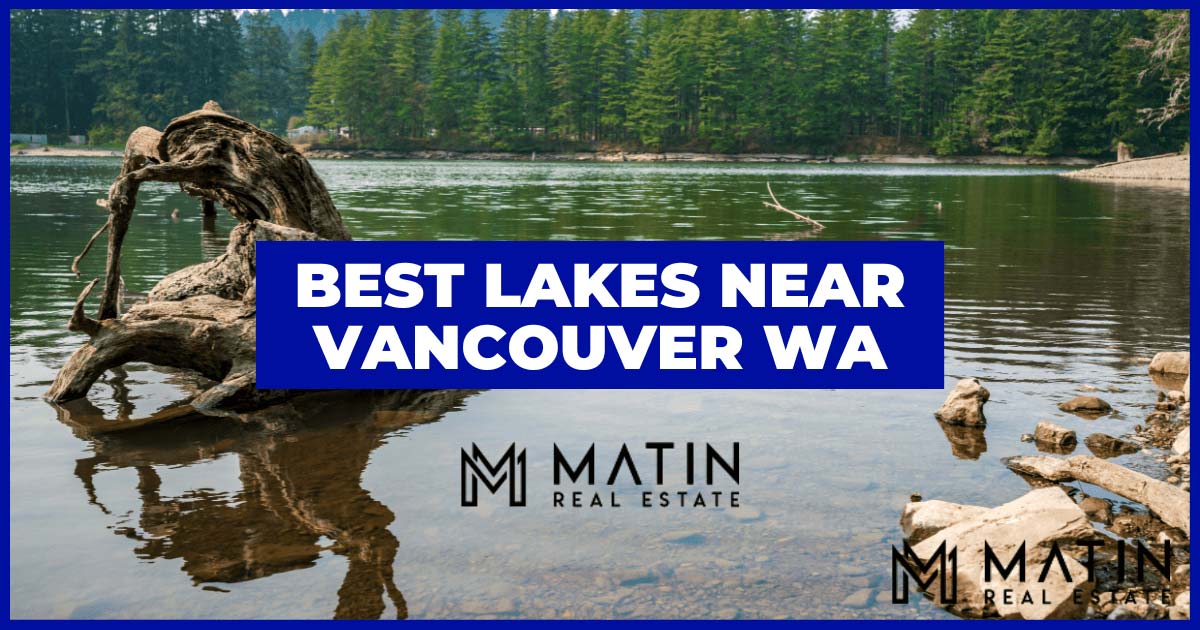 The city of Vancouver is central to some of the best lakes in all of Washington. Most of these locations are less than an hour from Vancouver and offer a combination of swimming, fishing, camping, and boating fun. Each of these lakes, though similar, has something unique to offer.
For example, Horseshoe Lake has world-class fishing, with several species stocked regularly. Battle Ground Lake has a shallow swim spot for children, and Lake Merwin has some of the best camping spots in the area. The calm waters of Vancouver Lake make for fantastic kayaking, canoeing, and standup paddleboarding.
Which of these lakes near Vancouver, Washington, will become your favorite?
Vancouver Lake
Vancouver Lake sits just northwest of downtown Vancouver, making it easily the most accessible lake for most Vancouver residents. This shallow body of water is perfect for fishing and is one of the best swimming holes in Washington. Sensitive to tidal changes, this Lake fluctuates as much as two feet during low tide, limiting boating access to certain areas.
The 190-acre Vancouver Lake Regional Park, one of the best parks in Vancouver, stretches over two miles along the lake's west shore, with 35 developed acres for picnicking, windsurfing, and sports. Expect striking views of Mount Hood, Mount St. Helens, and Mount Adams on clear days. Homes near Vancouver Lake occupy the east shore, though there's no direct access.
With calm, gentle waters, Vancouver Lake is an excellent kayaking, canoeing, and standup paddleboarding spot. Hiking the natural areas that edge the lake is easy, thanks to a paved trail that connects Vancouver Lake Regional Park with Frenchman's Bar Regional Park.
Boaters use the WDFW boat ramp on the south end of the lake, easily accessed from LaFrambois Road. Those with large boats should note that the Felida ramp near the north end has a more suitable boat launch facility. However, finding a channel into the lake can be challenging for bigger watercraft.
Fish species you might catch at Vancouver Lake include black and white crappie, largemouth bass, channel catfish, yellow perch, and common carp.
Note: Vancouver Lake Rowing Club, a nonprofit youth and masters rowing association, holds competitions on the lake, so plan accordingly.
Lacamas Lake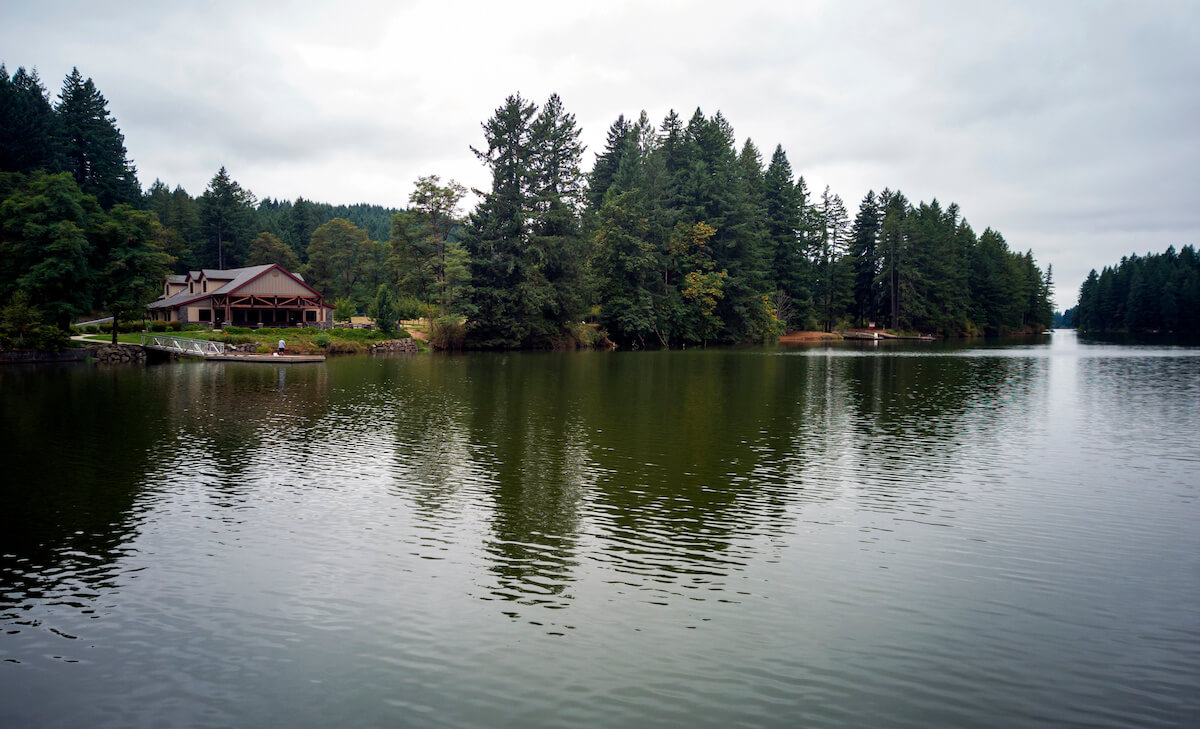 An ancient part of the land, Lacamas Lake was formed from a pre-historic channel of the Columbia River. The Lacamas Lake Dam was built in 1883 and was upgraded to its current concrete structure in 1935. Located just 17 miles east of Vancouver in the city of Camas, residents know Lacamas Lake is the spot to fish, paddleboard, and water ski.
Fishing is popular here at Lacamas Lake. While it's mainly stocked with brown and rainbow trout, there's a good population of yellow perch. Other species to look out for include largemouth bass, pumpkinseed sunfish, and bluegill.
Lacamas Lake is warm compared to other lakes in the Vancouver area, though temperatures can drop off quickly, and has an abundance of plants and algae. Shady trees and nature trails surround the water at Lacamas, making for a cool place to paddle board or picnic in one of the best parks in Camas.
Battle Ground Lake
Formed by volcanic uplifting, Battle Ground Lake has some of the clearest water in the Portland/Vancouver area. An evergreen forest protects this crater lake, making it a favorite of photographers. Only 21 miles northeast of Vancouver, this lake near the city of Battle Ground is an excellent overnight camping destination, with 50 campsites to choose from.
Battle Ground Lake State Park is a heavily treed natural area in the Cascade Mountain foothills and a popular escape from the fast-paced city life. The shallow swim area is a perfect spot for small children (and their parents) to cool off, and hikers and nature lovers enjoy quiet strolls through the woods. The Battle Ground Lake Park Store, a seasonal concession stand, has a menu of foods and snacks, beverages, camping gear, fishing supplies, and SUP board and kayak rentals.
Other things to do at Battle Ground Lake State Park include:
5 miles of biking trails
10 miles of hiking trails
Boating
60 feet of dock
Fishing
Badminton
Baseball
Bird watching
Horseshoe pits (2)
Horseshoe Lake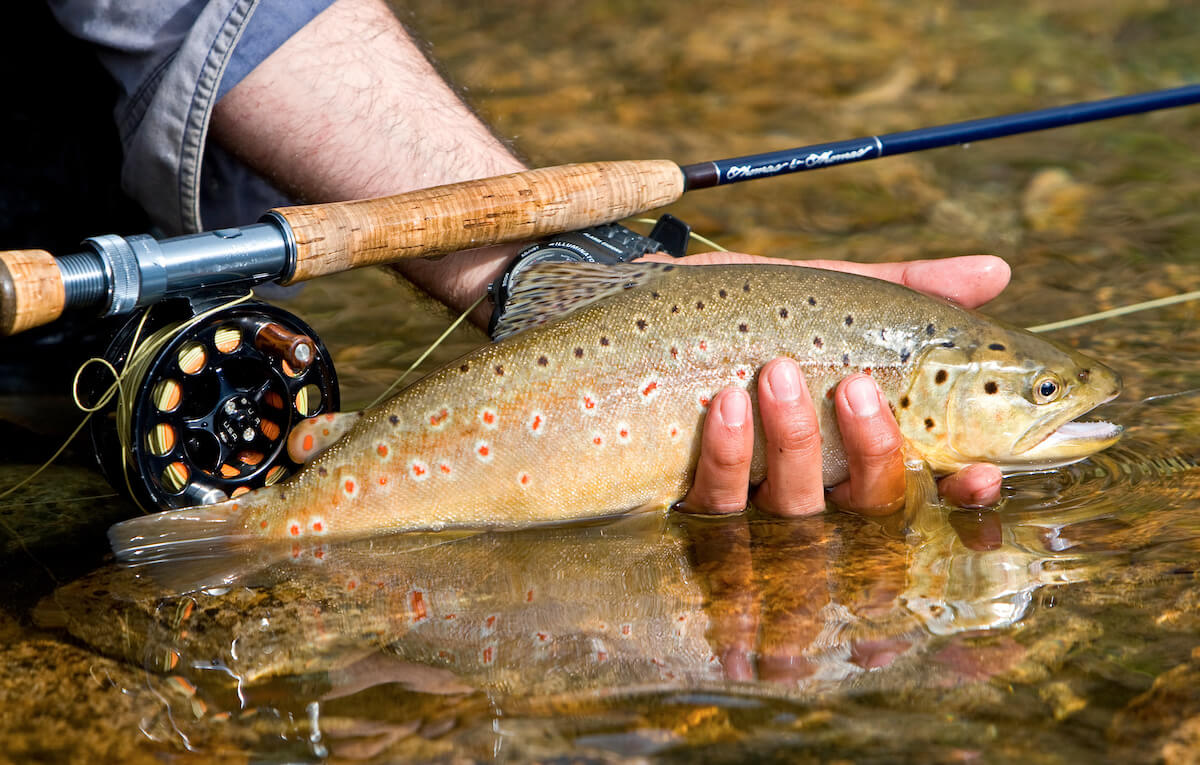 Originally part of the Lewis River until it was cut off in 1940, Horseshoe Lake is a convenient place to fish, swim, and picnic in the sun, just 22 miles north of Vancouver. This community lake is locally famous for camping, swimming, hiking, and biking on a trail that follows the water halfway around the lake.
Located in the small town of Woodland, Horseshoe Lake Park has a wide shoreline perfect for fishing and lounging, plus an easy-to-use public boat ramp. At this park, you'll also find walking trails, BBQ areas, playgrounds, a ball field, public restrooms, and a swimming area. Waterfront homes line parts of the lake, and residents frequently rent the park's covered picnic area for events.
Horseshoe Lake is maintained as a catchable trout and warm water species habitat. Fishing is year-round here, and the lake is regularly stocked with rainbow trout and largemouth bass.
Other species you might catch at Horseshoe Lake:
Black crappie
Bluegill
Brown bullhead
Brown trout
Coho salmon
Northern pikeminnow
Pumpkinseed sunfish
Note: grass carp are stocked in this lake, but since they're there to control invasive aquatic plants, fishing for or retaining grass carp is strictly prohibited.
Lake Merwin
Known for its prime camping spots and crystal clear water, Lake Merwin is only an hour's drive from Vancouver. The two most popular activities at this scenic lake are fishing and camping. Lake Merwin Campers Hideaway is a nonprofit, membership-only camping club on 588 acres of rugged woodland surrounding the Lake Merwin Reservoir. Outdoor lovers take advantage of the clear water and nearby places to explore and enjoy the Hideaway's relaxing heated pool, sauna, and other facilities.
The Merwin Reservoir was created after the completion of the Merwin Dam in 1931. The reservoir can fluctuate dramatically depending on the amount of run-off, making boat access difficult at times, especially for larger vessels. On the other hand, the reservoir is open for swimming year-round, and Merwin Park has a swimming beach along with restrooms and a boat ramp.
When it comes to fishing at Lake Merwin, kokanee salmon is the most abundant species, but you can also catch the elusive tiger muskie here. Lake Merwin is situated near Ariel, on the southern side of Highway SR503, and is shared by Clark and Cowlitz Counties.
Other species you might catch at Merwin Lake:
Bull trout
Dolly Varden trout
Chinook salmon
Coho salmon
Northern pikeminnow
Rainbow trout
Note: all bull and Dolly Varden trout caught at Lake Merwin must be released.
Yale Lake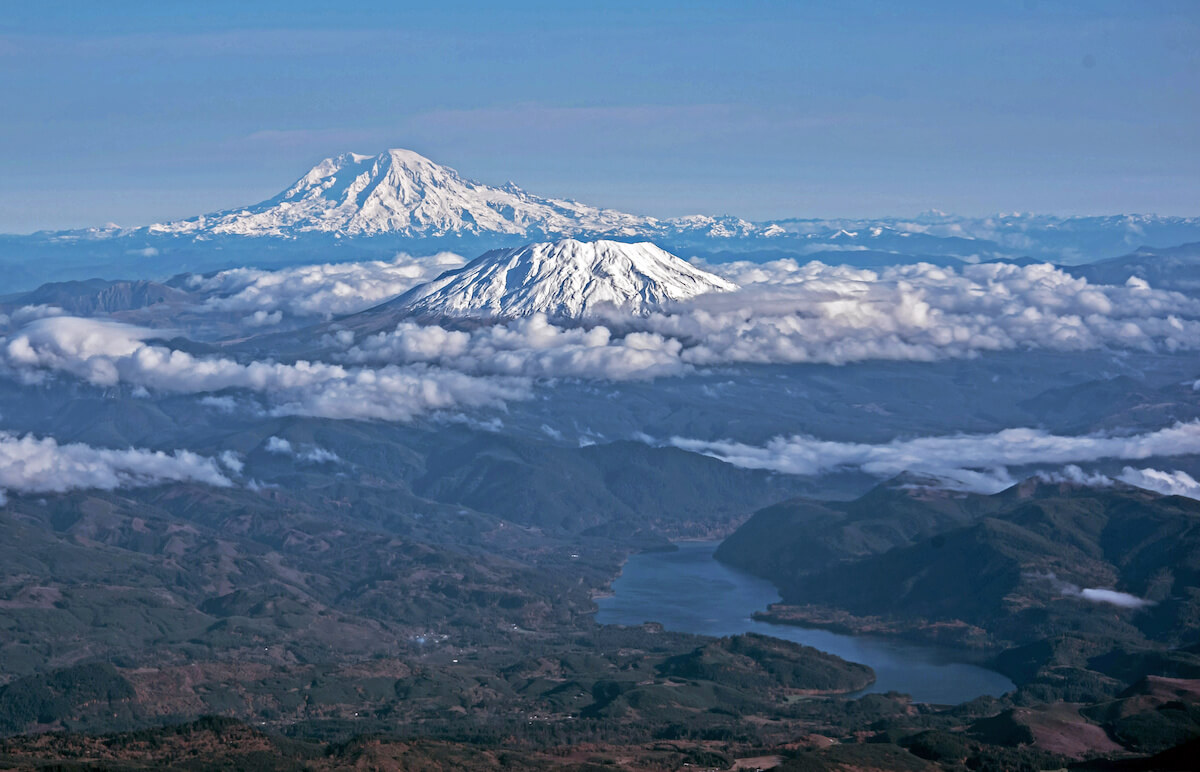 Yale Lake is a 3,780-acre reservoir on the Lewis River, about 40 miles from Vancouver, on the border between Clark and Cowlitz County. Located on the North Fork Lewis River, Yale Reservoir was formed after the completion of the Yale Dam in 1953.
Although there are four boat ramps, the varying water levels can make access by watercraft difficult. PacifiCorp operates all boat launch facilities at Saddle Dam, Yale, Cougar Camp, and Beaver Bay, and fees are required to launch on weekends.
Anglers flock to Yale Reservoir for its kokanee. Coastal cutthroat trout are found near the mouth of Siouxon Creek, and there are some bull trout.
Note: all bull and Dolly Varden trout caught at Yale Lake and Yale Reservoir must be released.
Swift Reservoir
Just over an hour from Vancouver, Swift Reservoir is 28 miles northeast of Woodland, on the south side of Forest Road 90. Visitors can use the public boat launch at Swift Forest Camp and many love the reservoir for fishing, camping, and boating.
Swift Forest Campgrounds is the go-to for serene, private camping. Swift Reservoir is lined with cabins and campgrounds on one end and beautiful inlets with plenty of space for boats and kayaks on the other. Nearby site seeing includes hikes like Ape Caves, Lava Canyon, and the Mt. St. Helens Observatory. Many visitors access the shore along the campground and below Eagle Cliff Bridge.
Trout gather near the dam and around streams entering the reservoir during April and May, but spread out along the waterway before June.
Notes: all bull and Dolly Varden trout must be released, and two-pole fishing is prohibited.
Bonus: Columbia River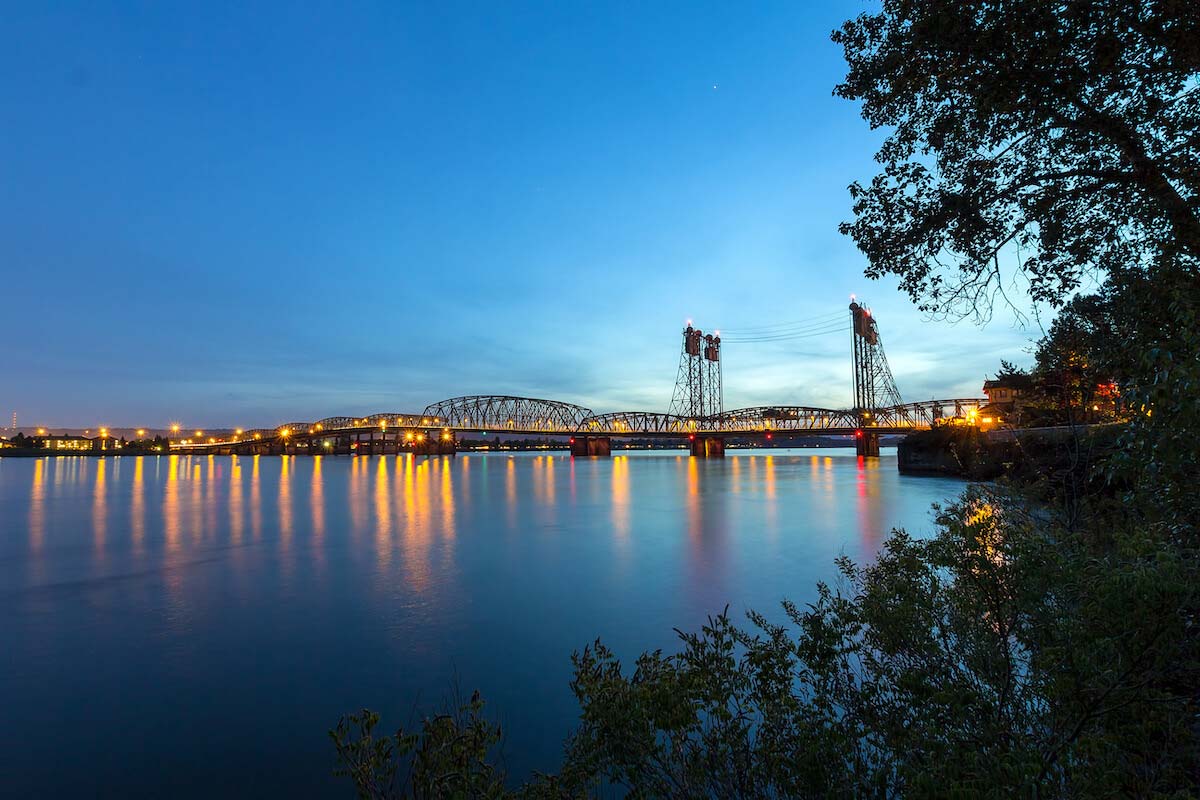 The Columbia River divides Vancouver and Portland, offering beautiful scenery and inspiring some of the best walking trails in Vancouver. With over 1,200 miles traveled from its source in the Canadian Rockies to the Pacific Ocean, the Columbia is the second largest river in the US, behind only the Mississippi River. This river is a major connecting force linking the Washington/Oregon border.
However you like to enjoy a summer day, the Columbia has you covered. Swimming, boating, kayaking, fishing—you can do it all here.
Fishing:
Every year, species like Chinook, coho, and sockeye salmon return to the Columbia River and head upstream, finding their way into one of the tributaries in Washington and Oregon to spawn. The area below Bonneville Dam has some of the best fishing on the Columbia River and is just under an hour's drive from Vancouver. Some of the best spots to fish near the Bonneville Dam include:
Fort Cascades National Historic Site (WA)
North Shore Recreation Area (WA)
Hamilton Island (WA)
Robins Island Recreation Area (OR)
Bradford Island Recreation Area (OR)
Tanner Creek Fishing Area (OR)
Swimming:
Washington's lakes and rivers are some of the best places to swim! A lazy afternoon on the Columbia is the quintessential way to spend a summer day in southern Washington.
Swimming and wading are permitted in most areas of the Columbia River, but remember that most spaces have no lifeguards on duty. These are some of the finest swimming holes on the Columbia:
Kelley Point Park (OR)
Government Island (OR)
Doug's Beach (WA)
Frenchman's Bar State Park (WA)
Ready to Make a Splash in Vancouver, WA?
Vancouver is surrounded by some gorgeous lakes. Most of these lakes are less than an hour from downtown Vancouver and offer everything from hiking and camping to swimming, fishing, and boating.
Each of these lakes has a specialty, something it does better than the rest. Horseshoe Lake is the fishing favorite, and Battle Ground Lake has a shallow swim spot and fantastic hiking. The nearby Columbia River, straddling the Washington/Oregon border, has all the freshwater fishing and sports you could ask for, plus waterfalls.
Close to some of the best lakes in Washington, Vancouver has no shortage of natural beauty and scenic swimming holes.