8 Best Portland Suburbs: Where to Live in the Suburbs of Portland
Posted by Alicia Smith on Monday, November 29, 2021 at 9:02 AM
By Alicia Smith / November 29, 2021
Comment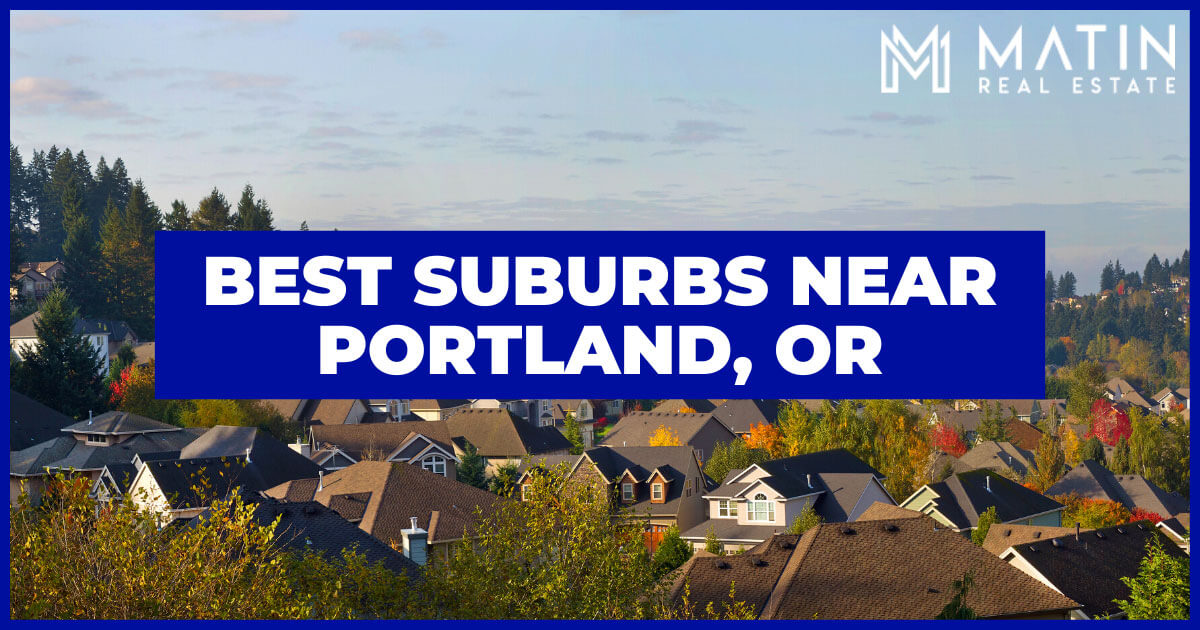 About 47% of Oregon's residents live in homes in Portland or its suburbs, which have a combined total population of about 3.2 million people. Greater Portland's neighborhoods can be placed into four quadrants, divided by Interstate 5, Highway 26, and Interstate 84. Locals also refer to the areas as either the Eastside or the Westside. In general, the Westside has a more suburban feel and newer homes or condos. The Eastside generally is more densely populated and contains older homes with a character of their own. Keep reading to discover some of the best Portland suburbs.
Lake Oswego
Lake Oswego Amenities
A variety of city-owned recreational opportunities, including a water sports center and West Waluga Park
Two golf courses, one private and one public
Proximity to Lake Oswego and the Willamette River
Beautiful floral and native gardening in city-maintained public beds
A variety of restaurants and cafés, including NOLA Doughnuts and Riccardo Ristorante
Homes in Lake Oswego are 8 miles south of Portland in Clackamas County. Until its establishment in 1847, the city was a small collection of farms and homesteads on land rich with iron ore. Oregon Iron Company was founded there and aimed to make Lake Oswego a major industrial center. After the iron industry went out of favor, the land was sold to developers. For many years, it was a vacation region; however, now it is a residential area that primarily includes large homes on large lots, some fronting the 405-acre Lake Oswego.
The neighborhood offers single-family homes, townhomes, and condos. Various home styles are available in Lake Oswego, including bungalows, Colonials, contemporary, Georgian, Northwest contemporary, Victorian, English, Tudor, cottages, country French, and mid-century modern. Home prices can start at the mid-$200,000s for Lake Oswego condos and range to a few million dollars for more expansive Lake Oswego luxury homes.
The community has a vibrant arts scene, and one popular spot is the Lakewood Center for the Arts, which features plays, classes, and an art festival. Its downtown shopping area includes a brewery, plaza, and several coffee shops. During warm weather, a Saturday farmers market features more than 80 vendors.
Happy Valley
Happy Valley
Outdoor recreation opportunities, including Mount Talbert Nature Park, the Clackamas River, and Happy Valley Park
Views of Mount Hood
Accessible to the MAX station, which goes directly to downtown
Happy Valley Sculpture Garden
A little more than a decade ago, Happy Valley was primarily farmland; however, now, the area is booming with development. It is on the Eastside, southeast of Portland, and commuting to downtown Portland takes about 30 minutes by car. The first homesteaders of Happy Valley were Christian and Matilda Deardorff, who named it "Christilla Valley." Deardorff used parcels of his land as payment for his workers. Several pioneer families are still prominent residents today.
Happy Valley real estate offers options for those looking for starter homes, more established buyers and those who want high-end Happy Valley new construction homes, and those who prefer an older fixer-upper. Single-family homes, condos, and townhomes are available, with some having views of Mount Hood. Housing prices in Happy Valley are generally affordable; a buyer can typically find a four-or-five bedroom home in the $500,000s.
The Happy Valley Towne Center has shopping and dining options, including everything from national chains to local businesses and services. The Happy Valley Hikers is a free neighborhood group that encourages outdoor walks in the area.
Beaverton
Beaverton Amenities
Over 100 Beaverton parks ensure there's a park within walking distance of every home
The Howard M. Terpenning Recreation Complex
Surrounded by the woodlands, grasslands, and beautiful waterways of the Tualatin Valley
Easy downtown Portland access
Beaverton, with a population of 93,000, is located between the Portland west hills and the fields of western Washington County. A Lewis and Clark expedition to the Northwest established the city in the early 1800s. Currently, the city houses much of the area's technology industry, including companies such as Intel and Apple. It also is the home of Nike's International Headquarters.
Homes are of various types and styles, including single-family homes, townhomes, and Beaverton condos. Architecture is diverse, and homes for sale in Beaverton are generally affordable, ranging from the low $200,000s to more than $1 million.
As Oregon's sixth-largest city, Beaverton has plentiful shopping, dining, and nightlife. The Beaverton Town Square and Cedar Hills Crossing offer a variety of options. The city also has many pubs providing craft beers, including Pacific Growlers and The Growlerie. The city also has a farmers market.
West Linn
West Linn Amenities
Historic walkway along the Willamette River
Splendid views of the river, rolling hills, and mountains
Willamette Falls Locks
Seventeen parks, many with hiking and biking trails and boating
West Linn is home to about 26,000 residents and is located along the Willamette and Tualatin rivers, about 20 minutes from the downtown Portland neighborhood. European-Americans first settled there in the 1840s when Robert Moore bought 1,000 acres of land from Portland's local Native American tribes and built a town called Robin's Nest. Robin's Nest was incorporated as West Linn in 1913. It has been referred to as the City of Trees, Rivers, and Hills and has a vibrant Historic District comprising 75 homes, antique streetscapes, and a row of iconic storefronts.
Buyers can find West Linn homes on small lots or large estate-sized lots ranging in price from about $150,000 to more than $1 million for West Linn luxury homes. Renovated historic dwellings generally average about $800,000, while those that need refurbishment typically average about $400,000. New construction homes also are available in West Linn. Some waterfront homes are available; other homes have views of the Cascade Mountains.
Retail areas in West Linn are generally small but offer a variety of dining and boutique options. West Linn Central Village, for example, has sushi and Vietnamese restaurants and a mid-range restaurant that sources ingredients locally, a Starbucks, a home goods store, a grocery store, a pet store, and a variety of services. The community also has several nightlife options, including the Nineteen33 Tap Room and the Linn City Pub.
Sherwood
Sherwood Amenities
Tualatin River Wildlife Refuge
Parks, including Snyder Park and Stella Olsen Memorial Park
Beautiful views of the Tualatin and Chehalem Mountains
Ten minutes from the Willamette Valley Wine Country
About 17,000 people have homes in Sherwood, located about 30 minutes southwest of Portland. Farmers first settled the area, known initially as Smockville, in 1853. The city was originally a brick-manufacturing center based in a nine-block area that still exists as Old Town. The name was changed to Sherwood in 1891. This city is known for beautiful greenways, horse stables, and natural beauty.
Sherwood has single-family homes, condos, and townhomes, some of which are in gated communities or planned communities. Country estates and farms also are available here. Some Sherwood new construction homes are also on the market. Prices can vary widely, from the $300,000s to more than $1 million.
Old Town is the center of life in the city and has a farmers market there for most of the year. Old Town also hosts several festivals throughout the year, including an annual Robin Hood festival. A performing arts academy, antique stores, boutiques, and restaurants, such as Mason and Clancy's, also are located in Old Town. Some retail also is available in Parkway Village, a local shopping center.
Milwaukie
Milwaukie Amenities
Parks including Ardenwald Park and Scott Park
Elk Rock Island
Accessible by light rail to downtown Portland
Affordable homes and lots
Milwaukie is an affordable city located six miles south of downtown Portland on the Willamette River. Originally a logging town, it was settled by Lot Whitcomb in 1847. The Oregon State Legislature incorporated it in 1903. Wood-trimmed Milwaukie homes from the city's early days still stand. Milwaukie has been dubbed the "Dogwood City of the West" and invented the Bing cherry plant.
The city features several single-family homes on large lots in a diversity of styles. Old Portland, quaint cottages, Cape Cods, ranches, restored farmhouses, mansions, English Tudors, and Queen Anne styles are all available. Those who prefer less maintenance will find townhomes and condos in Milwaukie. Prices generally start at about $250,000 and go to more than $1 million.
Downtown Milwaukie includes retail space with its own unique vibe and a seasonal Farmers Market that includes more than 75 vendors and live music. Decibel Sound and Drink is a local cocktail bar. Cloud Pine Tea and Culture is a local restaurant.
Hillsboro
Hillsboro Amenities
Nine golf courses, including Pumpkin Ridge Golf Club
Beautiful views of the Tualatin Mountains
Parks and nature preserves such as Jackson Bottom Wetlands Preserve
Forty-five minutes from the Oregon Coast
More than 20 city-operated recreational facilities
Affordability
Homes in Hillsboro are about 20 miles west of Portland. Farmers settled there in the mid-1800s; after the railroad's arrival, the area became a major supplier of dairy, fruits, vegetables, and wood products for Portland. Now, the city is at the center of the Silicon Forest and is home to many technology-oriented companies, including Amazon and Google.
Hillsboro is growing rapidly, and residents can find evidence of that change. The community has numerous historic homes, but new construction homes in Hillsboro, such as upscale row houses, brownstones, live/work units, and cottages, can be found in abundance. Hillsboro has been ranked among the most affordable Oregon cities, and homes can be found for as low as about $160,000 up to about $2 million.
Wineries are a popular draw, as is the Hillsboro Tuesday Marketplace, a weekly gathering of musicians, craft, and produce vendors. The city also has a large Fourth of July Parade and hosts the Oregon Air Show. The city also features several restaurants, nightspots, and shopping opportunities, including the Front Row Bar and Grill and Prime Tap House.
Tualatin
Tualatin Amenities
More than 200 acres of parks, trails, and natural areas, and a tree preservation program
Tualatin River National Wildlife Refuge
Easily accessible to downtown Portland
Accessible to Mount Hood and the Oregon Coast, and the Columbia and Clackamas rivers
Tualatin has a population of 27,000 and is located about 12 miles south of Portland in Washington County. European-American settlement of the city began in 1886 when the Portland & Willamette Railway Company bought a right-of-way through John Sweek's land on the Tualatin River's west bank. Sweek platted a town around the depot and called it Tualatin. The city was incorporated in 1913 and has experienced dramatic growth over the past 30 years.
Tualatin homes comprise several neighborhoods with various housing types and styles, including single-family homes, luxury homes, townhomes, and condos. Housing prices in Tualatin tend to be a little more expensive than the average price in Washington County. However, prices range widely, with some Tualatin starter homes available in the upper $300,000s and ranging up to several million dollars for luxury real estate.
Most of the retail and commercial activity in the city is located in Tualatin Commons. This 19-acre development also includes some residential development, a three-acre artificial lake, and a park. Various special events also take place around the lake, including concerts, movies, and festivals.
Considering a Move to Greater Portland?
The Portland suburbs offer something for everyone. They provide a variety of home styles and types across a wide range of prices. Those moving to the Portland area enjoy urban amenities, such as shopping, nightlife, and restaurants, as well as natural beauty and wildlife.