Find Modern Pacific Northwest Style Homes in These 4 Portland Neighborhoods
Posted by Jordan Matin on Monday, December 20, 2021 at 6:22 AM
By Jordan Matin / December 20, 2021
Comment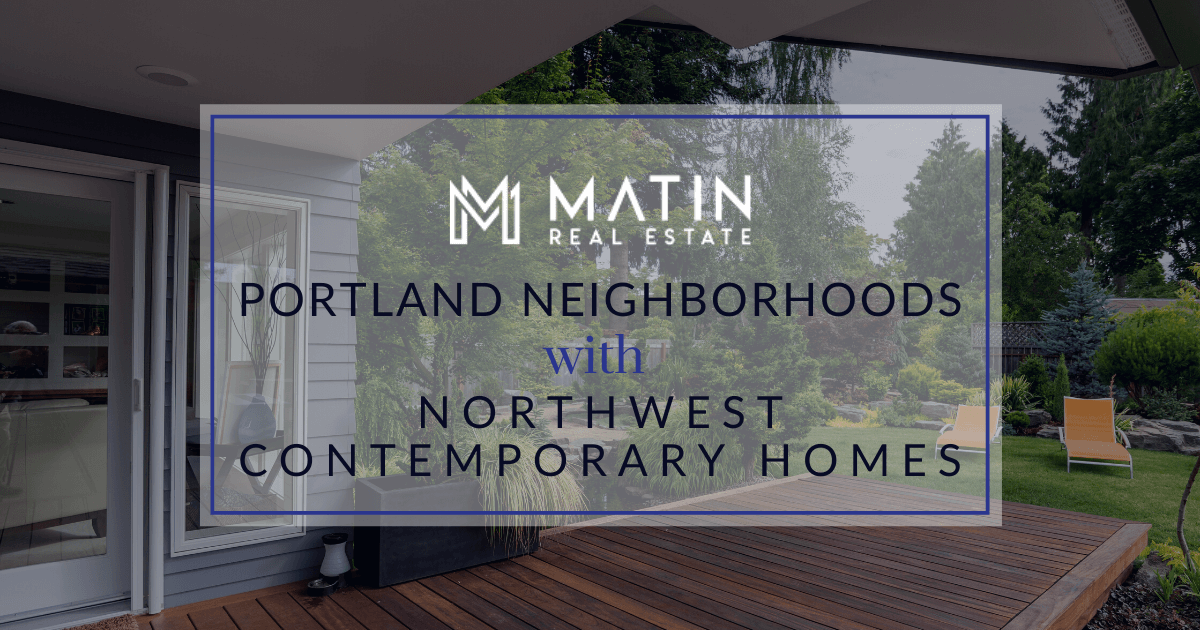 The city of Portland, Oregon contains neighborhoods that burst with personality. From nature-dominated spaces to warm, creative villages to comfortable residential areas, Portland's neighborhoods always provide a wide variety of attractions. Each Portland neighborhood offers its own unique charm and atmosphere, making it challenging to decide where to settle down. Fortunately, one cannot go wrong in any of these areas. For a taste, here are four Portland neighborhoods with Northwest Contemporary-style homes.
Sylvan Highlands
The quiet, residential neighborhood of Sylvan Highlands in Southwest Portland sits on one of the city's highest spots. Though a short distance from downtown, this neighborhood feels distinct from the rest of Portland. Narrow, winding lanes, parks, and stunning views of the valley and coastal range define Sylvan Highlands' rural atmosphere. Sylvan Highlands homes, which generally range from $600K to $900K, feel secluded and private, and many exhibit the common characteristics of Northwest Contemporary architecture.
Sylvan Highlands includes plenty of nature-themed places and activities. Washington Park, just East of the neighborhood, contains the:
Japanese Garden
Hoyt Arboretum
World Forestry Center
International Rose Test Garden
Oregon Zoo
Vietnam Veterans of Oregan Memorial
The Japanese Garden offers 12 acres of tranquil space where locals and travelers can find moments of peace. Only five minutes away, the Hoyt Arboretum hosts beautiful trees and flora native to the Pacific Northwest. Opportunities for hiking and day trips abound in Sylvan Heights, making it a popular and comfortable residential neighborhood.
Portland Heights
On the other side of Washington Park lies Portland Heights, which sits in the hills of Portland. Many of the homes in Portland Heights have incredible views of the city or either local mountain, Mt. Hood to the East, or St. Helens to the North. They also have easy access to Portland's downtown scene, with only a short drive separating the two areas.
As one of the oldest neighborhoods in the city, Portland Heights boasts a strong history, different styles of homes, and gorgeous green spaces. More traditional-style homes with columns and classic porches exist alongside mid-century modern and contemporary homes. The median price for Portland homes in Southwest Hills, which includes Portland Heights, is generally around $830,000.
The parks around Portland Heights include Governor's Park, Marquam Nature Park, and Portland Heights Park. Marquam Nature Park offers linear and winding trails through the trees where people can admire native plant species. The 5.3-acre Portland Heights Park proves very popular, with its basketball court, walking paths, playground, and sports fields.
Hillsdale and Multnomah Village
Side by side, Hillsdale and Multnomah Village have a down-to-earth atmosphere. They both remain close to downtown with stunning views of the surrounding areas. While often grouped together, the two neighborhoods do have elements that make them stand out from one another.
Hillsdale
Many Hillsdale homes maintain their contemporary style of postwar architecture. The median home price in this Southwest Portland neighborhood balances around $600,000. Just a few minutes down the river from downtown, this area combines the best elements of urban and suburban atmospheres. While Hillsdale has quiet streets and neat properties, its restaurants and shops serve as the center of the local community.
The crowning glory of the neighborhood, Hillsdale Farmers Market hosts local businesses and products. The market takes place every Sunday during the summer and every other Sunday in winter. Hillsdale also prides itself on having Oregon's first brewpub, McMenamins Hillsdale Brewery, which opened in 1985. To explore more of the neighborhood, one can admire the beautiful sights at Hillsdale Park, Dewitt Park, or George Himes Park, which features extensive walking trails.
Multnomah Village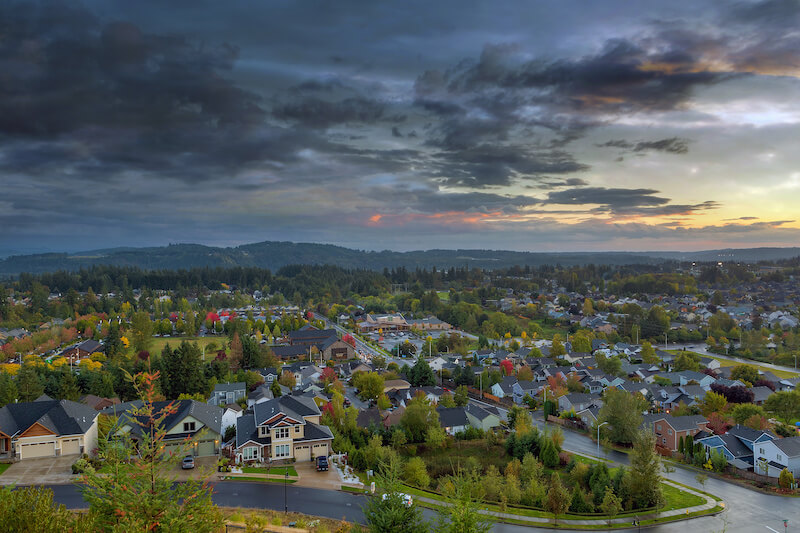 Charming, quaint, and unique describe the contemporary style of Multnomah Village's vibrant neighborhood. Despite its 10-minute commute to Downtown Portland, Multnomah Village has created a small-town atmosphere with antique shops, cafés, art galleries, coffee shops, and other retailers. Prospective homebuyers can anticipate a median price of around $500,000 for a Multnomah Village home.
Multnomah Village encourages support for local businesses by offering a number of stores, boutiques, and places to eat—perfect for shopping for Northwest Contemporary decor. Planted PDX established itself as a local staple by cooking 100% plant-based food inspired by Asian and South/Central American cuisine for their street food cart. The Lucky Labrador serves as a Portland brewpub favorite, and the neighborhood's French Quarter is attractive with food carts and boutiques. Since Multnomah Village is walkable, it is also easy to pop into Annie Blooms, an independent bookstore, to find popular books and classics alike.
Brentwood-Darlington
To the Southeast, Brentwood-Darlington primarily serves as a residential area. Brentwood-Darlington feels relaxed, with quiet streets, several parks, and no major commercial center. Considered a reasonably affordable neighborhood, homes in Brentwood-Darlington will typically range in price from around $400,000 to $600,000.
The five parks spread across the neighborhood—Brentwood, Flavel, Harney, Errol Heights, and Hazeltine—create pleasant and accessible green spaces for locals. Brentwood-Darlington also has a community garden that grows apples, cherries, plums, persimmons, quince, and pear trees. A volunteer collective harvests the plants and shares them with local organizations.
While Brentwood-Darlington does not have a commercial center like other neighborhoods, it still has prominent businesses around its borders. Misdemeanor Meadows, a local bar, gives their space for local musicians to play and hosts a variety of events. The G.I.R.L.S Gym offers MMA, self-defense, and kickboxing classes. For breakfast, lunch, or brunch, people flock to Mehri's Bakery, a charming café with a variety of delicious options.
Finding the Right Fit in Portland
Portland, Oregon prides itself on its history, nature, and charm, as well as the businesses established throughout the city. Natural landscapes such as Washington Park provide places for activity and thoughtful reflection. Local restaurants, pubs, cafés, and street carts ensure one can always find a delicious option nearby. Blending residential neighborhoods with commercial centers and parks means that life in Portland is always vibrant, and it's easy to enjoy it in a Northwest Contemporary style home.