4 Neighborhoods Where You Can Find Bungalows In Portland
Posted by Alicia Smith on Wednesday, May 18, 2022 at 2:30 PM
By Alicia Smith / May 18, 2022
Comment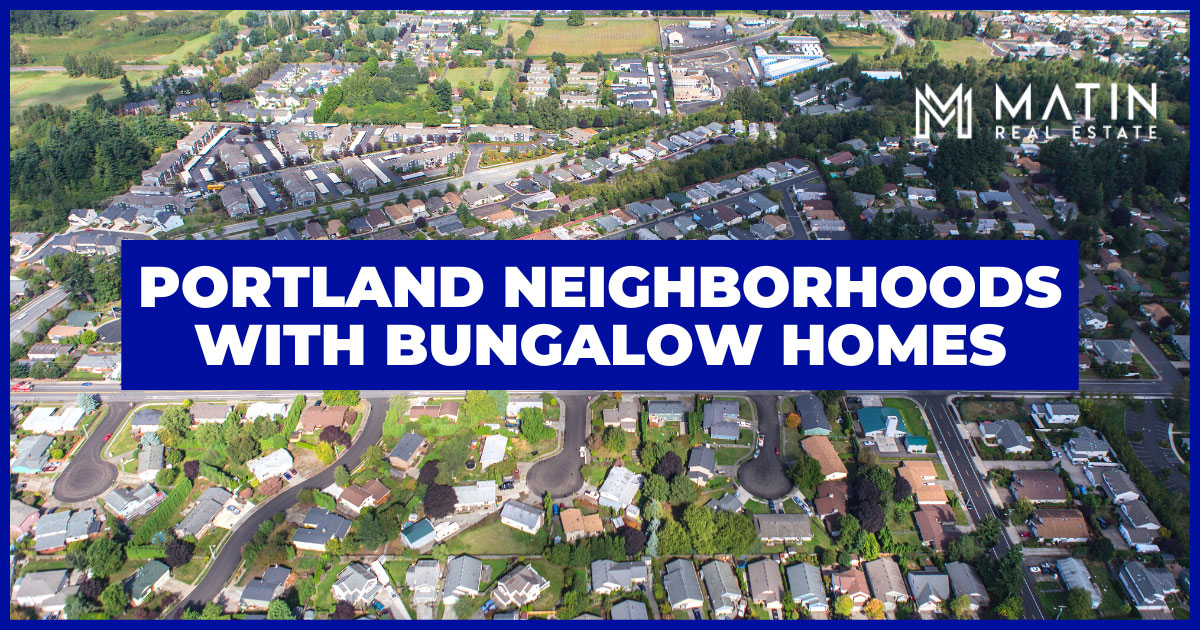 Prominent porches, thick columns, and wide barge boards following sloping roofs give bungalow homes their distinctly charming feel, while cozy furnishings and natural light are key to decorating bungalows. After being perhaps the most prevalent American residential style of the early 20th century, it's no surprise bungalows are still popular today. While there are many bungalows all over the city, keep reading to discover the four Portland neighborhoods to look for bungalow-style homes.
Montavilla
The largest neighborhood in Oregon, the Montavilla area features craftsman- and bungalow-style homes, a bustling commercial district, and an active and thriving community life. Find Montavilla east of the Mount Tabor community and west of I-205, stretching from I-84 to SE Division Street.
Montavilla's roads are laid out primarily in a grid structure. Most homes in Montavilla are small- to medium-sized bungalows with ample yard space to play, garden, or relax.
While Montavilla may be populous, it has a tight-knit sense of community. The Montavilla Neighborhood Association advocates for the neighborhood's interests and hosts community gatherings and events like a farmers market, bingo, and an annual jazz festival. Montavilla even has a local newspaper.
SE Stark Street is the center of Montavilla's commercial district. Catch a second-run film at The Academy Theater, train at the batting cages, or chow down at one of the area's many restaurants, cafes, and bakeries.
Montavilla has several parks in the neighborhood and is adjacent to Mt. Tabor Park. This park's star attraction is a dormant volcano, but playgrounds, tennis and basketball courts, and an extensive trail network make it an attractive destination for exercise and play.
Within Montavilla, Harrison Park, Berrydale Park, and Montavilla Park provide playgrounds, ball fields, and other sports facilities so parkgoers can enjoy games like baseball and soccer. The Montavilla Community Center at Montavilla Park offers an indoor basketball court, outdoor pool, pickleball, and various community programs such as day camps. With so many parks in and around Montavilla, the neighborhood provides near-endless opportunities for recreation.
Roseway
Centered on the bustling Sandy Boulevard, the Roseway community is a squarish Portland neighborhood stretching from NE Sacramento Street to NE Prescott Street. Roseway is one of Portland's best-kept secrets, sporting affordable bungalows lining walkable streets, numerous things to do in the neighborhood, and convenient access to the airport, major highways, and other transportation options.
Most Roseway homes are from the 1920s to the 1950s. The neighborhood's homes come in many styles, but most are small- to mid-sized craftsman bungalows, Cape Cods, Tudors, or ranches.
Many streets in the neighborhood have sidewalks, making it easy to walk to the neighborhood's parks and commercial centers. Wellington Park and Glenhaven Park offer outdoor play and exercise with playgrounds, tennis courts, ball fields, and a skate park. Just south of Roseway lies the Rose City Golf Course, perfect for a relaxing round of golf or a fun hike on one of the nearby trails.
Sandy Boulevard hosts many of Roseway's most popular businesses, including the iconic Roseway Theater and the historic Fairley's Pharmacy, equipped with one of a few remaining soda fountains in Portland.
Living in Roseway provides easy access to the rest of Portland and the world. Portland International Airport is only a quick 10-minute drive north of the neighborhood. Meanwhile, the nearby I-84 and I-205 are major routes through the area. Three bus lines and the MAX also offer transportation from Roseway throughout the region.
Sabin
One of Portland's smallest neighborhoods, Sabin is a tight-knit community boasting charming bungalows, lush landscapes, and plenty of things to do nearby. This northeast Portland neighborhood stretches from NE Siskiyou Street to NE Wygant Street.
Most homes in Sabin come from the early 1900s to the mid-century. Craftsman, classic bungalow, farmhouse, foursquare, and other Old Portland styles fill the cozy neighborhood. Most homes are small- to mid-sized, but some are larger.
Sabin offers beautiful landscapes that make walking down the neighborhood's streets a delight. Trees line many of the streets, providing plenty of shade on walks and runs. Many Sabin homes feature impressive gardens; the neighborhood even has a community garden and a community orchard growing various fruits and vegetables.
With parks, restaurants, and the Alberta Arts District nearby, Sabin offers numerous activities to enjoy. The Sabin HydroPark provides a playground in the neighborhood. Meanwhile, Irving Park is just to the southwest and has ball fields, tennis courts, and a dog park. Most businesses are on NE Fremont Street, including the ever-popular Rose City Book Pub, where patrons can sip on beer and wine while enjoying a book or one of the pub's many events, such as live music and trivia.
Arbor Lodge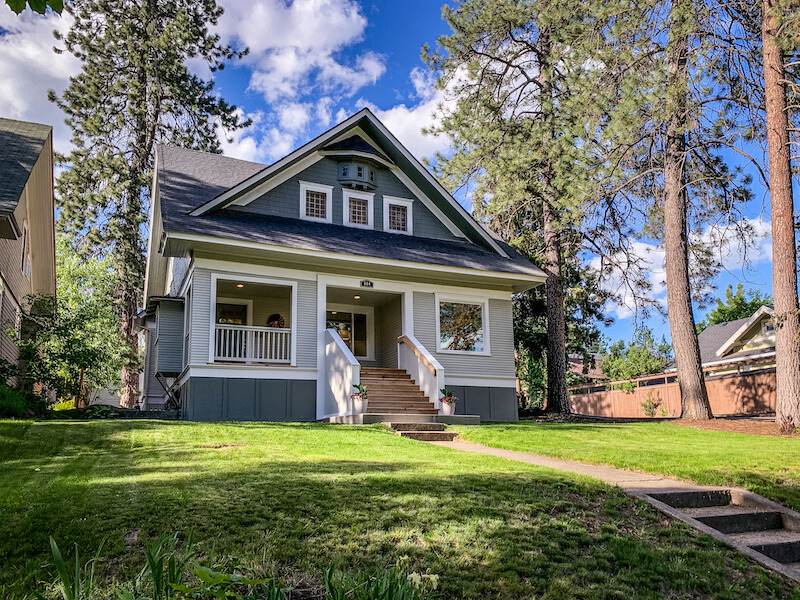 Located in North Portland, just west of I-5, the Arbor Lodge community offers quaint bungalows with convenient access to downtown Portland and other great attractions, such as parks and restaurants.
Arbor Lodge's homes come in various sizes, from small to large, and styles, including many bungalows, Cape Cods, and historic post-World War II homes. Many of the neighborhood's streets have sidewalks, making it easy to walk to numerous local hotspots.
The centrally located Arbor Lodge Park offers a playground, dog park, tennis courts, and ball fields. Gammans Park lies just a quarter of a mile north of Arbor Lodge Park and features a shaded playground and natural greenspace. A short trip up to N Lombard Street leads to King Burrito, a legendary North Portland burrito joint.
Arbor Lodge's location makes it easy to access downtown Portland and other popular neighborhoods and districts. Two MAX stations and three bus lines in Arbor Lodge allow for quick travel to other parts of the city. Cycling is also quite popular in and around Arbor Lodge, with a pedestrian bridge allowing convenient travel across I-5.
Find a Bungalow-Style Home in Portland
These neighborhoods are some of the best places to look for bungalows in Portland due to their walkability, beauty, and excellent amenities. They provide easy access to local businesses and transportation throughout the city due to their key locations and walkable streets.