Best Ice Cream Parlors in Portland, OR
Posted by Jordan Matin on Monday, October 16, 2023 at 9:30:35 AM
By Jordan Matin / October 16, 2023
Comment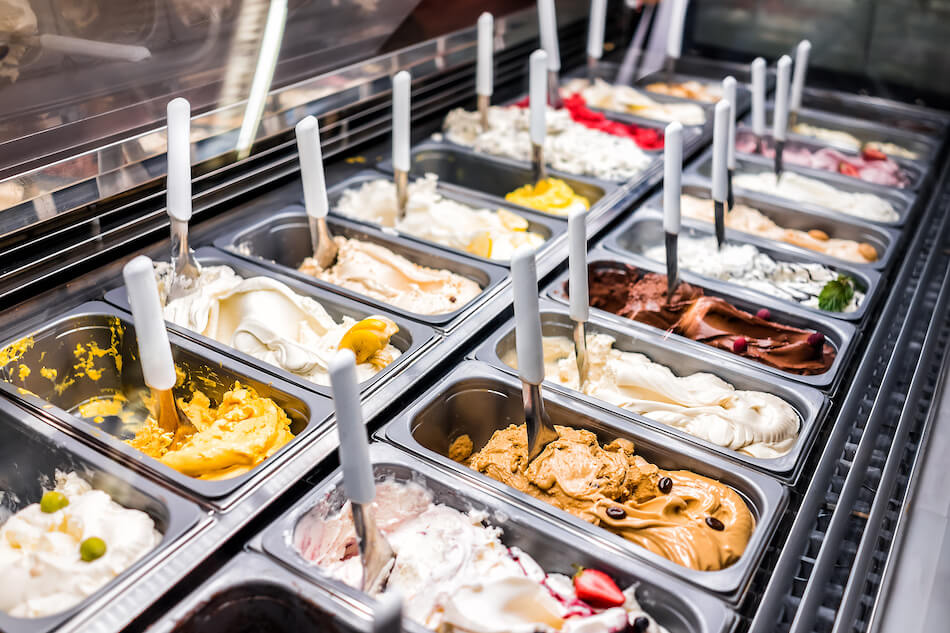 Ice cream is an essential summertime treat, and here in Portland, we're lucky to have a variety of independent ice cream parlors that serve up some of the best frozen treats. Here, we'll go over some of the best ice cream shops across the city and highlight what sets them apart from the crowd. Join us as we explore the best ice cream in Portland and the ice cream shops that adorn the streets of this city, showcasing not only the variety of flavors but also the stories and passion behind each establishment.
Kulfi
Named for the popular frozen dessert in South Asia, Kulfi sells rich dairy treats in flavors from around the world. Kulfi—as in the treat offered at the two Kulfi shops, which are in the Alberta Arts District and the Boise neighborhood—is made by simmering milk until it thickens rather than churning it. This parlor offers its treats in a variety of flavors, such as malai, baklava, marionberry cheesecake, and Vietnamese iced coffee. You can also further customize your own kulfi with different dipping sauces and toppings. Delicious drinks are also available, including a warm and refreshing cup of marsala chai.
Sugarpine Drive-In
A premier summertime destination, the Sugarpine Drive-In has a menu that changes with the seasons and sells soft serve and sundaes year-round. A handful of flavors of soft-serve are available, and there are even some plant-based options available. Choose a cup or cone, add sauces, sprinkles, and other toppings, and even get two soft-serve flavors swirled together. The Larch Mountain and Nutter Buddy sundaes are crowd-pleasing signatures, and a new seasonal sundae is available with every new menu. Enjoy a delicious treat as you enjoy a nice walk along the nearby Sandy River. Sugarpine is located just outside of Portland in the city of Troutdale.
Cheese & Crack Snack Shop
This snack shop—located in the Kerns neighborhood—has a little bit of everything available on the menu, including delicious ice cream. The Cheese & Crack Snack Shop offers snack trays of all sorts, but their ice cream is something special in and of itself. Each cone comes with chocolate ganache at the bottom to prevent leakage and for a delicious chaser to your frozen dessert. With their famous vanilla soft serve as the base, customize your cone with any of the flavor dusts offered: espresso, matcha, chocolate malt, strawberry, or even beet. If you're more in the mood for sundaes, try the banana pudding sundae, the Cheese & Crack sundae, or the seasonal sundae of the moment.
Kate's Ice Cream Shop
Kate's Ice Cream was founded in Northeast Portland so that everyone in the area could enjoy delicious ice cream. The founder created a recipe for ice cream involving coconut milk, inspired by her younger sister, who can't eat dairy. This shop creates plant-based, gluten-free ice creams, sourcing their ingredients from local farmers and makers. Kate believes in offering childhood classics to anyone. Enjoy classics like a triple chocolate brownie and orange creamsicle (which might remind you of ordering from the ice cream truck), or try the seasonal flavors that this store keeps on rotation. Ice cream cakes, brownies, and sundaes are all also available to order.
Eb & Bean
If you've ever wanted to try a more healthy version of ice cream, get your next dessert at Eb & Bean. This parlor makes its frozen yogurt and soft-serve ice cream using both dairy-based and plant-based recipes. A couple of flavors are available, but this parlor's main claim to fame is its toppings and sauces. Dress your dessert up with sauces and magic shells in a selection of flavors and a wide variety of candy, fruit, nut, and baked good toppings. Many of these sauces and toppings are gluten-free or vegan. Eb & Bean has three locations around Portland, including one in Northwest Portland and one in the Richmond neighborhood, so there's sure to be one close at hand to you.
Ome Calli Frozen Treats
"Ome Calli" is the Nahuatl phrase for "second home," and this shop is proud to source its treats from the owner's two homes in both Oregon and Mexico. Ome Calli Frozen Treats, located in the city of Beaverton, offers a variety of brightly-colored ice cream flavors, from mocha and rum raisin to mango supreme and mamey fruit. Paletas and chocolate-dipped bananas are also offered for those who'd prefer a frozen treat on a stick. If you like a bit of spice, be sure to try their famous chamoyadas as well: shaved ice served in a cup with an ice pop dunked in and a chili powder and lime juice rim.
Cool Moon Ice Cream Company
Cool Moon Ice Cream is the place to go for all-natural frozen treats made in classic and adventurous flavors in Portland's Pearl District. This parlor offers ice cream, sorbet, and its famous Moon Pops, and it makes all of its treats in-house from all-natural ingredients. Their lineup of ice cream flavors features a number of exciting and creative flavors, and they always have a few staples, such as vanilla and mint chip, as well as an Oregon berry flavor and a nutty flavor. Just outside the large windows of this parlor is the Jamison Square fountain, so you can enjoy tasty ice cream with a beautiful view.
Fifty Licks
The artistic flavors and passion for the process of making ice cream at Fifty Licks can't be found anywhere else. While this shop doesn't go overboard with its presentation, it is far from the average ice cream parlor. The founder's first love was brewing beer, and he wanted to create ice cream from scratch for the best texture and flavors. Here you'll find artistic choices such as cornbread honey butter right beside strawberry cheesecake and even vegan ice cream such as mango sticky rice and chocolate coconut caramel. At Fifty Licks, creativity knows no limits. You can even order a milkshake with up to three flavors of ice cream!
Staccato Gelato
Some delicious gelato from Staccato Gelato always hits the spot, any day of the year. This colorful little parlor strives to combine gelato, a delicious and classic Italian treat, with flavors and ingredients from right here in Oregon. 18 flavors are available to choose from, and these flavors change whenever the makers feel like it. With over 120 in rotation, there's always something new to try! For a little extra something to go with your frozen treat, try their delicious coffee or their donuts and donut holes.
Treat Yourself to Portland Ice Cream
If you're an ice cream connoisseur, you would be remiss not to explore the ice cream shops throughout Portland's best neighborhoods. From the traditional charm of Kulfi's dairy-rich indulgences to the innovative plant-based creations at Kate's Ice Cream Shop, these ice cream parlors encapsulate the spirit of Portland's culinary diversity. With an array of flavors that span continents, textures that satisfy all cravings, and a dedication to quality that's hard to match, these parlors have transformed frozen treats into an art form. So what are you waiting for? Treat yourself to a scoop (or two) today!