Best Date Night Options in Portland, OR
Posted by Jordan Matin on Wednesday, November 8, 2023 at 9:07:39 AM
By Jordan Matin / November 8, 2023
Comment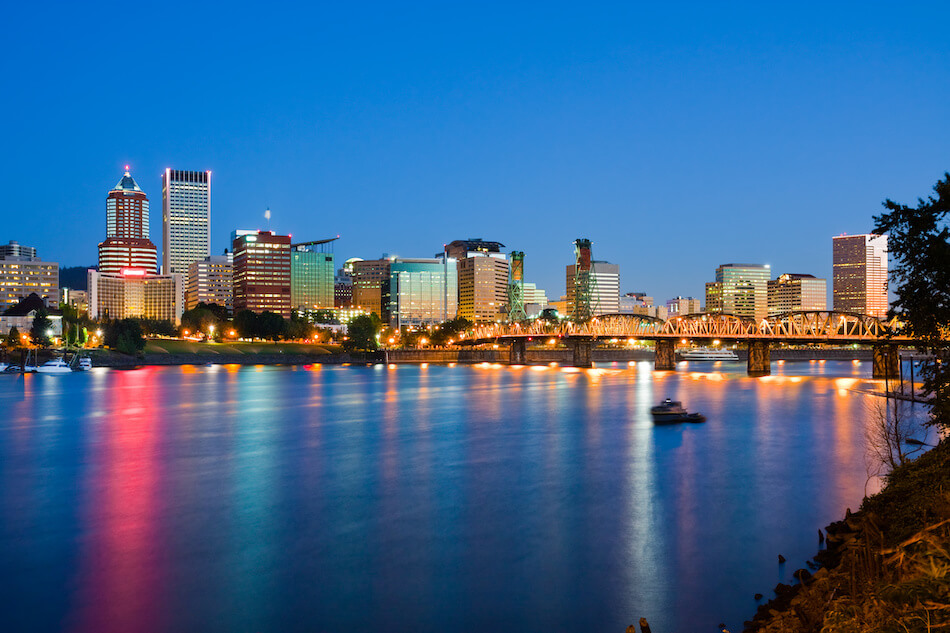 Are you ready for the most unforgettable date night ever? Get ready for a night to remember in Portland, Oregon! From romantic picnics to educational experiences, there's something for every couple. From exploring the sights and sounds of Portland's best neighborhoods to sampling some of the best food and drinks in the Pacific Northwest, you'll find plenty of unique and memorable activities. Get ready for the perfect date night in Portland!
Have a Portland Picnic
Enjoy a romantic Portland picnic in one of the city's many picturesque settings. Washington Park, the International Rose Test Garden, and Mt. Tabor are some of the best places to picnic in Portland, each filled with lush greenery and breathtaking views. Pack a basket with all your favorite snacks, drinks, and treats, and don't forget a blanket for a cozy outdoor experience.
Washington Park, which dominates Portland's Arlington Heights neighborhood, is great for people who want to explore nature. With its green lawns, towering Douglas Fir trees, and colorful floral displays, it's a great place to relax and enjoy the city's beauty. For those who want a more educational experience, the International Rose Test Garden is the perfect spot. With over 7,000 rose plants, this garden is a must-see.
Heading east to the Mt. Tabor neighborhood, Mt. Tabor Park is another excellent option for a Portland picnic. Its panoramic city views make it a great spot to watch the sunset. Make sure to bring a camera to capture the stunning views. There are plenty of trails to explore, and the summit is perfect for a romantic picnic.
No matter which location you choose, a Portland picnic is sure to be a memorable experience. Enjoy the city's sights and sounds while making lasting memories with your loved one.
Share a Romantic Meal
Treat your special someone to a romantic dinner at one of Portland's renowned restaurants, including Le Pigeon, St. Jack, Ringside Steakhouse, and much more. Le Pigeon—located in the Kerns neighborhood in Southeast Portland—is credited for putting Portland on the national culinary map and has garnered praise from food critics and notable chefs. The restaurant offers two exceptional five-course tasting menus that will make your date night one to remember. St. Jack is known for its classic French cuisine and cozy atmosphere, making it the perfect spot for an intimate dinner. Ringside Steakhouse is a classic steakhouse with a modern twist. The menu includes the finest cuts of steak, fresh seafood, and a delicious selection of desserts.
Go on a Garden Date
Take a romantic stroll through the beautiful Portland Rose Garden—located in Washington Square Park, one of the top parks in Portland—and explore the vibrant colors of the roses in bloom. With over 650 varieties of roses, your date will be mesmerized by the stunning sights and fragrances. The garden is in full bloom during the spring and summer months and offers a romantic ambiance. You can find a peaceful spot to sit and admire the beauty of the roses together. For an added touch of romance, there are also several benches and gazebos to take a break and enjoy each other's company.
For a unique cultural experience, visit the Lan Su Chinese Garden. This Suzhou-style garden is filled with lush greenery, exotic plants, and beautiful architecture. Take a guided tour and learn about the history of the garden and its many unique features. After the tour, wander around the garden and enjoy the peaceful and calming atmosphere. The garden also has a tea house where you can enjoy traditional Chinese tea and snacks.
No matter what kind of garden date you're looking for, Portland has plenty of options to create a memorable experience. Enjoy a romantic stroll through the gardens, take a cultural tour of the Lan Su Chinese Garden, or explore the Willamette River by bike. With so many options, you're sure to find the perfect date for you and your special someone.
Tour Portland's Breweries
Immerse yourself in the craft brew community at the best breweries in Portland. With its nearly 70 breweries, like Gigantic Brewing, where you can enjoy great beer in a casual setting, there's something for everyone. Brewery hopping is a popular activity in Portland, so take your date on a brewery tour and discover the best brews the city has to offer. Gigantic Brewing has a wide selection of IPAs for those who are fans of the style. Enjoy a beer flight and discuss your favorite brews while taking in the atmosphere.
If you're looking for something more romantic, make a reservation at Multnomah Whiskey Library. This sophisticated bar has an extensive selection of whiskey and skilled bartenders to help you pick the perfect drink. Enjoy the library-like atmosphere and indulge in some of the best whiskey in Portland. Afterward, you can continue the date by visiting Papa Haydn for a delicious dessert. This cozy cafe has a wide variety of desserts, including triple chocolate cake and carrot cake. Whatever you choose will be a sweet ending to a perfect date.
See a Sunset: Mt. Tabor, Skidmore Bluffs, & More
Enjoy a romantic sunset with your special someone at one of Portland's many stunning viewpoints, like Mt. Tabor, Skidmore Bluffs, and more. Take in the breathtaking views of the city and surrounding landscape as the sun dips below the horizon. Mt. Tabor Park, located in Southeast Portland, is a great spot to soak up the city skyline and the sunset.
Another option is Skidmore Bluffs, a hidden gem in Northwest Hills. You can watch the sunset over the Willamette River and its many bridges here. For a truly unique experience, take a drive to the Vista House at the top of the Columbia River Gorge. From here, you'll get unparalleled views of the Columbia River and its many tributaries. There's no better way to end your day than with a romantic sunset overlooking the city.
Read Between the Lines at Powell's Books
Explore Powell's City of Books for an unforgettable literary experience. You and your date can wander the aisles of this giant independent bookstore, browse for books, and catch up on the latest releases. With its extensive selection of books, Powell's City of Books is the largest independent bookstore in the world. It's the perfect place for bookworms and a unique date idea in Portland. It's a paradise for book lovers, from new releases to classic novels.
The store is spread over an entire city block in Downtown Portland, so there is plenty to explore. You can also attend author events and book signings to meet your favorite authors. With its cozy atmosphere and knowledgeable staff, Powell's City of Books will surely be an unforgettable experience. Enjoy a cup of coffee while you browse through the shelves and find the perfect book for your date. It's a great spot to share your favorite books and discover new ones, making it the ideal date night in Portland.
Get Ready for Date Night in Portland
No matter what kind of date night you're looking for, Portland has something to offer. From romantic picnics and educational experiences to leisurely strolls and sweating through the best hikes in Portland, you'll surely find the perfect date night activity for you and your special someone. As you explore Portland's many offerings, you will be swept away in the city's beauty, just like a fairy-tale romance.