Best Breakfast Spots in Portland, OR
Posted by Jordan Matin on Wednesday, November 15, 2023 at 9:21:13 AM
By Jordan Matin / November 15, 2023
Comment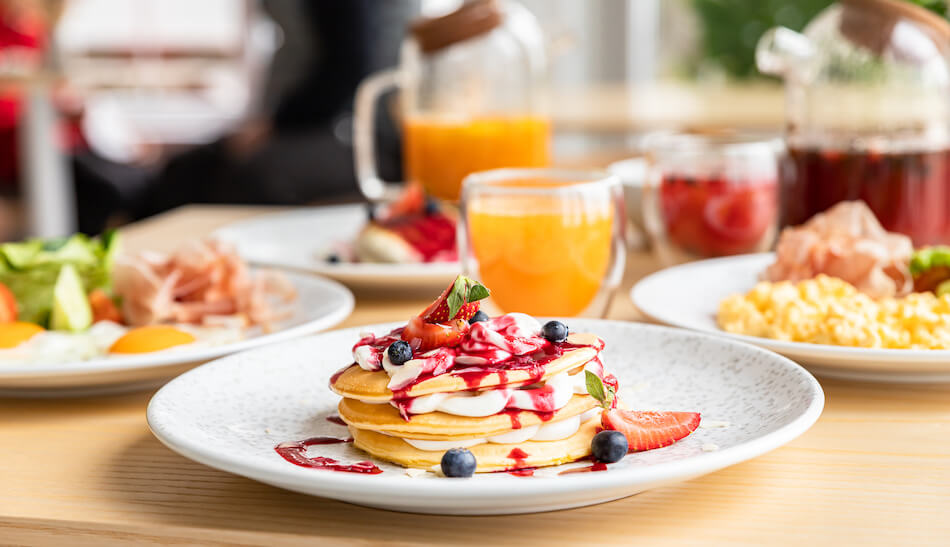 If you're looking for the best breakfast spots in Portland, OR, you don't have to look far. From the classics to innovative eateries in some of Portland's best neighborhoods, there's something for everyone. If you want to try some of the Pacific Northwest's best breakfast spots, Portland's got you covered.
Proud Mary Cafe
The first breakfast spot in this guide is also one of Porltand's best coffee shops: Proud Mary Cafe. It's the perfect spot for an indulgent breakfast, offering delectable ricotta hotcakes, quick green smoothies, and mouthwatering breakfast hashes. Whether you're looking for a leisurely morning feast or a grab-and-go breakfast, Proud Mary has you covered. Their ricotta hotcakes come with indulgent toppings like cardamom and beet syrup, and their breakfast hash is a crispy hash brown cake served with bagna cauda and delicious pork belly slices.
For those on the go, the cafe offers a pre-order sausage roll and flat white. And for those looking for a healthier option, there's a green smoothie that's perfect for post-workout refueling. Whenever you're in the Vernon neighborhood, drop by Proud Mary Cafe, and you'll understand why they're a local favorite.
Fried Egg I'm In Love
At Fried Egg I'm In Love, you can enjoy delicious breakfast sandwiches, burritos, and hash brown patties, plus delightful coffees, mimosas, and bloody marys. This renowned Portland spot has two brick-and-mortar locations—one in the Boise neighborhood and the other in the Hawthorne area—in addition to a food truck, and all of their locations are known for crafting the finest breakfast sandwiches around, each bearing a punny name and prepared with great care.
They also serve up the best vegan 'egg' sandwich in town, as well as a popular vegan breakfast burrito made with gluten-free oats, polenta, and vegetables. Whether you're a carnivore, vegan, or gluten-free eater, you'll find something to love at Fried Egg I'm In Love.
Masala Lab
Come to Masala Lab in Northeast Portland for an exciting, gluten-free Indian-American breakfast experience and taste the unique flavors of dishes like coconut milk tikka mole shrimp and grits. Led by Deepak Saxena of Desi PDX, the restaurant offers vibrant coffee served in colorful mugs to enjoy while you wait for your meal. The menu is exceptionally intriguing, featuring a wide range of dishes. You can try the Indian interpretation of shrimp and grits or the unique 'Saagshuka,' which is baked in a flavorful spinach curry.
It's worth noting that the entire menu is gluten-free and perfect for those with celiac disease. Located in the King neighborhood, Masala Lab stands out as one of the few breakfast restaurants in Portland that provide a completely gluten-free dining experience. Enjoy your meal with a hot or iced house chai and savor the intricate combinations of flavors and textures. For a truly unique breakfast experience, Masala Lab is the perfect spot.
Grits N' Gravy
Experience the delicious combinations at Grits N' Gravy, a Southern-inspired diner in Downtown Portland. Grits N' Gravy offers two mouthwatering variations of grits: creamy and buttered or fried and coated with molasses. The gravy comes in four varieties—sausage, red eye, country, and smothered onion—perfect for covering buttermilk biscuits, chicken fried steaks, or chicken fried pork chops. If coffee isn't your thing, bottomless sweet tea is also available. Plus, the atmosphere is relaxed and inviting, making it the perfect place to start your day just a block away from the historic North Park Blocks. Whether you're looking for a classic breakfast or something a little more unique, Grits N' Gravy is the place to go for a truly Southern experience.
Sweedeedee
Sweedeedee is the perfect spot to enjoy a unique brunch in Portland's Humboldt neighborhood, offering dishes ranging from French toast to beet salads. The French toast is a fan favorite, coated in caramelized sugar and served with berry jam. For those seeking a savory breakfast, the eggs, black beans, potatoes, and pickled onions combination is a must-try. For something lighter, the barley with celeriac and pecorino cheese is a great option.
Don't forget to try the breakfast sandwich filled with fluffy scrambled eggs and creamy cantal cheese. Sweedeedee has also recently added some seasonal dishes like tender beet salads with Aleppo pepper and sesame. The atmosphere is relaxed and inviting, making it the perfect spot to start your day. Don't forget to try their special coffee blends to complete your brunch experience.
Portland's Bountiful Breakfast Spots
If you're looking for the best breakfast spots in the city of Portland, you can't go wrong with Proud Mary Cafe, Fried Egg I'm In Love, Masala Lab, Grits N' Gravy, or Sweedeedee. Not only do these eateries offer delicious food; they're trendy and vibrant meeting places great for starting your day. So don't hesitate, grab your friends and go try out one of these top-rated spots for breakfast today!