Guide to 4th of July Fireworks & Fun in Portland, Oregon [2022]
Posted by Alicia Smith on Thursday, June 9, 2022 at 2:21 PM
By Alicia Smith / June 9, 2022
Comment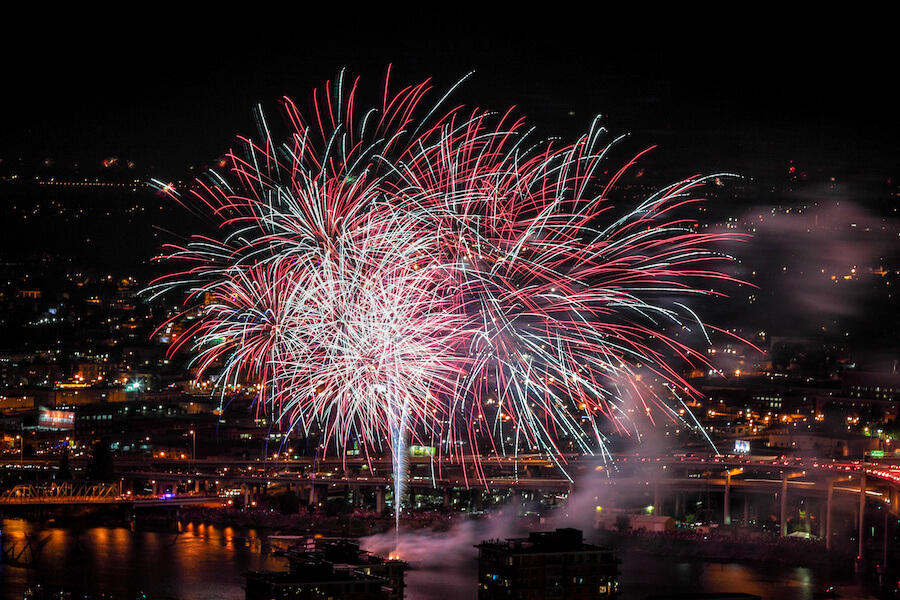 The city of Portland, Oregon, may not be the official birthplace of America, but you'd never know it by the way this city celebrates the Fourth of July. Festivities combine classic July 4th elements like fireworks with uniquely western Oregon activities such as rodeos and craft beer. No matter where you are in Rose City or how you prefer to honor the Founding Fathers this Fourth of July, it's all about the fireworks, food, festivals, and fun in Portland. Keep reading to discover where to watch fireworks on the Fourth of July and the events happening in and around Portland, Oregon, this year.
Where to Watch Fireworks in Portland
There's one thing louder than thunder during a pacific northwest rainstorm: Portland fireworks displays on the Fourth of July. It's safe to say the Oaks Amusement Park is the only place where it's possible to watch fireworks from atop a roller coaster, on a mini-golf course, or from a skating rink. This 117-year-old Portland family fun staple is extending its hours on July 4th so patrons can enjoy fireworks displays inside the park.
Sellwood Park is excellent for fireworks enthusiasts looking for a lower-key place to watch. The park is on a hill along the Willamette River, just south of downtown Portland, so visitors get a fantastic view of several fireworks displays. The park's paved pathways, picnic areas, and accessible restrooms make Sellwood Park an especially great choice for folks attending with young children and anyone using wheelchairs or strollers.
Another fantastic place to watch fireworks in Portland this year—this one well away from crowds—is Mount Tabor. A dormant cinder cone volcano, the park is naturally perched perfectly above the city, with head-on views of the nearby Waterfront Blues Festival. The view of downtown is also excellent from Mount Tabor, so there's a good chance of catching other displays.
Waterfront Blues Festival
As Portland's "largest and longest-running music celebration," the Waterfront Blues Festival is back in its 35th year with all the best music east of the Pacific. Those who attended in 2019 or the few years prior will see a similar lay of the land this year, with four stages spread across eight acres in Tom McCall Waterfront Park.
This year welcomes talents including Grace Potter, Galactic, Anjelika "Jelly" Joseph, Lady A, and Big Monti. Of course, it wouldn't be a festival without food, and there are plenty of vendors selling all types of cuisine and alcoholic and non-alcoholic beverages. Attendees can purchase a la carte tickets for each day or get different tiers of four-day passes, which include early admission and re-entry.
Location: Tom McCall Waterfront Park, 98 SW Naito Pkwy, Portland, OR 97204
Date/Time: July 1-4, 11 am – 10:30 p.m.
Price: $35 to $1,450 for VIP
Portland Craft Beer Festival
Portland doesn't need a special occasion to celebrate with some good craft beer, but pints taste a little better on July 4th at the Portland Craft Beer Festival. Since 2015, dozens of local breweries, from the internationally known to tiny startups, have descended upon the Portland Craft Beer Festival with some of their best beers, ciders, and wines on tap. The standout rule making this festival unique is that breweries must be located within Portland city limits to participate.
Keeping with the local theme and staying true to the city's roots, festivalgoers can fuel up between sips at many food trucks. Friday and Saturday are strictly for ages 21 and up, but little ones are welcome on Sunday for Family Day. Attendees are encouraged to find alternative, eco-friendly transportation to the festival via biking, rideshares, or The Portland Streetcar.
Location: The Fields Neighborhood Park, 1099 NW Overton St. Portland, 97209
Date/Time: July 1 – 2, noon – 10 p.m.; July 3, noon – 6 p.m.
Price: $30 general admission
Chamber Music Northwest's Summer Festival
The patriotic vibes will reach a crescendo at the Chamber Music Northwest's Summer Festival. The five-week musical extravaganza, held at various Portland venues, is loaded with talented musicians sharing native sounds and introducing new ones to the Pacific Northwest. On July 4th at the Kaul Auditorium at Reed College, composer Alistair Coleman will take listeners on a fitting journey back to America's English roots with the music of Edward Elgar, followed by a flute quintet performance.
Tickets to the Chamber Music Northwest's Summer Festival can be purchased a la carte or as part of a subscription. Attendees can even create their own festival series by picking and choosing performances they want to see.
Location: 1201 SW 12th Ave, Ste. 420 Portland, OR 97205
Date/Time: June 25 – July 31, Noon – 8 p.m.
Price: $50 – $812
Bonus: Lake Oswego 2022 Star Spangled Parade & Celebration
Step back in time this Fourth of July at the Lake Oswego 2022 Star Spangled Parade & Celebration. Community members transform themselves with costumes and keep history alive as they march down A Avenue and Second Street. The Girl Scouts, Boy Scouts, classic cars, a local fire engine, and a fife and drum band get in on the fun, too.
The parade finishes at Millenium Park, where there's a pie-eating contest, live music, face painting, balloon animals, and more all-ages fun. After taking a few hours to rest following the parade, the fun lasts well into the night at the Independence Day Illumination Concert & Laser Lights at nearby Foothills Park, also in the Lake Oswego community. Bring a lawn chair, grab a bite at one of the vendors, and enjoy the laser show, which will also feature a performance by the party band, Oncore.
Parade Location: Millennium Plaza Park, 200 First Street, Lake Oswego, OR 97034
Parade Date/Time: July 4, 10 a.m. – 1 p.m.
Parade Price: Free general admission
Laser Show & Concert Location: Foothills Park, 199 Foothills Road, Lake Oswego, OR 97034
Laser Show & Concert Date/Time: July 4, 8 p.m. – 10:30 p.m.
Laser Show & Concert Price: Free general admission
Bonus: St. Paul Rodeo
Five days, 1,000 competitors, and $500,000 in prize money. It's the highly anticipated annual Fourth of July St. Paul Rodeo. The first week of July represents the culmination of several months of volunteers' time and efforts in putting together a celebration of the iconic American cowboy and cowgirl. A carnival packed with vendors is right next to the arena, and there are fireworks every night.
Take a break from watching rodeo performances and enjoy the parade on the morning of July 4th. Stunning horses and classic cars will start at St. Paul High School and make their way through the streets of St. Paul. World-famous Dally and Spanky, AKA "The Tiny Trio" (an unlikely but adorable pairing of a miniature horse and a Jack Russell terrier), will also make several appearances throughout the day.
Location: Malo Ave NE, St. Paul, OR 97137
Date/Time: June 30 – July 4, 9 a.m. – 10 p.m.
Price: Tickets starting at $16
Fourth of July Fun in Portland
Portland has a vibrant, lively culture as it is, but the Fourth of July is one of the biggest celebrations of the year. Whichever of these events piques your interest, you'll have the opportunity to get a taste (in some cases, literally!) of authentic Portland and all-American Oregon.