PDX Airport Frequent Flyers: 8 Portland Suburbs Closest to the Airport
Posted by Alicia Smith on Monday, March 7, 2022 at 8:15 AM
By Alicia Smith / March 7, 2022
Comment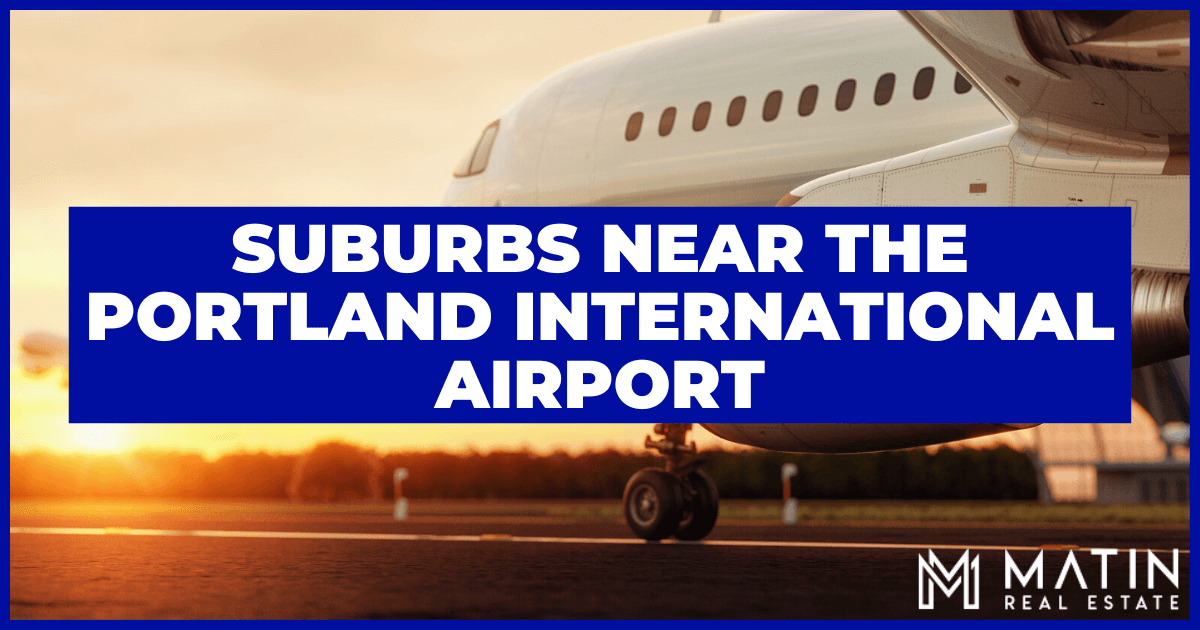 In the Pacific Northwest, the city of Portland, Oregon, offers locals and visitors a wealth of attractions and activities to enjoy. Living near Portland International Airport (PDX) makes it easy to fly in and out of the city for work and play. But where exactly are Portland's suburbs closest to PDX? Not only are Portland's suburbs steeped in history and culture, but they offer locals an exciting mix of outdoor recreation and affordable housing opportunities. Keep reading to learn about the eight Portland suburbs closest to PDX.
Fairview
Fairview Amenities
Community center
Annual events
More than 20 parks
Reynolds School District
Fairview is a suburb in Multnomah County, Oregon, located on the southern banks of the Columbia River. Residents enjoy proximity to waterways ideal for swimming, boating, and fishing, and access to the flower-strewn Blue Lake Regional Park keeps locals and visitors active throughout the year.
Bisected by the east-west flowing I-84, the northern portion of Fairview includes the waterfront community of Interlachen, situated between Fairview Lake and Blue Lake. Here, many Portland cottages and waterfront homes date back to the 1920s and occupy the shorelines of these two freshwater lakes. Other Fairview homes are among the most affordable on this list, with prices usually starting as low as $300,000 for a 1,500-square-foot house and ranging up to $600,000 for a home that measures approximately 3,000 square feet.
South of I-84, Fairview offers many shopping and dining opportunities, with Halsey Street serving as the main thoroughfare. Alexs-Bar, Bumpers Grill, and Stomping Grounds are a few hotspots in the area. Other local attractions include Salish Ponds, where visitors can fly fish, and the historic Columbia River Scenic Byway, where nature lovers can take in Oregon's beautiful scenery.
Getting to the Airport
Fairview residents can reach Portland International Airport via westbound I-84 to northbound I-205. The airport is located off exit 24-A, connecting Airport Way to Portland International's North and South Terminals. Travel time is approximately 15 minutes by car.
Clackamas
Clackamas Amenities
Access to routes 212 and 224
13 parks
North Clackamas School District
Clackamas' location near the Willamette River basin is one of its most appealing features, as the area offers many opportunities to boat and fish. Additionally, residents have access to green spaces in Clackamas' southern portion east of I-205 and south of U.S. Route 212. Riverside Park has two baseball diamonds and a beach along the Clackamas River, and the 18-hole Sah-Hah-Lee Golf Course provides views of Mount Hood. House styles range from ranch and bungalow homes to traditional, two-story Craftsman properties. Clackamas homes start at around $300,000 and may exceed $1 million.
In the northern section of town, Clackamas Town Center is home to one of the state's largest shopping malls. The center is near Camp Withycombe, one of the oldest military posts in the western United States. Two miles north of the camp, Mount Talbert Nature Park is the site of an extinct volcano, where a forested ridge trail is carved out of the volcanic cinder cone and spans four miles.
Getting to the Airport
Travelers moving through Clackamas can take northbound I-205 to exit 24-A. Then, they can merge onto Airport Way, the main service road connecting Portland International Airport. The route takes about 15 minutes from the intersection of I-205 and U.S. Route 212 near the center of Clackamas.
Vancouver, WA
Vancouver Amenities
1,600 acres of parkland and natural areas
Columbia River
Vancouver Harbour
Schools served by Vancouver Public Schools
Annual and seasonal events
Located in the southwest corner of Washington state, the city of Vancouver is situated at the confluence of the Columbia and Willamette rivers and forms part of the Portland-Vancouver metropolitan area. Here, residents take advantage of the city's numerous urban parks and cultural atmosphere. The Waterfront Renaissance Trail, for instance, is a scenic bike and pedestrian path that follows the Willamette River into vibrant downtown Vancouver. Top-rated shops and restaurants along Main Street include Amaro's Table, Little Conejo, and Joe Brown's Cafe. Meanwhile, Esther Short Park is a prime spot for live music and picnics.
Pearson Air Museum and Fort Vancouver are two famous landmarks in the city. They're joined by the Vancouver National Bank Building, a historic structure built circa 1906, which houses a glass art gallery and studio. These venues are surrounded by an eclectic mix of homes, including Vancouver new construction homes and condominiums. Home prices typically range from $400,000 to $1.3 million, with a handful of larger residences going for $3 million or more.
Getting to the Airport
When traveling to Portland International Airport from Vancouver, drivers can head east on U.S. Route WA-14, otherwise known as Lewis and Clark Highway. From there, they can merge onto southbound I-205 and exit onto Airport Way via ramp 24-A.
Gresham
Gresham Amenities
33 parks
Gresham Farmers' Market
Served by three school districts
Two public libraries
The city of Gresham is a prime location for those looking to be close to Portland International Airport. It has plenty of scenic parks and trails to enjoy, such as Hogan Butte Nature Park, known for its sweeping views of snow-capped Mount Hood.
Shopping and dining are popular pastimes in Gresham, especially at Gresham Station, a shopping center featuring upscale retailers, casual restaurants, and specialty boutiques. Meanwhile, the Historic Main Street District is lined with brick buildings, elm trees, and flower baskets hanging from vintage street lamps. This charming setting is home to cafes, bistros, pubs, and art galleries. Local favorites include Boccelli's, serving Italian dishes; Sugar Cubed Cakes, known for its homemade confections; and Spinellas, an airy restaurant and live music venue located in a converted church.
Gresham is also home to several sites designated on the National Register of Historic Places. These include the Gresham Carnegie Library, the Louise Home Hospital and Residence Hall, and other historical structures built in Queen Anne Victorian architecture. Many affordable, single-family properties add variety to Gresham's diverse architectural scene, with Craftsman, Ranch, and Cottage homes among the most prevalent. These typically range in price from $200,000 to $800,000, with stately homes listed on the market at $1 million or more.
Getting to the Airport
To access Portland International Airport from Gresham, travelers can head north on SE 223rd Avenue and connect to westbound I-84 at the highway junction. Then, they can merge onto I-205 North and take exit 24-A toward Airport Way, where they'll find the airport's North and South terminals. The total travel time is approximately 20 minutes by car.
Happy Valley
Happy Valley Amenities
11 parks
Happy Valley Library
Public art
Community events & programs
Established in 1965, the city of Happy Valley is one of the newer suburbs of Portland. It's east of I-205 and north of U.S. Route 212 near the Clackamas River. Residents enjoy the suburb's rolling hills, plus a variety of shopping and dining opportunities at the Happy Valley Towne Center. Additional restaurants, bars, and cafes are along Sunnyside Road on Happy Valley's southern flank. These include Biscuits Cafe, a popular breakfast spot; Valley Public House, a bar with a large tap list; and Happy Valley Station, an indoor/outdoor dining experience with 18 different food trucks.
In addition to culinary treats, Happy Valley residents take advantage of the area's many green parks and nature trails. Hidden Falls Nature Park, for instance, is distinguished for its rugged loop trail, natural beauty, and timber bridge that offers a waterfall view. Community events include Oktoberfest and a summer concert series at Happy Valley Park. Housing opportunities range from gated community homes to luxury, new construction properties priced from around $300,000 to $900,000. However, stately homes sitting on large lots can go for more than $2 million.
Getting to the Airport
To reach Portland International Airport from Happy Valley, drivers can head west through town on a major thoroughfare like Foster Road or Powell Boulevard, then connect to northbound I-205. Portland International is located off exit 24-A and takes approximately 20 minutes to arrive by car.
Milwaukie
Milwaukie Amenities
Willamette River
Providence Milwaukie Hospital
Homewood Park
Historic Milwaukie
The city of Milwaukie has come a long way since the early 1900s when it was little more than a lumber mill town on the banks of the Willamette River. This growing suburb is home to a vibrant downtown district, complete with trendy shops, cafes, and restaurants.
Known as the birthplace of the Bing cherry, Milwaukie's small-town charm is reflected in its historical structures, including the Milwaukie Masonic Lodge and Milwaukie City Hall, dating back to 1922, and 1938, respectively. Popular venues in the area include Gramma's Corner Kitchen, Spring Creek Coffee House, and the Milwaukie Farmers Market, which opens seasonally from May through October every year.
Residents also enjoy a free summer concert series held in Ardenwald Park and Scott Park, while Elk Rock Island on the Willamette River has bird watching, hiking, and fishing activities for those searching for Portland outdoor activities. The Orange Line from TriMet's light rail system, completed in 2015, is credited with sparking a housing boom in Milwaukie, where popular home builders in Portland are building new apartments, condos, and single-family residences. Home prices generally range from $250,000 for a small fixer-upper to $1 million for a large property with luxury appointments.
Getting to the Airport
The drive to Portland International Airport from Milwaukie takes about 25 minutes to complete. Travelers heading there from the eastern part of town can take I-205 north to exit 24-A, which connects Airport Way to PDX's North and South terminals. Travelers from the west side can hop on northbound OR-99E and merge onto eastbound I-84. From there, they can take exit 8 toward northbound I-205.
Oregon City
Oregon City Amenities
24 parks
Willamette River
Oregon City School District
Historic downtown
Pioneer Center
Situated southwest of Portland, Oregon City was established in 1829 by the Hudson's Bay Company, making it one of the oldest cities in Clackamas County. Today, this thriving Portland suburb is home to impressive museums and other historic sites. Two places of interest, in particular, include the Museum of the Oregon Territory and the End of the Oregon Trail Interpretive Center, both of which offer exhibits dedicated to local culture and history.
Oregon City has over 22 parks that offer a wide range of activities for outdoor lovers. At Clackamette Park, residents can go boating on the Willamette River while golfers can tee off at Oregon City Golf Club in the suburb's southeast corner. These attractions sit minutes away from Oregon City's affordable homes, including modern bungalows and Craftsman-style properties. Home prices in Oregon City generally range from $400,000 to $900,000, with larger estates on acreage going for $1 million or more.
Getting to the Airport
Portland International Airport is located about 20 minutes away by car from Oregon City. Travelers can take northbound I-205 and exit toward Airport Way via ramp 24-A, which leads to the airport's North and South terminals.
Lake Oswego
Lake Oswego Amenities
24 parks
Oswego Lake
Lake Oswego Public Library
Annual events
27 neighborhoods
Located south of Portland, the city of Lake Oswego served briefly as Oregon's main hub for iron production in the late-19th century. Named after the lake it surrounds, this Portland suburb is now a thriving cosmopolitan area known for its world-class facilities, schools, and large waterfront homes.
The city's picturesque downtown area is home to various upscale restaurants and art venues, including Nicoletta's Table and Marketplace, Five Spice Seafood + Wine Bar, and the artsy Lake Theater & Cafe. Other establishments that reflect the city's commitment to the arts include the Arts Council of Lake Oswego, which offers a public art program for residents, and the Lakewood Center for the Arts, where locals and visitors can enjoy an array of theatrical productions and art exhibits.
In addition to golfing opportunities at the Lake Oswego Public Golf Course and the Oswego Lake Country Club, residents can enjoy live music, dance performances, oil painting, and more at Millenium Plaza Park in the historic downtown core. The city's dynamic housing market serves as a gateway to its world-class attractions, with spacious condos and standalone homes starting at around $300,000 and ranging up to $1 million. By comparison, waterfront homes on the lake typically start at $2 million and go for more than $3 million.
Getting to the Airport
It takes about 15 minutes to travel to Portland International Airport from Lake Oswego via car. Travelers can take OR-43 North to I-84 East. From there, they can hop on I-205 North and merge onto Airport Way via exit 24-A.
Find Home Near the Portland International Airport
Each suburb closest to PDX has a unique identity, history, and charm. For those considering moving to Portland or its surrounding area, these suburbs near Oregon's largest city are excellent choices for their affordable homes, vibrant downtowns, and easy access to Portland International Airport.
If you're inspired by the opportunities in Portland, Oregon, contact Matin Real Estate at (503) 622-9601 to get in touch with a local real estate agent and find the ideal Portland home for you today.