Top 6 Parks in Portland: Find Scenic Parks & Portland's Best Playgrounds
Posted by Alicia Smith on Thursday, February 24, 2022 at 3:35 PM
By Alicia Smith / February 24, 2022
Comment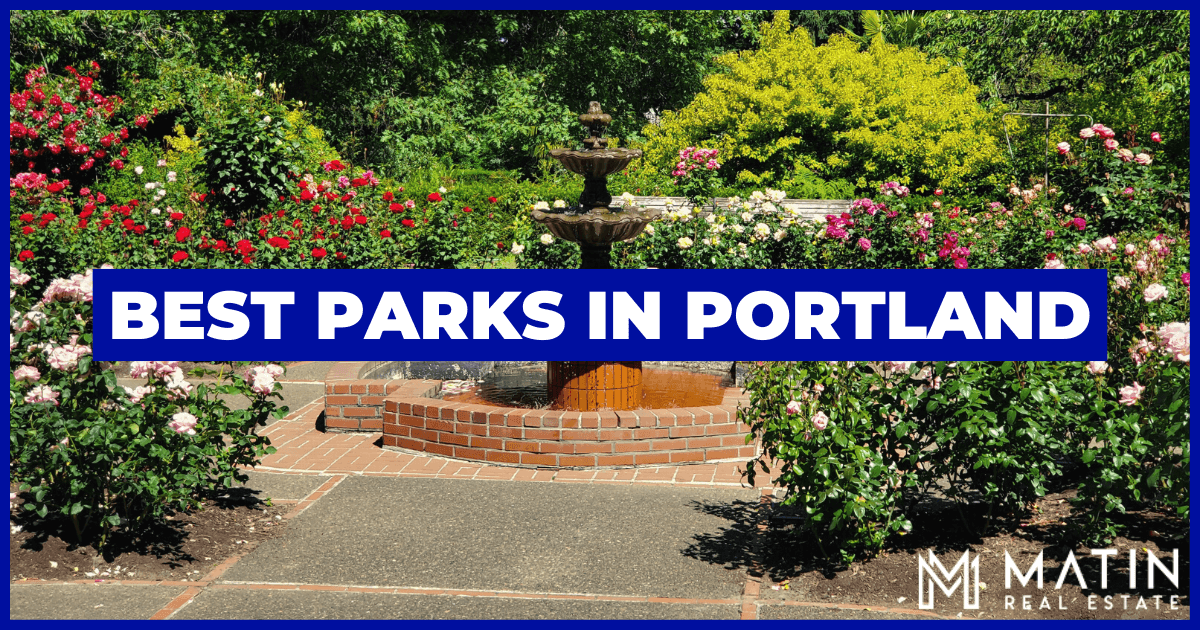 As one of the largest cities in the northwest United States, Portland outdoor activities are always abundant. People moving to Portland will find a community that is welcoming to newcomers, especially given the steady population growth over the last thirty years.
Despite the increase in people, the city of Portland remains dedicated to maintaining green space. That means plenty of public parks and fresh air activities for residents and visitors alike. Anyone seeking to build new construction homes or waterfront homes would be wise to consider locations near one of the many outside recreation areas. Proximity may make creating healthy habits like hiking, swimming, and other activities more accessible. Keep reading to learn about the best parks in Portland.
Washington Park
Only minutes away from downtown and the Portland Heights neighborhood, Washington Park is an assembly of some of the best possible outdoor activities. On more than 5000 acres, the facility includes the Oregon Zoo, two museums, and two gardens. With around 2,600 animals, the Oregon Zoo is a favorite stop for curious minds of all ages. The Portland International Rose Test Garden features more than 10,000 roses and fabulous views of the city skyline.
The World Forestry Center Discovery Museum is a zoo for trees. Visitors can view forests from all over the world and learn valuable lessons about sustainability. Plant lovers can also treasure the Portland Japanese Garden. The grounds host eight different gardens based on varying themes around Japan. Exhibits include a flat garden, a ceremonial teahouse, and a sandstone garden.
Visitors should know that there is very little parking available near Washington Park. It is best to access the site via light rail, bus, or a free shuttle.
Washington Park Additional Information
Address: 4033 SW Canyon Rd, Portland, OR 97221
Hours: 5 a.m.–10 a.m.
Mount Tabor Park
Part of the Mount Tabor neighborhood, Mt. Tabor Park is about 15 minutes east of the Downtown Portland area. At just over 176 acres, the area doubles as a gathering place and a great place for exercise. Groups can enjoy the picnic area, including a shelter and tables. Youths can run for hours within a playground near the northern end.
Looking for exercise? Challenge your opponents to a rousing game of tennis, basketball, horseshoes, or volleyball. Hiking is another favorite, with both paved and unpaved paths. The shortest of the trails is the 1-mile Red trail, while the more challenging Blue trail is about 3 miles. Much of the park is also ADA accessible, providing an avenue for fresh air for those with mobility issues.
Finally, pet owners will appreciate the Portland dog parks here.
Mount Tabor Park Additional Information
Address: SE 60th Avenue and Salmon Street Portland, OR 97215
Hours: 5 a.m.–12 a.m.
Forest Park
The first thing to know about Forest Park is that it is enormous. One of the most extensive urban forests in the country, the area is more than 5,000 acres. That includes more than 80 miles of great paths for hiking, biking, nature walks, and more. Drivers can park in designated areas for free, but many trails are not near these spaces.
The trails are one of the best features of the homes near Forest Park. Visitors are encouraged to try out one of the most popular paths, the Wildwood Trail. As a National Recreation Trail, it provides beautiful forests and the nearby Tualatin Mountains. Those new to hiking will also appreciate the trail markings every .25 mile. Also, all dogs must remain on a leash.
With more than 40 separate entrances and miles of trail, it is almost possible to have a different hiking experience every time. The park stretches alongside the Willamette River from downtown to more than seven miles north.
Forest Park Additional Information
Address: Portland, OR 97231
Hours: 5 a.m.–10 a.m.
Tom McCall Waterfront Park
Tom McCall Waterfront Park boasts gorgeous waterfront views and many fun things to do on the Willamette River. As an urban park, it stretches along between downtown and the Willamette River. It is a smaller space at only about 30 acres, and it contains several statues and public art exhibits. Boating is another popular activity, with a local dock providing nearby access.
One of the most popular features is the Bill Naito Legacy Fountain. The device is interactive, with some water spouts that respond to visitors. The Waterfront Park Trail runs the entire distance of the park right next to the water. This path is popular for human biking, hiking, and dog walking excursions.
Tom McCall Waterfront Park Additional Information
Address: 98 SW Naito Pkwy, Portland, OR 97204
Hours: 5 a.m.–12 a.m.
Cathedral Park
Established in 1968, Cathedral Park is just under 22 acres. It is located on the Willamette Riverbank, about 18 minutes north of downtown. Much of the green space is located under the St. Johns Bridge in the Cathedral Park neighborhood, and the park draws its name from the Gothic-style arches supporting the structure.
Despite its small size, the park offers many great features for visitors. The small outdoor stage is famous for hosting the Cathedral Park Jazz Fest during the summer. The north end of the park also has a boat ramp that is popular for events such as weddings. Daily guests can enjoy picnic tables and an off-leash dog park area.
Anyone looking for exercise can enjoy the two-mile paved Cathedral Park Trail offering fresh air exercise in full view of the river.
Cathedral Park Additional Information
Address: N Edison Street and Pittsburg Avenue Portland, OR 97203
Hours: 5 a.m.–12 a.m.
Laurelhurst Park
About 3.4 miles east of downtown, Laurelhurst Park is a small urban park surrounding Firwood Lake in the Laurelhurst neighborhood. At just under 27 acres, the green space includes a basketball court, soccer field, volleyball court, and tennis area. That makes it a popular location for weekend athletes and those looking to sweat in the open air. More tame competitors may prefer the horseshoe pit or hiking through one of the paved or unpaved paths.
Groups may choose to gather at the picnic tables or attend a summer show on the outdoor stage. One of the park's most popular features is the off-leash dog area. On the other side of SE Oak St, the park playground is a great attraction for neighborhood youths.
Laurelhurst Park Additional Information
Address: SE Cesar E Chavez Blvd & Stark St, Portland, OR 97214
Hours: 5 a.m.–10:30 p.m.
Enjoy Plenty of Parks in Portland
Playing outside can be one of the most rewarding and stress-relieving low-cost experiences. With Portland's commitment to maintaining green spaces, residents and visitors to the community will have plenty of fresh air options for years to come.
If you're inspired by the opportunities in Portland, Oregon, contact Matin Real Estate at (503) 622-9601 to get in touch with a local real estate agent and find the ideal Portland home for you today.