5 Best Parks in Beaverton: Explore Hyland Forest Park, Tualatin Valley Park & More
Posted by Alicia Smith on Wednesday, February 8, 2023 at 11:25 AM
By Alicia Smith / February 8, 2023
Comment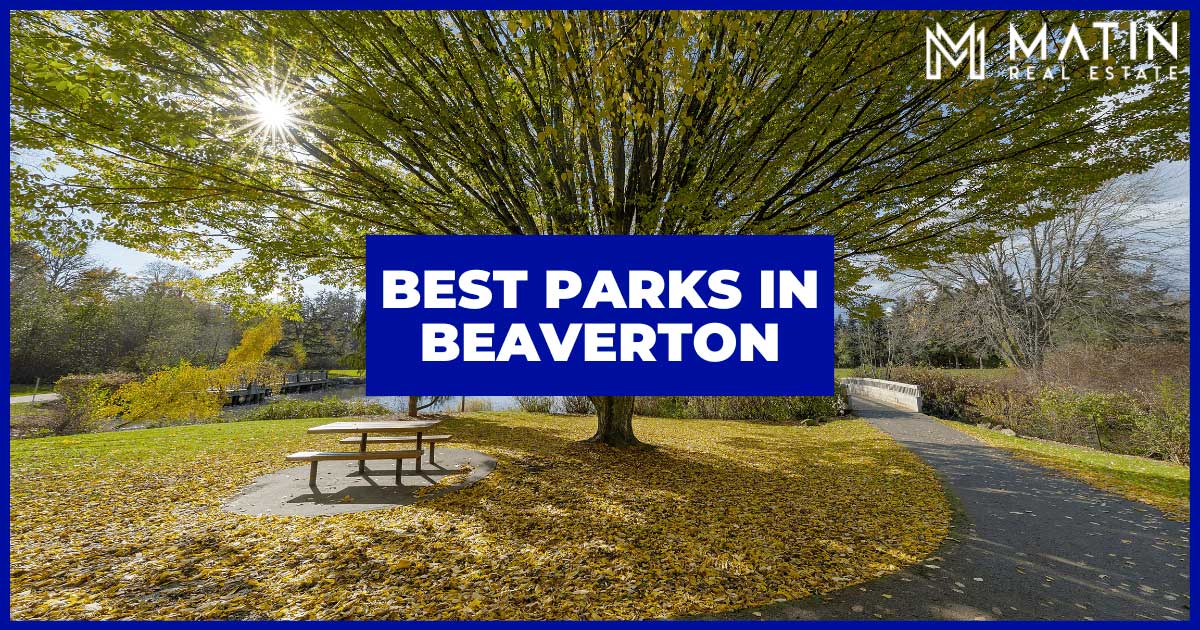 The city of Beaverton and its neighborhoods are lined with some of the best parks in Northern Oregon. From the sprawling 222 acres of protected wetlands and trails at Tualatin Hills Nature Park to the panoramic views at Cooper Mountain Park, residents have plenty of outdoor options. Hyland Forest has a unique interactive natural play area for children and adults. Greenway Park is known for its inclusive disc golf course, and Cedar Hills Park accommodates sports like tennis, golf, basketball, Bocce ball, and volleyball. However you like to spend your time outdoors, you'll likely find an outlet in one of the best parks in Beaverton.
Tualatin Hills Nature Park
Claiming over 222 acres of protected wetlands and animal habitats, Tualatin Hills Nature Park is truly the jewel of Beaverton and West Portland. A sanctuary in the middle of the suburbs, this forested park is easy to get to via the TriMet and is open all year.
Near the Millikan Way parking lot entrance, the Tualatin Hills Nature Center has exhibits showing the area's history and explaining what types of fauna and wildlife visitors can expect on the trails.
A selection of asphalt, woodchip, and plank walking trails make Tualatin Hills Nature Park both pleasant and accessible. There are six official trails here, and all of them have 'Easy' ratings. Oak and Vine Maple trails are Universal Access Trails, meaning everyone can use them. Various footbridges take you across Beaverton Creek, and the scenic Old Wagon Loop is lined with Douglas Firs, perfect for photography and quiet walks. The exception to this is the Oak-Old Wagon trail, which stays busy.
Downtown Beaverton and Cedar Creek Mill have direct access to the nature park, but all of Beaverton's suburbs are close by. To further protect wildlife and their habitats, pets are prohibited at Tualatin Hills Nature Park.
Popular Trails
Vine Maple to Serviceberry Loop: 1.9 Miles, Easy
Oak to Old Wagon Loop: 2.8 Miles, Easy
Oak Trail: 1.5 Miles, Easy
Hyland Forest Park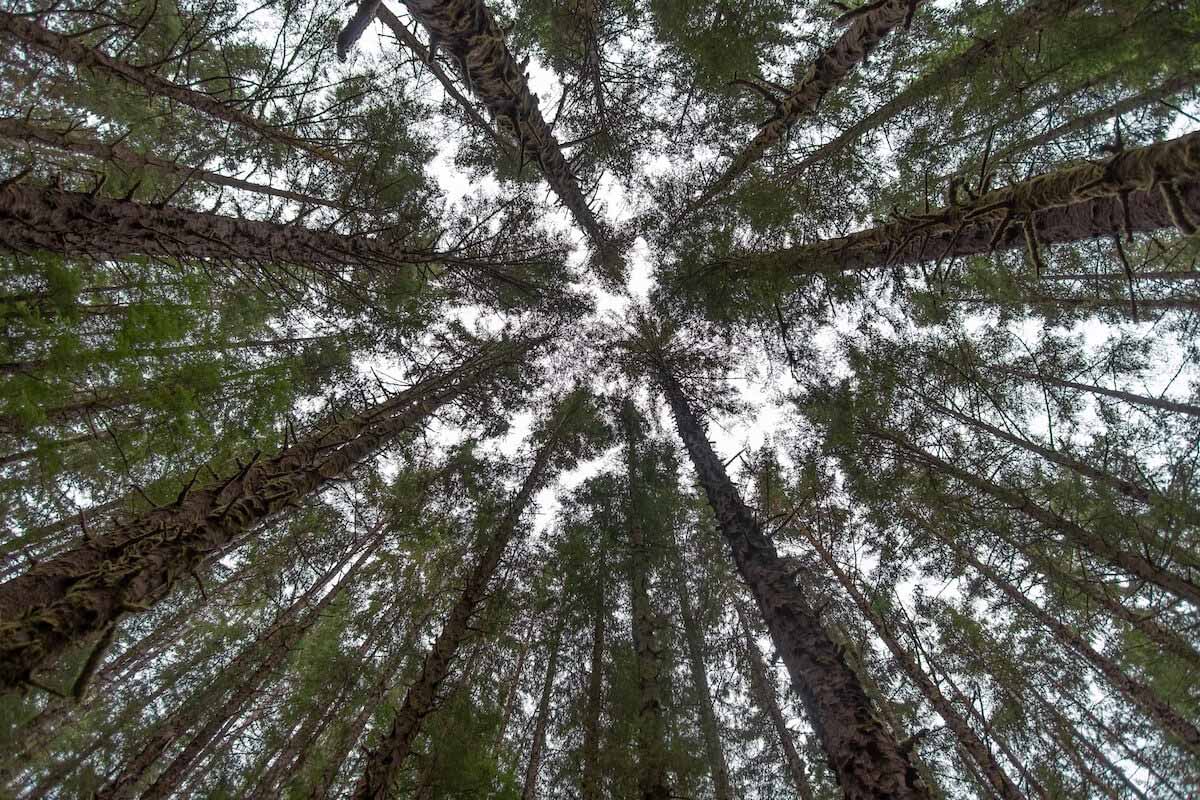 Hyland Forest Park contains 30 acres of mature forest in the South Beaverton and Highland neighborhoods. While Tualatin Hills might be the pride of Beaverton, Hyland Forest is a beloved local secret, less crowded, and just as abundant in wildlife.
In the southeast section of the park, the Hyland Woods Natural Area is home to a nature play space, a 1.5-acre section marked by blue posts. This area is unique because interaction with the natural environment is encouraged, like using logs to build forts or birdwatching off-trail.
The primary trail here is the Hyland Forest Park Loop, an easy, dog-friendly path perfect for all skill levels on a gentle grade with a few flat spots and some very steep sections. The trail is mostly gravel and has several established inner dirt paths. The mile-long outer loop leads past a small but beautiful lake. Locals know the loop trail is excellent for hiking and running and is less busy than others, especially on weekdays.
Cooper Mountain Nature Park
Cooper Mountain Nature Park is 232.55 acres of natural paradise on the edge of Beaverton. The park consists of conifer forests and oak woodlands, which are easy to explore from maintained gravel trails. Several areas overlook the Tualatin River Valley, where visitors can snap panoramic pictures of the Chehalem Mountains.
While hiking throughout the park, guests will come across Oregon White Oaks and a small prairie, undisturbed for hundreds of years, located to the right of Little Prairie Loop. All trails here are well-maintained with gravel, marked with directional signage, and capped with a park map to assist with navigation. The paths at Cooper Mountain also have interpretive signs with information about the region and features of interest.
Cooper Mountain Nature Park has a Nature House right off the large parking lot, with accessible restrooms, a drinking fountain, and children's play areas. Horses, dogs, and bicycles are prohibited along the trails to maintain the habitat and protect wildlife.
Popular Trails
Little Prairie Loop: .75 Miles, Easy, Wheel Chair Accessible
Little Prairie and Blacktail Way: 1.4 Miles, Easy
Cooper Mountain Loop: 2.73 Miles, Moderate with Steep Grades
Cedar Hills Park
Cedar Hills Park has 11 acres of tall, mature trees stretching between downtown and the quiet community of Cedar Hills, two of the most walkable neighborhoods in Beaverton. Across from William Walker Elementary, parkgoers can use the school's play area during evenings and weekends. Beautifully redeveloped in 2008, Cedar Hills Park includes the following amenities:
A multipurpose synthetic sports field
Bocce ball courts
Volleyball court
Lighted tennis courts
Playground
Interactive splash pad
Picnic areas
A community garden
Concessions building
Paved walking trails
With so many sporting and game options at Cedar Hills, this park is nearly always bustling with people and pets. Visitors will also find a 0.24-mile paved trail for bike riding, walking, or jogging. Thanks to the park's centralized location, it's easy to fuel up on snacks and refreshments from nearby Coffee Rush, a local favorite. Cedar Hills Crossing shopping mall is just a bit further down SW Cedar Hills Boulevard, so consider making a day of it.
Commonwealth Lake Park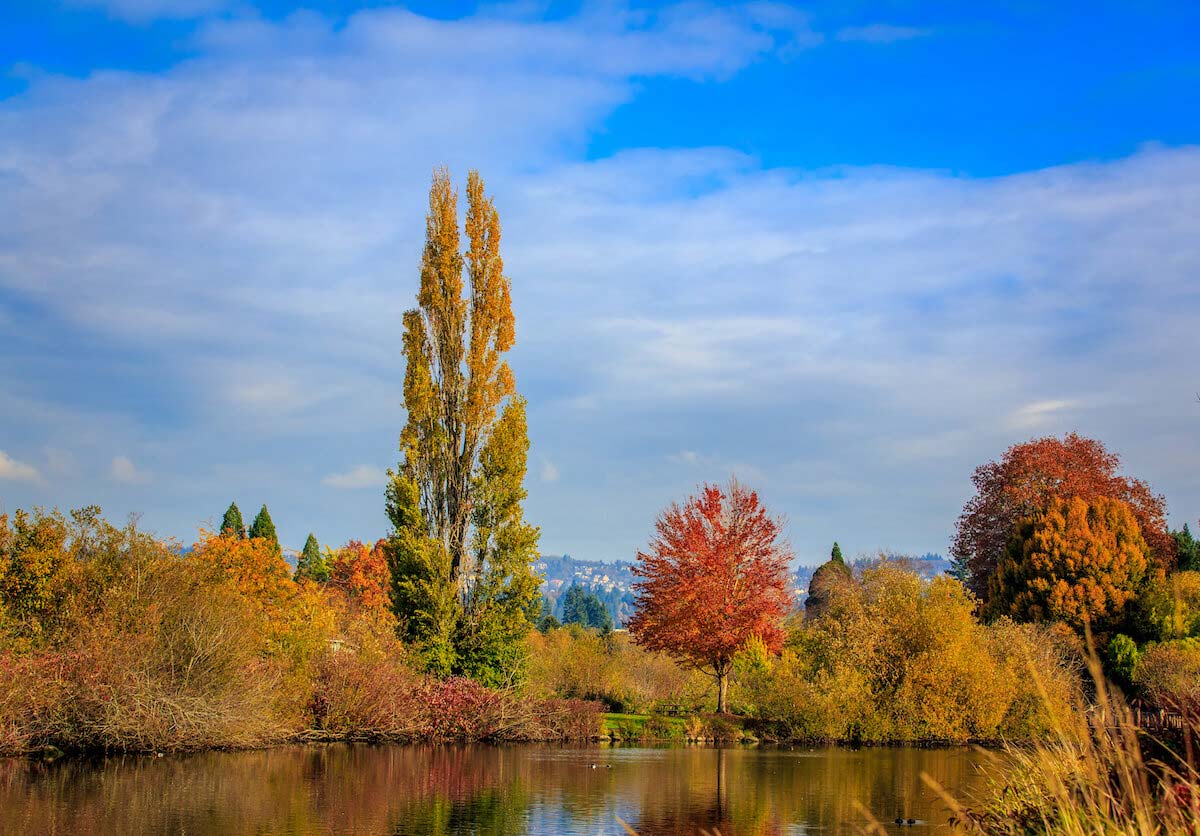 Less than a mile away from Cedar Hills Park, Commonwealth Lake Park spans more than 20 acres, all of it centered around its eponymous lake. A paved, flat trail circles the lake, and at 0.8 miles, it's one of the easier walking paths around Beaverton.
One of the biggest draws to the park is the local bird population. Stop at one of the benches, and you can spot a variety of waterfowl and other birds, including green and great blue herons, cedar waxwings, warblers, and multiple species of ducks.
Fishing is also permitted in the lake. The Oregon Department of Fish and Wildlife ensures there is plenty of trout to catch each spring. Some other species may also get hooked year-round, including bass, crappie, catfish, and bluegill.
There's a playground at the west end of the park, and the east end of the park connects to Foothills Park across SW Huntington Avenue. The best way to access the park is on foot, as there isn't a dedicated parking lot.
Greenway Park
Claiming an impressive 87 acres, Greenway is a bustling park beloved by all of Beaverton's neighborhood residents. Located in the center of Beaverton's Greenway community, Greenway Park is just between SW Hall Blvd. and SW Scholls Ferry Rd. at the district's southern end. On the park's east side is the Koll Center Wetlands Natural Area, an excellent spot to birdwatch.
Locals know Greenway Park as the place to play disc golf. Everyone can use the nine-hole course, which is excellent for all levels. The course map and rules can be found posted on signs. Because dense wetlands border the disc golf course, there is occasional flooding after heavy rain.
Amenities at Greenway park include:
Picnic tables with scenic views
Basketball and tennis courts
Soccer and baseball fields
Six different playgrounds for children
An exercise area
There is no official parking area—many visitors park at the edge of the Albertson's parking lot or on the streets to the west of Greenway Park. The underpass at Scholls Ferry Road tends to flood during the rainy seasons, so plan accordingly.
Fanno Creek Trail
Starting in Greenway Park, the Fanno Creek Trail is a little slice of wilderness that runs through Beaverton's Vose neighborhood and parts of the city of Tigard. At 8.3 miles one way, most people only complete a section or two of this trail since it runs through several neighborhood parks in each city. Most of the trail is paved, and parts of the route are on city sidewalks.
While Fanno Creek Trail is excellent for walking, hiking, or biking, visitors will also find benches for lounging and scenic meadows for picnicking. Look for wildlife like beavers, hawks, woodpeckers, songbirds, and deer right from the pathway.
Popular sections of the trail include:
Denny Road to Scholls Ferry Road: 3.6 Miles, Moderate
Garden Home Recreation Center to Denney Road: 4.9 Miles, Moderate
Choosing the Best Parks in Beaverton
Adventure is never far, no matter where you are in Beaverton! From the serene 222 acres of protected wetlands and accessible trails at Tualatin Hills Nature Park to the picture-worthy views at Cooper Mountain Park, living in Beaverton means experiencing the best of Northern Oregon. Whether you like getting lost in nature, walking, biking, or sports like basketball or tennis, you'll have plenty of places to express yourself at one of Beaverton's parks and trails.