Portland Outdoor Activities: 26 Outside Adventures in Rose City
Posted by Alicia Smith on Thursday, December 9, 2021 at 3:32 PM
By Alicia Smith / December 9, 2021
Comment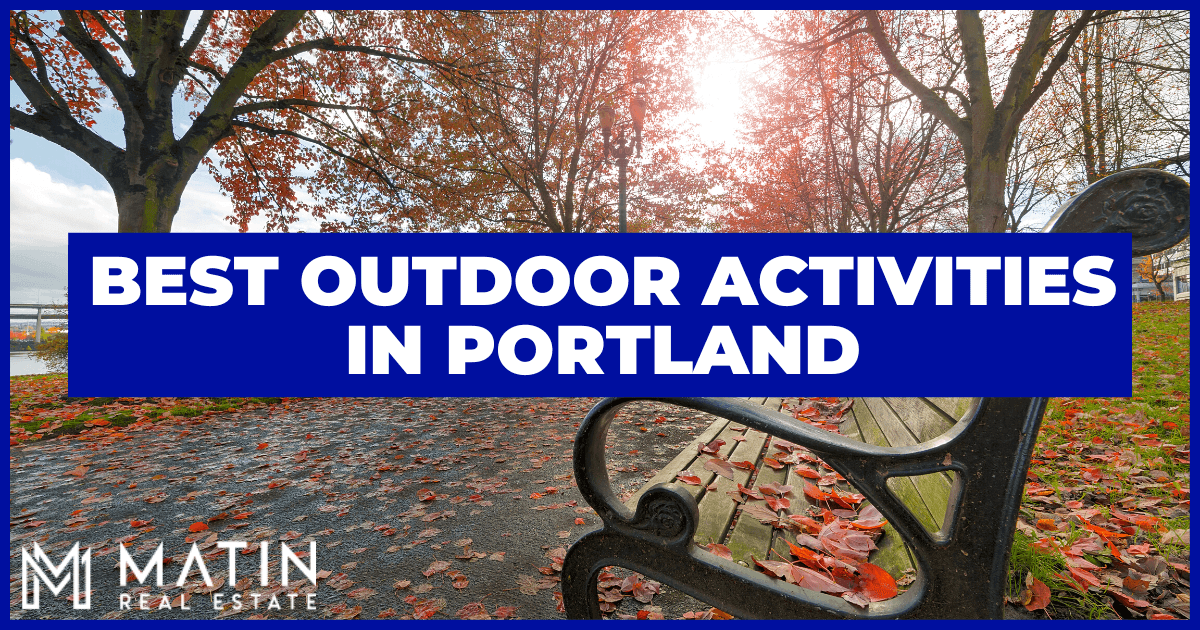 Portland is known for outdoor fun. With the city situated around two rivers, water activities are found in almost every season. Thanks to Mount Hood, it's home to some outstanding skiing areas. When looking for things to do in Portland, the outdoor activities are sure to delight. For those considering buying real estate in Portland, it helps to know where to find adventure in the area. Keep reading for a complete overview of the exciting outdoor activities in Portland.
Water Recreation in Portland
Portland Water Recreation Locations
Columbia River
Willamette River
Scappoose Bay
Columbia River Gorge
Clackamas River
Sandy River
The miles of riverfront provide near-endless opportunities for outdoor recreation in Portland. The Columbia River and the Willamette River both course through Portland city limits. Whether through a guided trip or alone, kayaking creates a memorable way to see the cityscape and the surrounding nature. For many, activities on the Willamette River are hard to beat. There are beaches along the riverfront as well as various docks for fishing. Several kayak rental companies (and tour companies) exist along the waterfront, including the John's Landing neighborhood. It's also possible to kayak in the Scappoose Bay and the Clackamas River.
Stand-up paddleboarding is a popular outdoor water activity as well. It's possible to take lessons from various rental companies, or many people head out to give it a try. The Scappoose Bay Paddling Center and Sellwood Riverfront Park make for outstanding options.
For those looking for more adventure, windsurfing is an option from spring through fall. Perhaps the most popular location in the area is at the Columbia River Gorge, about 30 miles to the east of Portland. This is an excellent area to see waterfalls, too.
There are numerous whitewater rafting opportunities here, including along the Clackamas River and Sandy River, offering equipment rental options through various providers. For fishing fun, check out any of the docks along the Willamette River, which is one of the few in the country that offer both steelhead and salmon fishing. Both the Clackamas River and Sandy River also provide outstanding options for fishing, including for cutthroat, rainbow trout, and coho salmon.
Portland Hiking & Biking Trails
Popular Portland Trail Locations
Columbia River Gorge
Forest Park
Classic Waterfront Loop Ride
Art of Foster Ride
The rivers and waterfronts are just the start of the outdoor fun here, especially since most of those mentioned provide excellent opportunities for hiking along those waterways. The Columbia River Gorge is a favorite location for hiking. It's possible to hike to several falls here, including Multnomah Falls, Sheppard's Dell, and the Bridal Veil, among other locations. Beacon Rock is one of the peak points to reach, which provides impressive views of the surrounding area.
The city also offers urban hiking options, and these can be some of the best trails for those who want a quick run or a long walk with a dog. Throughout the downtown area are wide sidewalks ideal for walking. Many of the best neighborhoods in Portland are intertwined with scenic hiking and biking trails.
In the city, many parks offer trails, including Forest Park, which offers 80 miles of paths. The most notable paths include the Wildwood Trails and link various local attractions, including Pittock Mansion and the Audubon Wildlife Sanctuary. Also, consider the Intertwine Trail, including the trail and parks and open green spaces.
The city has numerous bike trails available for those who want to bike. That includes the Classic Waterfront Loop Ride, which is over 10 miles of mostly flat, paved trails along a scenic route along the Willamette River. Another option is the Art of Foster Ride, nearly six miles of paved trails along some of the city's streets. Several other biking trails take residents through North Portland, Ladd's Key, and the city's natural areas.
Portland Parks
Popular Portland Parks
Director Park
Mills End Park
Tom McCall Waterfront Park
Jamison Square
Forest Park
The Grotto
Leach Botanical Gardens
Portland has many green spaces open to the public, whether in playgrounds and fitness facilities or open fields of flowers with dirt paths. Director Park is one of the best parks in the Downtown Portland area. There's a nice seating area and a fountain in the center, and some summer events take place here. Mills End Park is another in the city's heart and sprang up after a resident planted flowers in a pothole in the area, creating a tiny but respected park. The Tom McCall Waterfront Park is a popular option for in-line skating and jogging. It's also home to the Salmon Street Springs, a fountain with changing patterns. It offers a 1.5-mile walking path along the river and is home to various festivals throughout the year, including the Portland Rose Festival.
Visit Jamison Square, a fun kids' park with impressive public art in the Pearl District. It's also home to the Portland Streetcar line. Forest Park, famous for its hiking trails, also has beautiful natural habitats and open park space. Washington Park is also in the Northwest Portland district. It's a 410-acre park with a zoo, rose garden, two museums, and an authentic Japanese garden.
In the East Portland area, The Grotto is a local treasure with 62 acres of botanical gardens to explore. There are several cliffside vistas here, along with deep woods with a natural gallery tucked into them. The architecture throughout these gardens is breathtaking. Nearby is Leach Botanical Gardens, with over 2000 species of plants spread across nine acres of land.
Golf Courses in Portland
Popular Portland Golf Courses
Rose City Golf Course
Colwood Golf Center
Eastmoreland Golf Course
Claremont Golf Club
Waverley Country Club
Heron Lakes Golf Club
Golf is another fun activity to enjoy, especially on Portland's crisp, warm days. The city has numerous courses available, and Rose City Golf Course is one of the best. It's the second oldest course in the state, with beautiful greens and mature trees. It's a year-round course available dependent on weather conditions. Another option is Colwood Golf Center, a 9-hole, par-three course. It also offers a footgolf course with 18 holes and a beautiful clubhouse and driving range.
Eastmoreland Golf Course offers some of the best natural scenery, so it is also a popular destination for events. This 18-hole golf course is affordable and offers lessons, a driving range, and a golf shop. Claremont Golf Club is an elevated course with nine holes to play. It's more challenging due to the layout, which helps anyone who loves a bit of strategy have fun here.
For a more formal setting, consider Waverley Country Club. It sits on 138 acres of land. This course has beautiful architecture and a layout that's commanded the attention of golfers since 1896. It is a private course with a beautiful clubhouse and excellent greens.
For championship golf, head to Heron Lakes Golf Club. There are two championship golf courses here, the Greenback and the Great Blue, which offer challenging greens and fairways. Heron Lakes also hosts numerous activities throughout the year, including charity fundraising.
Other Portland Outdoor Activities
Portland Outdoor Activity Locations
Draper Girls Farm
Kiyokawa Family Orchard
Sauvie Island
Mt. Hood
For those still looking for other things to do in Portland, pay close attention to neighborhood events, festivals, and farmer's markets, many of which are available throughout the year. For example, the Draper Girls Farm is a welcoming location for apple picking and farm animals during the summer months. Another location for apple picking is Kiyokawa Family Orchard, a first-generation Japanese-American-created farm that's stunning.
Sauvie Island is another must-visit destination for outdoor fun in Portland. It's a river island near Portland that offers swimming, hiking, birdwatching, and lots of fun for adventure seekers. There are several local farms available on the island as well.
There's also Mt. Hood skiing. The mountain itself offers beautiful hikes just outside of the city. In the winter months, though, the area comes to life with skiing at its best. It's home to numerous terrain parks for all types of activities. There are also lessons available for adults and children and camps and clinics for all levels of skiers at various times of the year. The area also offers multiple events and races during the year.
Explore Outdoor Fun in Portland
These are just some of the outdoor adventures available to those moving to Portland. Explore all that the city offers before buying a Portland home and find the best outdoor recreation option to suit your lifestyle. No matter the season, there are outdoor activities for everyone in Portland.